How to track kids Snapchat on Android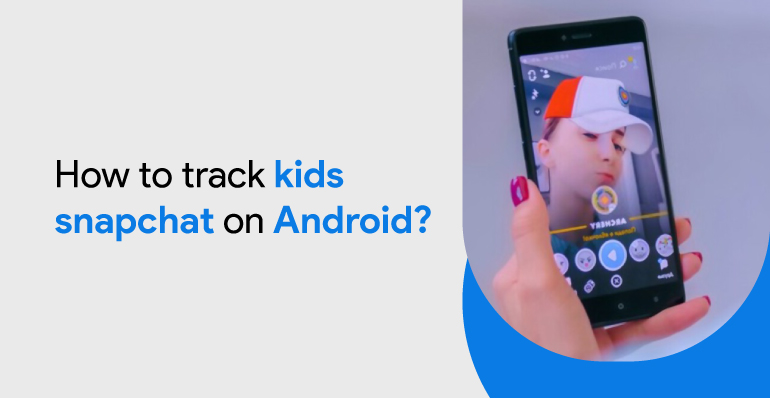 How to track kids Snapchat on Android
Snapchat is a social media app that allows exchanging short snaps with other Snapchat users. It is one of the most addictive social media apps for sharing photos and videos. You need to monitor or track your kid's Snapchat on Android and iOS devices not to share harmful and hateful content.
Snapchat is used to share short snaps, which include photos and videos. It is a free app and can be downloaded from both iOS and Android. Snapchat users are increasing day by day. There are almost 314 million active users all around the world. Users can record a video or photo and can post it on their Snapchat stories.
The unique function of this app is messages will disappear automatically. The stories that users post on Snapchat will only last for 24 hours. Users can
send text, Gifs, emoji messages to their friends.
use the filter camera of Snapchat which is the attractive point of using this app.
save their snap to their album or gallery. Users will get their weekly, monthly Snapchat memories.
Is Snapchat Safe?
Most social networking apps or sites don't have in-built parental control settings, and it's also the same for Snapchat. Majorities of teens and adults used this app.
As there is no age verification, you can make a Snapchat account without age verification, but you need an email or phone number to create an account. If kids have a smartphone, they can easily access this app. Anyone can create an account. This app isn't completely safe to use by kids and teens as many applications spy on Snapchat data.
You can also find mature and explicit content on this app. For kids and teens, these harmful contents will not be appropriate. You can connect with many Snapchat users and can interact with them. Not all users you find on Snapchat are genuine users. Some fake users have malicious minds.
What Are The Dangers of Snapchat?
The unique feature that makes the app different from other social media is messages disappearing. This feature has created a challenge for its users. There are many fake profiles, online predators, and scammers on Snapchat. Your children might also be talking with a stranger. You will not be able to check those disappearing messages. The message sender will be notified if someone has taken screenshots of their chats.
Online predators, scammers, and other malicious people might send violent, inappropriate photos or videos to your kids if your kids are having a conversation with a stranger, which might be harmful to children. Your children will have a negative influence. They can receive threatening, offensive comments or messages. They can also be bullied by these kinds of people.
Your children can also view mature photos and videos on Snapchat stories. It contains all the stories posted by many users around the globe. There is a map function where you can also get the real-time location of other users. Your children's real-time location can be tracked by online predators. So this app isn't recommended for kids and teens.
Why Do You Need to Track Your Kids Snapchat?
Nowadays, It's important to track your kid's Snapchat. Your children can be stressed and affected by Snapchat. It may be mental, physical, or emotional. Children can post inappropriate content and can share it with other users. Children can also chat with unknown profiles, and you can't check their messages. The message will disappear automatically. Kids and teens are getting emotionally attached and addicted to Snapchat.
Because of these reasons, you need to track your kid's Snapchat. So to protect your kids from the negative aspect of Snapchat, you need to monitor their social media activities. You can ask them for their ID and password and check their friend with whom they are talking. Make sure to disable their location service.
 How to track kid's Snapchat on Android
Parents can also use parental control apps to track their kid's Snapchat on Android. As there are no parental control settings available on this app. It will be better to use monitoring software. So to track your kid's Snapchat on Android, here are the best parental control apps
1. Fenced.ai- to track kid's Snapchat on Android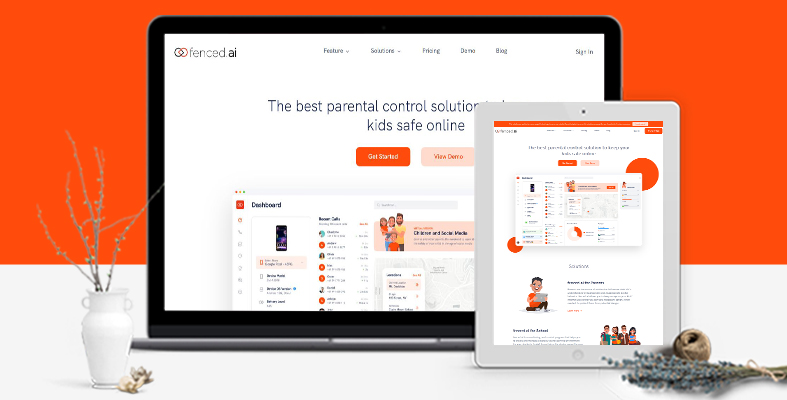 fenced.ai is one of the renowned parental control apps. You have to subscribe to the plan if you want to use its unique features. There are many features to track kids' Snapchat on Android. You can protect your kids from the danger of Snapchat.
If your kid is searching for any mature content, chatting with a stranger, enabling the location function then the app will send you snapshots about these activities and you can change the settings instantly.
You can review your kid's online activities. It provides detailed reporting of your kid's Snapchat, and you can enable the alert settings. Through the parental control dashboard, you can control all the activities of your kid's Snapchat.
Benefits of Snapchat monitoring feature of fenced.ai
Every call and text, along with its date, time, duration
Sent and received text messages
Photos, videos, and other multimedia files shared on Snapchat
Contact Information
2. Bark- to track kid's Snapchat on Android
There are many features to monitor social media activities. Bark parental control app is best for social media monitoring. It tracks every record of Snapchat. You can monitor the direct messages of Snapchat. You need to enable the settings of this monitoring app, and It automatically monitors Snapchat on Android devices.
The unique 24/7 detection feature detects all the activities like cyberbullying, online predators, and many others. This feature helps to protect your kids from those events. You can also review their screen time.
You can decide when your children can use the internet. If they are using them excessively, you can restrict them. You can manage their activities and control their device activities. If any suspicious events happen on your kid's Snapchat, it will send an alert notification on your device.
3. Famisafe

It's also a parental control app that helps you to monitor your kid's Snapchat activities. FamiSafe, with a basic user interface, is very convenient to use. You can remotely track and manage your child's Snapchat activities. There are many features to monitor your kid's Snapchat: Activity report, detect suspicious photos & text, scream time, block apps, etc.
You know for how long your kids are using Snapchat.
Check when they installed the app and deleted the app.
Block the app with just one button and restrict your kids from overusing.
It provides detailed reporting of Snapchat activities. For instance, when they added their stories, with whom they are talking, etc. You can also schedule your kid's device time, and for only allow time, they can use their app.
Steps To Setup Parental Control Settings
Firstly, choose any parental control apps. Install the app on your child's digital devices. The best parental control apps provide you with an easy setup solution. Some also provide QR scans to link your and your kid's devices. Each parental control app has different setup procedures. Here are the basic steps to set up parental control settings.
Install the monitoring app from the Android play store on your kid's device.
Register your account on the parental control app and choose the subscription plan.
Link your phones and your kid's Android phone.
Allow all the phone settings on your kid's mobile devices and give access to your phones.
Now you are ready to monitor your kid's social media activities. You can view the detailed reporting and log activities of kids' devices activities.
Keylogger Tools
It's also another solution to track your kid's Snapchat on Android. Keylogging is a keyword capturing software where every keystroke you typed on digital devices will be recorded. Most of the hackers used these tools to gain private information or to access financial information. But these tools can also be useful to monitor your kid's activities. You can view their running application and record every activity.
There are many free and paid tools. You can
retrieve the keystroke of every device keyword.
Get the password of the social media apps where you can access their accounts and can monitor remotely.
Check their Snapchat activities.
Change their Snapchat settings and maintain privacy to their accounts.
It's tough to detect. Some of the best keylogging tools are as follows.
KisInspector
Kidlogger
Actual keylogger
Highster Mobile
WinSpy
Steps To Set up Keylogger
There are many keylogger tools where you will be provided with unique features. You can get the password of the target devices. You will not only have their passwords but also can access their Snapchat. The steps to install the Keylogger tools are as follows.
Install the Keylogger tools from the play store.
Open the app and register your account. You will have to provide some detailed information about your kid's devices.
To install an app that isn't from an approved source, go to the Developer option on your digital devices.
Download the other monitoring features to track kids' Snapchat.
Link the devices of your and your kid's device and enable the settings.
Go to the dashboard, and now you can monitor your kid's Snapchat on Android
How to monitor your child's Snapchat on your iPhone?
Among the many ways to monitor Snapchat, using MobileSpy to keep a check on your child's Snapchat on iPhone is a good option. MobileSpy, a parental control program, allows you to indirectly watch how your child uses Snapchat and with whom they share snaps; anything can be seen. To do so, you only need to install the software on the target device and provide login credentials, after which you may watch your child's phone remotely.
MobileSpy also allows you to track an intended person's GPS position, multimedia files, and social media activities.
Also by restoring backup files from iCloud and iTunes, you can track your kid's Snapchat.
Conclusion
Therefore, it's necessary to monitor your children's Snapchat activities because there are many dangers that you and your kids should be careful of. The best solution to track Kids Snapchat on Android devices is parental control apps. It provides an extra layer of safeguard options to protect your kids from social media dangers.
Read More: How to catch someone cheating on Snapchat