Features Instagram Spy
Instagram Spy:
How to Spy Instagram?
You can use MobileSpy's Instagram Spy feature to see your target's direct messages on Instagram whether be it private or group chats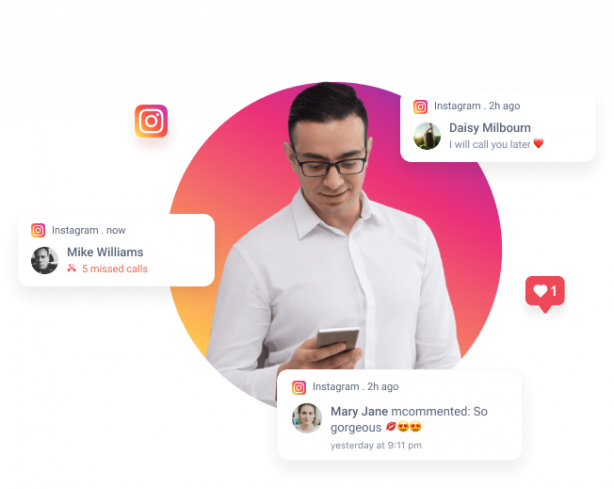 Instagram Spy App Feature
Are you looking for an application that can spy on the activities of your target's Instagram account? If yes, then you are at the correct place. MobileSpy can help you with doing so. However, before that, we would like to declassify another gem tool that will allow you to take your Instagram Spy skills to a new level – the Snoopreport Instagram activity tracker. It is an online tool that allows you to add any public profiles for tracking and receive weekly reports about what hashtags and publications they like, as well as about their new followings and unfollowings, as well as thematic interests. Different plans allow you to monitor 2, 10 or 100 profiles at the same time. What's more, you can access data up to 36 weeks in the past and compare data in retrospect. Here are some of the features of MobileSpy's Instagram Spy App:
Instagram Direct Messages Spy
See each and every account your target chats with along with the chat history. Get direct access to their private chat conversations. View their sent or received direct messages on the go.
Track Followers and Following
Track the detailed information about the accounts your target Instagram account is following along with the number of followers they currently have.
Instagram Notification Spy
You can also get information about each and every Instagram notification received on the target account like when someone tagged, liked, or commented on a post.
Track Timestamp
Along with the target's Instagram activities tracking, MobileSpy's Instagram Spy feature will provide you with the exact date and time of when a particular activity took place.
How does Instagram Spy App work?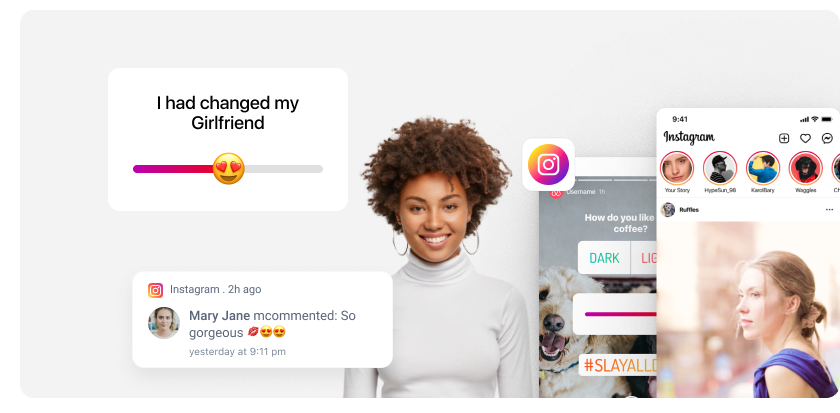 Spying on anyone's Instagram is not an easy job. But MobileSpy makes it much easier. With MobileSpy's Instagram spy app feature, you will be able to spy on all of the Instagram activities of your target. 
For that sign in to MobileSpy and create a MobileSpy account. Choose a subscription plan and then install the app on the target device. After that, just follow the steps below:
You need to log in to your MobileSpy account by entering valid credentials. 

On your dashboard, select the option Social Media, located on the left side selection panel.

Now, select the Instagram option.
Once you click on the Instagram option, you can now access all the information of the target's Instagram account from your dashboard. You can spy on their direct messages including shared multimedia files, Instagram notifications, and timestamps of those activities in a few clicks.
Why do we need Instagram Spy App? Benefits of Instagram Spying
For Parents
Instagram is one of the most popular social media applications among youths, and they usually spend a lot of time on Instagram. Being a popular application, it is also quite dangerous for Instagram addicts to use because of online predators. The predators are waiting out there so that they can fool you and make you do something worse. As a parent, you might want to know what your kid is doing on Instagram. 
With the help of MobileSpy's Instagram spy application, you can easily track their activities and know whether or not they are in some trouble. You can spy on their direct messages and know who they are talking to.
For Spouse
If you feel like your spouse is cheating on you, then MobileSpy's Instagram spy app feature can be the perfect tool for you to expose them. You can spy on your spouse's private messages and track photos and videos sent or received on their Instagram app. This feature can easily help you catch your cheating spouse.
For Business
As a business owner, you might be more concerned about your employees' productivity. You might want to know what your employee is doing on Instagram during office hours. Using Instagram during office hours directly impacts employee productivity, so you must be able to monitor their activities and warn them whenever required.
With MobileSpy, you can track all of their Instagram activities and make sure they aren't using Instagram during working hours or leaking any confidential information to outsiders through the Instagram app.
What can you do with Instagram Spy App?
With the help of MobileSpy's Instagram spy app feature, you can perform the below-mentioned activities:
Spy on your target's Instagram account without letting them know about it

Track all the sent and received Instagram direct messages along with the timestamp

Track all the sent and received multimedia files like photos, videos

Track the followers and following of the target account

Track the Instagram notifications received on the target account
Do I need to root or jailbreak the targeted device?
No, you don't need to root or jailbreak the targeted device. MobileSpy helps you to spy on your targeted device remotely, without letting them know anything about it. The Instagram spy app feature works perfectly on both Android and iOS devices.
Start Remote Monitoring with these
3 Steps
Sign Up
Sign up for MobileSpy.io account to track online activities of your target. All you need is an existing email ID and you are good to go.
Install MobileSpy
Download and install application on the device you want to spy. It will takes only a handful of minutes.
Start Spying
Log into your MobileSpy.io account and start tracking your target's Android phone in stealth mode.
A Few Words From Our Happy Customers


For about a year now, I've been using MobileSpy. Basically, I need to keep track of my team to see what they do during the work hour, that information allows me to make smarter decisions about the company and leadership. Furthermore, I can track their work from any location and can access my data from one location. Really loved this app and appreciate it!


For a mom like me, it's positive news that we can now use the app to track our kids just to make sure they are all right. I have just found out that the MobileSpy app is offering several functionalities such as monitoring social media, GPS location tracking, website history tracking which is important for digital age parenting. Thank you for these fantastic features in one app.


I was searching for the best way to safely spy on the phone of my husband without him knowing about it then I saw suggestions about the MobileSpy app. I went for it and now I have unrestricted access to his mobile and he doesn't know about it. It's amazing that I can spy on his social media apps, call history and even know his location through a GPS location tracker.


I've read a lot about the victims of online abusers, cyberbullies, and scammers but I never imagined my daughter would also be the victim of these online abusers. MobileSpy allowed me to bust a guy who sent lewd messages and filthy images to my 14-year-old daughter. I wasn't able to believe my eyes! Thanks to MobileSpy that I can keep my daughter safe.


I absolutely LOVE MobileSpy! As an entrepreneur, I wanted to keep track and monitor my employees. Thanks to the MobileSpy app it's possible now. Our productivity has almost tripled for my business since using MobileSpy. The bulk of our staff are virtual workers, so it is important to keep track of their levels of productivity to optimize our team and work efficiently.


I am in awe of what MobileSpy can do for the safety of the family. The reason why MobileSpy fits well for me is that it helps my wife and me to track the mobile of our kids and spy on their phone, SMS even on their social media activities and outside the schedule of our children via GPS. I can stay relieved of my children's online security now. Full stars from Hudson Fam.
MobileSpy is Securing your Digital Space Like No One Else
And Many More! Enjoy advanced monitoring features with MobileSpy.