Record Video
Remotely Record Video:
How to Record Video Remotely?
Want to get a complete picture of what is going on with your kids, employees, and loved ones? MobileSpy's remote video recording app lets you record video remotely using the device of the person you are spying on.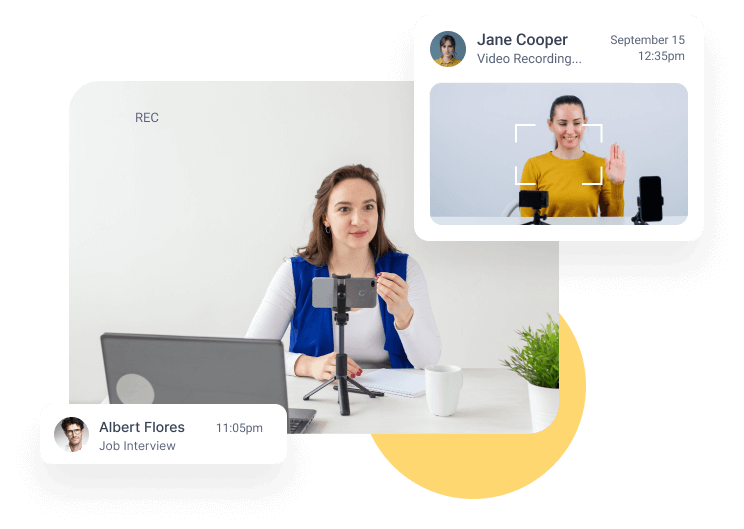 Remotely Record Video

With MobileSpy's remote record video app feature, you can anonymously record video from the targeted devices within a few clicks. You can know what your target is doing and what is the surrounding around them, with whom they are, and who is using their phone. Also, MobileSpy's dashboard allows you to record videos with the timestamp of when the app took it remotely.
Remotely Record Video Feature App: How to Record Video Remotely?
MobileSpy's remote video recording feature allows you to record, track, download, and monitor deleted and hidden videos of the target.
Record Video from their Device
Everyone has front and back video recording features on their smartphone in today's world. You can record video from a targeted device, know their surroundings with their back camera, and know who's using their device with the front camera.
Control their phone's Camera
MobileSpy's remotely recorded video app helps control the targeted camera. Get access to the recording sounds and visuals of the surrounding.
Access to the Recorded Video
You can download, filter, and store videos on MobileSpy's dashboard. Have access to the videos from the target's galley, which is recording or has recorded. Also, get the video view details like file formats, date, time, and more.
View Videos from your Secure MobileSpy Dashboard
You can view videos in real time from your MobileSpy Dashboard. Know the entire thing in a fraction of a minute without filters and lies. You will know the exact things with the view video feature of remotely recording video from anywhere.
How does the Remotely Record Video Feature Works?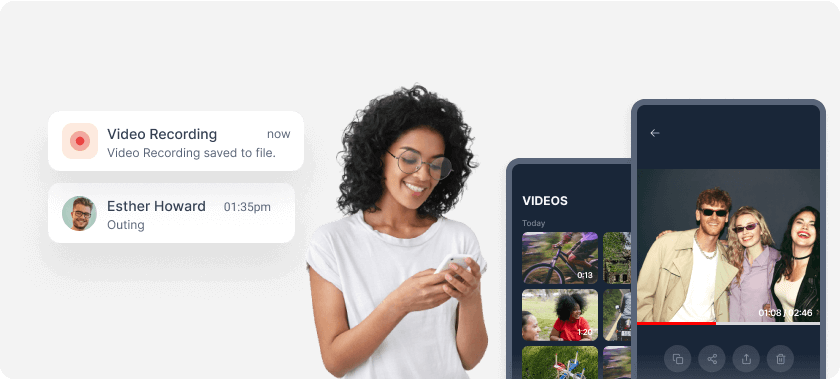 To use the remote record video feature, you need to download the MobileSpy app, available on Android and iOS. Install it on your targeted device. Once you are done with the MobileSpy app installation on your children, employees, loved ones, or anyone's devices, you can enable the record video feature. Here are some of the simple steps to do so:
Go to MobileSpy's official website, and Sign in.
Choose the Subscription plan.
Log in using your valid credentials.
Search for the "Remotely record video" feature on the MobileSpy dashboard.
When you successfully select the option, you can view every video on the targeted device anonymously. Also, you can access those videos whenever you want, as your data is protected and kept in a secure location.
Why do we need a Remotely Record Video Feature?
Benefits of Record Video Feature
Know what your kids, spouse, or employees are doing, where they are, and what type of people they meet. MobileSpy's remote record video also acts as a backup for recorded events.
Remotely recording video is a powerful feature beneficial for personal and professional use.
For Parents
Being a parent, you might be curious about where your teens and kid are, or with whom they are hanging out or sneaking out at night. You can know their activities with evidence through their devices.
MobileSpy's remote record video helps parents to watch exactly where they are at any given moment and lets you listen in on their conversations while also seeing where they are at any given time.
For Employees
MobileSpy's remote record video helps any manager or business owner who wants to safeguard their organization from dishonest personnel.
While you are away on a business vacation, MobileSpy's record video remotely app recording feature gives you immediate insight into workplace activity or validates your suspicions that an employee is stealing company property. It can also be used to record and playback videos of customer presentations for quality control purposes.
For Spouse

When in a serious relationship, we want to know what your spouse is doing or with whom they are. Now, it is easier to tell with the help of a remote record video app. You can track and record the videos from your spouse's device from anywhere.
You can know the surroundings and the people they meet or record the video if you are suspicious of them cheating on you.
For Individuals

In daily duties like recording a job interview or a meeting with a contractor, where verbal commitments are frequently formed but are simple to cancel without written (or video) proof, people will find our hidden video recorder feature essential.
With MobileSpy's remote video recording, you can be sure that there will always be documentation to back up your discussions and agreements with on-the-spot video recording.
.
What can you do with the Remote Record Video App?

After you install MobileSpy on the targeted device and use the remotely record video app, you can access to:
Record video from anywhere with the remote record video feature
Monitor and access recorded videos on their device and store them in the video gallery
Monitor who is using the targeted device
Keep track of downloaded videos from browsers or other social apps
Know the target's surrounding in real time
Record date, time, file formats, and timestamps
Get accessibility deleted or hidden videos
The remote record video app is an excellent tool for anonymously recording video from targets' devices and can be used in many other ways.
Does the target device need to be jailbroken or rooted?
No, one doesn't need to jailbrokeneak or rooted to use MobileSpy's remote video recording app features. You can activate the recording feature with some simple clicks.
Record doubtful videos with a remote video remotely, and keep tabs on everything with MobileSpy.
Start Remote Monitoring with these
3 Steps
Sign Up
Sign up for MobileSpy.io account to track online activities of your target. All you need is an existing email ID and you are good to go.
Install MobileSpy
Download and install application on the device you want to spy. It will takes only a handful of minutes.
Start Spying
Log into your MobileSpy.io account and start tracking your target's Android phone in stealth mode.
A Few Words From Our Happy Customers


For about a year now, I've been using MobileSpy. Basically, I need to keep track of my team to see what they do during the work hour, that information allows me to make smarter decisions about the company and leadership. Furthermore, I can track their work from any location and can access my data from one location. Really loved this app and appreciate it!


For a mom like me, it's positive news that we can now use the app to track our kids just to make sure they are all right. I have just found out that the MobileSpy app is offering several functionalities such as monitoring social media, GPS location tracking, website history tracking which is important for digital age parenting. Thank you for these fantastic features in one app.


I was searching for the best way to safely spy on the phone of my husband without him knowing about it then I saw suggestions about the MobileSpy app. I went for it and now I have unrestricted access to his mobile and he doesn't know about it. It's amazing that I can spy on his social media apps, call history and even know his location through a GPS location tracker.


I've read a lot about the victims of online abusers, cyberbullies, and scammers but I never imagined my daughter would also be the victim of these online abusers. MobileSpy allowed me to bust a guy who sent lewd messages and filthy images to my 14-year-old daughter. I wasn't able to believe my eyes! Thanks to MobileSpy that I can keep my daughter safe.


I absolutely LOVE MobileSpy! As an entrepreneur, I wanted to keep track and monitor my employees. Thanks to the MobileSpy app it's possible now. Our productivity has almost tripled for my business since using MobileSpy. The bulk of our staff are virtual workers, so it is important to keep track of their levels of productivity to optimize our team and work efficiently.


I am in awe of what MobileSpy can do for the safety of the family. The reason why MobileSpy fits well for me is that it helps my wife and me to track the mobile of our kids and spy on their phone, SMS even on their social media activities and outside the schedule of our children via GPS. I can stay relieved of my children's online security now. Full stars from Hudson Fam.
MobileSpy is Securing your Digital Space Like No One Else
And Many More! Enjoy advanced monitoring features with MobileSpy.