Monitor Your Kids From Being Stressed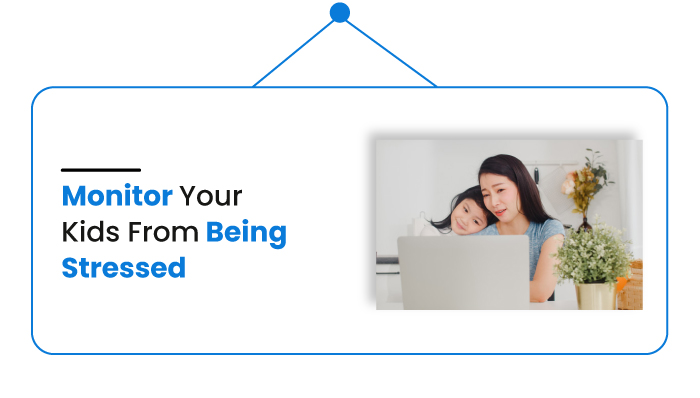 Monitor Your Kids From Being Stressed
Adults have this delusion that children are always happy and carefree. Being a child doesn't imply that they are free from stress. Indeed, even a preschooler has some worries. Children undergo different degrees of stress and anxieties according to their age group. Do you know how to monitor stressed kids?
Kids are not responsible for paying bills, so what could they possibly have to worry about?
Source of stress
There are different reasons your children stress. Bullying and harassment are significant sources of stress for many children. Young children's separation from their parents can cause anxiety in them. Growing up in society and living up with the social pressure and trying to fit in the society creates stress. Sometimes significant changes in the family situation, for example, divorce, death, moving, can bring about stress. Academic pressure can also create stress.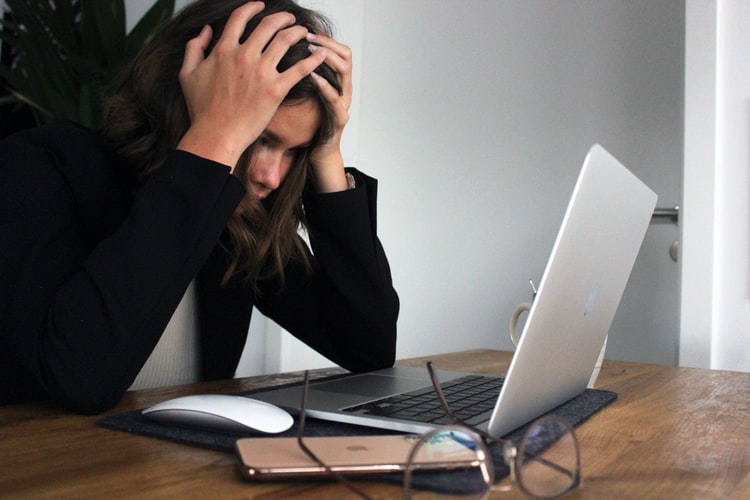 When a predator contacts a young person via a game, app, or social media site, sextortion begins. The predator persuades the young person to create an explicit video or picture using deceit, coercion, money, gifts, or intimidation. This may cause high-level stress on your child.
Read More: How can parents help to prevent teens from suicide?
As a parent and a caretaker, it is essential to address your children's stress signs and monitor stressed kids. It would be best if you looked out for the possible causes and solutions to it. Stress is common in children, and making it disappear is not an easy task. It is not like parents have some magical hand that makes the stress disappear just with a snap of their fingers. Stress and anxieties can easily affect the vulnerable mind of these young children. If not treated at the right time, then it can badly affect their upcoming life.
Signs and Symptoms of anxiety
Children with anxiety problems show symptoms of physical, emotional, and behavioral change. They are as follows.
Children become short-tempered and moody.

Development of nervous habit

Lack of sleep

Fear of loneliness

Distancing themselves from family members and friends

Children show difficulty in concentrating

Zoning out and refusing to go to the school
A perfect solution is what we do for our kids.
Then, finding a solution is more straightforward than ever was- all thanks to the range of digital tools and technologies. With a single snap of our finger, the right tools will be at the palm of our hand. MobileSpy is one of them, which is the best way to introduce your kids to calm and emotional maturity. As you have noticed, emotional learning is at hype now, mainly in this generation. It is all because of the increasing stress and anxieties in children.
MobileSpy allows the parent to help their kid, understand emotions, and monitor stressed kids. Anxiety and stress can appear anytime at any place in your children's life. Thus, this app helps parents think out of the box to understand their children's feelings and emotions mentally.
MobileSpy can be used on all devices, from Android phones to iOS phones. This app allows the parents to have some positive control over their children without being oppressive and bring about happiness for both of them.
Why use MobileSpy to Monitor Stressed Kids?
The question should be, why not? Everything is digital in today's world. Applications and technology are used everywhere, from learning activities to playing games online. Everything is run by technology. MobileSpy helps the kids to learn about their feelings and emotions. MobileSpy can serve parents who are not experts in dealing with the anxiety and depression of the children. This app can also introduce different kinds of activities that help children to calm down. Besides these, MobileSpy also promotes the children to ask for help when in problems.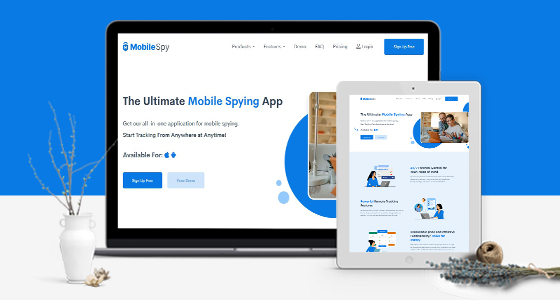 When monitoring the stress your children are going through, it isn't easy to address the factors. But using Mobilespy allows children to keep track and record all the stressful events. When you can identify the things that bring worries into your life, you can develop effective strategies to deal with them. With the help of MobileSpy, you can view the significant stressful events that have affected you the most.
How Mobilespy helps 
Similarly, the application, MobileSpy, allows you to understand your positive experiences in your life. It is important to record not only the problematic moments but relaxed moments of yours as well. With the help of MobileSpy, you can become aware of your feelings about the kind of situation you are in.
Hence MobileSpy helps you to define the connection between your mood and your life event. In conclusion, This app will help you to see the bigger picture to develop effective stress-relieving strategies. Now you have recorded the log of every stress you have gone through, MobileSpy can also be used to set specific goals and specific measures that can be taken to relieve stress.
MobileSpy also comes up with a feature to provide children with a range of meditation exercises. The exercise will help your children take some time out of their daily lives and concentrate more on themselves. Besides this, with MobileSpy, you can set timers varying from 1 to 24 hours, as per your wish. Once completed, MobileSpy notifies the user at the end of the session.
Why do You need MobileSpy to Monitor Stressed Kids?
Using the Internet is highly beneficial to that extent that no one can imagine, but it has its risks. The Internet provides a platform to perform cyberbullying, privacy stealing, and harassment. These people are always looking to target people, especially children since they are easy to fool and threaten.
Read More: How to protect your kids from cyberbullying and harassment?
Not every friend you meet on social media is your true friend. 
Are you sure about their intentions?
You can never be sure of that. The number of fake friends and sexual predators is exceptionally high on the Internet. Social media provides a platform for those predators to attack these young victims. They can traumatize a kid bringing depression from physical, social, mental, or sexual harassment.
Also, bullying is a significant problem that prevails in children's life. Bullying leads to physical, mental, and emotional harm. They bring about anxiety and depression in your children's life. Children who are bullied often feel embarrassed to talk about, following them to hide the bullying from their parents and teachers. And no parent would want their children to fall under the victim of bullying and harassment.
MobileSpy is one of the best applications to monitor the social life of your children. Tracking your children's engagement in their social life can give you an insight into your children's lives and their way of looking at life and themselves. Guiding and tracking them through the activities they are performing online than nagging them 24 hours on where they are going with their social life is much better. MobileSpy will bring a win-win situation satisfying both the parents and the children and improve their relationship.
The increasing number of hackers and malware available on the Internet harms children and adults in many ways, whether clickbait, which the kids can download without their consent or the hackers trying to steal their private information.
Privacy concerns have been rapidly increasing with the advancement in technology and the number of hackers. Not all children have the complete knowledge to safely navigate the digital environment while avoiding the risk of privacy. Even adults struggle to understand the complexity of data flowing on the Internet and get attacked with privacy threats.
Then how are children going to be safe from it?
The Internet is a terrifying place, and children are already vulnerable to the atrocities of the Internet because of their sensitive minds and lack of knowledge. The interference in personal information brings insecurity among children. We can't keep our eye on our child's activities 24/7. Using MobileSpy and monitoring your children's activities online, ensure that your children are safe from hackers and malicious content on the Internet.
Stress may come from malicious content online or from your contact list. MobileSpy provides a list of all the web history along with the timestamps and number of times your children had visited the site. This feature allows you to view and keep track of what type of applications or websites are currently in use by your children. Thus this helps to keep track of your children's online activities.
You should think of before you monitor stressed kids
Suppose you are worried about the inappropriate content to be viewed by your children on the Internet. In that case, MobileSpy restricts from accessing your children to malicious content online, pornography, violent sites like drug abuse, and alcohol consumption with the help of porn blockers and filtering contents that can affect directly or indirectly.
MobileSpy keeps the records of detailed logs of calls such as date and time, duration of the call made, their number, and name so that you will be aware of the kind of person your children are talking to. Besides, this feature also allows you to see the new contacts added to your children's contact list. Thus this app helps you track what kind of person your children choose to be close with.
Besides, children these days love playing games such as free fire, mini militia, PUBG, which are very violent games that involve killing and being killed. These games are not appropriate for them as they keep your children addicted all day and night. The violent scenes completely change the mindset of young children.
Consequently, using MobileSpy can offer an added advantage of monitoring and keeping track of all the applications your children download on their cellphone. MobileSpy can help you go through your children's phones and warn them about the dangers of the applications or delete the applications.
Is MobileSpy the best monitoring software: To monitor stressed kids?
There are different kinds of free spy apps and spyware apps in the industry. YouTube Parental Controls is one of the examples that restricts inappropriate video for your children. Google Parental Control helps to set boundaries for your children from the necessary technology found in Google.
You can enable iPhone Parental Control and Android Parental Control that are already featured in cell phones. But what makes MobileSpy different from other applications and technology because MobileSpy lets you monitor almost all the activities your children perform online.
As a parent, you should take care of your children's mental health. Taking care of mental health is as important as taking care of your body. Young minds are already sensitive to a lack of knowledge. Stress and worries can ultimately hamper their minds. It can completely change their way of viewing themselves and life. The parent's goal is not to control the children's lives but for them to learn self-control. Mental health is a serious topic. MobileSpy ensures that your children are taking better care of themselves. 
Young minds are sensitive, and what they see and learn at an early age directly affects their future. To stop the flow of worry and stress is not an easy task but is a battle worth accepting the challenge for the sake of your children since we have discussed in the above article that using MobileSpy in the best way will keep children safe from the mental harm from the source of the actual or virtual world.