Features Twitter Spy
Twitter Spy:
How to Spy Twitter?
You can use MobileSpy's Twitter Spy app to see your target's private or group chats and other activities on Twitter.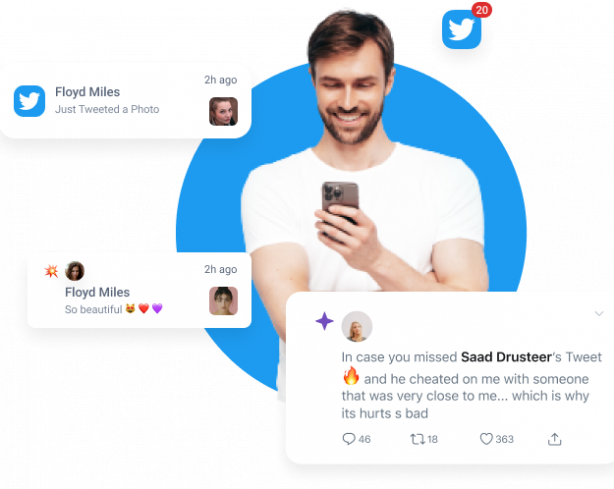 Twitter Spy App Feature
Are you looking for an application that can spy on the activities of your target's Twitter account? If yes, then you are at the correct place. MobileSpy can help you with doing so. Here are some of the features of MobileSpy's Twitter Spy App:
Twitter Direct Messages Spy
Your target's chat history will be displayed for each of the accounts they talk to on the MobileSpy's dashboard. Read all of the private DMs they have. See their sent or received direct messages wherever they are.
Twitter Tweet Spy
If the target user's Twitter account is private, you will not be able to view the tweets and replies they are posting on their account without following them. But with the help of the Twitter spy app, it's possible to view all the tweets posted by the target user even if their account is private.
Track Followers and Following
Keep track of the number of followers your target Twitter account has along with the detailed information about the accounts they are following.
Twitter Notification Spy
Access every Twitter notification sent to the target account, such as when someone replies, likes, or tags on a tweet.
Track Timestamp
MobileSpy's Twitter spy feature will not only track the target's Twitter activity but also show you exactly what time and date a particular activity occurred.
How does Twitter Spy App work?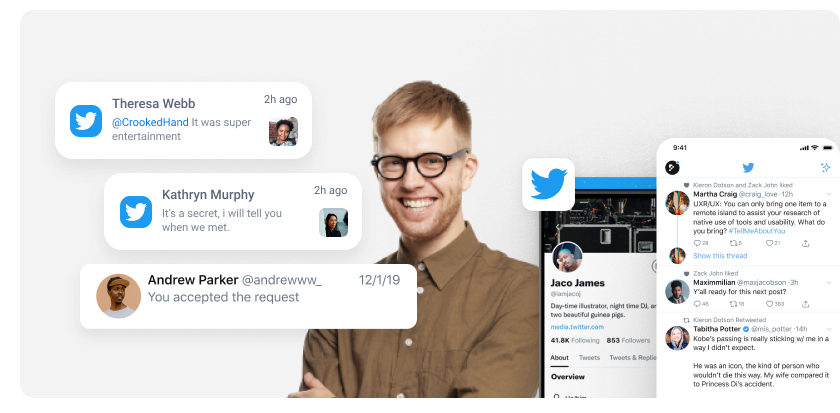 It's not easy to spy on someone's Twitter account. However, MobileSpy makes the task a lot easier. Your target's Twitter activities can be monitored with MobileSpy's Twitter spy app.
For that sign in to MobileSpy and create a MobileSpy account. Choose a subscription plan and then install the app on the target device. After that, just follow these simple three steps below:
You need to log in to your MobileSpy account by entering valid credentials.
On your dashboard, select the option Social Media, located on the left side selection panel.
Now, select the Twitter option.
Once you click on the Twitter option, you can now access all the information of the target's Twitter account from your dashboard. With just a few clicks, you can view their chats, shared multimedia files, notifications, following records, and more.
Why do we need Twitter Spy App? Benefits of Twitter Spying
For Parents
Twitter is widely popular among teens as it provides an outlet for them to express their feelings. One of the scary things about Twitter is that its user can post any content they like whether be it appropriate or inappropriate for kids which is unlike any other media platform. So even if someone uploads pornographic videos or violent videos, Twitter won't remove them from its platform.
As a result, while scrolling down the Twitter page your kids can easily access this type of content which can be very harmful to their mental health. Furthermore, as a popular social media app, it also homes dangerous online predators and scammers. There are predators out there waiting to catch your children and make them do something worse.
Therefore, as a parent, you might want to know what your kid is doing on Twitter. You can easily monitor their activities and determine whether or not they are in trouble if you use MobileSpy's Twitter spy application. You can spy on their direct messages and know who they are talking to and what kind of content they are watching on their Twitter feed.
For Spouse
Twitter can be a perfect place for cheaters to make their moves. So, you can use the Twitter spy app to find out what your spouse is doing on Twitter. Check their private messages on stealth mode, even the deleted ones.
For Business
You may be more concerned with your employees' productivity as a business owner. It might be helpful to know what your employee does on Twitter during work hours. It is imperative that you monitor employee activities and warn them if needed when they are using Twitter during office hours.
With MobileSpy, you can track every tweet they send and check that they're not wasting their time by chatting. You can also make sure that they're not leaking any valuable information to others through Twitter.
What can you do with Twitter Spy App?
With the help of MobileSpy's Twitter spy app feature, you can perform the below-mentioned activities:
Spy on your target's Twitter account stealthily
Track all the Twitter direct messages along with the timestamp
Track all the sent and received multimedia files like photos, videos
Track the followers and following of the target Twitter account
Track the Twitter notifications received on the target account
Do I need to root or jailbreak the targeted device?
No, you don't need to root or jailbreak the targeted device to access the Twiter spy app. Spying on your target device remotely is easy with MobileSpy, as it works on a complete stealth mode.
Start Remote Monitoring with these
3 Steps
Sign Up
Sign up for MobileSpy.io account to track online activities of your target. All you need is an existing email ID and you are good to go.
Install MobileSpy
Download and install application on the device you want to spy. It will takes only a handful of minutes.
Start Spying
Log into your MobileSpy.io account and start tracking your target's Android phone in stealth mode.
A Few Words From Our Happy Customers


For about a year now, I've been using MobileSpy. Basically, I need to keep track of my team to see what they do during the work hour, that information allows me to make smarter decisions about the company and leadership. Furthermore, I can track their work from any location and can access my data from one location. Really loved this app and appreciate it!


For a mom like me, it's positive news that we can now use the app to track our kids just to make sure they are all right. I have just found out that the MobileSpy app is offering several functionalities such as monitoring social media, GPS location tracking, website history tracking which is important for digital age parenting. Thank you for these fantastic features in one app.


I was searching for the best way to safely spy on the phone of my husband without him knowing about it then I saw suggestions about the MobileSpy app. I went for it and now I have unrestricted access to his mobile and he doesn't know about it. It's amazing that I can spy on his social media apps, call history and even know his location through a GPS location tracker.


I've read a lot about the victims of online abusers, cyberbullies, and scammers but I never imagined my daughter would also be the victim of these online abusers. MobileSpy allowed me to bust a guy who sent lewd messages and filthy images to my 14-year-old daughter. I wasn't able to believe my eyes! Thanks to MobileSpy that I can keep my daughter safe.


I absolutely LOVE MobileSpy! As an entrepreneur, I wanted to keep track and monitor my employees. Thanks to the MobileSpy app it's possible now. Our productivity has almost tripled for my business since using MobileSpy. The bulk of our staff are virtual workers, so it is important to keep track of their levels of productivity to optimize our team and work efficiently.


I am in awe of what MobileSpy can do for the safety of the family. The reason why MobileSpy fits well for me is that it helps my wife and me to track the mobile of our kids and spy on their phone, SMS even on their social media activities and outside the schedule of our children via GPS. I can stay relieved of my children's online security now. Full stars from Hudson Fam.
MobileSpy is Securing your Digital Space Like No One Else
And Many More! Enjoy advanced monitoring features with MobileSpy.