Ten Best Parental Control Apps for Android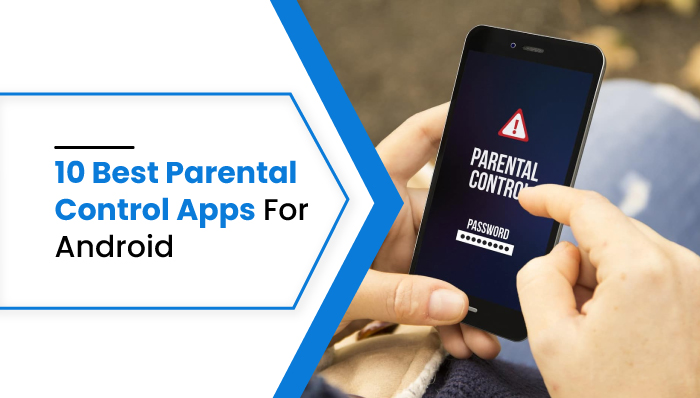 Ten Best Parental Control Apps for Android
You are never sure of what your children are doing with their phones. Kids can get into all kinds of trouble either by accident or purposely. In this modern world of the Internet and technology, it is nearly impossible to keep an eye on your children while they are online. And at a time like this, due to the COVID-19 pandemic, online learning is at the rage, and children are getting lots of free time.
More is the free time; more is the usage of the Internet. It is necessary to talk to your children about staying safe online. Every parent is looking for a solution against the negative side of the Internet to maximize the Internet's benefits — while minimizing the risks. Using a parental control app, you can sleep better knowing your children are on the safe side of the Internet. This blog will learn about the top ten best parental control apps you can get for Android.
Choosing a good parental app is not an easy task as there are different types of such software available in the market. But what comes within the application? What kind of features do they offer? All these apps vow to keep track of your kid's online activities, but only a few of them is beneficial. The best parental control apps come hand in hand with varieties of features from mobile phone tracking, keylogger, Internet filter, web history, block site, and so on. In this guide, I will dive into the best Parental control software or the best free parental control apps that are leading the recent market.
The Best Parental Control Apps you can get for Android
MobileSpy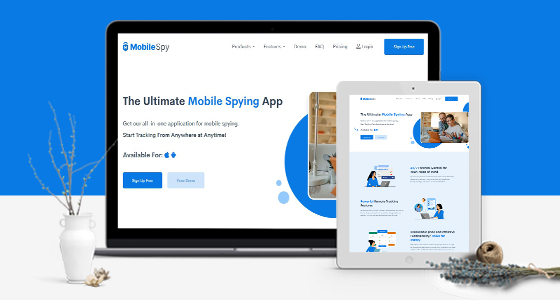 Key features
GPS tracker
Social media tracking
Geofence alert
Internet filter
Browse web history
Block concerned application
Disabling phone at bedtime
Keep track of the application your children downloads
Supported Platforms: Android/iOS
MobileSpy is a leader when it comes to digital monitoring services. The application is designed in such a way that it keeps your kids safe in real-time. MobileSpy is easy to grasp the available features and is an extremely flexible tool creating healthy digital boundaries for your children in a fun way. MobileSpy allows you to filter the web contents that are inappropriate for your children. In addition, it comes with the feature of Geofence alert and limits the screen time for your children.
MobileSpy is the best GPS tracker and social media monitoring app for parents concerned with their children's daily online activities. In MobileSpy, you can enable or disable various features for phone monitoring. On top of that, you can block violent websites such as pornography that can harm your kids in different ways. MobileSpy is open, global, safe, passive, live, free, and easy to use. MobileSpy is the top android parental control app you're looking for.
Qustodio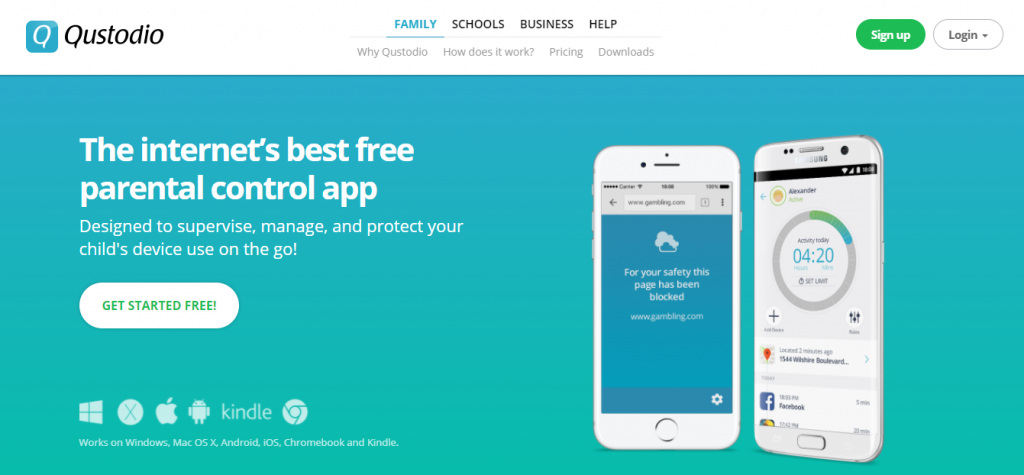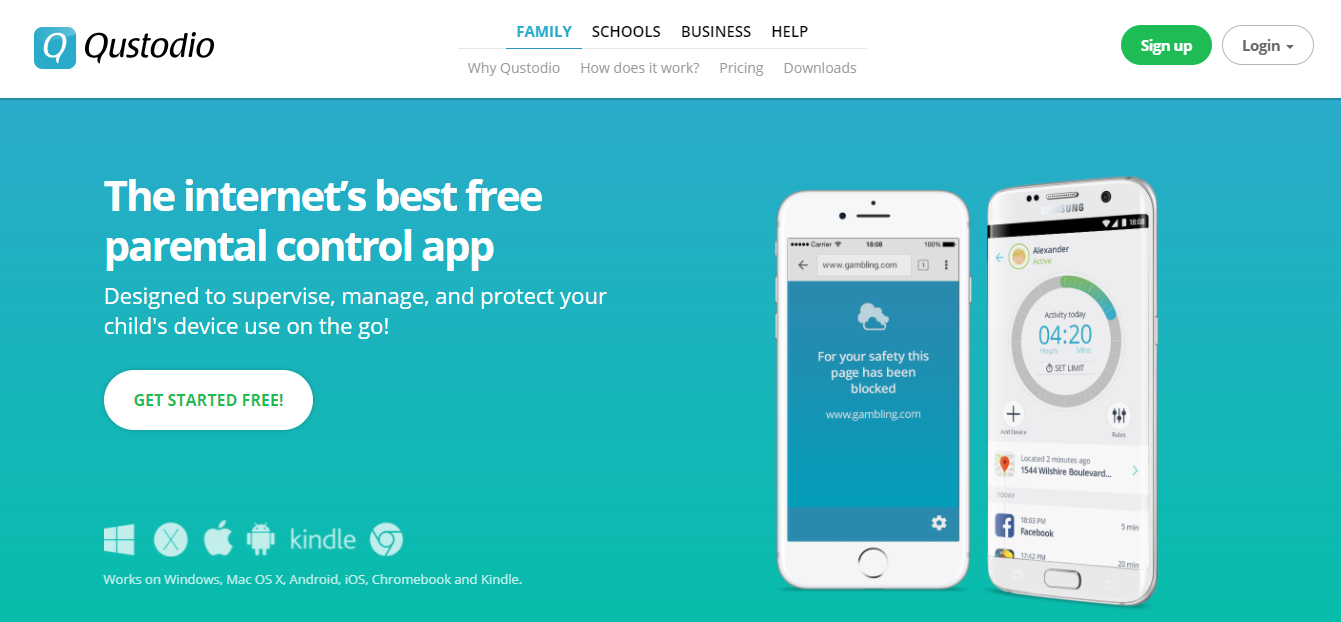 Key features
Monitor web and application activity on social platforms, gaming platforms, etc
Inappropriate web content filtering
Blocking concerned application
Limit screen time
Phone tracker
Supported Platform: MAC, WINDOWS, ANDROID, IOS, KINDLE
Qustodio is one of the best parental control apps that have powerful Internet filtering features. The application comes with the parental controls features such as blocking websites, limiting screen time, and displaying all the activities on the platforms such as Instagram, Twitter, and Facebook. Qustodio comes with a range of features, from tracking the location of your kids to the availability of a game called "CoolMath." Besides these, you can also block calls, messages, and inappropriate content on the websites. Qustodio's is an extremely flexible tool and works on these five platforms like Windows, macOS, Android, iOS, and Kindle, which is rare to find in other devices.
Kaspersky Safe Kids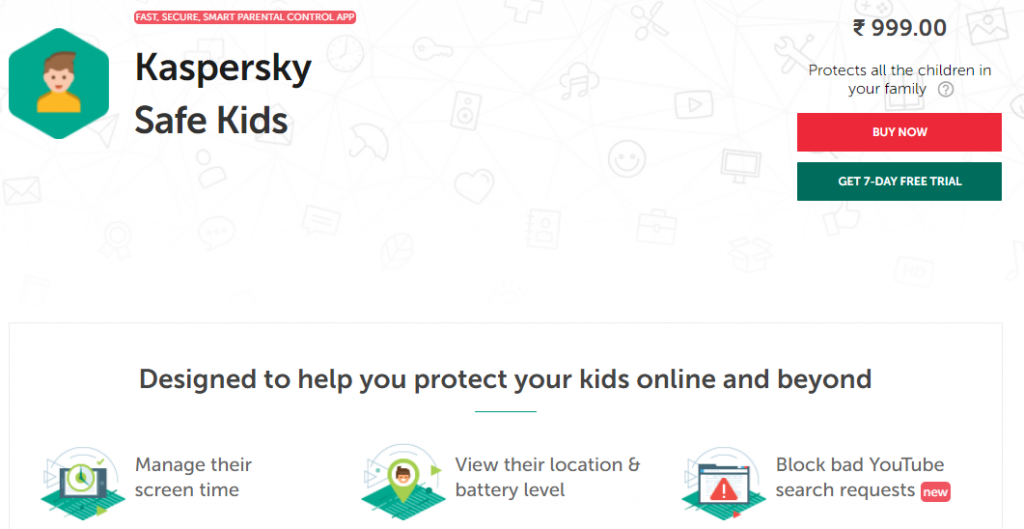 Key features
Limit screen time
Track location and battery level
Block inappropriate website
Block harmful YouTube search requests
Monitoring social network
Advice sharing
Geofence alert
Supported Platforms: Windows, MAC, Android, iPhone/IPad
If you are looking for an app that stops your children from visiting inappropriate websites, then this could be the only app you need. Kaspersky Safe Kids lets you monitor your kid's activities online. Similarly, Geofence alert works on both android and IOS devices. Likewise, you can track your kid's location whenever they go outside far from you and the house. Kaspersky Safe Kids is designed with a notification when your kid's smartphones are low on battery. Lately, a new feature was added that allows you to block harmful YouTube search requests such as drug, alcohol, suicide, and depression. The free parental control app allows you to enable customization as per your choice. In addition to this, you can prevent your children from removing and uninstalling this app on your phone by locking the application.
Net Nanny


Key features
Customizable amazon parent dashboard and reporting
Sensitive and violent internet filtering
Porn blocker
Track phone location
Monitoring the whole family's activity online
Supported Platforms: MAC, WINDOWS, ANDROID, IOS, KINDLE
Net Nanny is another powerful Parental control app that comes with the features of a user-friendly interface. It not only provides a report on your family's online activity but also blocks vulnerable web content like porn websites and other websites related to depression, drug abuse, suicide, and many more. Parents are always questioning the negative effects of the twitch app, kindle fire, kids, chat, Disney Plus Content, Roblox, kindle online, and sometimes kid-friendly youtube videos. Consumption of these contents frequently may develop a habit of addiction.  Once your kids fall in the hole, then it will be really hard to pull them out from it. Net Nanny allows you to block these types of content easily. Besides, you can set Youtube parental controls, iPhone parental control, Google parental controls, and Microsoft family settings by using Net Nanny.
IkeyMonitor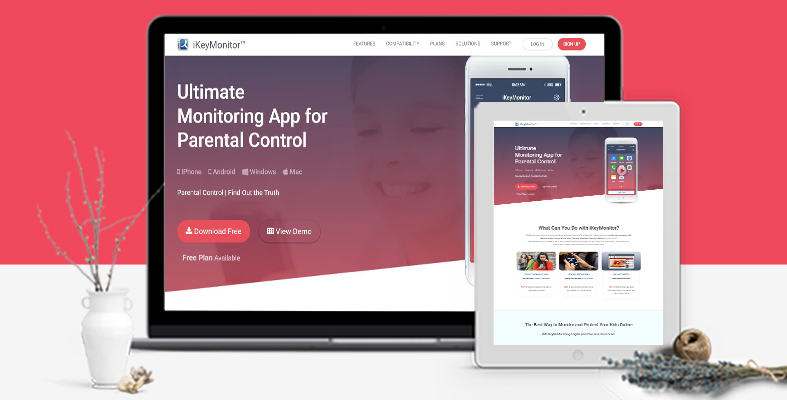 Key features
Windows defender
Phone location
SMS tracker
Recover deleted text messages
Keylogger/keystroke logger
Hack social media platforms like Facebook and Instagram
Limit screen time
Supported platforms: ANDROID, IPHONE, IPAD
IkeyMonitor is among the free parental control apps you can get for Android that has a unique feature of recovering deleted text messages. By using IKeyMonitor, you can track the phone without their knowledge. Sometimes the use of social media can be a hassle, and if you are wondering "How to hack Facebook? And How to hack Instagram account" so that you keep track of your children's activities on these platforms, then IkeyMonitor will be of great use. It only acts as a phone spy or spyware apps but also as a truth spy to bust your kid's activities online. You can enjoy tracking a cell phone location online to know your kid's location. You might not be able to use IKeyMonitor if two-factor authentication is turned on. Then 'How to turn off two-factor authentication?" Follow the following steps:
Sign in with Apple ID
GOTO security and click the EDIT button
Tap on "turn off two-factor authentication."
SpyHuman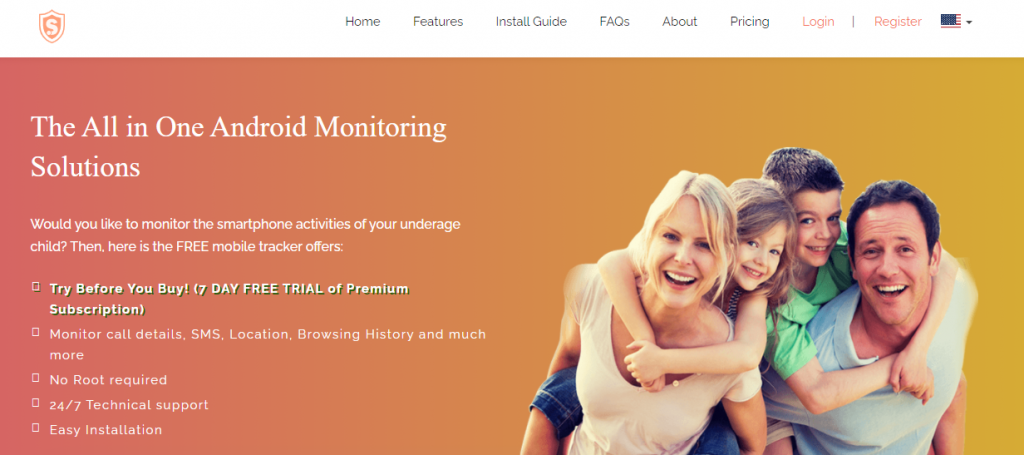 Key features
Free Mobile Tracker/Cell Phone tracker
SMS tracker
Truth spy login
Live Monitor
Call Management
Browse History
Supported Platforms: Mac, Windows, Android, Ubuntu
If you are looking for a free android monitoring solution to monitor the online activities of your underage children, then Spyhuman is the best for you. Spy human is one of the best free parental control apps for Android available in the market. It helps to look after your child's activities online at any time, providing you with the best android monitoring solutions. Spy human comes with browsing web history, mobile tracker SMS tracker, and many more. The best part? They're all quick to set up and easy to use, and the targeted person would not know they are being monitored. Lost your smartphone? Then you can get the SIM card change notification in real-time. Spy human protects your children from the risk of the Internet and the virtual world by keeping track of their smartphones.
Mobile Tracker Free
Key Features
Phone tracker/Mobile tracker
SMS tracker
Track messages ingoing and outgoing in social media
Call Recording
Supported Platforms: ANDROID 10
Mobile Tracker Free is one of the hidden parental control apps for android that allows you to track the activities happening on an Android phone. The application comes with a range of features that are very easy to use. If you are wondering, "How can I track a phone for free?" Then by using Mobile Tracker Free, you can locate any android phone at any time at any place by using a GPS phone tracker. By using Mobile Tracker Free, you can rest assured about your children's location. It acts as a shadow that is always following your kids wherever they go. Mobile Tracker Free is the most professional android monitoring solution that carries the most powerful phone monitoring key features. Mobile Tracker Free Is the best free spy apps that are available in the market.
Spyic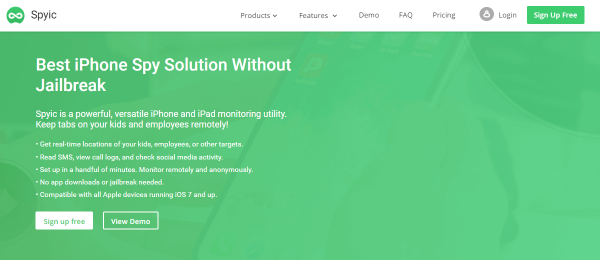 Key features
Call Tracking
Track Location
Social Media's spy
Geofence Alert
Browse website history
Stealth Mode
Supported Platforms: Android and IOS
Spyic is a spy app for android to track phones without them knowing of it. Spyic does everything, allowing you to track location, SMS, and social media platforms. There is also support for GeoFence alert so that you get a notification alert as soon as your kids leave a specific area. Spyic is also considered to be a hacking app so that you can bust your cheating girlfriend or boyfriend. It is a free android spy app for a cheating spouse. "But How to catch a cheater?" By using the allocated features Spyic, one can easily bust your cheating spouse. Snapchat hack, Instagram hack, Viber hack, and What's app that you receive from the Spyic make it easier to keep track of your kid's social lifestyle.
Spyzie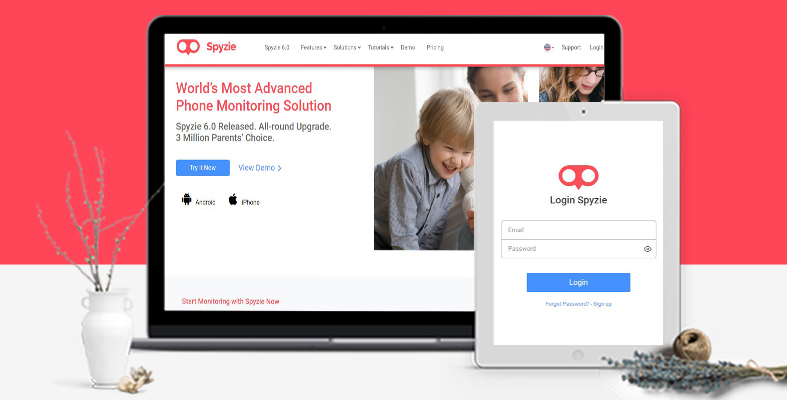 Key features
Real-time snapshots
Track Messages
Track Location
Call Log
Record of monitored data
Keylogger
Track Social Media
Supported Platforms: Android, IOS
Spyzie is the most professional parental control app. It has so many powerful features, and it is very easy to use. Spyzie can act as a web watcher to keep track of your kid's activities online. By using GPS phone trackers, you can easily track a cell phone location online. Likewise, YouTube parental controls allow you to manage the contents that are available on YouTube. In addition to this, Spyzie also helps you to keep records of the monitored data and send you the snapshots that allow you to get a live feed of your kid's computer and acts as a surveillance camera taking snapshots of the screen to see the live display of the computer and the intervals. This comes to your rescue when your kid is addicted to social media.
mSpy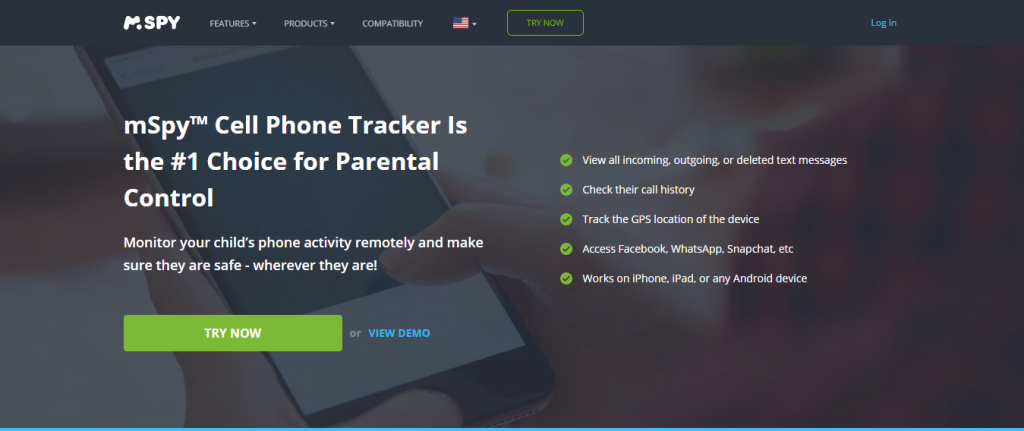 Key Features
Call Logs
View media that is stored on the device
Keep track of social media
GPS tracking
SMS MMS tracker
Web history
Supported Platforms: Android, IOS, Windows, MAC
mSpy is labeled as the ultimate phone monitoring app. The application is easy to install and use, delivering outstanding customer service. Mspy can replace a covenant eye, which makes it easy to keep your kid safe from the bad side of the Internet. You are worried about your kid's whereabouts but "How to track a phone?" With mSpy, you can easily track a phone, whether an android device or an IOS device. You can enjoy the advanced monitoring features by tracking all the incoming and outgoing messages. Besides, mSpy even recovers the deleted messages. What is the best feature? The app runs in the background, and it is not visible to your targeted device. If you want to monitor your kid's phones remotely to ensure their safety wherever they go, then mSpy is the best application for you.
How to choose the best parental control app?
The main aspects that you should keep in mind while choosing a parental control app are the features that come along with it. The criteria are location tracking, block websites and app, limit screen time, and Internet filter. An additional feature may include Geofence alert and social media tracking. Besides this, the criteria also depend upon the age of your kids. Look for that application that is safe and transparent, easy to use and install, and the compatibility with different kinds of devices.
Bottom Line
Because we live in a world of technology, children are going to be exposed to some technology in one way or another. It cannot be helped. Your kid's due to the online risk and cyber threats lurking around the Internet. These ten best parental control apps for Android keep your little ones safe in the world of the Internet. If you are still having trouble deciding which parental app is the best choice for your kid, I highly recommend MobileSpy for its powerful phone monitoring features.
Read More: Best Parental Control App for iPhone