mSpy Mobile Tracker: Review

mSpy Mobile Tracker: Review
This blog contains my review for the spying software mSpy Mobile Tracker.
What is the mSpy mobile tracker, and how does it work?: Review
mSpy is a parental control software that is used to monitor children's online and offline activities. This app is developed for children monitoring, employee monitoring, catching cheating spouses, tracking stolen devices, etc. Monitoring online means you can monitor their calls, SMS, and text messages from social media, browsing history, app usage, etc. Offline monitoring means tracking their GPS or SIM card locations.
The working mechanism of mSpy is quite simple. First, you need to go to the mSpy website and download the app. To download you need to enter your email address then the subscription package as per your liking and you can download the app. Once the app is downloaded you need to check your email for mSpy's mail which consists of your login credentials. Enter that and you will have admin access where every device's activities will be reported to your dashboard.
Next, you need to manually install it on the targeted person's Android phone by downloading the apk file from the browser. If the target uses iOS devices, you need to enter iCloud credentials only to spy on that device.
After setting up on every device, you want to monitor, make sure those devices have WI-FI or cellular data turned on. mSpy can only send data if both devices have an internet connection. It needs to send the data to the admin using the internet; the admin will also see those sent data via the internet. 
Can mSpy Mobile Tracker be detected?
This app works in the background and leaves no signs of running on Android or PC for iOS. mSpy is a spy app. That's why it has a feature to operate in stealth mode. You can choose to either show or hide the app. Once you choose to hide the app, it is next to impossible to detect this app. You won't have to install the app, so it's undetectable on iOS without a doubt. If you didn't hide the app, then the answer is guessable even to you. Make sure you have hidden the app so no one can uninstall it except you. 
Once I hide the spy app, it will be difficult for me to uninstall it too, is what you might be thinking, but don't worry, you can uninstall it easily. Only your main account has a feature to uninstall. mSpy offers remote uninstallation, which is helpful if you are far away from home or use multiple devices to access the admin panel.
Read More: How to uninstall hidden spy phone app?
Features of mSpy Mobile Tracker: Review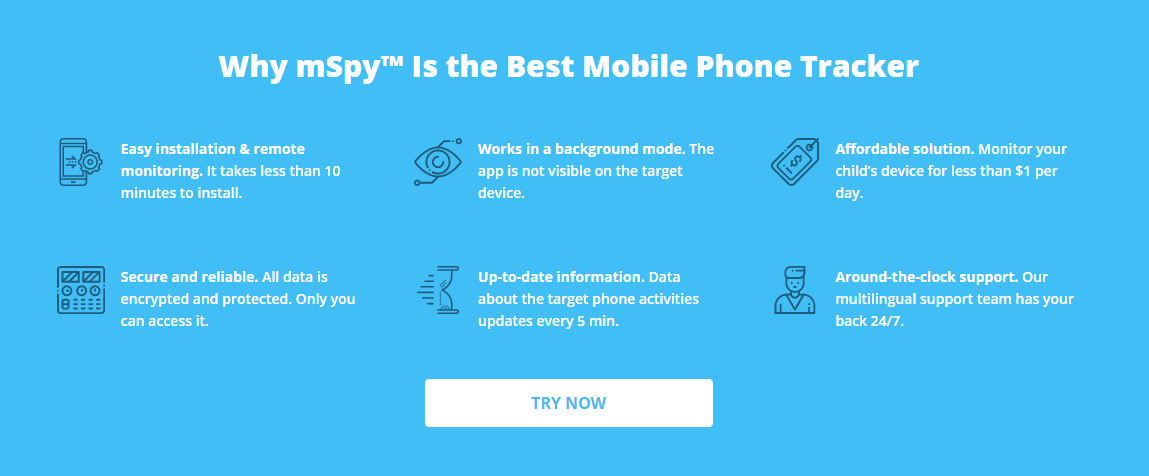 mSpy has tons of features that will leave your eyes wide open, and they are:
Call and contact monitoring
With this app, you can receive information about the target's or children's received calls, outgoing calls, most called numbers, duration of each call, and contact names with the number. 
You can not only view call logs and contact details but also delete logs. Yes, you needn't worry about not catching a single activity even if they have WI-FI or cellular data turned off. If they act smart and delete any call logs or contact lists, you can catch them with this feature.
Without getting caught or leaving a "Seen" status. Just like a call log monitor, this feature helps you read every message your kid receives or sends from their device. You can read deleted messages as well as password-protected messages. You can read messages from social media, too (I will explain them in detail later).
This feature is only available in a few mobile spy apps, and among the few, mSpy is one of them. What this feature does is record every alphabet, character, and number typed on the device. You can even read what was copied on the clipboard.
Some kids are addicted to their phones because of certain apps & games. They spend hours without rest on such apps & games which affect their health and eyes. With this feature, you can monitor the app usage and see how many hours they spent on a single app in a single day. You can then remotely uninstall that app and block it from being re-installed.
Website and browsing data access
You don't know what your kids watch on their phones from the browsers. They may watch inappropriate contents which aren't suitable for their age group. Some kids fall into porn addiction at 13 years old, whereas some are into drug addiction. They knowingly or unknowingly access those websites and consume the contents. It's these times when mobile spy apps come into great use. You can check what websites they visited and how long they spent times on those websites. If you find inappropriate websites, block them so your kids won't get access to them again.
We are all interested in reading someone else's social media messages, either from Facebook, Instagram, Viber, WhatsApp, Line, etc. If they use some adult sites like Tinder, OkCupid, Bumble, etc., you need to read them anyhow. Social media is the best place for hackers and predators to steal someone's identity and bully them. They may exchange inappropriate photos and videos on messages with friends, lovers, or strangers. They may blackmail your children into sending such photos and videos. In such cases reading their messages will help you prevent unfortunate news and save your children.
You can download it on your device and watch it to ensure no inappropriate photos and videos are on their devices. You can check every captured and downloaded image and video on your kid's phone, even if the photos and videos are hidden in the vault. If you find them, then you can instantly delete them from your kid's device.
Earlier I mentioned the keylogger feature, which lets you read every typed word on a device. But this feature is different. You can set certain words like porn, drugs, weeds, etc., and whenever your kid types such words, you will get alerts about the typed words.
It is a feature that lets you track the whereabouts of your kids, which is pretty much obvious to everyone. Also, the feature of geofencing is available, which sends you an alert whenever your kid visits a geofenced location or leaves your house.
Read More: Best fake GPS locations apps for Android 
SIM card location tracking
This feature is useful when your kids are in places where the internet connection isn't available. You can use this feature to track the location of your lost device too.
These features allow you to capture the live feed of mobile. What you kid is watching currently. It only sends the screenshot to you and is different from the mobile phone's in-built screenshot feature. You can check their calendar and notes too.
Pros and Cons of mSpy Mobile tracker app: Review
There comes a feature with every spy app, and with those features, we get some pros and cons.
Pros of the mSpy mobile tracker app
Some Pros of the mSpy mobile tracker app are:
Easy to download & setup

Easy to use UI and dashboard

Tons of features

Undetectable

Great customer support.
Cons of the mSpy mobile tracker app
The Cons of the mSpy mobile tracker app is:
Sometimes GPS showed the wrong location.

It was hard to update the app sometimes.

Rooting/Jailbreaking the device was needed to access full functions.

Some devices weren't supported.
Requirements of mSpy Mobile Tracker App
Now that you know about the mSpy app's features, it's time to check the System requirements for this app:
Let's start with Android devices:
If you want to install the mSpy app, your device should have an Android Operating software of 4.0. it supports smartphones with 4.0 and above up to the latest versions. If you want features like Social media spy, Geofencing, web browser blocking, etc., you need to root your device, or else you won't be able to use the app to its full potential.
For spying iOS devices:
If you want to spy on iPhone, iPad, and iPod touch, you need operating software from iOS 6. But to spy on iOS versions 6, 8.4, and 9.2, you need to have physical access to the device and install it. You need to jailbreak your iOS device to read social media texts. The same goes for features like geofencing, alerts, keyloggers, etc.
This spy app supports PC too and has the following requirements:
For a Windows computer, you don't need to access the target's computer. You can remotely install it without showing any sign of installation and running. It only supports the following Windows: 
XP 32-bit.

Vista 32-bit and 64-bit. 

7 32-bit or 64-bit.

8 & 8.1.

10 32-bit & 64-bit.
This app supports macOS too. But the installation case is different compared to iOS. In iOS, you could remotely spy the devices, but you need to access the target's device and install the app manually on Mac. Isn't it weird how iOS and macOS works? The supported macOS is:
macOS X 10.11 El Captain

mac0S X 10.10 Yosemite

macOS X 10.9 Mavericks

macOS 10.7 Lion
How much does mSpy cost? Is it worth the money?
An app with so many features and supporting so many OS should cost a lot. This is what you might be thinking, but it's the opposite. This app is neither expensive nor cheap; it's a total value for money. You can easily spend the marked amount to buy its subscription. This app offers a monthly subscription for single devices and multiple devices. It offers two upgrade options and calls it Basic 1 month Basic & 1-month Premium. It offers 12 months Basic and Premium subscription as well. 
My honest review of the mSpy Mobile Tracker app
My honest review regarding this app is 4/5. Out of 5 stars, I give it 4.
Why a rating of 4? Because it's for not providing accurate GPS. Imagine tracking your kid using GPS. You are a resident of New York; you see your kid isn't home, then you try to track him, and it shows California. Heart Attack! 
Jokes aside, this app doesn't show that much inaccurate location; it only shows a hundred or two-meter difference which I hope developers will improve soon, and there are issues while updating. Its inaccurate GPS tracking is compensated by the SIM location tracking feature, which is accurate, but who cares we as a consumer need what a company promised. Isn't it? 
Overall this app is good in performance, and I loved it very much and suggested you try it. It gives you a free version and lets you check how the app works.