How To Monitor Your Employee Emails?

How To Monitor Your Employee Emails?
Many business house owners complain about employees' lack of productivity when using digitized goods and devices. Monitoring your employees' online behavior and apps like Email could resolve this issue. If you are a concerned owner or a manager, you can watch your employee's emails to know what they are up to.
You will know every tiny detail from emails and attachments sent, emails received, and so on. You can protect your sensitive and confidential data; if you are suspicious about certain employees, then take strict action asap.
 The employees will also focus more on their tasks for increased productivity and effectiveness. Saying that you might be concerned about privacy issues of your employees or legal conflicts. In this blog, we will have a detailed discussion about Employee Monitoring.
What is Employee Email monitoring?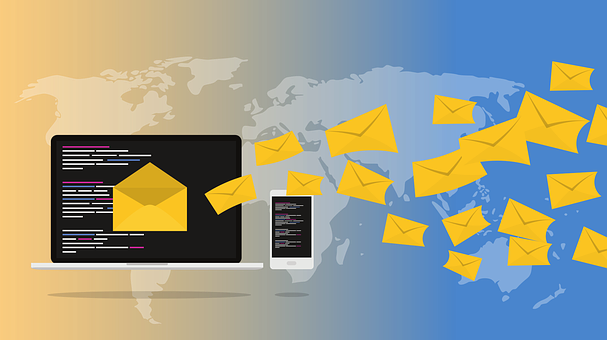 Employee Email monitoring is the tracking and surveillance of employees by a concerned manager or employer. With Emails and other similar apps being excessively used in organizations, monitoring them will help employees effectively manage all the incoming and outgoing emails, ensure excellent communication with the clients and boost employee productivity. 
Why monitor your employees' emails?
There could be numerous reasons you want to keep track of your employees. Here are some possibilities,
Analyze Employee Productivity
In a fast-driven organization, responding to management queries or customers asap through Email or other apps is essential. By monitoring their activities, you will know the concerned employees' responsiveness and will be able to manage workloads of employees. Identifying poor performance or the highest performers could help the business owner take action accordingly. 
Identify Threats
 A single malicious Email could be vulnerable to an organization's security. Email monitoring is a must to enhance the organization's security mechanism. It can prevent business houses from spoofing, fraud, online theft, and other threats. Many tools can help to determine suspicious activities, determine if the emails are legitimate, 
Client Management
You will get to know the volume of, quality, and frequency of your Employee's Emails through Email monitoring. A well-written Email can attack a lot of potential customers. You shall know about communication skills and relationships with the clients or resolve any doubts unsolved through Email. 
Best practices for Employee monitoring
Be transparent with your employees and explain the need for monitoring

Respect employee's privacy and provide detailed company information 

Know Employee Monitoring Policy

Choose your metrics and areas of monitoring carefully

Be mindful of the law in your country

Explain the risks and vulnerabilities associated with online platforms

Explain the procedure for email monitoring and encourage enhanced performance
Read More: MobileSpy for Employee
Best apps to monitor Employees' Email
MobileSpy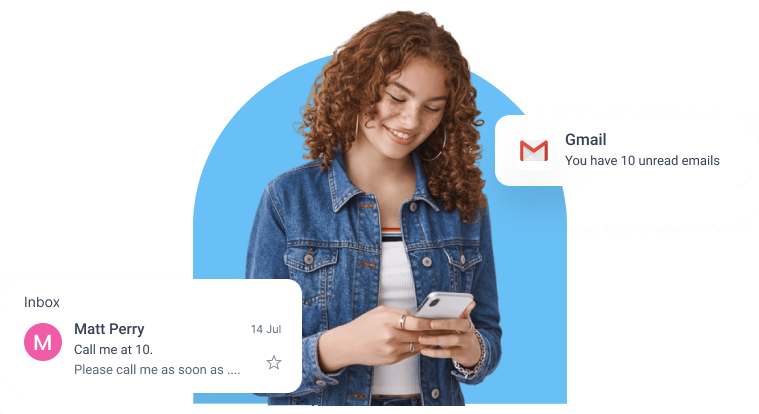 Mobilespy should be the ultimate app to keep track of your employee's activities. It offers you extensive and boasts amazing features, unlike other monitoring. This app will be helpful if you want to monitor employees' online activities on Smartphones, including Android and iOS. You need not jailbreak or root the device.
 The app can monitor email service apps, including Gmail and Yahoo. You can keep hold of incoming and outgoing emails with timestamps and other details like the sender's name and email address. Once the monitoring app is installed on the employee's phone, you will get notified of all the emails received. You can then track the attachments or other files through MobileSpy.
 You will get tons of additional features with MobileSpy, including call tracking, social media monitoring, Browsing history, etc. To start with MobileSpy email monitoring software, choose your best subscription plan and install it on the target device. After logging in with your account, you can see the detailed Email activities on the Dashboard in the Email section.
Features:
Social Media Monitoring

Multimedia Monitoring

Remote access to Devices

Track Calls and SMS
Pricing:
Basic: $9.99monthly, $59.99 yearly

Standard : $14.99monthly, $79.99 yearly

Premium : $19.99 monthly, $99.99 yearly
ActivTrak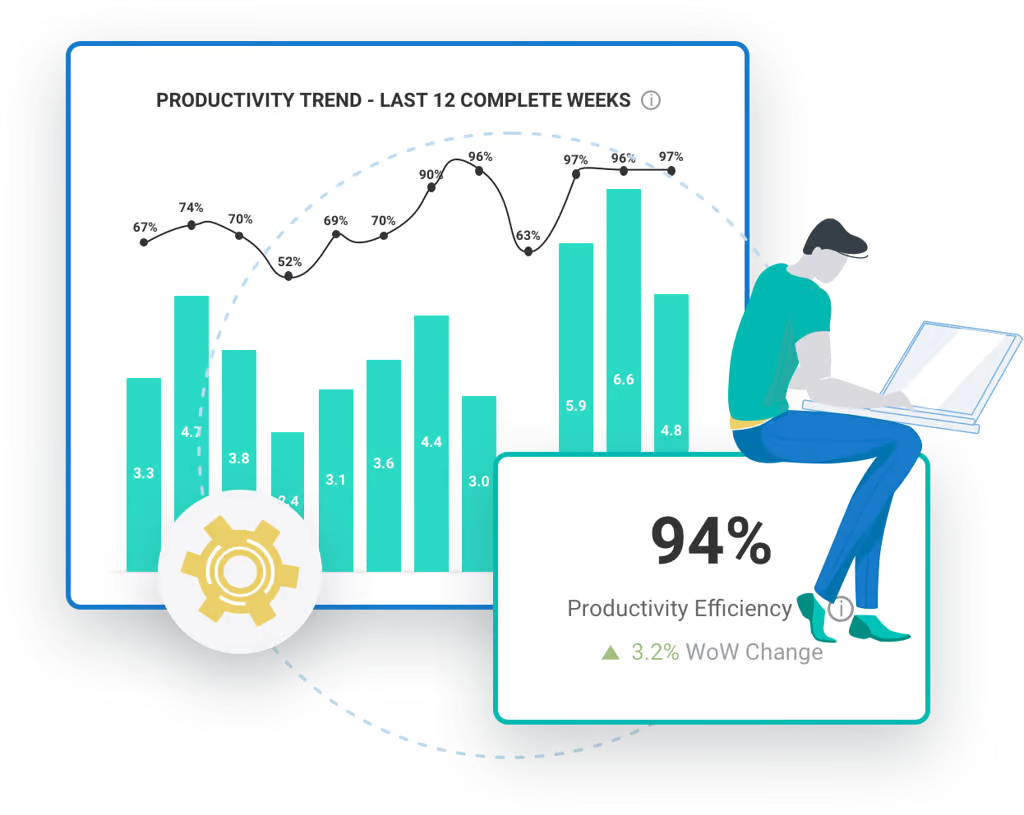 ActivTrak should be another incredible Email monitoring software for employees. This monitoring app improves workforce analytics for modern organizations.
 This Employee monitoring app does not track camera, record, video, or monitor an employee's device; rather, it helps to enhance productivity and increase Employee engagement rate in the workplace. You will know if the employees are exploiting the Email, sharing confidential data through emails, or are unproductive in the organization.
ActivTrak has other features to enhance the company's performance, including Productivity management and measurement, Employee productivity management, and operational efficiency. All of the employees' reports can be viewed via Dashboard. 
Features:
Enhanced Employee engagement and a better experience

Employee optimization

Higher effectiveness and efficiency in the organization

Determine employee productivity
Pricing:
Advanced: $9 per user monthly

Premium: $ 15 per user monthly
Teramind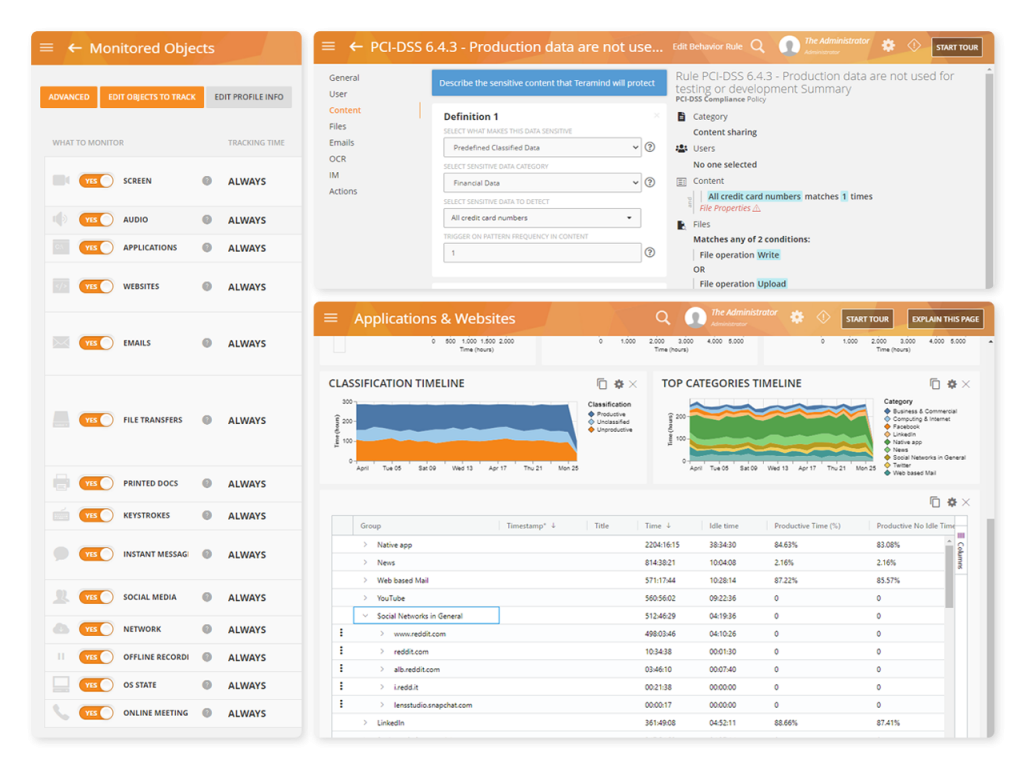 Teramind is another exceptional monitoring app to track your employee's emails; it does more than just email monitoring. It provides data analytics of productivity, security, and compliance by acknowledging employees' privacy.
 With Tamarind, you can optimize the productivity of all the employees in your organization by various data, identifying tasks, labeling apps and sites, and even alerting unproductive employees. Teramind ensures safety for the employees with its end-point monitoring feature.
It blocks all malicious activities on Email and other apps and informs the security team. Automated Activity Blocking remote controlling and Risk Analysis are other security functions of Teramind. Teramind also enforces regulation compliance and handles sensitive data activities on Emails. 
Features:
Employee Monitoring

Productivity Optimization

Time Tracking and Compliance

Data breach protection
Pricing:
Starter: $5 per user monthly

UAM: $10.42 per user monthly

DLP: $12.50 per user monthly
Interguard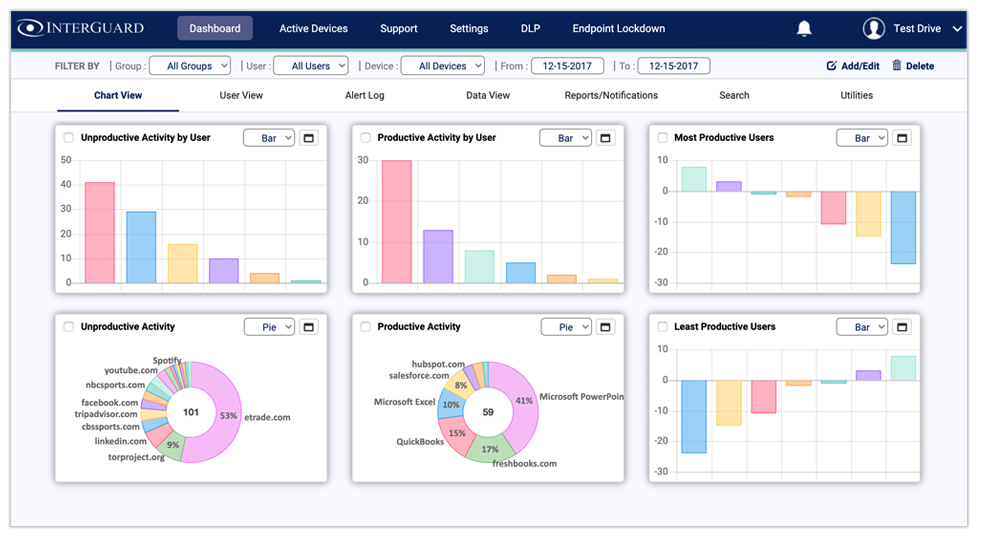 Interguard is an incredible monitoring software for business owners to track their employees' emails and other activity usage. Interguard also focuses on remote employee monitoring, time tracking employees' activities, and providing threat protection for enhanced compliance. 
You can track multiple Email softwares, including Outlook, Gmail, Yahoo,  MS Exchange, Office 365, and many more. With Interguard, you can monitor all incoming and outgoing emails and even track emails deleted by the user. You will get notified of any suspicious email activity of your employee.
It will provide you safety from data breach, detect suspicious activities and measure employee performance.  For instance, you will get alerted if there is a higher engagement rate of attachments or emails, abnormal business transactions and so on. You can access employees' business mail, have detailed timestamps and keep an eye on the attachment and files shared and received. 
Features:
Employee productivity monitoring

Compliance Audits

Web Filtering and blocking malicious websites

Prevention of potential threats 
Pricing:
$25 per user monthly

$179 per user yearly
Conclusion:
I believe this blog will assist you in monitoring Employees' emails effectively. Monitoring emails can enhance your organization's productivity, data protection, and employee optimization. However, only watching emails will not give a clear picture of what employees are up to. 
It would be better to monitor the workplace's employees' tasks ethically and legally. Maintaining privacy and transparency with Employees will build positive relationships with the employees and enhance the company's performance. Also, it would be better to use the tools without violating employees' privacy and fundamental rights.
Learn More: How To Know Cellphone Location Of Employee?
Frequently Asked Questions (FAQ)
Can I monitor Employee Emails?
You can track an employee's commercial or workplace email for valid reasons. However, monitoring others' private emails is illegal. 
Is it legal to monitor employees?
Yes, monitoring employees on the workplace premises or remote work is completely legal. Furthermore, it also depends upon the monitoring policies of the countries. The employees can have higher productivity and are more effective towards work when they are tracked. 
Can my employer read my Emails without my permission?
Without anyone's consent, accessing someone's Email or other information is illegal. However, it is possible to read someone's email  from high-end monitoring  tools like MobileSpy and Interguard.