HiddenVault Photo Vault App and other hidden apps. How can you find them on your child's phone?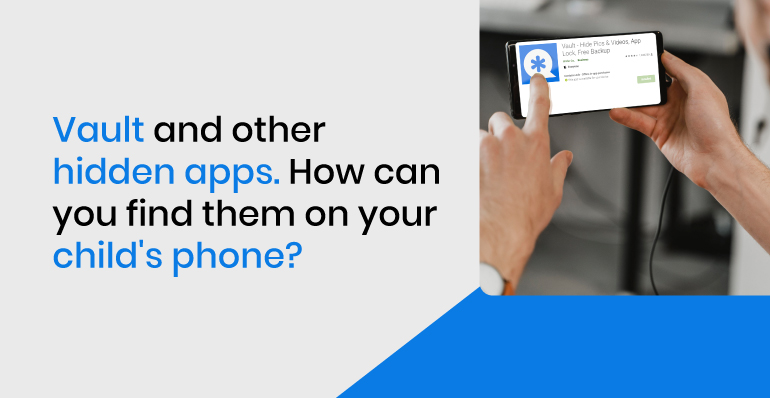 HiddenVault Photo Vault App and other hidden apps. How can you find them on your child's phone?
As technology is getting better and better, your children are getting more intelligent as well. They are finding many ways to outsmart us. Children are using technologies that parents can't even comprehend, and the Vault app belongs to one of those technologies. These Vault and other hidden apps are hard to find if installed on your child's phone.
Vault and other hidden apps are used to keep a lock on your photos and videos, blocking anyone but yourself from getting access to it. But children can use it to hide the stuff they don't want you to know about. 
In this blog, I will talk about Vault and other hidden apps, why your kids use these apps, how to find these apps on your child's phone, and things you can do if you find these apps on your children's device.
What is a HiddenVault Photo Vault App?
HiddenVault photo vault app is a mobile app used to hide your photos and videos and secure them using passcodes. You can lock and secure essential apps, back up your data on the cloud, hide your Vault from other people, and even snap a picture of an intruder.
Features of HiddenVault Photo Vault App
Hide and Protect Photos & videos
After entering the correct password, photos and videos downloaded into the phone can only be watched or played. For added security, you can back up these images and videos to Cloud Space.
Call Reminder
When an incoming call comes in, you will use the inquiry box to look up the phone number.
App Lock
Use App Lock to encrypt your social media, photo, call logs, and phone apps to avoid privacy leaks.
Private Browser
Your internet surfing can be fully anonymous with a Private browser. There's also a feature called Private Bookmarks.
Cloud Backup and Data Transfer
Please back up your photos and videos to the cloud to ensure that they are never lost. You can quickly move your data to a new phone using the Cloud Backup feature and cross-device synchronization.
Password Recovery
Are you afraid of losing your password? In Vault, create a security email that you can retrieve.
Multiple Vault and Fake Vault
Create several vaults for storing images and recordings, each with its password. Each of them may be a phony vault.
Stealth Mode
Let the Vault icon vanish from your home screen and only be accessible with the correct password because no one knows it's there.
Break-in Alerts
Anyone who tries to enter with an incorrect password is secretly photographed. Both intruders' images, timestamps, and PIN codes are captured by Vault.
Other Hidden Apps
The most common way to use a hidden app is by making it as if it is used for other purposes or functions. The most popular way is to use the Calculator app as a hidden app. most hidden apps come in a calculator. It looks like a calculator app, and when you open the app, it also has the UI design of a calculator app. 
So on the surface level, it can trick other people into thinking it is a Calculator app. But in reality, when you hit password and equals to" =," it opens a hidden app where you can hide your photos, videos, other apps, and contents.

Calculator – Photo Vault & Video Vault hide photos is a famous ghost, secret or hidden app. Calculator Photo Vault is a Vault app that can securely hide photos, videos, and other files without anybody noticing as a gallery lock built in your computer. 
It looks like any other calculator app and performs admirably. This app will securely keep your files in a vault which you can only access by entering a numeric PIN on the app's calculator side. 
Why do children use Vault and Other Hidden Apps?
Vault apps are specifically designed to hide your photos and videos. When you hide your content in the Vault, only you can assess it using a passcode. So, children might be using the Vault app to hide their photos and videos so that you or other people will not be able to access them.
Talk about why children might hide some of their content from you. It might be because the content is about their love interests(boyfriend or girlfriend). It might be common as they might not want to share such things with you immediately. 
Children can also use social media or other dating apps that you might have prohibited them from using. They can also use a browser to access illegal websites on the dark web or view explicit content.
Read More: How to track your kids browsing history?
Sometimes children can get hold of some explicit content like nude pictures, pornographic pictures, and videos. Likewise, they might be using explicit apps, which might even be illegal in some places, or they might be using dating apps even when they are underage.  
Therefore to avoid you and other people from accessing these contents and apps from their mobile phones, they hide it in the vault app and other similar hiding apps. But be careful that such content can cause severe damage to your child's life.
How to find Vault and other hidden apps on your child's phone?
As I mentioned above, children can use Vault or any other hidden app for many reasons. But sometimes, they may not know the ramifications or repercussions of their activities.
As a parent, you must be concerned about what your child is watching and what they are doing on their phone because you want to protect your children from harming themselves physically or mentally. Hence, here are some ways you can use to find Vault and other hidden apps on your child's phone.
Look for any suspicious app on your child's phone
The first thing you can do is look on your child's phone and search for any suspicious apps. Please search for the apps with the lock or vault logo and try to open them. When you open the app, it is some vault-app if it asks for a password, passcode, or fingerprint.
Likewise, look for an app with a calculator logo. Your phone has an inbuilt calculator app. But if you see two calculator apps on your child's phone, one of them is a hidden app. It can only open when you enter your password and tap the "equals to (=)" sign.
Search for those hidden apps on the app store or play store
The other thing you can do is go to the App Store on an iOS device or Play Store on an Android device. Try searching for a vault or hidden apps like AppLock, Vault, Vaulty, SpyCalc, Hide It Pro, CoverMe, Secret Photo Vault, Secret Calculator, Calculator Photo Vault.
If there is an install sign, then there are no vault apps. But at the install sign, if there is "Open" instead of "GET" or "Install," then your child has installed a vault or a hidden app on their device.
Use parental control and monitoring apps.
You can also use the best parental control and monitoring apps to manage your child's phone. These apps help you track your kid's phone's activities like text messages, social media usage, photos, videos, other contents, web browser history, etc.
Thus using these monitoring apps, you can quickly determine if your child has installed any new app on their mobile. You can also access the contents on their phone, the photos, videos, the apps, and the text messages they are trying to hide.
Best parental control and monitoring apps
There are many parental control and monitoring apps out there in the market. Here, I have enlisted some of the best parental control and monitoring apps that will help you to manage your children's mobile use:
FamilyTime

Bark

mSpy

FlexiSPY

Norton
How to find hidden apps through settings?
It is a very simple and easy way to detect the hidden app on anyone's phone. How much effort does your child put to hide things on the phone from you; you can find it just by going through the phone's settings application.
To find hidden apps through settings, you need to follow the given steps:
Click your Settings app and choose the option

"Apps & Notifications"

from the menu.

Now you can see all the installed applications available on your phone. It will show hidden apps also.
How to find hidden apps in App Drawer?
Every time the phone gets updated, the features become best and better. There are a lot of ways to find hidden applications, and App Drawer is also one of them.
Open the App Drawer by swiping the home screen from down to top (or by clicking on the three columns of 2 dots on the home screen).

Now click the menu icon. According to the version of your Android device, its appearance is different, but usually, it looks like three dots or setting 'gear' at the head of the applications list and next to the search bar.

Next, click on "Home Screen Settings.

And then, scroll down to click "Hide Apps."

There is a screen with apps that can hide will flash, and on the top of it, tab "Hidden Apps" that contain all the applications that the user hides.
What can you do if you find Vault and other hidden apps on your child's phone?
You should review and analyze your children's applications that they have downloaded regularly to ensure they understand their meaning and work. One of the safest ways to keep your child from making risky decisions online is to be vigilant and remain linked to them in their digital environment.
By keeping a positive relationship with their children, parents can watch their actions on their phones. They must bridge the gap in intimacy between themselves and their children by sharing something with them. It starts with telling them about your everyday lives, followed by questions about their passions and hobbies.
Children intentionally use vault apps on their smartphones because they don't want their parents to interfere with their personal lives, such as photos, text messages, or video games. They are, though, too young to understand the benefits and drawbacks of these applications.
Keep calm and compose yourself first when you discover something unusual on your children's phones. They are insignificant in the absence of comprehensive knowledge. I recommend that you speak to them respectfully, explore, and clarify the implications of using social media in a derogatory manner. Maintain an open line of communication with teenagers to come to you with any questions they might have.
Conclusion
Vault and other hidden apps are used to hide your photos and videos and secure them using passcodes. Children can use it to hide photos, videos, and other content and apps to use other people who can not access them. 
But if you try to search those apps on the play or the app store or use parental control and spying apps, you can easily find out whether your children are using these hidden apps or not.
But if you find out that they are using these apps, try to talk to them first. It is preferable if you value the privacy of your children. You can only gift their phones when you trust them; otherwise, their behavior would hurt your relationship. 
Read More: What parents should know about decoy apps?