Is Your Child Into 18+ Contents? Track Their Browsing History

Is Your Child Into 18+ Contents? Track Their Browsing History
Internet is a vast place where you can find anything. Sometimes your children can get hold up to content that might not be appropriate for their age and even get addicted to it. So I highly recommend that you track their internet history.
On the Internet, you can go anywhere and get anything around the world at your fingertips. Anything you want to access through the internet is just a click away, from laughing at your favourite shows to shuddering at the news. However, if you are a parent or teacher, this could be cause for concern. When your child hits the age of 18, it can be an emotional time. Adulthood arrives much earlier than you would have expected, particularly if your child is still a dependent. 
Nowadays, children have easy access to hundreds of TV stations as well as millions of Internet pages. They can also purchase or download a plethora of video games and software. There is a lot of media out there, and depending on your child's age and maturity level, some of it might not be suitable for them.
You are the best one to determine which movies and video games are suitable for your child to watch and play as a parent or caregiver. You consider what your child can understand and cope with, as well as the types of material that can annoy them or cause you concern. Rating details will assist you in selecting appropriate content for your child. Parental controls will also assist you in restricting access to inappropriate content.
The easiest way to control the media that children consume is to consume the media yourself. Test apps and games before allowing your children to use them. Watch and connect with apps and games with your children. And keep an eye on what they see so you can discuss what they see on their screens. You are the ultimate predictor of what your children can handle because you are the most familiar with them.
Before proceeding, ask yourself the following questions "Do…":
I know how social media or digital network works?
Do my kids know the loopholes?
I proactively track kid's online activities?
Do my kids differentiate the importance of safety and freedom? 
I control the access of the Internet to my kids?
Have some idea of browsing and its history? 
Private browsing (also known as hidden or incognito browsing) is exactly what it sounds like while searching secretly. When visiting websites, it helps you to retain some privacy. It simply denies you the ability to track your browsing history. 
What private browsing does: 
It hides the internet history on the browser

, which means the page you visit won't be there on the history list. 

There won't be any trace to see about the last search pages, which means you can't get any

search history

. 

Prevents ad-tracking activities, which means it won't allow storing

cookies

on your computer. 
There are advantages to using private browsing. If you and your family share a computer, there can be occasions when you want to keep your online activities hidden from the rest of the family. You may be looking for birthday gift ideas for your kids and don't want them to see what you're looking for. Your search terms will not appear as a recent search if you use a private browsing session.
Let's look at it from a different angle – that of a parent. We want to protect our own and our children's online privacy. We can be apprehensive about businesses being able to target advertisements to our children. Though private web surfing will help (but not always) avoid it, bear in mind that the solution still allows children to conceal their online behavior from you.
You could be reviewing the pages your children are visiting by testing the browser's history (in most cases, you may do so by pressing Control-H). However, your tech-savvy children may be familiar with incognito, secret, or private web surfing, and you may not be aware of their activities. To access the pages that might conceal, you'll need to use parental control tools.
Kids Can Do Following Things To Hide Their Browsing History
Those days are gone when parents can easily trace every activity of their child. Kids explore the loopholes to every restriction set by their parents. Following are some measures kids follows to keep their history secret: 
Private Browsing: Different privacy features such as private browsing, private mode, and incognito mode help your kids hide their history. 
Read More: How to see incognito history?
Google Chrome – Incognito Mode
Internet Explorer – InPrivate
Safari – Private Browsing
Firefox – Private Browsing
Kids can use Tor Browser 

Proxy sites may also help your kids to maintain privacy.

Kids may install VPN(Virtual Private Network).
How to track browsing history secretly?
 You can track the browsing history of anyone by using spying applications. Though it is illegal to spy on anyone, the safety concerns of kids to the parents and suspicious behaviors of your spouse can lead you to track their browsing history.
MobileSpy.io
Parental control application MobileSpy.io helps you to know what your child is doing on the phone and where they are in real life. It gives you access to child's phones which allow phone tracking to monitor the activities remotely. It is licensed software and is the cleanest way to track search queries and browsing history in both private and public mode. You can also use MobileSpy for Instagram spy, Snapchat spy and other social media spying purposes.
iKeyMonitor
 iKeyMonitor is another mobile spying application that lets you check the target phone's activities remotely. iKeyMonitor allows you to track the GPS locations, call history, screen recorder, send and receive a message, and track web browsing history. But to access advanced features, you need to root the device.
 Use parental control and phone monitoring app like Hoverwatch, mSpy, Spyic, MobileSpy.io to track your kids' browsing history secretly. Their features allow you to track the daily browsing history remotely, watched by your child on android and ios devices. If you find any inappropriate content they watch, you can restrict it by web filtering.
How to track browsing history for free?
There is no direct way to track browsing history for free without having a target phone. Though the applications mentioned above help you to track for free but to access the advanced premium feature, you have to pay.
How to track browsing history by accessing the phone?
This is the easiest way to check browsing history, but having the target phone on hand might be difficult for you. However, you can manage to have your child's phone for some time. Simply by going through the browser, you can see what your children view on their phones.
But if they have already deleted their internet history, sorry, you will not be able to see it.
Steps for tracking browser history on google chrome:
Open chrome from the target device (here, your child's device).
On the right side of the top of the screen, you can find three dots; click on that.

And then roll down to the option "history." Select that.

Now, you will see the list of all visited pages from the browser.
Steps for tracking browser history on Safari
For iPhone users, you can check their browser history on Safari by going through the given steps:
Open your child's phone and click on the Safari application.

Click on the book-shaped icon which is on the bottom of the home screen. 

Then, on the head of the screen, there is a clock-shaped icon. Click on that. 

It leads you to all viewed websites.
 Simple step to track browser history in iPhone directly from settings:
Once you go to the Safari app through settings, the Advanced option will be at the bottom of the screen. Click that and then select the first option named "Website Data." Now you can see all the visited safari history.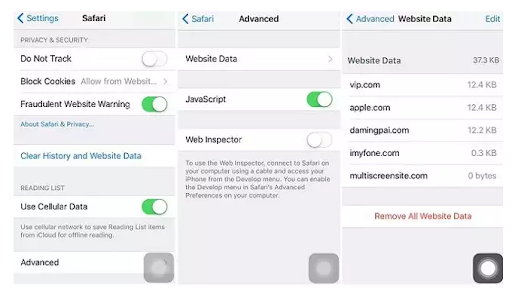 How Parents Can Control The Kid's Internet Activities 
For further supervision and control, parents have various options for tracking kids' browsing history, keeping track of the media their children watch, play, and use. These tools will not protect children from all objectionable content, but they will help.
Many Computer Softwares Offers Parental Control 
The majority of computer operating systems have parental control settings to ensure your child's safety when they turn on their unit.
Windows 10
Windows 10 offers content restriction, which includes inappropriate media, websites, apps, and games. It also needs parents' permission before purchasing from Microsoft Store.
Click here

and first sign in to your Microsoft account.

Go

here

and set up your child's account with their information and select content restriction.

Toggle the Apps, Games, and Media choice. Switch on the ability to block inappropriate applications, games, and media.

Now choose an age limit for your child under Allow apps and games rated for.

You may authorize your child's request to use a blocked app or game by going to Content restrictions and adding it to the Always approved list.

You can also block inappropriate websites after clicking the content restrictions. 
Apple 
First, select the system preference in the apple menu.
Select parental controls and choose user account on the left; after that, enable parental controls.

Choose any of the three modes after selecting the content tab. 
Internet Browser Also Offers Parental Control
Google Chrome
The hidden browser of chrome is called incognito. Ctrl-Shift-N, or press the little lines in the upper right and pick the Incognito window, will open a new One. After you close all open incognito windows, the pages you access in this window will not appear in your browser history or search history, and they will not leave any traces, such as cookies, or search queries on your computer. Hence in an incognito mode, you will not be able to track your child's browsing history. However, this will save every file you download or will save the bookmarks you make.
Following are steps for chrome restriction:
Log in to a google account, select the people section on settings. 

Select add person section and fill in the name and select the image. 

Don't forget to check in the checkbox next to control and view the websites this person visits.

A new Chrome window will open when you press Add.

After building your child's profile, go to Supervised Users Dashboard and click on My Child.

In the Permissions segment, you can configure parental controls and "lock" SafeSearch.
Firefox
Firefox automatically scans your device's parental controls and switches to Prefer: Safe mode. As long as you have active parental controls on your device, this will automatically trigger the safety function on every website your child visits. The operating system's password-protected parental setting can disable the function.  As a result, your child will be unable to disable this function through the Firefox browser. Here are some parental control Firefox add-ons.
The Cellphone Has Its Parental Controls
Go to the Settings menu and choose Screen Time.

To generate a passcode, tap Proceed, then pick Use Screen Time Passcode. To validate, enter the passcode again.
Note: When configuring Screen Time on your child's computer, follow the prompts until you reach Parent Passcode and enter a passcode. Then, to validate, enter the passcode again.
Select Content and Privacy Restrictions. Enter your passcode if necessary, then select Content & Privacy.

Make a required change under content and apps.
Android parental control
Use your Google account to sign in or, whether they have one, with theirs.

Open the Play Store app and press the three horizontal lines in the upper left corner.

Scroll down until you see Parental controls, then pick Settings.

Build a PIN code by pressing the Parental controls button. Join the PIN again.
The choice will be allowed, and you can then tap each category to decide how restrictive you want each category to be.
Final Thoughts
Having internet access is having everything around the world at your fingertips. Providing access to the internet for a child means providing every content to them. You must filter the inappropriate content and use phone tracking apps to check their browsing history before giving access. Hope this article helped you to restrict some 18+ content and other inappropriate content.