How Monitoring Apps Can Help In Better Parenting?

How Monitoring Apps Can Help In Better Parenting?
The term parenting can be subjective, but if you ask me, parenting is the process of taking all the necessary steps that help your child to grow up and become a successful person with outstanding moral character. As a parent, you always want the best for your child, which you can achieve through better parenting skills, and to help you achieve that goal of better parenting, monitoring apps can play a vital role.
"Parents are the ultimate role models for children. Every word, every movement, and action effects. No other person or outside force has a greater influence on a child than a parent." – Bob Keeshan.
Monitoring apps help you monitor your child's online and offline activities on their mobile device. You can use it to track your child's location, call and messaging records, social media activities, website media, and many more. So the question is, how do monitoring apps help you in better parenting?
In this blog, I will explain the need for monitoring apps, the features that help in better parenting, and how too many monitoring apps can even damage your relationship with your child. I will also enlist my picks for the best monitoring apps and explain their features.
Why do you need Monitoring Apps?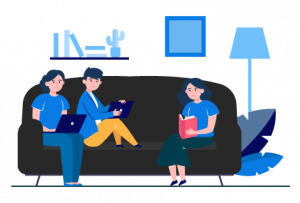 Monitoring apps can be handy in parenting, especially in this modern age of digitization and technology. You can't be present 24/7 in your child's life, and if you and your partner are working parents, the parenting gets double times harder.
Especially when your child hits that teen era, the era where they start to rebel over everything you say, your job as parenting starts to get more and more difficult. Because teenage is the period when they start meeting new people, making new friends and stats a social life, they open their social media accounts like Instagram, Facebook, Twitter, Snapchat, TikTok, etc.
Scary Things Your Child Might Be Doing Over the Internet
Then they start connecting with new people online. They start to share their life on social media, start chatting with people, post content, share snaps and stories, and so on. Reading this, you must already be thinking about how your child can fall into the traps of their activities mentioned above.
But remember that your child doesn't know the repercussion of it. No matter how perfectly you have raised your child, they can easily slip into the pitfalls of social media dangers. For example, your child might be talking to pedophiles on the internet who are possibly luring your kid into their traps. Your child might be getting bullied for their looks or appearance, or they might be bullying other people on the internet.
With the internet, it has been easier more than ever to get access to explicit content. So your child might be watching pornographic images and videos, and scarier than that, they might be sexting with a random person on their social media.
What if your child is talking to online predators, and they might be trying to make your child visit them, and god forbid, your child agreed to meet that predator in person without your knowledge. Can you imagine the horrors in that situation? So what can you do? What steps can you take? How can you protect your child?
How Monitoring Apps Can Protect Your Child
I know, I just now explained all your nightmares in a sequence, and I don't blame you if you are entirely questioning your way of parenting. But we all know that the things I said are not just make-believe stories from movies. These horrible kinds of stuff are happening right now in our society, and we can hear a lot about it from the news daily. So I am not stretching when I say that it will be a matter of time for your child to be the next victim.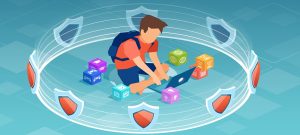 So to protect your child from all of these scary and horrible things, you need monitoring apps. Monitoring apps are the best tool to look after your kids, especially when not around them. Monitoring apps are the controlling apps that monitor and track all of your child's activities on their device. That means you will get access to who they are talking to, what they are talking about, text messages they are sending, their social media activities, their current location, and much more.
The monitoring and parental control apps allow you to be omnipresent in your kid's life without making them feel like you are intruding on their life and violating their privacy. So all the horrible things that I mentioned, parental control apps are the best way to protect your child from falling into these traps.
Features of Monitoring Apps That Can Help In Better Parenting
Here are some of the features of parental control and monitoring apps that helps you to keep your child safe and aid in better parenting:
Track Calls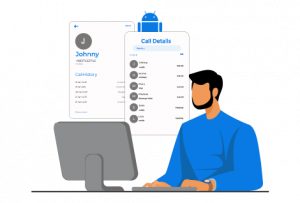 With the help of monitoring apps, you will be able to track your child's incoming and outgoing calls remotely. You will also monitor call log details such as the caller's name and phone number stored in the child phone's address book. More than that, you will also be able to access the timestamp and duration of the call through call log details.
Your children could be making calls to strangers they meet online or engaging in inappropriate behavior instead of doing their necessary works. Hence tracking their calls provides you with a good view of who they are speaking to, what kinds of conversations they are having, and whether they are wasting their time making needless phone calls.
Track SMS and IM's Chats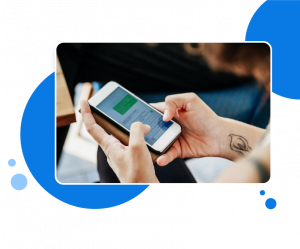 Monitoring apps give you the power to take control of your child's phone's incoming and outgoing texts. Track who your child is talking to and get additional information such as the total amount of messages received, time spent in the chat, and a timestamp. You'll also be able to find updates on SMS and texts shared by your kids.
There can be a possibility that your child might be reacting to the scams that are prevalent on the internet, and you can avoid this by tracking your child's text messages. You can observe the SMS's behavior and adopt suitable measures to deter unwanted activities from occurring. As a result, it assists you in identifying possible cyberbullies that are harassing your kids.
Monitor Social Media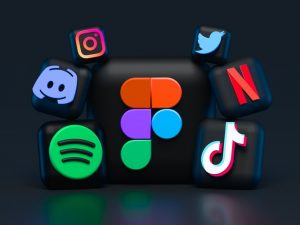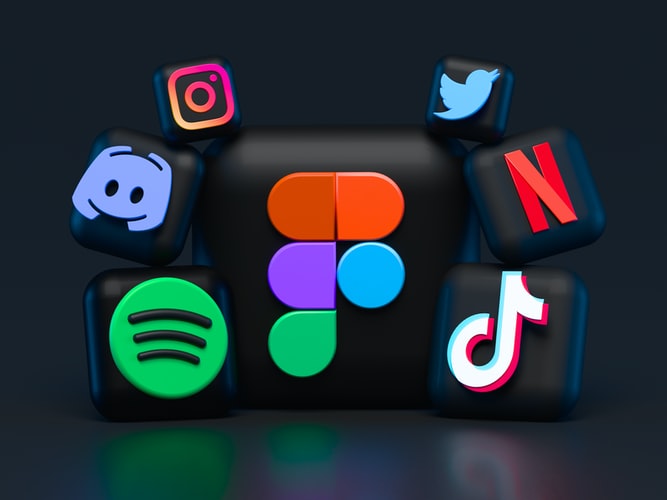 Children are naturally inquisitive and enjoy learning new things. They spent most of their time on social media apps, where they posted photos and videos with the social media community, which is quite common. Nowadays, kids open their social media like Instagram, Snapchat, Facebook, Twitter, Tiktok from an early age. They use social media to post their photos and videos, share messages and snaps, post stories, and meet new people.
The use of social media apps can be challenging and addictive. However, using these social media platforms can divert your child's attention away from schoolwork or, in the worst-case situation, pose a direct threat to your child's life. On such a social media app, online predators, cyberbullying, and you cannot deny harassment.
You, as a parent, want to save and protect your children from those negative factors. Therefore with the monitoring and controlling apps, you can spy on your child's social media messages, chat history, images, or videos exchanged and prevented bad things from happening to them. Monitoring apps can help you monitor your child's Instagram, Viber, Snapchat, WhatsApp, Facebook, Twitter, Tiktok, etc.
Access Photos, Screenshots, and Videos
Children usually spend their time taking pictures and recording and watching videos, phone calls, etc. They also post images on various social media sites. What if your child has inappropriate pictures on their mobile phones and is sexting and sharing nude photos on the internet with some stranger? What if your child's gallery is full of adultery images and pornographic videos?
Furthermore, hackers take advantage of your child's internet use. They will take personal information, like pictures and videos, and then blackmail and harass your child. Therefore, a monitoring app might be your perfect solution. Monitoring your child's photos and videos will help to deal with these situations better.
With monitoring apps, you can spy on your child's photos, videos, or other multimedia files shared by your kid from their mobile device. You can access their gallery and see if they have graphic content like nude photos and pornographic videos on their mobile device, and then you can take the necessary actions to deal with potential threats.
Track Location and Get Location Alerts
You, as a parent, are always worried about your children's well-being and whereabouts. Your child may be old enough to socialize with their peers, but they may not be mature enough to make sound decisions all of the time. They could be going to places they shouldn't be going or doing things that aren't fitting for them. They could go somewhere without your permission and not return for a few days.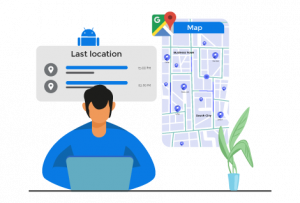 Hence the feature of GPS location tracker in monitoring apps helps balance your child's freedom and monitoring. You will be able to watch your child's exact current location and the coordinates of their mobile phone and access a map link that includes the date and time of each location. Monitoring apps can also help you monitor and locate cell phones if they are misplaced or stolen.
You would be able to track individual positions, view the entire location history, and track your child's every move. The app will notify you if your child reaches restricted areas, allowing you to protect them from any danger.
Monitoring apps also allow geofencing, which means you can designate places that your child is expected to be. You get notification alerts if your child leaves or returns to their designated locations. For example, you can mark their school and home on the map and get a warning if they leave or reach one of these locations. You can also specify the routes they can take and get alerted if they pass a location you would not want them visiting.
Track Browsing History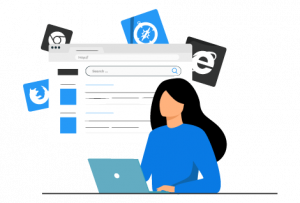 The internet has gotten quicker, more available, and less expensive, and it now provides convenient access to a wide range of information over the network. There are graphic contents on the internet that can potentially pollute people's minds.
Kids are quickly drawn to bad stuff on the internet, and they are often accidentally or purposefully subjected to inappropriate, sexually explicit, or incredibly violent materials. Such contents can cause long-term damage, and concerns emerge when this exposure occurs regularly and is not addressed with the guardian.
There are several methods that you can you to limit sites on your child's devices, but they are not secure, and your child can quickly turn their settings back without your permission. Hence tracking your child's phone's browsing history provides you with insight into their online behavior and internet habits. You will protect them by keeping them out of places they shouldn't be.
Track And Monitor Installed Apps
Tracking and monitoring installed apps' activity enable you to detect which apps your child uses the most and take appropriate steps to determine whether the app affects your child's productivity. This feature gives you direct and accurate knowledge about the exact period your child is using an app, and you can determine if your child is abusing some application that might not be helpful to them.
App Activity tracking allows you to detect patterns in your child's app use and determine whether your child has been too involved with apps at the wrong time or for too long. You can also determine if your child has downloaded restricted or illegal apps and protect them from any danger.
Keylogger
You can face several challenges when it comes to your children's online protection. Keyloggers provide digital monitoring, revealing anything that happens on your child's device. The monitoring app's keystroke feature can be used on IM messaging such as Facebook Messenger, Viber, Skype, and others to search content on the phone or visit websites.
Keylogger helps you find out if your child is engaging in dangerous online activity by watching every keystroke made on their phone. You will use Keylogger to determine whether your children are exchanging their social media or credit card credentials with someone they meet. You will learn what your children are looking for in the search engine, even in incognito mode.
More than that, with the Keylogger feature, you can also set keywords and get alerted every time your child presses that keyword on their device. So set up keywords related to mental health, bullying terms, explicit content, vulgar or predatory words, and then get notified every time your kid presses that particular keyword.
Top 10 Best Monitoring Apps That Can Help In Better Parenting
There are a lot of spying monitoring apps out there that you can pick from. So you might be in a massive dilemma about which software to pick because some might not be reliable and waste your money. Some might be a scam app, and some might not fulfill your expectations. The bigger question you must have is whether the monitoring app you pick will enhance or deteriorate your parenting style, as the ultimate goal is to help you better parenting.
So to clear your dilemma, here I have enlisted my top 10 picks for the best parental control and monitoring apps that can help you in better parenting in no particular order:
FamiSafe
Cocospy
FlexiSPY
Spyera
SpyHuman
Screen Time
mSpy
MobileSpy
Qustodio
FamiSafe


FamiSafe is a monitoring software from Wondershare. The software helps consumers preserve family welfare while protecting child's mobile use. It is jam-packed with fantastic functionality and functionalities for safeguarding and monitoring your children's everyday activities.
Features of FamiSafe
Some of the significant features of FamiSafe include:
The Web Filter and App Blocker functionality will help you avoid your child from interacting with potentially harmful apps and websites.
FamiSafe offers live location and location history, allowing you to pinpoint your child's precise location.
With the Geo-fence features, you will deter your children from entering and breaching a specific boundary that you have marked.
It has a machine learning feature that you can use to identify and detect suspicious images.
Cocospy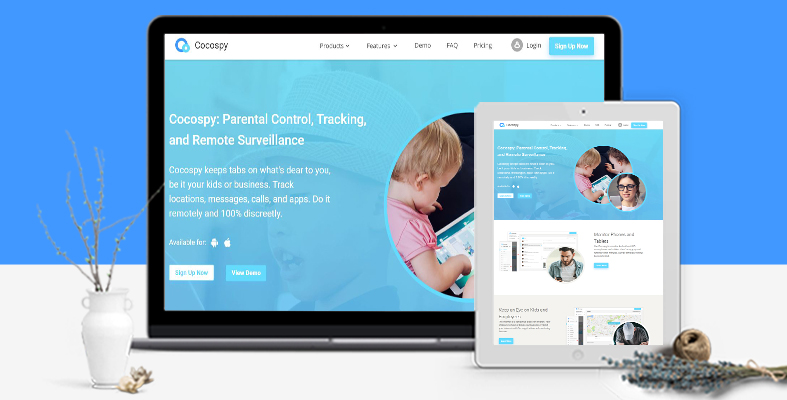 Cocospy software helps to control your child's phone usage. It tracks online or offline mobile activities and enables you to handle your child's screen time. It also tracks the things your kids search in the search engine and helps you protect your child from internet predators.
Features of Cocospy
Some of the significant features of Cocospy include:
Track your kid's calls, SMS, social media, installed apps, and location.
It is 100% Undetectable.
You can monitor your child's activities remotely.
This software is fully compatible with Android and iOS devices.
FlexiSPY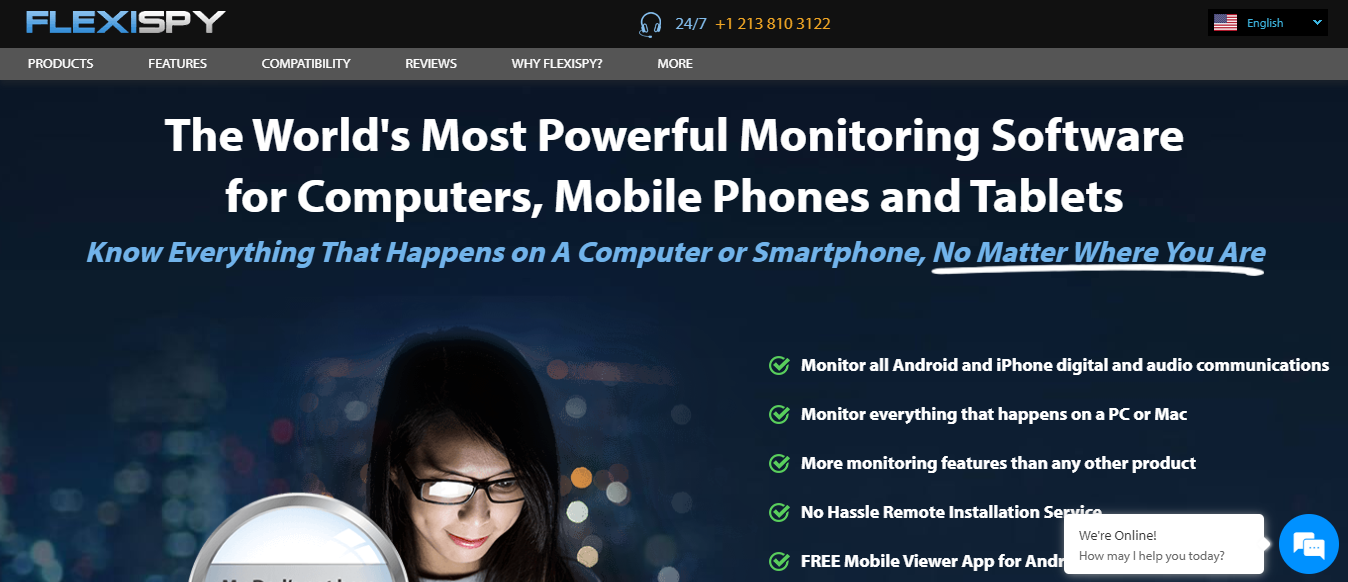 FlexiSPY is another monitoring and controlling software with a remote installation service, which means that you don't need to physically access your child's device to install this spy app on their phone. It also works as a home security device. So use this app to monitor your child's online activities without much hassle.
Features of FlexiSPY
Some of the significant features of FlexiSPY include:
Monitor your kid's PC, Mac, Android, and iPhone audio and digital communications.
It has a remote installation service that lets you install the app on your child's device without even accessing it.
It provides a Mobile Viewer App for both Android and iPhone.
With the assistance of an Internet filter, you will track your child's online behavior.
Spyera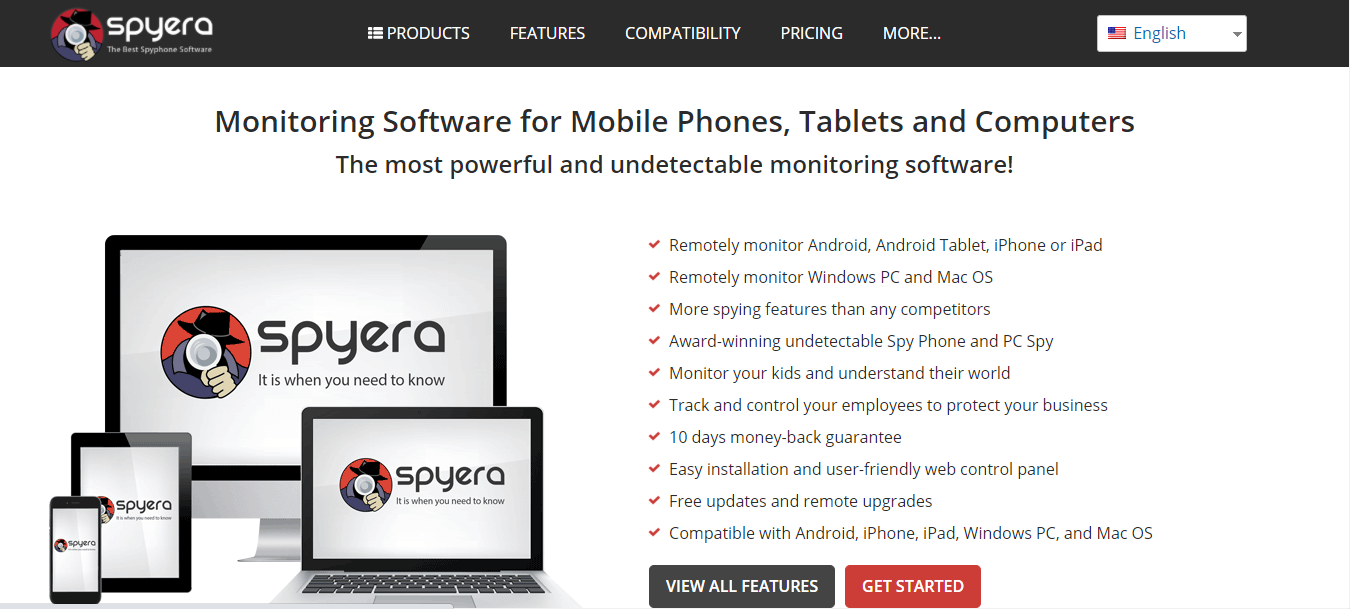 The Spyera software allows you to track live calls, log live calls, and use a camera to see what your kids are up to. In addition, you can record calls from various social networks such as Facebook, Skype, Viber, Hangouts, and WhatsApp. Spyera is available for both Android and iOS devices. It is straightforward to install and has a user-friendly control panel.
Features of Spyera
Some of the significant features of Spyera include:
Use a website and browser tracker to track your kid's online activities and website history.
Check the app screen time to know how much time your kid is spending on playing video games.
It even has a 10-day money-back guarantee if you are not satisfied with its features.
SpyHuman
SpyHuman's cell phone tracking feature remains undetectable on your child's mobile and collects all of your child's movements without their knowledge. Phone tracker allows you to find your children's real-time GPS location as the app remains undetectable on the device. By tracking your children's smartphone habits, a SpyHuman mobile tracker defends them from cyber threats.
Features of SpyHuman
Some of the significant features of SpyHuman include:
Monitor your kid's search engine.
It does not require rooting or jailbreak.
SpyHuman gives you 24/7 live technical support.
It provides a 7-fay free trial premium app.
You can block inappropriate and age-restricted apps from your child's device.
Net Nanny


A net Nanny is monitoring software that uses AI(Artificial Intelligence) technology to block dangerous or inappropriate content before your child sees it. It uses modern content detection technology to view every website every time your child clicks on a link, enters a URL, or searches in a search engine.
You may use Net Nanny to keep track of your family's digital activities and shield them from inappropriate content. With the ability to adjust thresholds at your fingertips, you can find handling screen time a breeze. Net Nanny offers the most efficient content filtering in real-time to keep your family's website browsing secure.
Features of Net Nanny
Some of the significant features of Net Nanny include:
It provides Youtube reporting and protection.
Geofencing with departure and arrival alerts.
Social media protection and control help you to block inappropriate content from Instagram, Tiktok, etc.
Net Nanny's parental control program allows you to ban applications on your child's devices.
You can set specific times of the day for your child to be online and tailor your family's screen time.
Screen Time
Screen Time is another monitoring app that enables you to limit your child's device time to control their mobile activities. It is here to help parents ensure that their children do all that childhood has to bring, both online and off. The Screen Time software offers essential monitoring and management resources to help parents strike a happy balance.
Features of Screen Time
Some of the significant features of Screen Time include:
Set aside times for your children to nap and do their homework and prevent distractions while they need to concentrate on something meaningful.
To prevent excessive consumption, you can easily set regular time limits for your children.
Pause your child's phone immediately.
Keeping up with the new apps can be difficult for any adult. When your child downloads a new app, you have the option to accept or deny it.
Analyze the apps your child uses the most, which will help you understand what they are doing on their device.
Be sure that your child can not access unsafe areas of the internet. You can block site categories and individual URLs.
mSpy
With mSpy monitoring software, track call logs, text messages, GPS location, web history, online messengers, social media, and many other mobile activities. It works in the background. On the target screen, the software is not visible. mSpy app works for both Android and iOS devices.
Features of mSpy
Some of the significant features of mSpy include:
Installation is easy, and remote control is available.
All data is secure and password-protected, and only you have access to it.
Has a multilingual support team that is available 24 hours a day, seven days a week.
Data about the target phone's activities is updated every 5 minutes.
It can help you in screen time management.
MobileSpy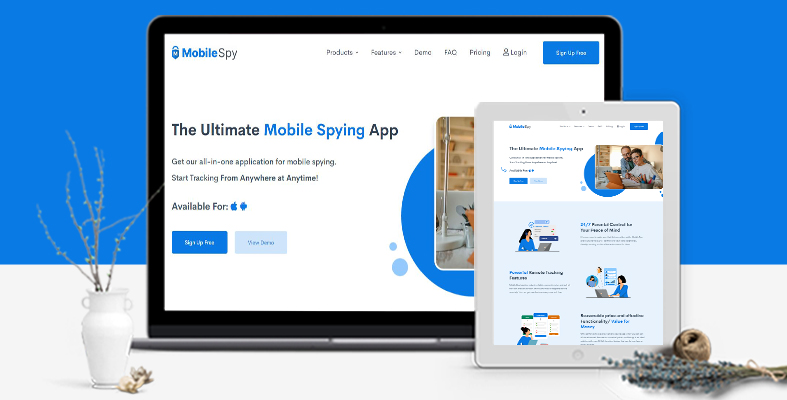 MobileSpy is an app for remote monitoring, surveillance, and management. Parents mainly use it to track and regulate their children's behaviors. MobileSpy makes it possible for you to spy on your child's device. Its software is like a home security app as it helps to keep your child safe.
MobileSpy has a stable, detailed, dependable, and out-of-the-box feature set for remotely tracking the online activities of a targeted device. It is never easy to ensure that children use the internet responsibly. MobileSpy gives you complete control of your children's cellphones, allowing you to build a secure online experience for them.
Features of MobileSpy
Some of the significant features of mSpy include:
You can control their screen time limit to spend all their time playing video games.
Know your child's location and get alerts from the geofencing feature.
Allows parents to track calls, text messages, browser history, and many more.
It helps in content filtering and tracks your kid's social network.
Qustodio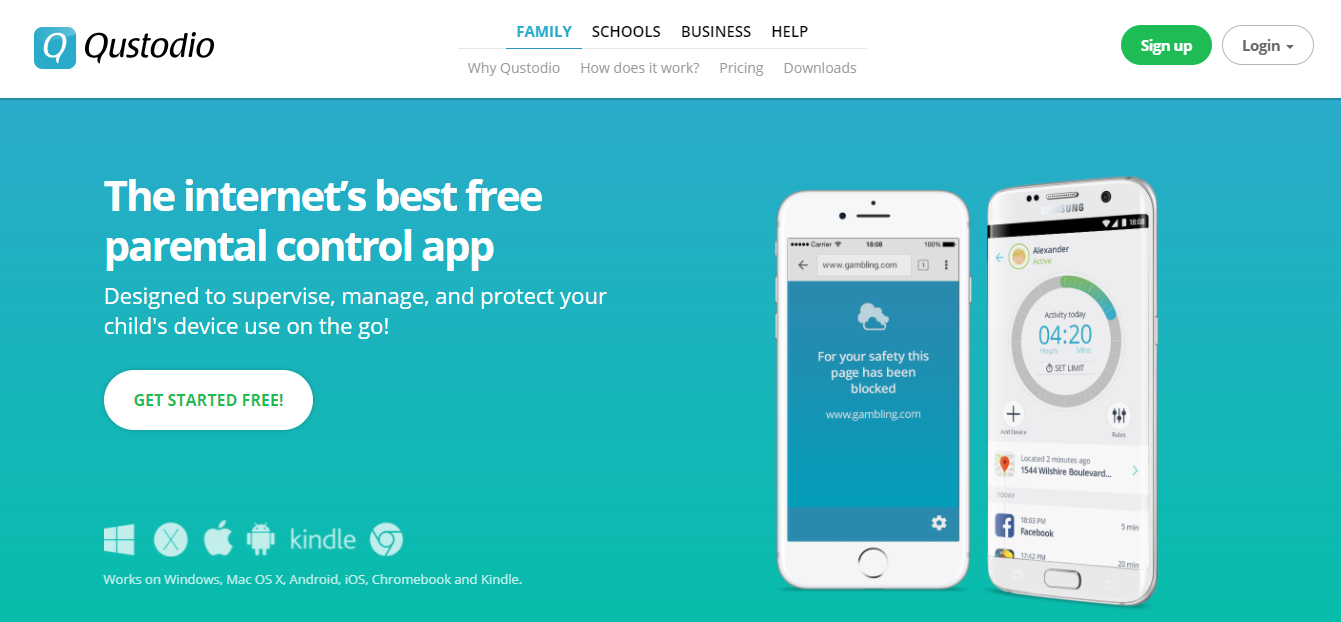 Qustodio is a free parental control software programmed to supervise, monitor, and secure your child's smartphone usage when on the go. You'll be able to see how your child uses devices, applications, and the internet using the online dashboard and Parents' App. Without the drama, you can quickly set healthy boundaries to control your child's online experience.
It has robust filtering technology that is enabled automatically to shield your child from inappropriate content. With Qustodio, you'll have more detail to help shield your children from the increasing number of significant online problems, such as unsafe content viewing, cyber predators, cyberbullying, and screen addiction. Qustodio is compatible with both Android and iOS devices.
Features of Qustodio
Some of the significant features of Qustodio include:
On a regular or weekly basis, receive a complete 30-day rundown of your child's behavior in your inbox.
Also, in private browsing mode, Qustodio's real-time internet filter blocks objectionable content.
You can set a timer or cap to how much internet time is permitted per day.
Keep track of how much time your child spends on Instagram, WhatsApp, Facebook, Twitter, and other social media platforms.
You will be able to set time limitations for video games and websites or prevent unwanted applications from running at all.
Monitor what your child looks for and watches on YouTube's Android app and website.
Can Monitoring Apps Damage The Relation With Your Child?
I have explained in every possible detailed way how the monitoring apps can help you in better parenting. It can help you control your children's phone addiction, save them from pedophiles and online predators, disable them from downloading illegal or age-restricted apps, protect them from online bullying, improve their mental health, and protect them from accessing any kind of explicit content from the internet and many more.
So you can see that monitoring apps do help in better parenting. But unfortunately, some kids cannot look at this from your point of view. But as they say, "Too much sugar is bitter." So monitoring apps can come with some harmful effects. When you start to use monitoring apps, it does somehow violate your kid's privacy. You may not feel that way because all you want is to protect your kids from any danger they might face.
Teens can Rebel against Monitoring Apps.
Especially kids at their late teen periods can view this as a complete invasion of their privacy; they can feel like you don't trust them and cannot make their own decision. So they start to hide things from you. They stop talking and sharing their lives with you and start rebelling against you. Thus this can start to deteriorate your relationship with your child, and the app that you purchased to help you in better parenting completely backfires you. So what can you do?
What can you do to Convince Your Teens?
What you should know is that there is a difference between parenting and spying. Using monitoring apps to help you in parenting is okay. But remember that your kids are your children, not criminals. So learn to strike a balance between their independence and monitoring. Show them that you trust them completely. When you install a monitoring app on their device, let them know about it. Explain to them clearly why this app is essential. It helps to build trust between you and your child and ultimately leads to better parenting.
My Final Thoughts
We all know that parenting is complex. There is no one secret formula or style that can be opted for best parenting. Parenting is an ever-learning process. As a parent, you will figure out how it is done in your weird way and time. However, monitoring apps can help you better parenting as they can allow parents to monitor kids' phones.
Monitoring apps help you protect your kids from many online daggers, prevent these dangers, and even help you better your parenting techniques. You have control over how your kids use their mobile. But always remember not to overdo it. Try to strike a balance between monitoring and independence.
Let your kids know that these monitoring and parental control software are there for their benefit. Let them know you trust them completely. It will help create a strong relationship between you and your child and help them grow into a better person. And for me, that's the ultimate goal of better parenting.
Read more: Parenting teenagers: Tips & Tricks