Best Gmail Add-ons For Hyper Productivity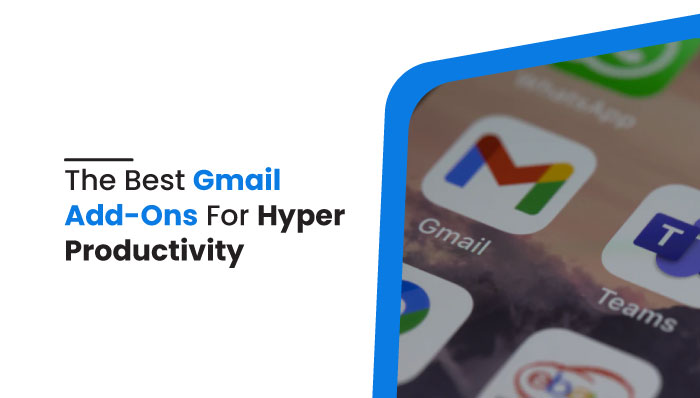 Best Gmail Add-ons For Hyper Productivity
Gmail is the most popular mail service provided by Google. Many people commonly use it in organizations and business professionals because it is more secure, convenient, and easy to use. This blog talks about the best Gmail add-ons for hyper-productivity that you can use in Gmail to increase your productivity.
Gmail is a great tool to send, receive, and manage emails and can be used for personal and professional use. The majority of people prefer Gmail because it is simple to use, reliable, and convenient. It also offers a large amount of storage space, allowing you to save a large number of email messages as well as files and images.
Yet, there's a lot that Gmail cannot do. So to make this platform even more efficient and keep users happy, they launched Gmail add-ons for hyper-productivity and work efficiency.
Read more: Do you know how secure Gmail really is? 
What are Gmail add-ons?
Gmail add-ons are tools that you can integrate into your Gmail to enhance functionality. Add-ons will provide extra ease to your workflows by adding additional features, such as note-taking or improving your grammar.
Gmail add-ons will help you save time and get tasks done faster by allowing users to access another application from right within their email. It also offers themes, plugins, language packs, design packs, and more.
How to use G-mail add-ons?
Go to

Google Workspace (

G-suite Marketplace)

Click on your desired add-on.

Install the add-on with your Google account

Give the necessary permissions to integrate into your Gmail.           
11 Best Gmail add-ons for Hyper-Productivity                                     
There are many Gmail add-ons that you can integrate with Gmail to add additional features and better workability. Every add-on is designed with a particular purpose; you can add them depending on what you want to accomplish for your work. Here I have mentioned some of my favorite Gmail add-ons for hyper-productivity:  
Trello for Gmail
Trello is one of the best integrations available for Gmail and works great for project management. It uses a Kanban-style linear board. If you don't know the kanban board, then it is a tool that helps to visualize your workflow.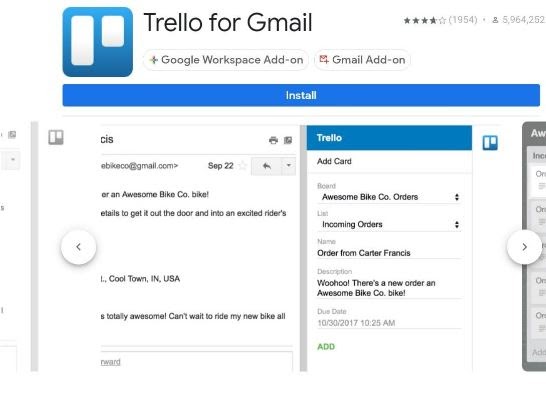 It is a simple extension that lets you turn your emails into a manageable to-do list. Just open an email, click on the Trello icon, and save subject lines and email body as cards on different Trello boards.
How to use:
After installing Trello, tap on the Trello icon on the sidebar.

Choose a destination board and list.

Your whole email will transform into a card.

Before saving into Trello, you can edit the card name and folder. 
Todoist
Todoist is the most popular integration used for task management. It will help you to create a simple to-do list from your emails. A to-do list allows you to organize your tasks according to priorities.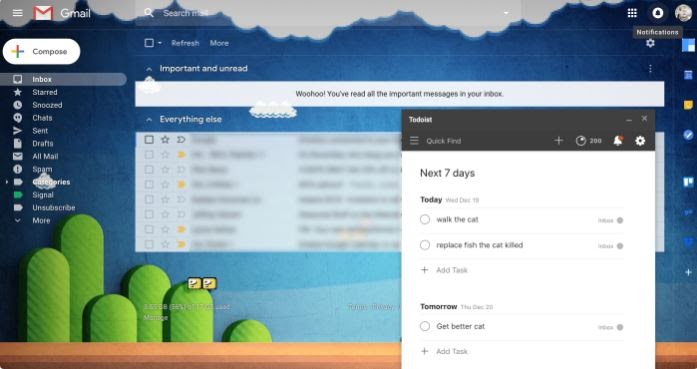 You can tag important mails, and assign deadlines and reminders so you will not forget to follow up. As a result, you can quickly track your progress and manage tasks from your inbox.
How to use:
After installing Todoist, the browser extension adds Todoist to Gmail.

While composing an email, the Todoist window popup, now you can turn your email into a task.
Checker Plus
If you have multiple Gmail accounts on your device, then Checker Plus for Gmail is available. With the help of this add-on, you can easily manage and access your multiple Gmail accounts. You can also switch between two multiple accounts in your browser without any hassle.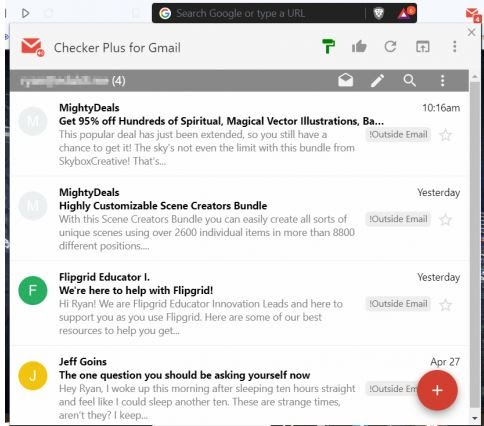 Checker Plus displays email in the form of a pop-up notification where you can read, listen to, delete or even compose a new email without opening Gmail. It also has a voice notification feature and supports offline viewing as well.
How to use:
Install Checker Plus.

Click on the Checker Plus icon in your browser extension.

Now, you can view notifications, read, and delete emails in one window without opening Gmail.
Dropbox for Gmail
Though Gmail allows uploading your files and documents, sometimes it can be time-consuming. With Dropbox, you can easily access Dropbox files stored on a cloud and save received email attachments to your cloud storage. It hence saves your time from downloading and uploading the same file again in your email.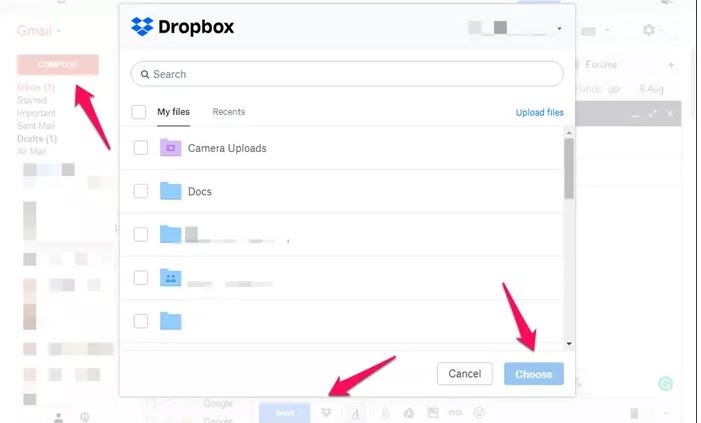 For instance, if you have a document that needs to be accessible by your coworkers, then rather than sending in emails to everyone, upload it to dropbox and share a link. 
How to use:
Install Dropbox for Gmail

While composing an email, Tap on the Dropbox icon

Select a file that you want to send.

To download attachments from the received email, tap on its icon and download.
Read More: How To Confirm if someone has blocked you on Gmail
Clearbit Connect
Clearbit Connect for Gmail is a free integration. It also displays contextual information about the people who email you and allows you to find any person's email address. This add-on is useful when you receive an email from an unknown person.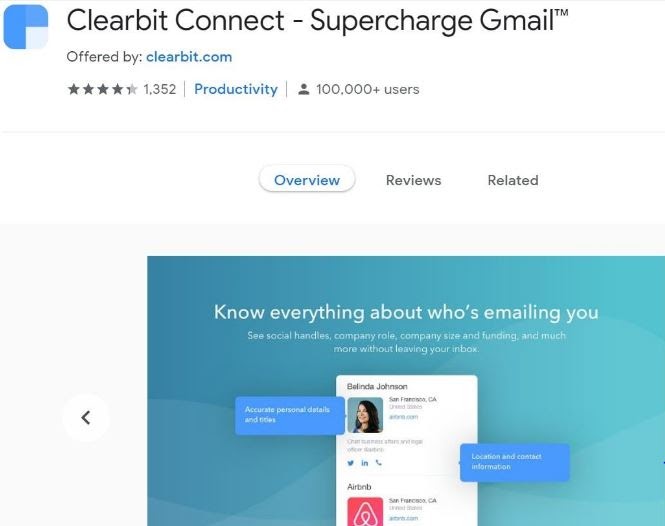 Clearbit Connect allows you to search for company contact information by simply typing the Organization name. You can also search for people's contact information directly from your inbox using their job title, role, or name.
How to use:
Install Clearbit connect from Google workspace.

To view anonymous sender information, click on the Clearbit icon on the right side of the window.

When you write an email, click on its icon to search for the company email address. 
Hubspot sales
Hubspot sales are used mainly by business companies for Customer Relationship Management(CRM). With this extension, you can also turn your Gmail into a marketing place.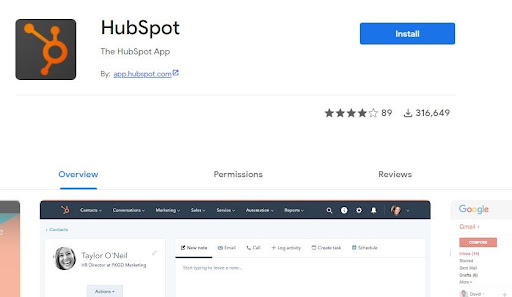 It syncs with your Google calendar so you can easily schedule meetings without going out of the app. Here you can create your email templates and share them with your team. HubSpot has valuable metrics that help you choose the most effective templates.
How to use:
Install Hubspot sales from Google Marketplace

While composing an email, click on the HubSpot icon next to the send button.

Now, you can create email templates and schedule meetings.
Zoom
With this integration, you can hence effectively conduct or schedule your meetings. If you install Zoom for Gmail, you will no longer need to go out of an app for video conferencing. Send a zoom invitation for meetings from the email thread.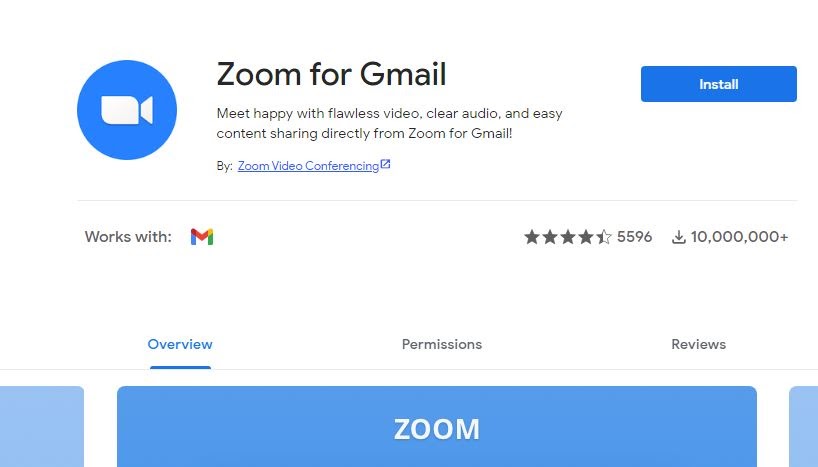 When you schedule a meeting, Zoom automatically creates an invitation with the subject line of an email. You can also enable "Enable Meeting Summary" to send a meeting summary with the meeting ID, subject, and names of participants after the meeting has concluded.  
How to use:
After installing Zoom for Gmail, Go to a particular email.

Click on the Zoom icon on the sidebar of your screen.

Add participants and send an invitation in an email thread.

Start meeting or schedule it for later.
Sortd
Sortd is the best add-on for project management. It will help you take notes on essential emails and turn your email into a to-do list on a Kanban board so that you don't miss any important events, or meetings and follow up with those notes.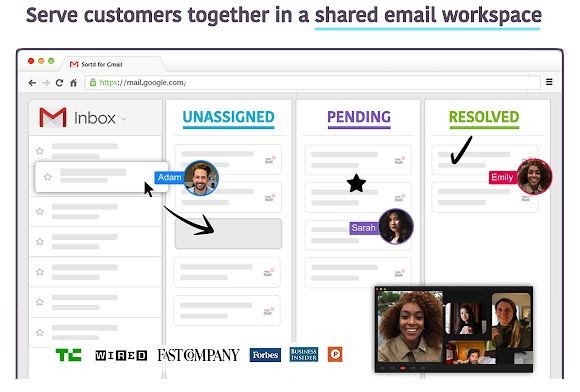 If you are working in a team, it will help you see your teammate's workflow on the Live Dashboard. It helps build a custom workflow, and you can also chat with other workers alongside custom emails.
How to use:
Go to Google Marketplace and Install Sortd.

Open a Gmail, and click on the Sortd icon on the sidebar of your screen.

Now, you can create a list, or drag and drop for better workflow organization.
Also read: Learn how you can read someone's emails without password
Grammarly for chrome
This add-on will help you identify and correct your grammatical mistakes. When you write a formal email for any job or college, incorrect spelling and bad grammar can lead to a wrong impression.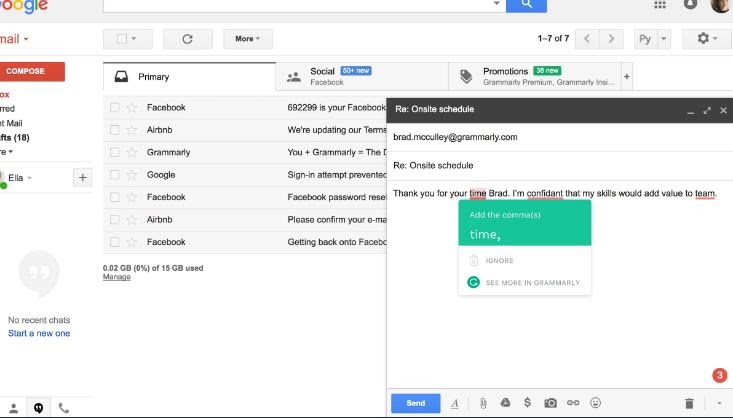 It also suggests sentence improvements, and a tone so that you can write mistake-free emails every time. Using this add-on, you will get real-time feedback which helps you eliminate writing errors and find the perfect words to express yourself.
How to use:
Add the "Grammarly for chrome" extension to your browser

Sign up for a new account and allow access to it.

Now, enable Grammarly and check language while writing emails. 
DocuSign for Gmail
These days with the increase in technology has made everything advanced. Here users can generate eSignature and quickly sign agreements. With this add-on, you can hence sign any documents digitally right from your inbox.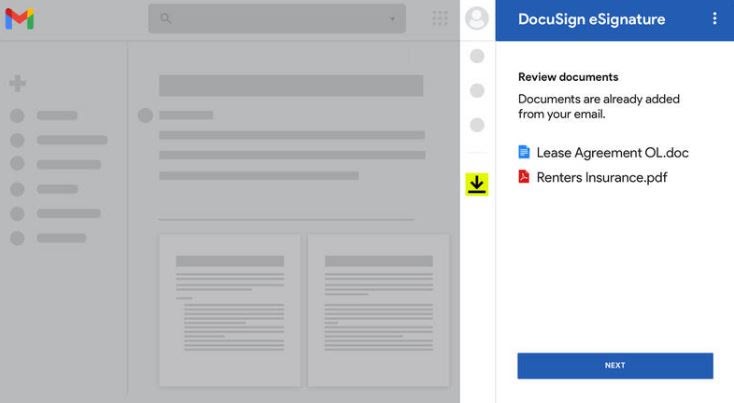 If you are a person who works in the law sector where documents need to be signed before processing, then this extension can help you sign a document digitally.
How to use:
 

Go to Chrome Web Store and download DocuSign.

Create a new account for DocuSign

Now, open a document you want to sign; click on the Docusign icon and select Sign with DocuSign.

You will see the DocuSign page, now drag and drop your signature and click Finish.
Mailtrack for Gmail
In most organizations and businesses, emails are the most popular and convenient form of communication. But you have no idea whether the email you sent was opened or not. So, mail track will help you track your emails and also see if an email you sent was opened or not. You will also get real-time notifications.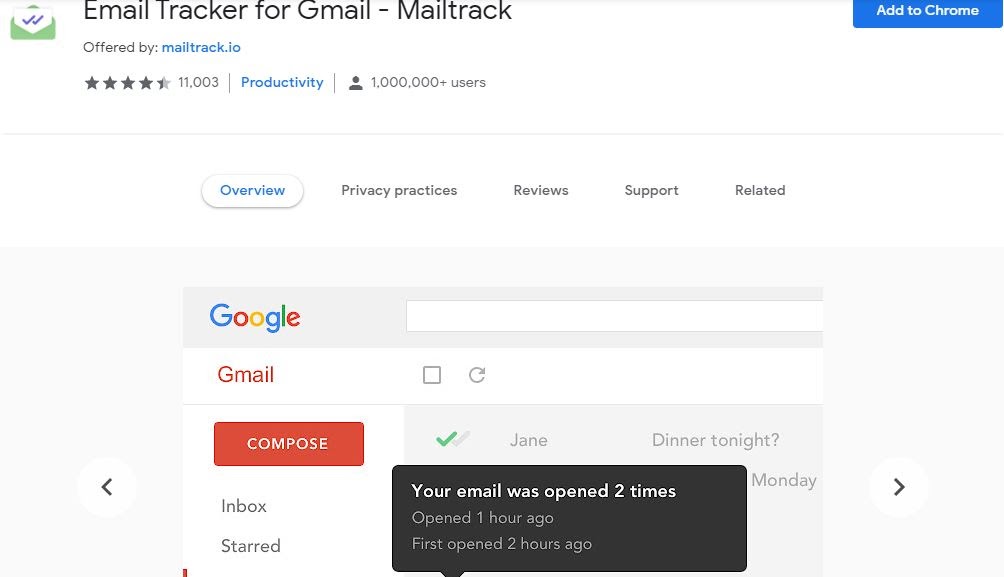 Mailtrack has a lot of features that can improve your mailing experience. Mailtrack Reminder will alert you if your mail has not been opened in the last 24hour or 48hour. You can also use the Mailtrack Campaign tool to send individual tracked copies of an email to 200 people at a time.
How to use:
On your browser, go to Chrome Web Store and add Mailtrack 

Give permissions to the add-on.

Now, click on Connect with Gmail.
How to Remove add-ons?
Well, depending upon your needs, you can test one or more of these add-ons. So if you want to remove them from your browser, follow these steps.
Sign in to your Gmail account

Select

Settings

at the top-right of your screen.

Click on

Add-ons

Now Click on

Manage

under Installed add-ons

To uninstall, click on the three-dot icon of the add-on and tap on uninstall.
Conclusion
Gmail add-ons for hyper-productivity are the third-party tool used to extend the functionality of Gmail. It will hence help you manage your emails and effectively. There are several add-ons available in the Chrome Web Store and Google Marketplace. 
If you use a lot of email for business, the add-ons listed above are some of the most valuable and popular options for staying productive while working. Various functions are available with these add-ons, all of which can be accessed with only a few clicks.