Video Game Chat Rooms: The Dangers of Interacting With Strangers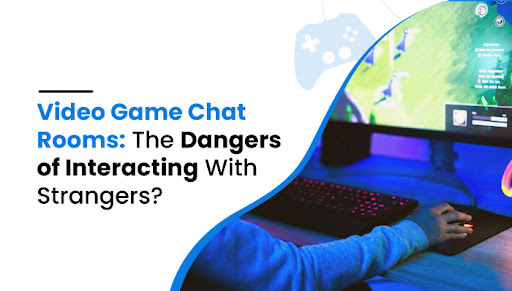 Video Game Chat Rooms: The Dangers of Interacting With Strangers
Do you know most children say they spend their time on video games? Gaming is the most interesting thing among boys aged 8-15 out of other interests such as movies, music, and TV shows.
About 93% of boys aged 8-11 while 79% of girls aged 12-15 are engaged in video games. 
Video gaming is a pastime that is enjoyed by millions of people. Video games have changed the way that we interact with one another. They have become a massive part of our lives. 
If you are a gamer or your kid is engaged in gaming, you or they will interact with people you don't know through different mediums such as private chat rooms, video game chat rooms, etc. 
We can't deny that the industry is booming with various means of social networking, and there are endless different games to choose from. But with the popularity of video games comes a dark side. 
There is a lot of information that parents need to be aware of. Video gaming can bring your kids in contact with numerous people that they wouldn't usually come into contact with. Parents need to make sure that their children are aware of this.
This blog will look at how video games can cause players to lose their sense of reality and the dangers of interacting with strangers. How to stay safe while gaming and what you need to be aware of.
What are Video Game Chat Rooms? 
A video game chat room is an online space where gamers can socialize and play games with their gaming systems. These chat rooms provide an excellent way for gamers to connect and share their love of gaming. 
Many chat rooms also offer voice and video capabilities, which can be a great way to bond with fellow gamers. Whether you're looking for a new gaming buddy or want to chat about your favorite games, a video game chat room can be a great place to hang out.
Features of Video Game Chat Rooms
Video game chat rooms offer gamers a unique opportunity to interact with one another in real time. These chat rooms are typically hosted on gaming platforms or websites and allow gamers to chat with each other while playing games. 
Gamers can use chat rooms to socialize, strategize, and even make new friends like other social media. Chat rooms typically have rules that gamers must follow, and most chat rooms also have moderators who enforce these rules. Some of the features of Video game chat rooms include
Open Chat Rooms: 
Open chat rooms are a great way to communicate with friends and strangers. They provide a forum for people to share their thoughts and feelings and to connect with others who may be going through similar experiences. 
Chat rooms can be an excellent resource for support and advice and a fun way to socialize and make new friends.
Private Chat Rooms: 
Private chat room is the features in video game chat rooms that are accessible by some users having specific private codes to involve in private conversation and chats. There are many benefits to using private chat rooms. 
For one, they can help you keep your communication with others private and confidential. This is especially important when discussing sensitive topics or sharing personal information. 
Additionally, private chat rooms can give you more control and to parents over the conversations you have. You can choose who you want to chat with and when, and you can also control the level of privacy you want. 
Private chat rooms can help you stay organized. You can easily keep track of conversations and ensure they are noticed; otherwise, the discussion can still be public.
Video Chat Rooms: 
Video chat rooms are one of the features of video game chat rooms that match players/users randomly, letting them convey conversation on a video call while video gaming. 
Video chat rooms are becoming increasingly popular as a means of communication and connection in online gaming media. They provide a unique way to connect with others, allowing you to share your thoughts and feelings in real-time. 
Video chat rooms in a gaming platform also offer anonymity which can appeal to many people. This is a space where you can express yourself if you want, so you can explore your own identity as much or as little as you like.
Whether you're looking for a place to make new friends or want to chat with someone familiar, video chat rooms can be a great option.
Voice Chat Rooms: 
Voice chat rooms are a great way to stay connected for those who want only to hear the voice of the users. They allow you to converse in real time without typing out each message. 
This can be a great way to catch up on what's going on in each other's lives and have a more natural conversation. Voice chat rooms can also be a great way to meet new people, as you can connect with people worldwide.
                       ✌️ You May Like: How to Hack into Someone's Microphone?
Is there an open chat room in every video game chat room?
Generally, every video game chat room does have an open chat room. Your kid can have access to private or open chat. It's a matter of their choice and preferred gaming services.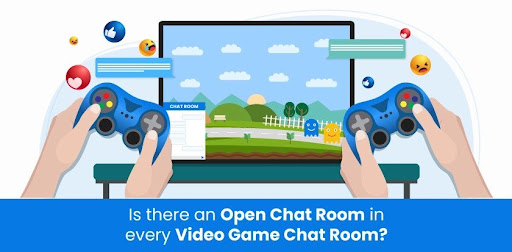 However, if they are engaged in popular video games and like to spend their time online, the parents can control their activities through third-party app integrations such as MobileSpy.io. You can control their chat features, messaging, calls, and many more.
The following video games platforms provide chat features for users: 
Facebook Gaming 

Fortnite 

Twitch 

Discord 

Call of Duty 

PubG

FreeFire 

Minecraft  
PlayStation and other gaming consoles also allow kids to chat with other players while playing. Players can friend each other, see what games they're playing, and chat 24/7. With services like Playstation Live, users who own the PlayStation console or video game console can access various features for a monthly fee, bringing more engagement with strangers.
                      📖 Also Read: Spy on iPhone without Apple ID and password
What are The Dangers of Interacting With Strangers in Video Game Chat Rooms? 
We already know video game chat rooms come with open chat rooms. Conversely, with severe risks for kids and teenagers, pro gamers, and young adults. While gaming media have some security and privacy policies encouraging to stop online bullying, gaming dangers, and inappropriate conversation, there are always alternative ways to occur. A conversation can go in any direction if you open it up to anyone wandering through an active gaming platform.
Here are some of the dangers of interacting with strangers that could bring consequences if your kids use video game chat rooms:  
Learn Bullying Behavior on Video Game Chat Rooms:
There is a growing concern over the amount of bullying behavior that is taking place in video game chat rooms. Many young people spend hours playing online games and interacting with other players through chat rooms. 
Unfortunately, there is a growing trend of players using these chat rooms to bully and harass other players. This potentially dangerous behavior can be very harmful to young people, causing them to feel isolated, anxious, and depressed. 
It is vital for parents and guardians to be aware of this problem and to monitor their child's online activity. If you suspect your child is being bullied in a chat room, you should contact the game's customer service department and report the problem.
Exposure to Sexual/ Inappropriate Content 
In recent years, there has been an increase in the number of children and adolescents exposed to sexual content through video game chat rooms. This is a cause for concern, as this type of exposure can lead to early sexual experimentation, risky sexual behavior, and even addiction to ***********.
There are several reasons why this type of sexually exploit is on the rise. First, more and more children and adolescents are playing online video games which provide them access to meet complete strangers and socialize in chat rooms. 
Second, the internet is increasingly accessible, making it easy for kids and teens to access chat rooms and sexual content. Third, many video games now have in-game chat features, which makes it easy for players to communicate with each other.
This is an important issue that needs to be addressed, as exposure to sexual content can harm the development of children and adolescents.
Suicidal Activities Encouragement
The ease of access to online chat rooms has made them a popular place for people to share their thoughts and feelings anonymously. 
However, chat rooms can also be a breeding ground for harmful behavior. In particular, some video game chat rooms have been found to encourage suicidal behavior in vulnerable people.
There have been several reported cases where people have been encouraged to commit suicide in video game chat rooms. Sometimes, people have been egged on by others in the chat room to take their own lives. In other cases, people have been lured to meet in real life to harm or kill themselves.
This is a severe problem that needs to be addressed. Video game chat rooms need to be monitored more closely to prevent this type of behavior from happening. In addition, elders, educators, teachers, and schools should provide proper awareness of the dangers of chat rooms and the potential for harm.
Inability to Differentiate between Reality and Game life: 
Some kids are seemed or get confused between reality and game life. They may think what they're doing in the game is happening in real life which can cause serious mental health issue.
This can be a problem if they're playing a violent game and start acting out what they're doing in the game. Parents need to talk to their kids about the difference between game life and reality.
Exposure of Personal Information: 
Gaming platforms like Xbox Live, Playstation Network, and Steam have become extremely popular recently, and for a good reason. They allow us to play our favorite games with people from all over the world and provide a great way to socialize and connect with others.
However, these gaming platforms also come with a certain amount of risk. Because they require us to create account and login information, they can expose our personal information to others. 
This can be a problem as the platform needs to be adequately secured because we share our login information with others. Additionally, many of these platforms allow us to chat with others while we play, which can lead to cyberbullying or other forms of harassment.
Lying about their Real Identity: 
No doubt, people lie about their real identity, real name, location, and general information on gaming platforms which can have several negative consequences and is one of the common ways to trap a kid. 
They can get your complete personal information lying about their real identity as a GOOD FRIEND or GOODWISHER, which can lead to legal trouble.
Trap your kid and get information to commit severe crimes, plans to commit fraud or other crimes. So while it may seem like a harmless white lie at first, it's best to avoid lying about your real identity altogether.
                             👀 Popular Among People: How to check if my Phone has been cloned?
How to Protect your Children from Open Video Game Chat Rooms? 
To prevent children from seeing chat content, you will need to prevent them from using most applications and platforms because few gaming apps have parental controls or chat locks.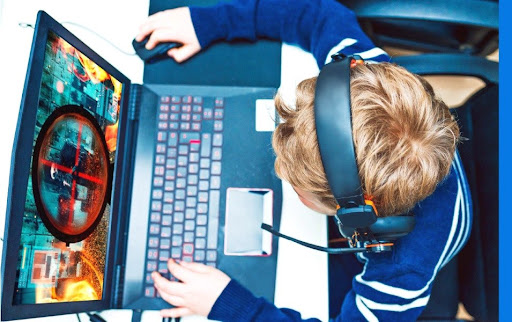 The best course of action is to take the following straightforward steps if you want your child to enjoy gaming but are worried about video game chat features:
Check Out the games your child is playing: 
To understand what your child is likely experiencing, find out what kind of chat and other interactive tools they offer. Enable gaming safety to comprehend what your child may have heard and seen, you might look into the types of talks in chat rooms.
Speak to your kid: 
The only way to ensure your children never encounter video game chat rooms is to speak about platforms with chat capabilities. 
Alternatively, if they are already engaged in video game chat rooms, they should be more inclined to open up to you if they have a problem and know that you can relate to what they are going through.
Set limitations and guidelines: 
Limiting their involvement is an additional choice. Make it clear to your child what you expect of them when they play internet games. 
Make sure you are implementing any limits if they aren't permitted to interact in open chat rooms on particular platforms or play certain games. Limiting their gaming time will allow you to monitor their online safety and see if they're conversing with others while you're home with them.
Use Spy Apps: 
The other alternative way to protect your kids and teens from the danger of interacting with strangers, using a third-party spy app. It helps to monitor their activities, helps you to know what they see on their device, call, and message tracking. 
MobileSpy is one of the most reliable and trustworthy spying applications parents can rely on. It provides features like call and message tracking, contact, photo and video spy, and many more. It is also affordable and also available on both Android and iOS. 
🧐 Have a Glance: How To See Your Kid's iMessages Without Them Knowing?
Conclusion:
The internet has brought about many changes in how we live and interact with others. One of the most significant changes is we are more and more engaged in playing games daily. 
In video game chat rooms, it's essential to be aware of the risks associated with gaming networking sites and take steps to protect your personal information that can be exposed by your kid or teenager. 
It would be best if you let them create accounts on platforms everyone trusts and never share login information with anyone.
Additionally, you should be cautious about the data our kid share on these platforms and report any harassment or cyberbullying immediately.
FAQ
Q1. How can you protect your children and adolescents from video game chat rooms' exposure?
Answer: 
There are several ways to protect children and adolescents from video game chat rooms' exposure. First, parents must be aware of the risks and talk to their children about appropriate online behavior. 
Second, parents should monitor their children's online activity and limit their access to chat rooms. Finally, elders, teachers, and schools should provide proper awareness of the issue and educate on dealing with exposure.
Q2. Do video game chat rooms have age restrictions? 
Answer: 
Yes, video game chat rooms are restricted to a particular age group. This is to ensure that children are not exposed to vice because they may not be able to understand the situations around them.
Q3. Are Private rooms also Dangerous? 
Answer: 
It's not 100%, but it can help you to hide your connection and encrypts the information you share. Always use VPN and real IP, and share information anonymously. Do not forget HTTPS.