How to Hack into Someone's Microphone?

How to Hack into Someone's Microphone?
If you are looking for a way to eavesdrop on someone or to record their conversations without their knowledge, then you will need to hack into their microphone. 
Looking for more information about the process? No need to worry. In order to hack a microphone, various methods can be carried out, including through the use of third-party applications, or by exploiting vulnerabilities in the system. 
For those who wish to spy on others, microphone hacking has become increasingly popular in recent years. It is the act of accessing a person's microphone without their knowledge or consent in order to intercept their communication. 
If you are a parent, employer, or loving spouse, you may find it useful to know how to hack someone's microphone.
The right spy app will allow you to hack someone's mobile phone microphone remotely. The application allows you to activate the microphone, intercept calls, view social media activity, and track GPS location.
Read this article to know more about hacking into someone's microphone in 2022.
Why Hack Someone's Microphone?
Before we get into the main guide, you might wonder why you would want to hack into a microphone. This is where we will see some of the use cases. Hacking someone's phone and listening to their microphone is possible. However, you shouldn't do anything illegal.
Let's have a look at some purposes of hacking into someone's microphone.
 In order to ensure that your kid doesn't face

cyberbullying

, blackmail, etc., you need to hack into their microphone. You can listen to the microphone if you are worried about your kid going down the wrong path.

It's also possible to spy on your employees by hacking into their phone microphones and checking if they are sharing the company's sensitive information with other parties.

Another reason is you can also hack into your partner's microphone to check whether they are cheating on you. It is possible to listen remotely to all audio conversations made by your partner. 
Read more: How to hack into someone's phone camera?
Hack Into Someone's Microphone Using Spy Apps
Did you know that it's possible to hack into someone's microphone using spy software? This type of software is designed to covertly record audio, and it is useful for many purposes, from monitoring employees to conducting surveillance on a target with just a phone number.
You can download a variety of spy software and use them to successfully hack into someone's microphone. 
If you need to maintain total situational awareness of your loved ones, employee, or your kids, who they are talking with, what they are doing online, and who may be calling them then these are the application you need to use.
1. MobileSpy.io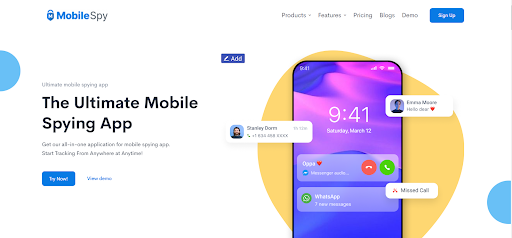 MobileSpy.io is a fully-packed monitoring application. The app is compatible with iOS and Android devices, and you can use it to have complete control over your child, partner, or employee. 
MobileSpy is a user-friendly application that helps users spy and track phones and devices. MobileSpy Application allows you to track someone's microphone too. The Remote Voice Capture feature of MobileSpy helps you to capture remote voices using the microphone of the person you are spying on.
With the remote voice-capturing app, you can monitor targets' mobile phone anonymous recordings, call recordings, and track the audio recording of your children, employees, and loved ones.
You can use the MobileSpy application to capture ambient and anonymous recordings. After MobileSpy is installed on the target computer, you can turn on the microphone to record all the activities. All the sounds made on the target system will be captured by the app automatically.
Features 
Text message and SMS tracking.

Incoming and outgoing call tracking and the date and with whom the conversation happened.

Multimedia files exchanged over the app can be tracked.

Viber contact details spying.

Remotely control devices.
Steps to  Hack Target's Microphone using MobileSpy
The first step in hacking someone's microphone is to download the MobileSpy app and set it up on the device you wish to listen to. MobileSpy's voice capture feature can be enabled after the app has been installed on the target mobile phone. To do so:
Go to MobileSpy's official website.

Log in using your valid credentials.

Search for the "Remotely voice capture" feature on the MobileSpy dashboard.
You must enable the microphone on the target recorder device after installing MobileSpy so that the application can capture every audio.
Pros
Provides Data Backup Services

Provides Customer support 24/7

The subscription plan is affordable.

It runs in the background, so the target won't know that they are being hacked or spied on.
Cons
 jailbreaking is needed.

Not supported on all devices.

To hack or spy on the target's phone you need to install this app on the target's phone. Which can be complex.
2. FlexiSPY App
FlexiSPY is monitoring software that can be installed on your computer or mobile device. It provides complete control over the device, letting you know everything from anywhere.
FlexiSPY is an application that allows its users to Spy on targeted devices. This Spying application is easy to use, and it provides location tracking, Phone Activity Tracking, voice capture, and other spying features. 
Features
Phone call recording

Ambient recording 

VOIP call recording

Remote camera capture

iPhone keylogger

Discover suspicious activity
Steps to  Hack Target's Microphone using FlexiSPY
Follow the step below to spy through the target's microphone using FlexiSPY:
Buy and download the FlexiSPY app.

Install the FlexiSPY app on the target smartphone.

Contacts, SMS messages, and call data are captured.

Your secure account allows you to view all call data.

The data received can be accessed round-the-clock from any computer.
FlexiSPY allows you to discreetly record a phone's surroundings and listen later. You can begin audio recordings on-demand or set specific times to record and it will automatically upload the audio files to your online user portal for convenient listening. You must enable the microphone on the target computer. 
Pros
It runs in the background.

The App icon is hidden.

Photos and videos can be taken from a camera.

A call recording feature is available.

Offers a money-back guarantee
Cons
Data usage is excessive

It requires a jailbreak to use this application

Direct access is needed for installation.

Expensive than other Apps
3. JJSPY App
The JJSPY toolkit is an amazing all-in-one tool for spying and hacking mobile phones. This software lets you view text messages, contacts, apps, and other information.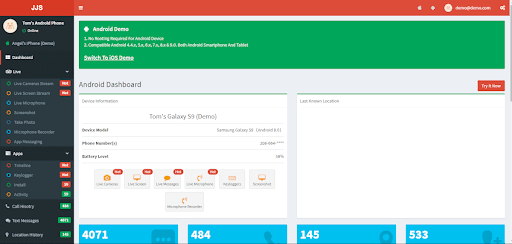 There is a live-streaming option for the microphone. You will find the microphone option inside. When the microphone option is selected, the target device's microphone will automatically be turned on. This will allow you to hear everything they say. This is a small but very important monitoring option.
Features
Location tracking

Keylogger

Android device tracking

IOS tracking

Spy on text messages

GPS location tracking

Browser history tracking
Steps to  Hack Target's Microphone using JJSPY
JJSPY requires you to create an account before you can proceed.

It is necessary to install the app on the target device. Installation and configuration will not take long.

All you have to do now is open a JJSpuy account and start watching.

On your phone, simply click the device to start tracking. You will see a variety of options when you click on the device. Using this panel, you can access another person's phone.

To access the microphone, head over to the live menu. You will see a variety of options there. To spy on the microphone, we will go to the microphone option from there. The microphone option will make the voice audible.
Pros
The ability to monitor your employees' progress, thus boosting your business.

Protection of your child against online dangers or anything harmful that the use of devices can pose.

You can use it for both Android and iPhone monitoring, making it more suitable than some of the available spy programs.

It is easy to install and use. You can always watch the live demos before committing to subscribe.

It contains several basic and advanced features that allow you to supervise every activity done on a target user's phone.
Cons
It's not available for desktops

Like other cell phone spy tools, it encourages the invasion of people's privacy.
Conclusion
In summary, this was all about hacking someone's microphone remotely. There is no risk involved in using this method, and the target user will not be aware of it.
Snooping someone without permission can lead to legal consequences. Therefore, I strongly urge you to read the terms and conditions policy and the privacy policy and understand your state laws before installing any spy app.