Spy on iPhone without Apple ID and password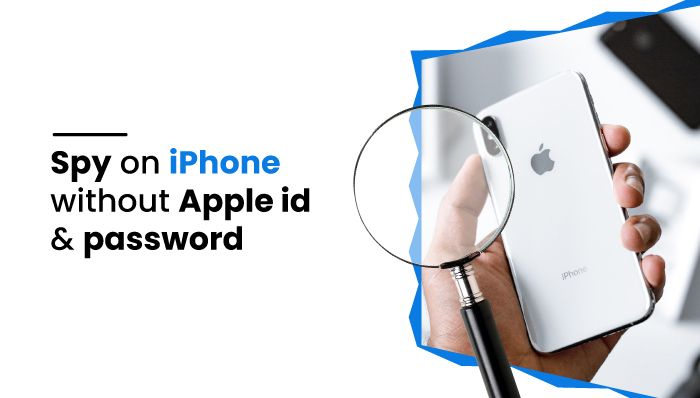 Spy on iPhone without Apple ID and password
If you know someone's Apple ID or and Password, it is very convenient to track their activities by syncing data via iCloud. But, is it possible to spy on someone's iPhone without knowing their Apple ID or Password? Let's find out in this blog.
Many people think it's tricky to spy on an iPhone due to its enhanced system and app security, apps running independently, encryption and Data protection features. However, with the help of powerful tools and techniques, it is easy to keep an eye on target iPhone.
Best apps to spy on iPhone without Apple ID and Password
Here are some of the best trackings apps to spy on iPhone remotely,
MobileSpy
MobileSpy should be an incredible choice for  someone looking to track target devices without needing the Apple credentials. You will have 24/7 control over your kid's iPhone, thereby safeguarding from potential vulnerabilities. The app works in complete stealth mode and tracks users' activities remotely, so no need to worry about being caught. And most importantly, you don't need to jailbreak the iPhone to track user activities.MobileSpy is the 
 This spy app can even get pinpoint results of your kid's online activities, call logs , and many more.  MobileSpy offers you more than 30 exclusive features to keep hold of every tiny detail of the target user.. You have two options, i.e., , standard, and premium subscription plan to start monitoring your loved ones.
It would be best to choose the premium one, as it has many exclusive  features. You can then create a MobileSpy account, sign up and install the spy app on the target iPhone. It takes under 5 minutes to set up the app. You can then log in to your account and start spying on other iPhone via MobileSpy Dashboard.
Features:
Tracks each call along with a timestamp, duration, and caller details

Monitors all SMS or IM sent or received even when the messages are deleted.

Spy on and access social media activities, including Facebook, Viber, Instagram, Skype, and WhatsApp and watch Web Browsing history.

Set up Virtual Geographic Border, Geo-fence alert, and contact alerts

Access all taken or download photos, videos and screenshots, and other multimedia.
Pricing:
Standard: $14.99 per month

Premium: $19.99 per month
mSpy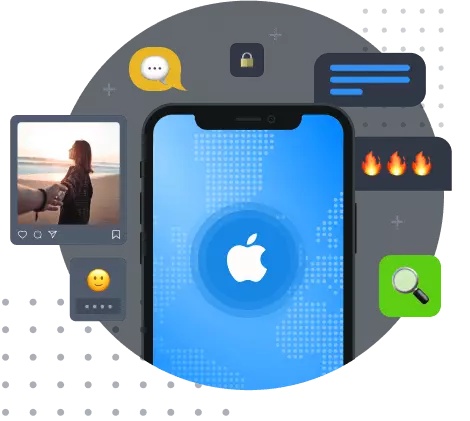 mSpy should be one of the best spy apps for iPhone in the market. It provides users with high-end features, including complete stealth mode. And Fortunately, you don't need Apple ID and password of the target phone to spy on them.
With this spying app, you can know more and worry less about your child's well-being. This spy app works for all iOS devices, so compatibility is not an issue.  mSpy lets you find everything about your child or the target device about their online presence and device activity. To retrieve or track down information, jailbreaking for the iPhone is not a necessity.
 Having a decade of experience and over a million users, it promises safety for your children. mSpy is available in over 180 countries and has many practical features to ensure protection. mSpy updates the target user's  information in real-time; it only takes under five minutes to set up the application.
 mSpy always provides 24/7 customer service if there is any trouble,  making it stand out from other spy apps. To get started with mSpy, you need to create a free account, choose your best subscription plan, and you are ready to track down users. The detailed activities are stored on the dashboard. 
Features:
Monitor every keystroke & every tap

See where they've been and where they're going

Track down every call history

See what they've searched for

Read kid's social media chats 

Review your  kid's texts and even  deleted SMS and texts 

See the pics they share and receive
Pricing:
Basic: $29.99 per month

Premium or No jailbreak: $69.99 per month
uMobix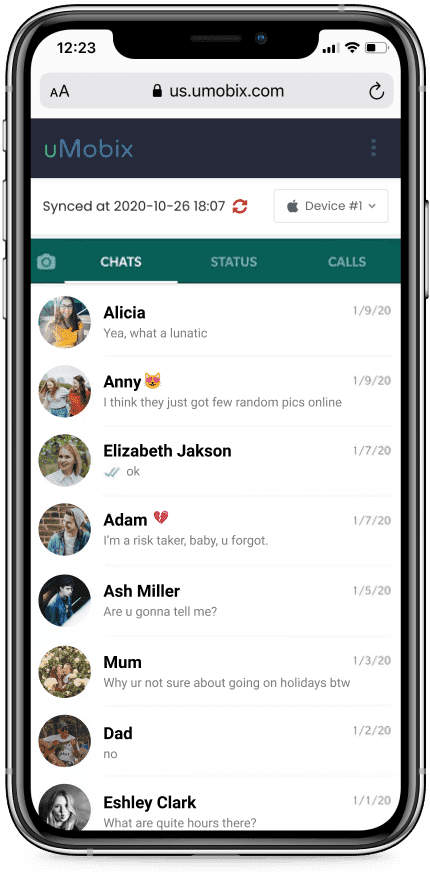 Another incredible spying app to monitor your kids or loved ones is uMobix. It is not an issue spying on an iPhone  in real-time without knowing id and password. The platform supported by uMobix is both Android and iPhone. uMobix supports over 40 popular apps and social media. The apps lets you monitor social media, multimedia, call logs and even live locations.
 uMobix can protect your loved ones from threats and vulnerabilities on the internet. The setup time of Mobic takes under 5 minutes, and you will get updated on real-time scenarios every 5 minutes. uMobix is also very convenient for usage due to its simple user interface. With the best quality ratio, you can get your hands on one of the best mobile spying software. 
To start monitoring your kids, first and foremost, make sure you have a subscription plan according to your need, then install the application on your child's iPhone or Android. Now you can track activities on your account. 
Features:
View all calls with timestamps and user details

Monitor all the SMS and IM with timestamp and sender information

View the multimedia of the device like photos, videos

Track multiple  Social media like Facebook, Instagram, and more.

Pull all media files stored on the target device. Save files locally if needed.

Log everything your kid types, including keystrokes and passwords

Creating snapshots, recording audio and video
Pricing:
Premium: $49.99 per month
Xnspy
If you want to create a safe digital world for your employees and your kids, Xnspy should be an ideal solution. The surveillance app world on all major smartphone brands, including iPhones. Xnspy was also voted the best cell phone monitoring app by various news portals.. 
The features, including remote device management, specific activity alerts, and user report generation, boats the competition. Xnspy works in complete stealth mode; your kids or device users won't have a hint if they are being monitored. 
You can even watch a list of locations and get instantly notified of updates on iPhone without Apple ID. . Xnspy ensures your child's safety due to its 24/7 specific alerts. Choose your best subscription and payment method to get this amazing spying software. Then make sure you download the applications and follow the on-screen instructions. 
The setup takes a couple of minutes before you can start spying effectively and conveniently. All the children's mobile phone activity is stored on your dashboard after logging in with your Xnspy credentials. 
Features:
Remotely check all call  entries in a reader-friendly manner with details.

monitor texts and IM chats, and multimedia from Messenger, Instagram, etc.,

Recording audio and video, app blocking, taking screenshots or locking or resetting the device.

View Kid's browsing routine

View all keystrokes from WhatsApp, Facebook, Messenger, Skype, and Viber

Receive alerts on certain conversations used in SMS, emails, and phonebook

Have an eye on all multimedia activities, including photos and videos stored on their phones, and view calendar and notes 
Pricing:
Basic: $29.99 monthly
Premium: $35.99 monthly
Also Read: How to Spy on iPhone Without Jailbreak?
Conclusion:
There you have it, the best iPhone spy apps to track target device's activities even without Apple credentials. Furthermore, make sure you use these spy apps ethically without violating anyone's privacy.
For instance, take the aid of iPhone spy apps to track your kids to protect them from online vulnerability and know what they are up to. For any other objectives, better take the consent of the user before spying on them.
Frequently Asked Questions (FAQ)
Is it possible to spy on an iPhone without an Apple Id and password?
Yes, it is possible to keep track of an iPhone in the absence of Apple ID and password, iCloud credentials or even without accessing the iPhone itself. 
Are the iPhone spy apps undetectable?
The spy app works in complete stealth mode. Hence, the target user will have no clue if they are being spied on.
Is it legal to spy someone?
No, it is completely illegal to spy on someone without their consent or Knowledge. However, for safeguarding and protecting your child from online vulnerability, you can take aid of spy apps. 
Which is the best iPhone Spy app?
MobileSpy is our best pick for iPhone spy, thanks  to its extensive features, best price quality ratio, 24/7 access on target phones and powerful remote tracking.