How to see Incognito History on Android?
How to see Incognito History on Android?
Incognito gives you a private browsing mode where your browsing history is not stored, neither cookies nor cache is stored. As it doesn't store browsing history, today's teens use incognito mode for 18+ content. So, being a parent, you want to see incognito history on Android, but how?
You can't directly know what a person has searched on the browser in Incognito mode. Incognito mode deletes your local search, cookies, and site data, information entered in forms, and browsing history on your device immediately after you close the browser.
If you are a parent, you might want to know what sites your kids are browsing the web. Likewise, if you are an employer, you might want to know what sites your employees are accessing on the browser. But you can't know if they are using the browser in an Incognito mode. So what can be done to see Incognito History?  How to spy on incognito mode? Before learning that, let's learn more about an Incognito mode.
What is an Incognito Mode?
Incognito mode is a private browsing mode that creates an Incognito browsing session when you open a new Incognito window on pc and mobile. Any Incognito windows you open after the first one are part of the same session. To end that Incognito session, close all the opened Incognito windows.
In Incognito, none of your cookies and site data, browsing history, or data entered in forms is saved on your device. It means your activities don't show up in your browser history. So people who might use your device can not see your activities. Websites view you as a new user and can't authenticate you as long as you don't sign in.
In Incognito mode, you are not signed into any sites or accounts by default. You can even choose to block third-party cookies.
How to access Incognito Mode on an Android Device?
To access the incognito mode, follow the steps mentioned below:
Open your

web browser.

In the upper right corner, you can see a

three-dot sign.

Tap on the sign.

You can see a list of items to select from. Look for the

New Incognito tab,

which is usually the first option.

A new browser will open, which is in Incognito mode. 
Some steps may vary depending upon the browser you use.
Can you view Incognito History?
Yes, you can view the incognito history. Incognito mode does delete your browsing and local search history on your device. But search engines, Internet service providers, websites, government, and third-party apps can still track your web history even if you are in incognito mode.
Read more: How to Track Your Kid's Internet History on Android?
How to check incognito history? Here are some of the ways with which you can see the web history on incognito mode.
How to see Incognito History on the Android?
By using the following ways, you can easily see the incognito history on Android phone.
Recover Incognito History on Android via Chrome Browser

Google Chrome browser has its own extension "Off The Record History" that you can use to access the browsing history when one is on incognito mode. You can also use this extension to re-open a browser that you have accidentally deleted when you are using Chrome on incognito. However, it self-destructs history once you have closed the browser.
Steps to access Off The Record History
Go to the URL of the Chrome browser and type: chrome://extensions/.
Search for the "Off The Record History" extension.
Click on "Add to Chrome" to install the extension.
After installing, select the Details button.
Finally, find the 'Allow in incognito' checkbox and select it which will enable the extension to work even when the user is on incognito mode.
How to see Incognito History on the Android using Router's System Logs?
As I already mentioned above, your ISP can access your website history. Thus, your router has the ability to record all the websites visited on your network even the incognito mode, and here's how you can see them.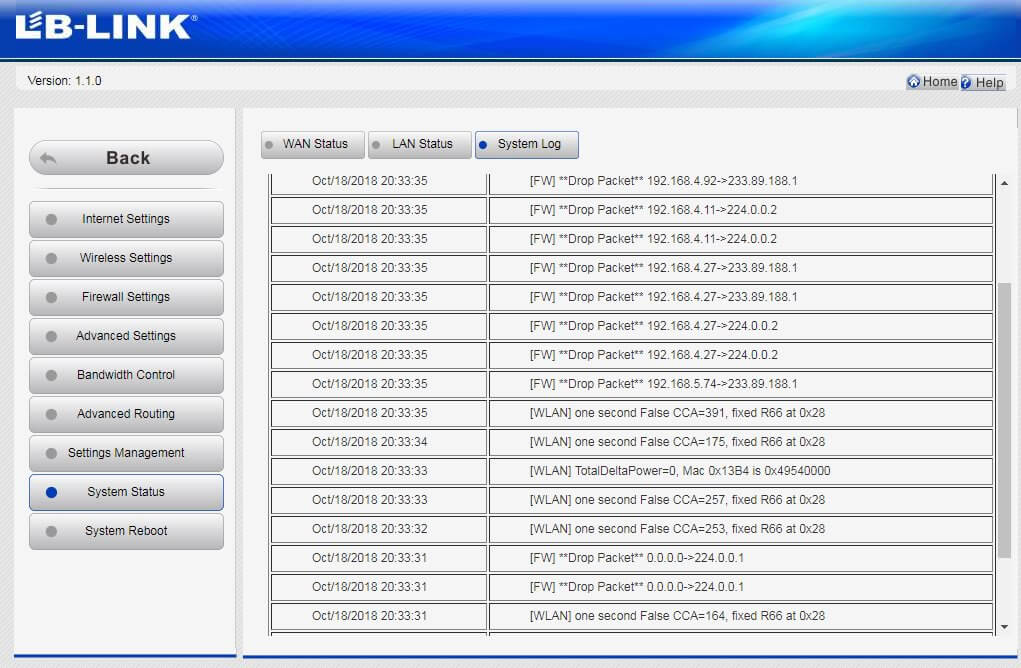 Steps to access Router's System Logs
On your Android phone open a browser.
Type your private address on the URL of your router's brand.
Enter your username and password and log in.
Click o the System Logs located on the sidebar.
Open the logs where you can view all of the browser's history.
How to See Incognito History on the Android using Third-Party Apps?
Here I have enlisted some popular third-party apps which you can use to see Incognito history on Android. These are spying apps and can be illegal in some areas. So read the license agreements and privacy policy carefully before installing the app.
MobileSpy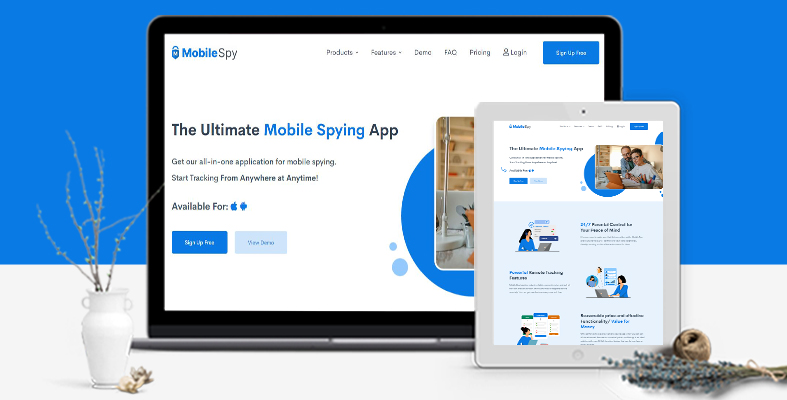 MobileSpy is an Android mobile device spying app that you can use to track the browser's history in a stealth mode. With MobileSpy, you can see the complete incognito history details on an Android phone along with the top 10 frequently visited websites.
Moreover, MobileSpy is an all-in-one application for mobile spying whose features include Call Tracker, SMS Tracker, GPS Location Tracking, Facebook Spy, WhatsApp Spy, Snapchat Spy, Viber Spy, Website History Tracker, and Monitor Photo.
Features
Parental Control for Your Peace of Mind:
It's never easy to make sure that kids go online safely. MobileSpy allows you to have 24/7 control over your kid's cell phones, thereby creating a safe online environment for them.
Powerful Remote Tracking Features:
MobileSpy is robust, reliable, comprehensive, and has out-of-the-box features. It tracks the online activities of targeted devices remotely. The features are updated and upgraded now and then.
Reasonable price and effective Functionality/ Value for Money:
Why opt for some expensive phone spying app when you can get all the advanced features at a nominal price? MobileSpy is an ideal solution with over 30 full-function features that can let you have peace of mind.
How to spy on incognito mode using MobileSpy
MobileSpy help you to spy on incognito mode as well as other browsing histories. To know how to check incognito history, follow the given steps.
There are just three simple steps to install MobileSpy:
SignUp Free
Create a MobileSpy account and sign up for free. You only need an existing email ID.
Install MobileSpy
After signing up, you get a download link. Click on the download link to download the MobileSpy app. After that, install it on the target device you want to spy on.
Start Spying
Now, log into your MobileSpy account. Access all the features of MobileSpy and start spying on every activity.

To see incognito history click on the

web history tracker

feature.
KidsGuard Pro for Android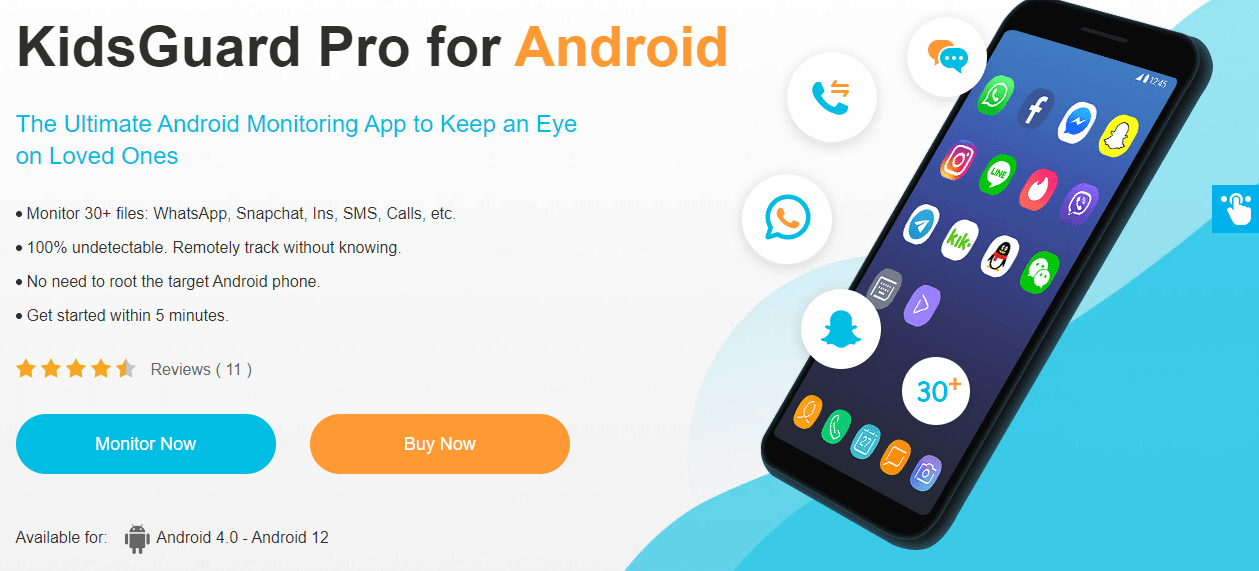 KidsGuard is a popular monitoring app that you can use to view someone's incognito browser history. Along with that, it monitors more than thirty files like WhatsApp, Snapchat, SMS, Ins, Calls, etc. So it can do more than just viewing the Incognito History.
You can remotely track the activities of your kids and staff by simply monitoring social media apps. By using KidsGuard Pro, you can read chat history and view an app's interface for children online. You can also monitor shared multimedia and check app activity records.
Features
KidsGuard Pro has the following features:
Remotely track the activities. 

Read chat history and view an app's interface.

Monitor shared multimedia and check app activity records.

Record phone calls, capture screenshots and take secret photos.

View browser history even in Incognito mode
Steps to Install KidsGuard Pro for Android
Step 1: Sign Up and Get Your Plan
Use a valid email address to create your account. Choose a subscription plan to activate the product. Then you will receive the link to download the app.
Step 2: Install on the Target Device
Install the KidsGuard Pro monitoring app on your target's Android device and finish the setup process.
Step 3: Protect and Monitor Remotely
Now you can log in to your web dashboard control panel and view mobile device activities.
mSpy
mSpy is a cell phone tracker phone for parental control. It is used to monitor your child's phone activity remotely and make sure they are safe, wherever they are.
With mSpy, you can easily monitor the sites your target visits on the browser. You can track, record, and store all the web activities taking place on the web browser even in incognito mode. More than that, you can also use the mSpy website blocking feature to block any URL of your desire.
Features
View all incoming, and outgoing calls, and spy on text messages, even the deleted ones

Check their call history.

Track the GPS location of the device

Access to various social media like Facebook, WhatsApp, Snapchat

Available for iPhone, iPad, or any Android device
Steps to Install mSpy
There are three simple steps in installing in mSpy:
Choose Your Desired Subscription:
As per the feature you'd like to access, pick a subscription. Confirm your purchase by entering your payment information. Then check the confirmation mail in your inbox.
Install mSpy:
Set up the software in the target mobile device. The installation process is sent to you in your email.
Start Monitoring:
Now start viewing the data from the target device. You have to log in to your control panel. And control everything through your dashboard.
Highster Mobile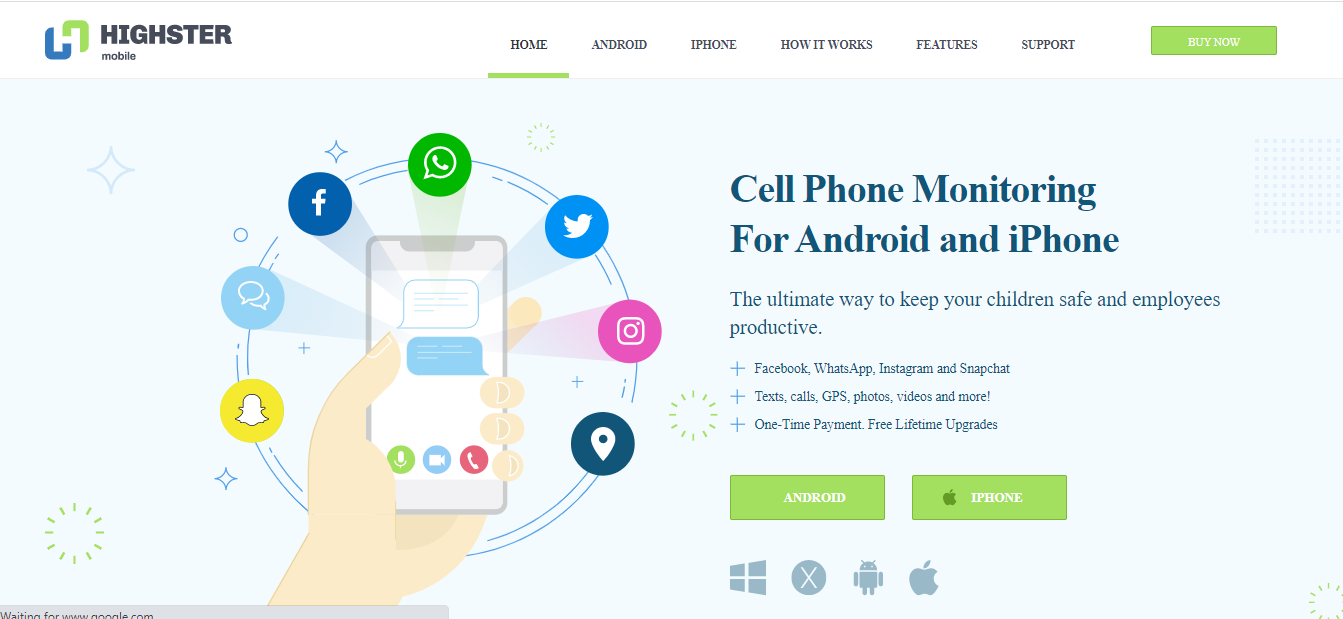 Highster is also one of the cell phone tracking apps built for Android and iPhone. It provides you with an effective tracking system to keep your children safe and employees productive.
With Highster, you can view the details of the browsers accessed in the incognito mode of the target Android phone and also restrict the target phone users from accessing certain types of websites
We can also use Highster for social media tracking for Facebook, WhatsApp, Instagram, and Snapchat and also track texts, calls, GPS, photos, videos, and more.
Features
Some of its features include:
The

Live Control Panel

allows the users to access all details of the target phone dynamically.

Even if the phone's logs are deleted, all text messages are logged.

Periodic uploading of GPS positions on a Google Map.

It consists of a stealth camera. In the advanced application, you need to initiate the camera to click the surroundings' images. 

View Instagram messages, Snapchat, Emails, and WhatsApp.

It has the "

iMessages

" feature that does more than just monitor regular text messages.

All images and videos taken and received by the target device are recorded and are viewable. 

The incoming and outgoing number is logged and recorded along with duration and time.

Parents can easily figure out what websites are being accessed by their kids.
Steps to Install Highster Mobile
It has three quick and easy steps:
Download
First, download the application for android or iPhone devices and install the software.
Activate
Activate the app on the target device.
Access
Get access to all the details on your device.
Spyera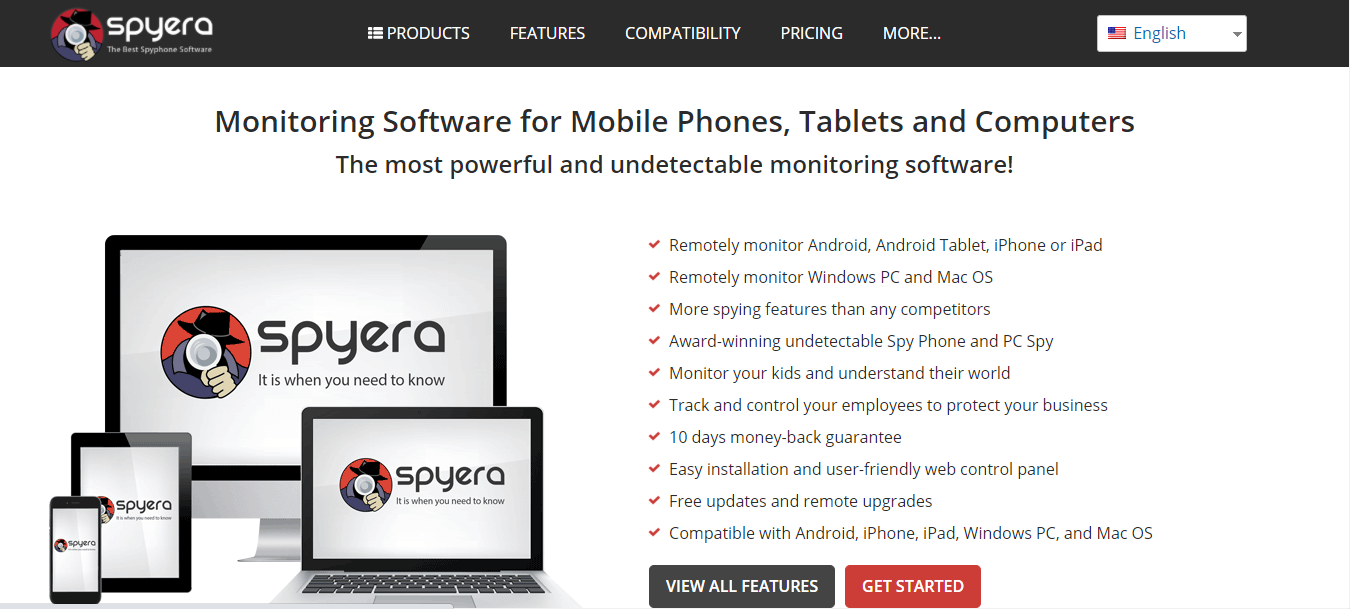 Spyera is a cloud-based monitoring and control application that gives you full control of the target device without touching it. So, you can use it to remotely spy on all websites visited by a target Android device both on incognito or normal browsing mode.
It is an undetectable and invisible Spy Phone to spy on text messages, phone calls, keylogger, media files, SMS/email, IM apps, location web history, and many more.
Features
Some of its features include:
Monitor your Android, Android Tablet, iPhone, or iPad devices remotely

Monitor your Windows PC and Mac OS remotely 

Award-winning Spy Phone and PC Spy

Undetectable Spy Phone and PC Spy

Control access and monitor your kids

Track and control your enemies and protect your business

Money-back guarantee within ten days

Easy to install with a user-friendly control panel 

Time-to-time free remote upgrades and updates
Steps to Install Spyera
Follow the mentioned steps mentioned below to get on with Spyera:
The first step is to choose a subscription plan and purchase the app.
After the purchase, you will receive an email that contains your login information and login URL for your web account.
Then, use the URL and then log in to your web account.
Click the HELP section located in the left upper corner. If you are on a small screen device, there will be a menu toggle. Click the toggle, and then on the menu, click the HELP section.
In the HELP section, click User Manuals > Installation Guide, where you will find a guide and pre-installation configurations, and a download URL.
Enter download URL. Your installation will begin automatically.
Once the installation is complete, activate the app by entering your activation code.
The installation is complete. Now you can spy on the target device.
FlexiSpy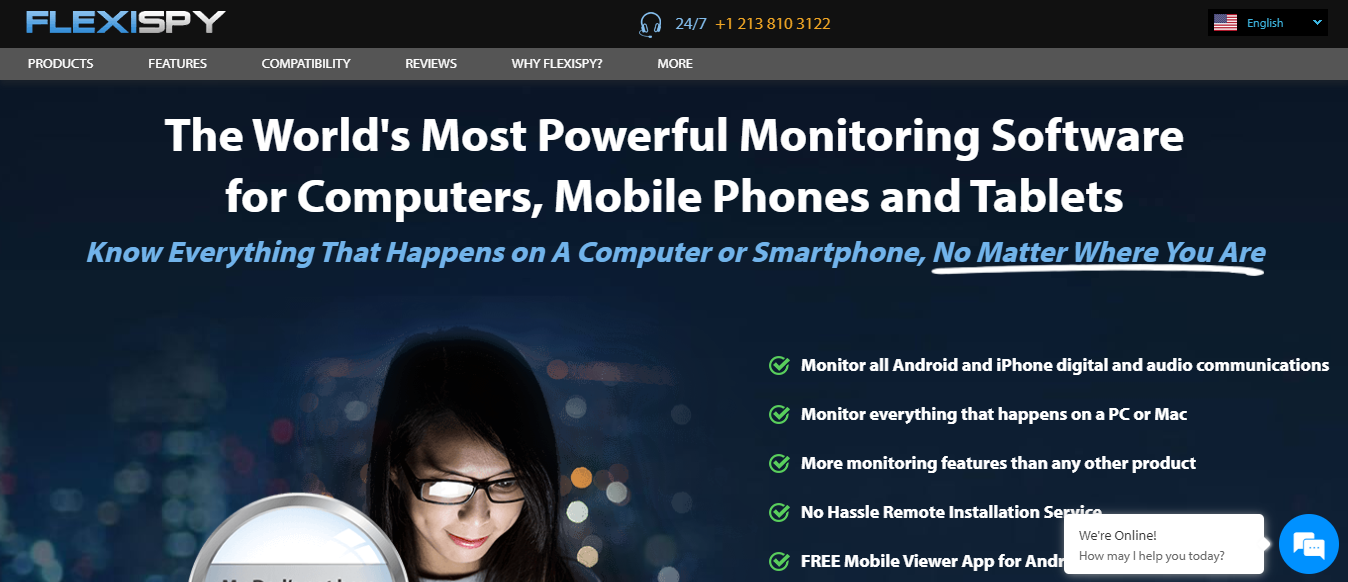 FlexiSpy is another powerful monitoring software for computers, mobile devices, and Tablets that includes more than 150 features. Its motto is "Know Everything That Happens on A Computer or Smartphone, No Matter Where You Are."
FlexiSpy records all websites that have been visited on the target Android phone and then uploads them to your online FlexiSpy dashboard that you can access and see conveniently anytime you want.
Features
FlexiSpy has four major definite features:
Parental Control Software
Children use technologies barely understood by parents. Moreover, the FlexiSPY parental control app provides you with the exact information that you want to know. Hence, it gives parents peace of mind that their children are safe.
Employee Monitoring
Sometimes employees can leak the business's information which can be the biggest threat to a company. Our employee monitoring software allows you to know everything that happens on your company's devices for your data safety.
Direct Device Delivery
With their FlexiSPY express delivery service, you can get a brand new phone along with the software FlexiSPY already installed and delivered directly to your door. You don't need to download, install and perform all the hassling processes.
Introducing FlexiSPY SPY SHOP
FlexiSPY SPY SHOP provides the best spying gadgets, including Hidden Spy Cameras, GPS Trackers, Hidden Voice Recorders, and other cool spy gear.
Steps to Install FlexiSpy
There are three simple steps for installing FlexiSpy:
Plan Your Subscription:
At first, as per the feature, you'd like to access, pick a subscription. Confirm your purchase by entering your payment information. Then check the confirmation mail in your inbox.
Install FlexiSpy:
Then, set up the software on the target mobile device. The installation process is sent to you in your email.
Start Monitoring:
At last, you have installed and activated FlexiSPY on the phone, log into your online account. Now start viewing the data from the target device using the Control Central tab.
How to delete the incognito history on Android?
Incognito mode never saves anything for the viewer to view later. Cookie files are stored so that they are automatically deleted once a session has expired. Yet you can see after deleting your incognito History in case you wish. 
Easy options to see and delete the incognito History on Android without them knowing is by going through the given below points;
Go to the app google chrome and click on "Menu."

And then click on History. It leads you to all the types of data. Mark all those you wish to erase. 

Also, choose the timestamp from the dropdown menu.

At last, click on "Clear Data," then History will be deleted.
Unless someone has a data recovery tool, no one will see your browsing history.
Notice: These are the instructions to delete incognito History on Google Chrome.
How to see incognito history on iPhone?
Those who wish to see their incognito History on iPhone should go through Advanced Settings. And follow the given procedure:
Step 1: Visit the Settings application of your iPhone.
Step 2: Scroll down until you find Safari options. Click on that.
Step 3: After that, go through the option Advanced and then click on Website data.
Note: In case you want detailed information, synchronization of your iPhone with iCloud and backup data from time to time is a better option. However, users barely engaged in it.
Conclusion
So, in a nutshell, you can easily see Incognito History on Android using various third-party apps like KidsGuard Pro, mSpy, FlexiSpy, Spyera, MobileSpy, and so on. These are monitoring and spying apps that record all the activities of the target phone including websites you visit. So you can do more than just check the history in Incognito mode.
However, read the terms and conditions and privacy policy before installing the monitoring software because it can be illegal in some countries or states.