What are Social Media Scheduling Tools? | Top 6 Best Social Media Scheduling Tools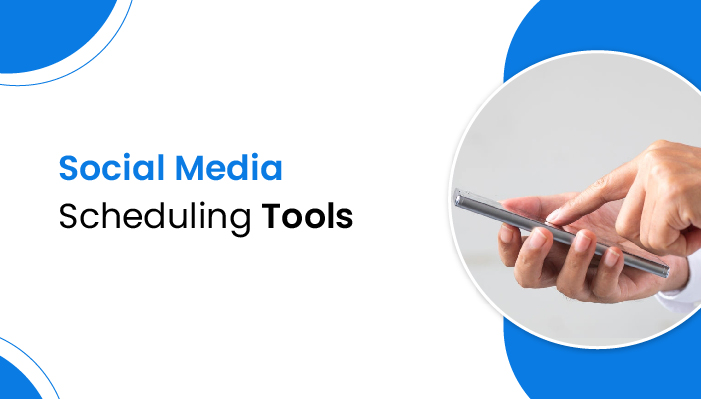 What are Social Media Scheduling Tools? | Top 6 Best Social Media Scheduling Tools
According to Backlinko, 50.64% of the world's total population uses social media, more than half the total population. Why do people use social media this much? The answer is simple. Social Media has brought everything into the palms of our hands. It has an infinite amount of content that can hook us for hours.
It also means you can show your potential to a lot of people. You can create exciting content and gain followers. Now, if you produce a large amount of content, your chances of appearing in the feed of a possible lead are doubled. This is where a social media scheduler may help.
Read this blog to learn about social media scheduling tools and the best tools you can use to track and analyze your social media performance.
What is Social Media Scheduling Tools? Why do we need
Social Media Scheduling Tools?
Social Media Scheduling Tools are those tools that let you schedule posts across different social media platforms. It helps you to be active in social media even if you are offline. 
Time and tides won't wait for you, and this high-paced world definitely won't stop for you. With Information and Technology taking over the world, more and more manual work is being handled by technology.
With so many clients, various accounts, a hectic schedule, and limited time, it's critical that you maintain your client's social media profiles with finesse. 
For this purpose, we should use social media scheduling tools.
Top Social Media Scheduling Tools 
Evaluating their features, affordability, customer reviews, here are some popular social media scheduling tools you can use.
Social Pilot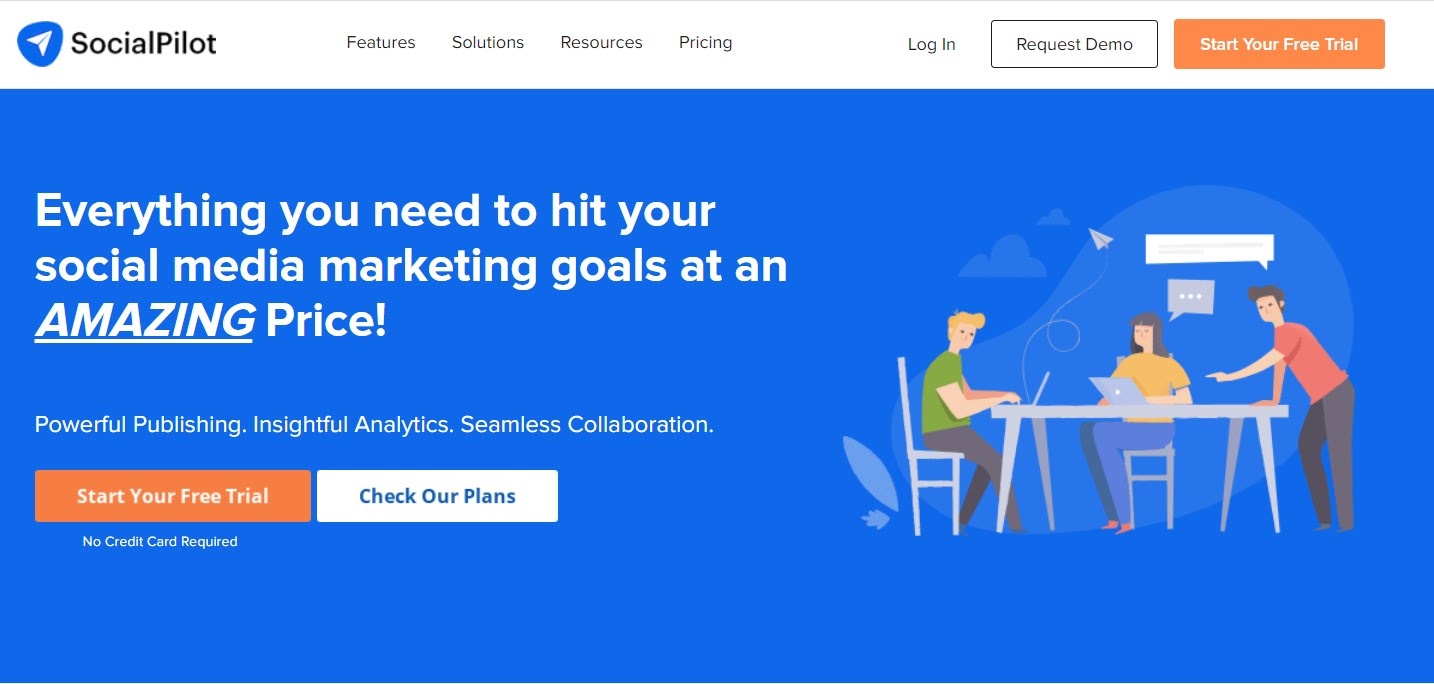 Social Pilot is one of the most popular social media scheduling tools you can find in the social media market. It is the only media tool that lets you post on popular social media platforms like Facebook, Twitter, Linked In, Instagram, Tiktok, Google My Business, etc. 
It has lots of features, and every feature is designed to simplify social media schedules, which helps optimize marketing. Social Pilot also provides different support to its users through email, SMS, phone, or another way the users may feel convenient. 
Social Pilot is very affordable. The subscription plan is $50 for 3 users.
Features of Social Pilot
Analyze and keep track of social media performance

Creates unique content for different social media platforms

Generates White Label reports quickly. White labeling is the process of applying your branding on another company's goods to provide a consistent image to your customers.

Use of collaboration features to manage team members.

Bulk scheduling to upload 500 posts 

Create ads and use them to boost posts.

You can manage multiple clients' social media without any problem.

Supports native phone applications

Use of RSS feed automation while sharing blogs.

URL shortening feature for more click-through-rates
Hootsuite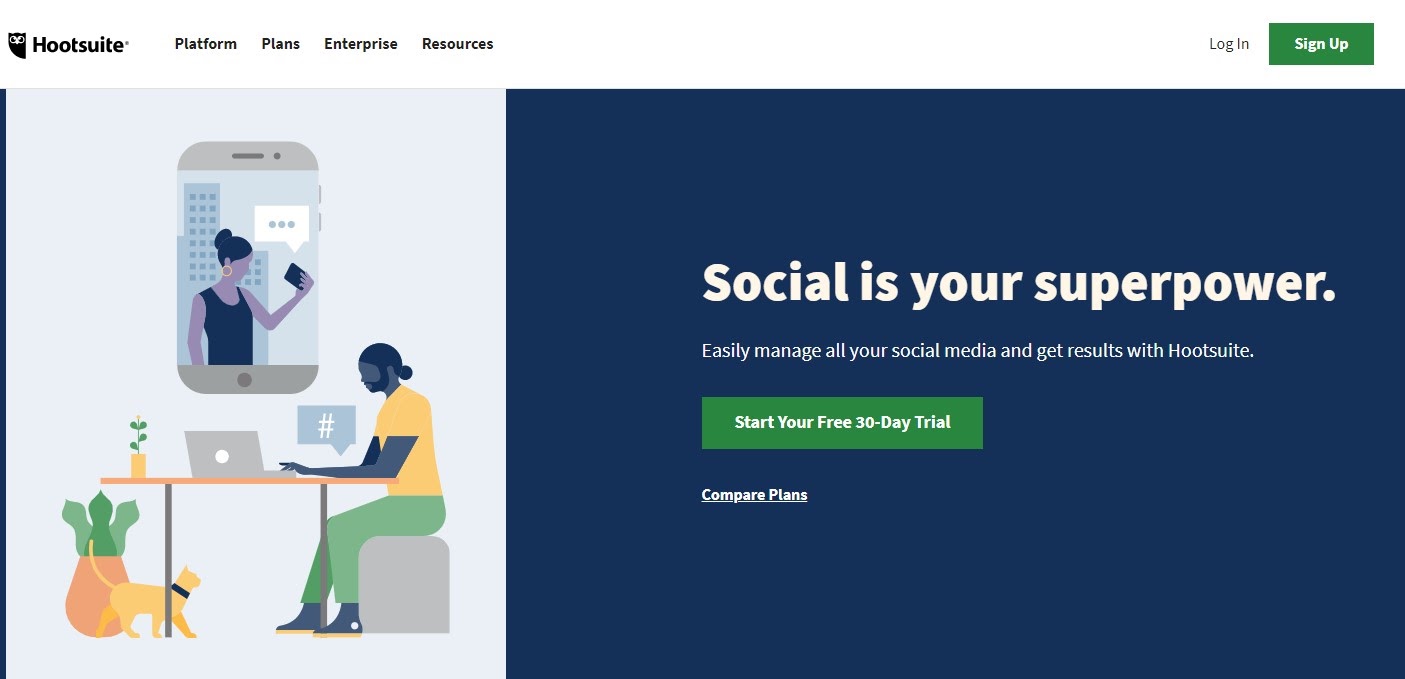 Hootsuite has been around in the market for a long time, with over 16 million users worldwide. It is a social media scheduler tool that enterprise-level agencies use. It supports famous social platforms like Facebook, Instagram, Twitter, LinkedIn, etc.
As compared to others, Hootsuite is a little complex to use. The pricing of the Hootsuite plan is quite expensive, which small businesses cannot afford. So for small businesses, we recommend using other alternatives rather than HootSuite.
The price of Hootsuite's subscription plan is 599$ for five users.
Some of the pros and cons of Hootsuite social media scheduler
Pros 
Hootsuite provides you with a social streams feature, with which you can engage with customers more active and manage your social media profiles right from Hootsuite's dashboard.

It also has an account-specific social media analytics feature which you can use to track results by time frame and create content according to those social media reports.

You can choose from more than 150 apps in Hootsuite's directory for efficient collaboration.  
Cons
Hootsuite's subscription plans are pretty expensive, so small businesses cannot afford this social media scheduler tool. 

Due to the clunky dashboard, it's challenging to use Hootsuite if you are a new user. 

It provides you with many features, but you have to pay for features like account-specific social media analytics features, URL shortening features, custom reports, etc. 

Customer support is not always available, and you have to pay for further assistance. 
Sendible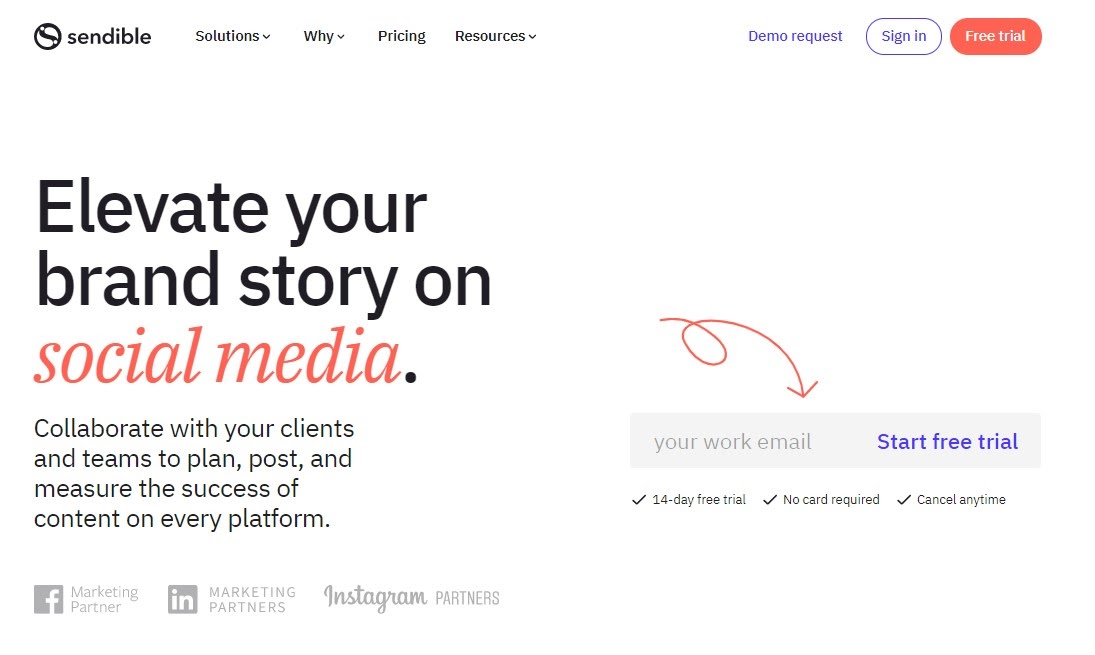 Sendible is an all-in-one social media management platform for solopreneurs and agencies that helps them manage and promote their businesses. You can schedule & post individually, keeping them in a queue or bulk. 
It also has a feature of "Smart Posts." When creating content, use this feature to tailor the content with relevant captions, emojis, and hashtags. You can also schedule posts offline and upload them in bulk to the social media calendar.
Sendible offers you its services by looking at the number of users and services you use. You can customize it as you want. Price starts from 29$/month or 288$/year.
Some of the features of the Sendible social media scheduler tool:
Post contents in bulk or individually 

Plan a campaign offline and then import it in bulk into the scheduler.

Group numbers of content into campaigns and schedule on a separate queue

Recycle posts with repeating schedules feature

RSS Feed Auto Posting feature for quality content creation and sharing

Track and rearrange contents according to the interactive social media calendar
Agorapulse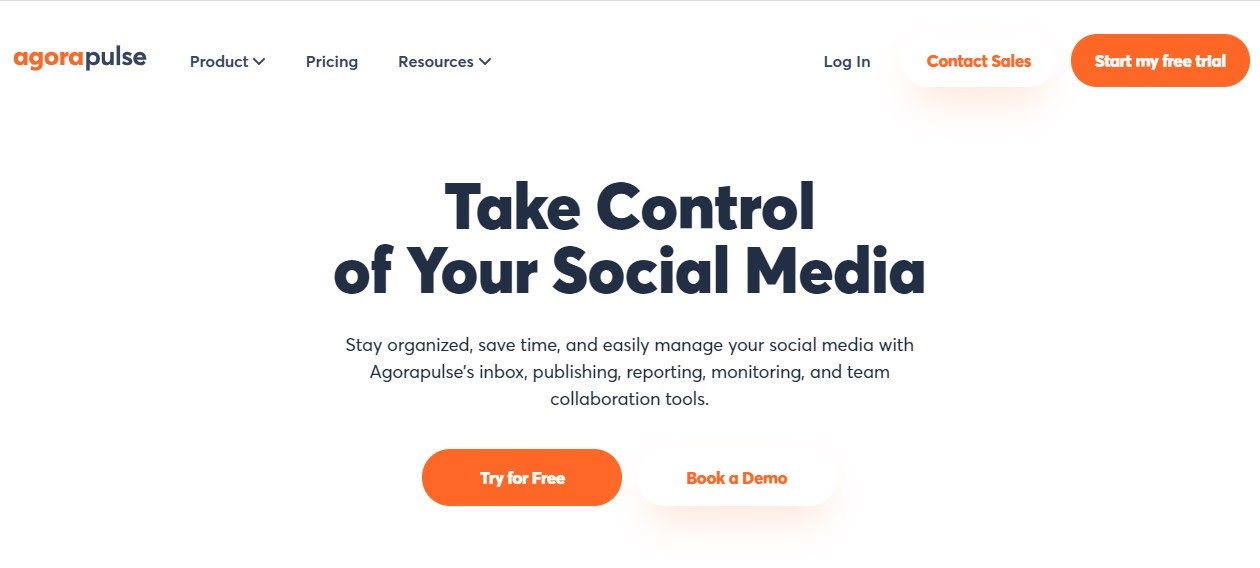 Agorapulse is a tool that has excellent scheduling functionality. You can use it to schedule your posts in advance and choose to publish once, on-repeat, or republish regularly.
You can publish your evergreen posts on-repeat with Agropulse and use "queue categories," which allows you to organize the posts and categorize them according to the time slots and topics.
Agorapulse is highly customizable and affordable for any kind of business, large or small. It has two plans available:
Free: Offers three user-profiles and one user.
Paid : Starts from 99$/month or 79$/month(if you pay annually)
Some of the features of the Agorapulse scheduler are:
Share evergreen posts on-repeat with queue function.

Organize and categorize posts by time slots and topic.

With team workflow, you may create, distribute, and approve content.

You can use Agorapulse on both android & ios devices.

Upload bulk content in one CSV file.
Buffer

Buffer is a social media marketing software application that is used for a variety of purposes. The main feature of Buffer is its ability to draft and schedule posts for different social media platforms like Facebook, Twitter, Linked In, Instagram, etc. It also has social media and monitoring functionality available.
There are three different groups of features with different price ranges. If you sign up for all three, you can link them together. 
Buffer Publish: Here, you can schedule all the contents to post on different social media platforms.
Buffer Reply: This feature is designed for large companies. It helps to track conversations about their brand happening on social platforms.
Buffer Analyze: Here, you can analyze all the contents you post on social platforms. You can check each platform one-by-one or all the data combined.
The price of Buffer's subscription plan is $99 for five users.
Some of the pros and cons of Buffer are: 
Pros
Buffer's dashboard is user-friendly, which makes it easy for new users.

Customer support is speedy and responds quickly.

You can customize the posts and schedule as you want for different social media platforms.
Cons
Buffer only allows scheduling of 2000 posts for 25 social media accounts which is less for large enterprises.

It doesn't have a "Content Curation feature," which helps you find new and fresh content.

To use Buffer Reply and Buffer Analyze, you must pay extra cash on top of Buffer Publish.
Sprout Social
Sprout Social is a corporate tool to uses different features like customized reporting, in-depth data analytics, and smart inbox. It supports different social platforms like Facebook, Twitter, Linked In, Pinterest, etc. 
It can help you improve your performance with an in-depth data analytics feature. With this feature, you can track and monitor the performance of every content you post on different social media platforms. 
The price of the subscription plan of Sprout Social is 149$ for a user.
Some of the pros and cons of Sprout Social are:
Pros
Sprout Social can help you group team members for better collaboration.

Its bot builder helps you set up and manage chatbots within Facebook Messenger App.

Support teams may use Sprout Social to link platforms like Zendesk, Hubspot, and UserVoice to address user concerns without leaving the dashboard.
Cons
Sprout Social is quite expensive as it charges everyone you invite.

With the price you pay, there is no integration with visual media platforms like Youtube.

It does not contain a unified chatbox feature, so you have to toggle different social media platforms individually.
To Sum Up
Social media scheduling tools help you boost your business through social media.
There are plenty of options when it comes to choosing social media scheduling tools. Different tools offer you different features at different prices. As a result, it's better to pick a tool that will help you in the long run.
Most of the tools are free for trial, so take some time and explore different tools. When you find a tool that fits you and benefits you, choose that one.
Read More: Why Social Media is important for business?