Why Social Media is Important for Business?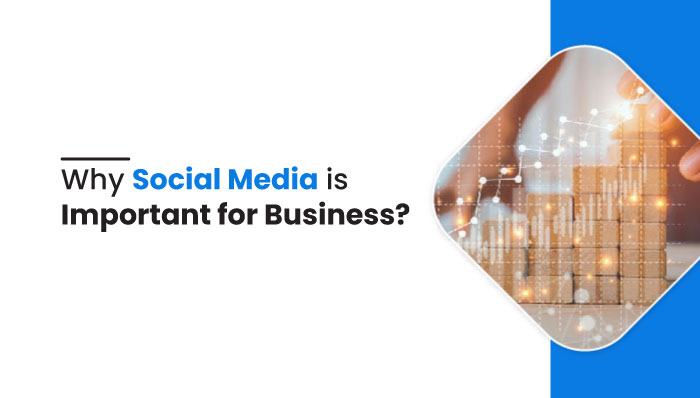 Why Social Media is Important for Business?
Social media presence is important for every business, big or small. Social media marketing has never been extensive like this before. It requires different marketing strategies and creativity. 
According to Backlinko, 3.96 billion people use social media worldwide, more than 50% of the total population. Social media has become a significant aspect of digital marketing, which provides many benefits to the business. The primary purpose of social media marketing is to drive traffic and to grow your brand.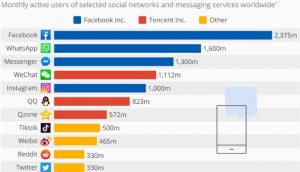 According to Statista, the most valuable social media platforms are:
Facebook(89%)

LinkedIn(83%)

Youtube(81%)

Twitter (80%)

Instagram(56%)
Read More: Which social media platforms are best for marketing?
There are many benefits social media can provide to help you in your business. Social platforms help you engage with your customers, increase your brand awareness, help to increase traffic, etc. Before you start a business, you need to know who your target audience is and how you can engage them.
Benefits of social media for brand building
Create brand awareness and brand recognition
With more than half of the total population on social media like Facebook & Twitter, your business must have a social media presence. With this, many people will know about your brand, and you can increase traffic to your business. It can get your brand to many people even when they are not thinking about your brand.
One of the most important goals for any company, big or small, is to gain brand recognition. Traditional marketing is weaker compared to social media marketing because it takes less time and is more effective. You can reach many people with social media networks and target specific audiences you like.
Authenticity is key. You need to tell your customers about the people who make up the company, the benefits that your existing customers have. If you let your followers know about your brand, they will believe you and your brand. So, social media helps you to connect your business with your customers.
Opportunity to gain traffic
According to Pew Research Center, 70 percent of people log in to their social media profiles every day. It allows your business to connect with them every time they log in. So, your content creation must be on point. Keep your content entertaining and engaging so that you can drive traffic. 
Social media posts and ads are a great way to drive traffic to your website. If the content you share is exciting and looks genuine, there are high chances to get followers. You can also participate in social chats to get attention from people and drive them to your website.
Lead generation is one of the most effective benefits of social media marketing. Many social networks offer advertising features designed to gain leads. You can post ads on Facebook, which helps you to gain more sales leads than before.
Social media platforms play a vital role when it comes to converting audiences into customers. As the traffic increases in your website, and if you can provide viewers with genuine information and content, there is a high chance those viewers will convert into customers. If you continue to supply them with helpful services, they can convert into loyal customers too.
Of course, there's no use in building traffic to your website if the site itself is difficult to use. Once you've attracted potential customers to your business, it's crucial that your sales funnel makes the conversion process as smooth as possible. For example, one of the most common stumbling blocks for subscription-based businesses is payment processing. By using a platform such as Chargebee (a leading alternative to Zuora) you'll ensure that automated payments are taken promptly and securely. The challenges facing your site may be different, but customers will be quick to air any grievances via social media, so it's important to identify and address any issues before they arise!
Social Media Marketing is the most cost-efficient advertising strategy. Every renowned app like Facebook & Twitter allows you to create your social media profile for free. Even if you pay for advertisements to these social media platforms, compared with traditional marketing, it costs less. You can choose who your target audience is, and you can also target specific locations.
Read More: How can you use social media to make money?
Marketplace Insight is one of the benefits of social media. You can understand what your customers think about your company and what they need without directly talking with them. 
You can understand their interests and opinions. By analyzing these, you can use them to grow your business. Once your business has many followers, you can use additional tools to analyze the demographics of your customers.
To be a leader, you need insightful posts and content that attract others and which can be helpful to others. To be an expert, your presence in social media plays a vital role in this digital world. You need to engage with your audiences, share content and promote your authority. 
Social Media Marketing Strategies for Business
Before starting any business, you need to set your business goals. This goal strategy helps you focus on relevant things to your business and teaches you how to use your time. Social media marketing can help you to reach your goals, whether it is by attracting new customers or by paid promotions. Some of the marketing strategies you can use:
You need to know the market and your target audience first. If you know who your target audience is and customers' interests and opinions, you can create content and posts relevant to them. 
Every popular social media platform allows you to target specific audiences and specific locations. So, you must carefully choose the keywords. It would help if you always remembered that the correct keyword attracts the audience.
Analyze Your Competition's Approach
Analyzing the approaches and strategies of your competition lets you know what is essential for the audience. It provides insights on how you can improve your business strategies. As keywords are significant, you should analyze what keywords your competitors are targeting.
Before content creation, you should always analyze what your users want. After analyzing, you must try to provide your users with valuable insights and the things they want. The contents should be scheduled and valuable to the viewers, which they are willing to share.
Collaboration with Influencers and Celebrities
To grow your business or brand, you need to provide users with valuable content. Other people must share about your business on social media platforms. 
Influencers or celebrities have a large following on social media and can draw the attention of many people to your brand. Renowned businesses pay influencers or celebrities to advertise their brand. This strategy will let many people know about your business and turn them into your potential customer.
Customer Service and Support
People always check about the brand on social media platforms and seek social media profiles for customer service. Once you get an audience's queries, your response should be quick. In this way, they can be engaged with you. If you take a long time to respond, there is a high chance you might lose those audiences.
Things are moving fast, and you can't be behind if you want to run a successful business. You should always check on things and news related to your business field. You must always be up to date.  
Direct Traffic Referral to your website
Not all customers visit your site from search engines. Social media can also assist in sending customers directly to your website. You must follow a set schedule to post content. If you are an oversharing marketer, there is a chance you might turn off your customers' interest in your business. So, you must know when to share your content. It will also help you with SEO.
Top Social Marketing Tools to use
It is hard to maintain all your accounts and campaigns at the same time. So, here are some of the marketing tools which can help you in your social media marketing campaign.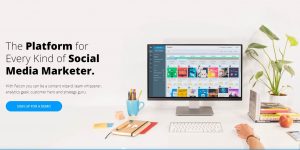 Based on a SaaS-based platform, Falcon.io is used by every social media marketer and for customer experience. It is used for social media listening, engaging customers, and community management.
Some of the features of Falcon.io are building solid connections, managing social media channels, and analytics. It also helps you to create paid and organic posts.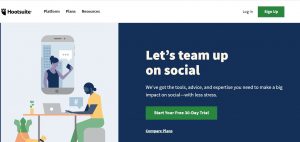 Hootsuite is one of the best social media marketing tools which is available in the market. It helps you to manage your multiple social media profiles and accounts from a single dashboard. It is best for business owners who own multiple businesses at once. Hootsuite features are organizing content, securing passwords and profiles, maintaining social media presence, and schedule updates.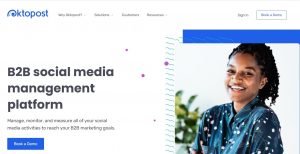 Oktopost is a marketing tool for B2B businesses. It helps them to monitor, manage and measure the activities of their social media profiles. Some of the features of Oktopost are detailed reports and keywords monitoring, and it hence helps you post better content that helps you engage with your customers.
To Sum Up
Social Media has evolved to allow individuals to communicate with one another. Soon, businesses realized that it is an excellent platform to attract new potential customers. Social media marketing is best for both startups and already established brands. You must regularly update your social media profile to drive traffic to your website.
Read More: Why is social media marketing important?
Every business uses social media marketing now, so don't take your foot out of the gas. If you are not up to date on your social media profile, you might get left behind. Your competition is going to get more traffic and leads than you. 
Social media marketing is crucial but doesn't get stressed too much. Start by creating a profile and try to engage with people as much as you can. Respond as soon as possible and create content that meets your customers' requirements.