Zoom Vs. Google Meet Vs. Microsoft Teams. Which one is better?

Zoom Vs. Google Meet Vs. Microsoft Teams. Which one is better?
Worried about which one is better, Zoom Vs Google Meet Vs Microsoft Teams? Read the blog to get your answer!
Video conferencing software has become an essential means of communication for all people and businesses. Due to the ongoing Coronavirus outbreak, people are forced to stay home, causing many problems for people, businesses, and schools. 
However, people have started to work from home and collaborate through online conferencing to keep businesses running and stay productive. Even schools are being able to teach their students.
We all know that video conferencing apps like Zoom, Google Meet, and Microsoft Teams are becoming more popular because of Coronavirus restrictions. Choosing the best video-conferencing application that works best for your particular situation with so many choices might be confusing. 
So, we have placed these three applications (Zoom vs Google Meet Vs Microsoft Teams) and mentioned features, pricing plans to help you determine which is better among the three. 
Zoom
Zoom is the most popular platform for audio and video conferencing these days. It is easy to use and has better audio and video quality. Conducting meetings, conferences, and taking online classes is much easier through Zoom. And it also provides a chat function for users to text individually and share files during an ongoing meeting.  
Zoom also offers additional features like zoom room, multiscreen support, and large group end-to-end encryption. One of the best advantages of using Zoom is that it allows users to record meetings on their basic plan. 
If you want to join a meeting in the zoom, you can go to the link and meeting id provided by a host. However, you will need to register your Zoom account to host a meeting. Even if you do not have a Zoom account, you can quickly join a meeting. 
Features
Screen sharing:

Participants can share their whole screen or individual application to share their ideas and work. Other participants need permission from the host to share their screens. 

Record meetings:

You can record ongoing meetings locally. This feature is helpful for students in case they miss their online classes.

Dynamic voice detection:

This feature makes it easier to recognize who is speaking as the video will automatically switch to the active speaker.

Large room and conference:

With its paid plans, you can expand your meeting to a large room, allowing up to 500 people.
Price
Basic plan: Free
Pro plan: $14.99 per host/ month
Business plan: $19.99 per host/month
Enterprise plan: $19.99 per host/month
Most of its features are pretty helpful and reliable. However, zoom meetings can only last for 40 minutes if you are using its basic plan. Though you can host unlimited meetings, each of them will not last longer than 40 minutes. To use advanced features like cloud storage and host large webinars, you must use a paid plan.
Google Meet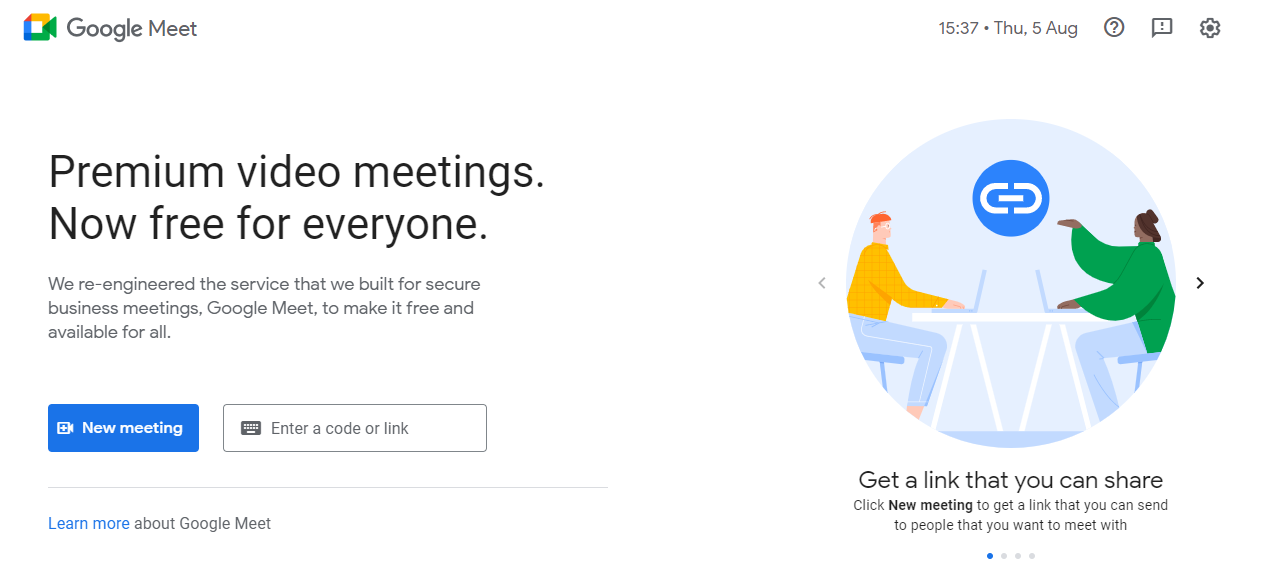 Google Meet, previously known as a hangout, is primarily suitable for small to large businesses to host voice and video conferences. It is an excellent app if you are looking for an inexpensive video conferencing solution suitable for your organization.
Google Meet is well integrated with the Google marketplace, including Gmail and Google Drive. So, it will be easy to use in conjunction with your workspace account. And all of your calls and video chats are automatically synced across all of your signed-in devices. Anyone with a Google account can easily access Google Meet for free. 
Features
Screen sharing, presentation, and whiteboarding:

You will be able to share your device screen and display PowerPoint presentations at the conference. It also offers a virtual whiteboard for collaborative use.

Scheduling:

It is integrated with Google calendar and email making it easier to schedule meetings.

Notification Blocker:

This feature blocks all other application notifications that might appear during a screen sharing session 

Recording:

It also allows users to record an ongoing meeting for later review. But it is not available on a free plan.

Browser application:

Users do not have to download an application; they can efficiently host meetings from their web browser.
Price
Basic: free
Starter: $6 per user/ month
Business: $12 per user/month
Enterprise: $25 per user/month
Google Meet's free plan allows users to host unlimited 60 minutes of meetings for up to 100 participants and offers 30 GB of cloud storage. Its features differ according to its pricing plan. With its enterprise plan, users will have unlimited cloud storage and enhanced security management options and host meetings for 150 participants.
Microsoft Teams

Microsoft Teams formerly started as a chat-based workspace. Later it added a video conferencing feature which made it more popular among larger enterprises. It is well integrated with Microsoft Office 365, making it easier for users to share/ collaborate with Office documents.
Teams also provide a data encryption feature which is ideal for large organizations that need to store a large amount of data. 
Features
File sharing:

It offers real-time file sharing and editing, making users easy during an ongoing conference.

Integrations:

It also allows you to integrate third-party apps like Trello, Evernote, and more.

Notification:

This feature notifies users if they are tagged or contacted during a conference.

Screen sharing, presentation, and recording:

Zoom and Google Meet also provide the same feature to their users.

Meeting coordination:

The host can grant access to other participants in a conference as a moderator or presenter.
Price
Basic: free
Business Essentials: $5.00 per user/month
Business Premium: $12.50 per user/month
E3 Plan: $20.00 per user/month
Unlike Zoom and Google Meet, you do not have to register or download the application to join the call. You can quickly join from your web browser. If you use a basic plan, you can easily invite up to 100 people to a conference. You will be able to access features like screen sharing, file sharing, and custom backgrounds. With its enterprise plan, you can invite up to 100 members, suitable for large organizations.
Which one is better?
All three apps work best according to their features and functionality. However, choosing the best one depends on your needs and workspace.
Zoom is probably the best platform among the three apps if you run a small business, take online classes, or for presentations. It has a user-friendly interface, and also other participants don't need to have a register on their Zoom account to join the conference. You can easily invite anyone to a Zoom meeting with a link and password.
On the other hand, Google Meet might also be a good option if you need basic video conferencing features. Zoom and Google meet both are available for free to use its basic functionality, suitable for your business and online classes. But to use Google Meet, one should have a Google account.
And the Microsoft Teams is the best if you need a powerful collaboration platform with enterprise-level capabilities. With its wide range of integrations, you can easily use other documents and share files with many participants.
Conclusion
Zoom, Google Meet, and Microsoft Teams all provide similar features and tools required for video conferencing. However, selecting the perfect one that fits your organization depends on your business needs. 
Read More: Best screen recorder tools for PC