Top 10 undetectable spy apps for iPhone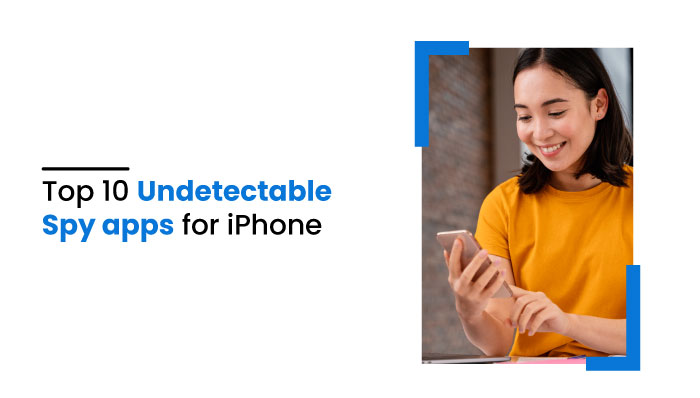 Top 10 undetectable spy apps for iPhone
It is confusing to find one spy app that fulfills all your needs as everyone is claiming to be the best, even with the average functionality they offer. Solving all the chaotic selection processes for you, I have brought this exclusive list of 10 undetectable spy app for iPhone. There is no fear of getting aware of the installed app. You can easily install spy apps without the target phone. Please go through the link to know more about it. 
What you should know before using spying applications?
It is very important to take care of a few things before installing spying applications. 
Are iPhone spy applications undetectable?
Yes, iPhone spy applications are undetectable. You can monitor the target person's activities without letting them know. 
How to know if my iPhone is compatible with the Spy App?
Spying applications have to go through various testing and should meet some standards to be available on App Store. The spying applications to be on AppStore is proof of your iPhone is compatible with that. 
Is it possible to snoop an iPhone without touching it?
Of course Yes! It is doable to snoop on iPhone without touching it. The best spying application comes with the feature to spy on the devices remotely.
Do I need to jailbreak the target phone to spy on it?
Not every spying application offers you its advanced feature without jailbreaking the target phone. That's why it depends on which spying application you are using.
How to select the best among good spy apps for the iPhone?
Before listing out the ten best spy apps, I would like to clarify a few things regarding how we consider a particular application to be the best among all. Various factors help in the clear, unbiased selection of the best spy app for iPhone among the good. I have mentioned and explained a few of them below to help you with a wise selection.
Compatibility
You must check the compatibility of the iPhone tracker. Firstly find out if it is compatible with the device that you want to spy. Any app is considered more promising if it is compatible with a wide range of devices.
Price 
The statement that every cheap app is bad and expensive one is good is not valid. While you search for a spy app, try to find out the best value for your pay. Compare what sort of features you are getting with the price that the software offers.
Customer Support
Software offering a good range of features without customer support is not appreciable as customers won't use the app properly. 24/7 customer support is a must in this competitive world. I recommend you choose the app that provides live chat support.
Website
Please do not decide to look at the website only as the best websites can sometimes cheat you with actual products. Instead, take some time to research the best iPhone tracker. Each website promotes its product to be the best among all, but you must be wise to select the actual one.
Refund
Check if you can or cannot get a refund if you do not like the particular spy app, this way, you will be pretty safe from fraud. Look for the spy app with a clear refund policy.
Legal Information
Check the legal information of the spy app that you want to buy. The concept of spying on someone is not considered acceptable in many parts of the world, so to be safe from legal matters and paying a high amount of penalties, check your local, state, nation law, and legal information mentioned by the spy app company.
Features
Check all the features offered by the iPhone spying apps to confirm if the feature that you want is offered or not. Do not miss out on significant features like call tracker, SMS tracker, Social media tracker, location tracker, keylogger, alert and block. Also, check whether the app operates on stealth mode or not. Remote monitoring is most required. If it does not operate in stealth mode or provides a remote monitoring facility, you will disturb the target a lot, which is not good. If you want to spy, then also look for the feature of remote installation.
List of top 10 undetectable spy apps for iPhone
1.MobileSpy- Spy App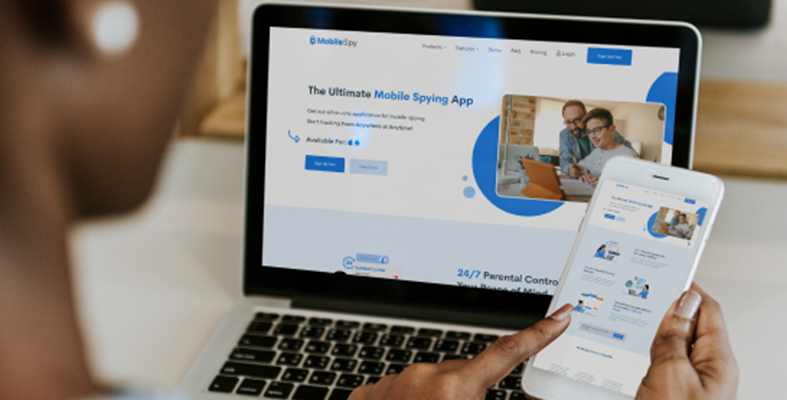 Mobilespy is top on the list of the monitoring system. It is the best spy app for iPhone. You can install Mobilespy on the targeted IOS device in just three simple steps and start monitoring that device. First, you have to Sign Up on the Mobilespy official website, enter the targeted device iCloud and Password, and finally log in to the website.
Features Menu, Track Calls, Track Website History, Track FB Messages, Viber Spy, Snapchat Spy, Instagram Spy, Skype Spy, WhatsApp Spy, Screenshot Spy, Track SMS, Track SIM, Location, Keyword Alert, Geofence Alert, Uninstall Alert, Track Location Email Spy and many more.
Compatibility
iOS Versions 4 and higher
Physical access to the device
Not required
Price per month
Mobilespy BASIC PLAN for one device is $29.99, Mobilespy PREMIUM PLAN for one device is $49.9, Mobilespy FAMILY PLAN for two devices is $69.99, Mobilespy Unlimited devices $19.99 per device.
Pros
Mobilespy does not require a jailbreak to access most of its features

Compatible with a wide range of devices

Best value for the money you pay as it costs less than a dollar per day

It is 100% invisible as it operates in complete stealth mode.

You can cancel your subscription at any time

Offers 30 + unique features

24/7 live chat support

Clear legal information, easy refund policy

Technical support
Cons
All its functions do not work for iOS without jailbreak.
2.XNSPY- Spy App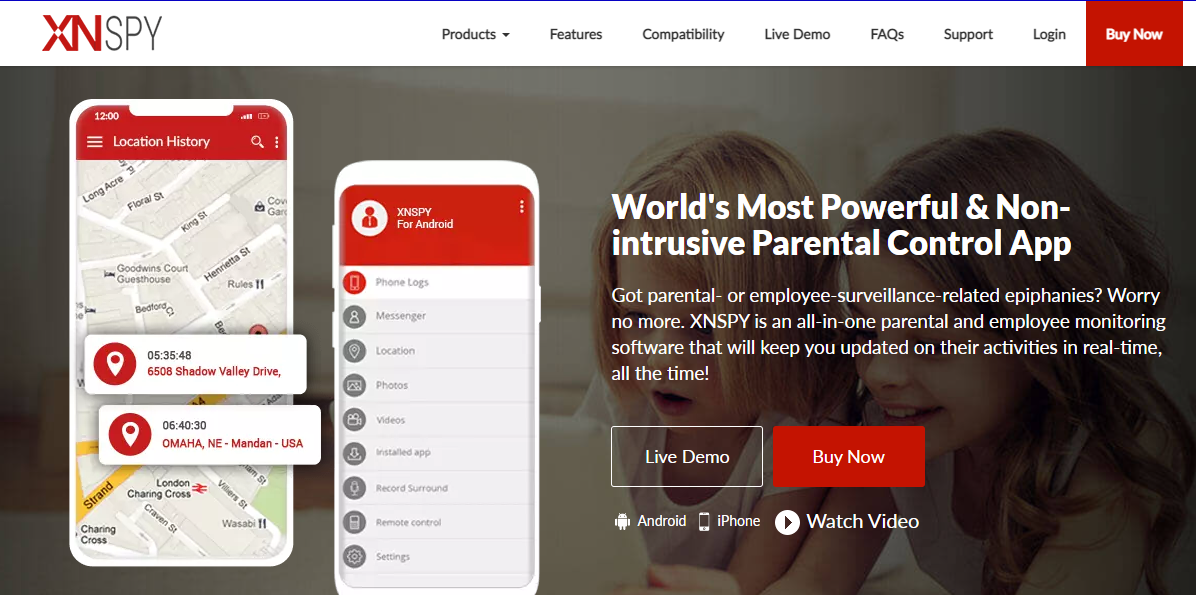 It is one of the top-performing spy app for iPhone. It offers SMS Tracking, Phone Call Recording, Facebook Tracking, Skype Spy, Viber Spy, WhatsApp Spy, Location Tracking, Alerts, and many more.
Compatibility
iOS Versions 6.X to 13.7
Physical access to the device
Not required
Price per month
XNSPY Basic Edition ( 40% OFF ) $29.99 , XNSPY Premium Edition ( 40% OFF ) $35.99
Pros
XNSPY does not require jailbreak
Cons
It is expensive. Rating: 9.5/10

All its functions do not work for iOS
3.FlexiSpy- Spy App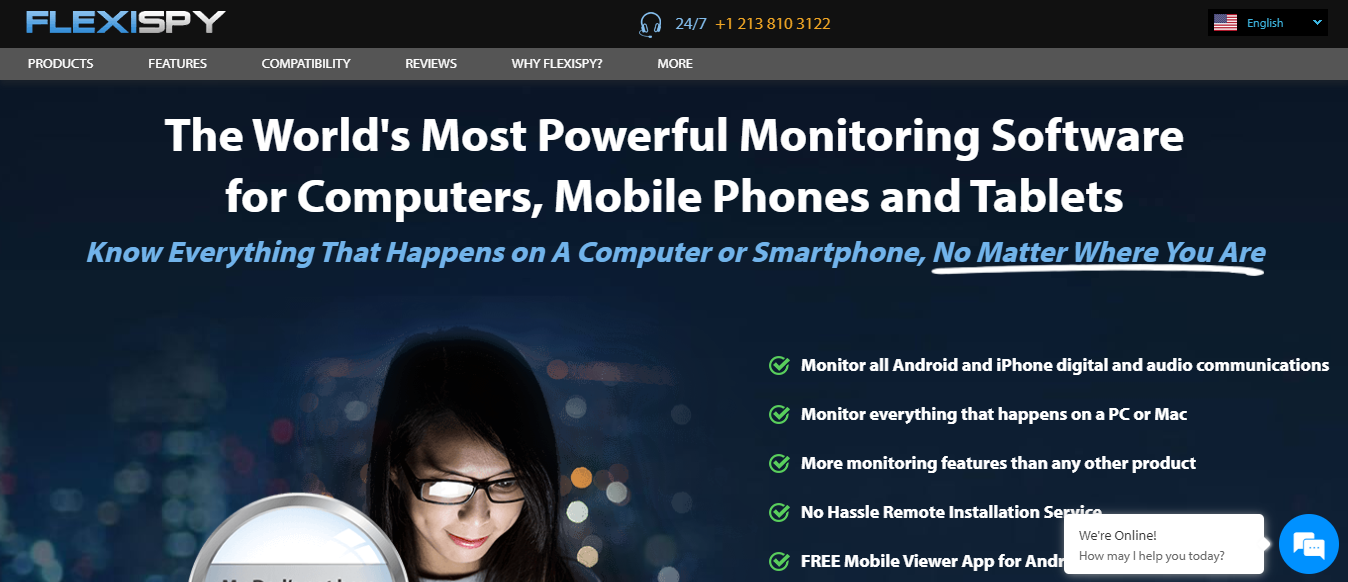 When we talk about cell phone monitoring, FlexiSpy comes on the top list. This app is versatile and offers a range of features, from basic to advanced. For example, LINE Call Record, Phone Call interception, Phone Call Record, Spoof SMS, Environment recording, Facebook Call Recording, RemVid Hangout, Skype Call Record, Viber Call Record, Call Record, Spy call, RemCam, WhatsApp Call Record, SMS Keyword deletion, Call Notification Alert, Tinder Messages, Application Screenshots, SIM Changed Notification are some of its features however FlexiSpy offers more than this.
Compatibility
iOS

Version

9.1 to 11.4.1
Physical access to the device
Required
Price per month
LITE $29.95, PREMIUM $68, EXTREME$199
Pros
Offers 50+ features

With FlexiSpy, you can monitor multiple devices at a time
Cons
Comparatively, FlexiSpy is expensive

Physical access is required for installation

FlexiSpy doesn't support the latest iOS devices
Rating
 8.5
4. mSpy- Spy App
mSpy is fourth on the list of undetectable spy app for iPhone. Therefore, it is highly recommended for iPhone users. It offers a wide range of features, including Monitor calls, Facebook Messenger, Telegram, iMessage, Skype, WhatsApp, Snapchat, Tinder, Hangouts, Incoming Calls Restriction, Current GPS, Location Installed, Applications, Geo-Fencing and many more.
Compatibility
iOS Version 7.0 to 9.1
Physical access to the device
Not required
Price per month
mSpy
BASIC $29.99, mSpy PREMIUM $69.99
Pros
Its customer support is appreciable

It operates on stealth mode
Cons
It is needed to jailbreak iPhone

Comparatively, it is expensive as its premium package costs almost 200$ per year.
Rating
8
5. Spyzie- Spy App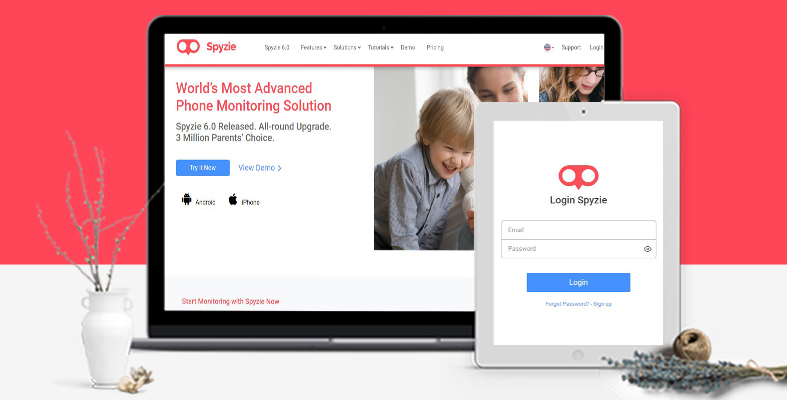 Spyzie is another popular spy app that offers WhatsApp, screenshot, call log, SMS, messenger, alert, browser history, Instagram, Snapchat, Contact, timeline, etc.
Compatibility
iOS Version 10.0.0 and higher
Physical access to the device
Required
Price per month
Spyzie Basic Edition $29.99, Spyzie Premium Edition $35.99
Pros
It is not necessary to jailbreak the target device for

iPhone spying
Cons
If the target device deletes the data, the Spyzie control panel cannot retrieve it

All its functions do not work for iOS
Rating
 8
6.MobiStealth- Spy App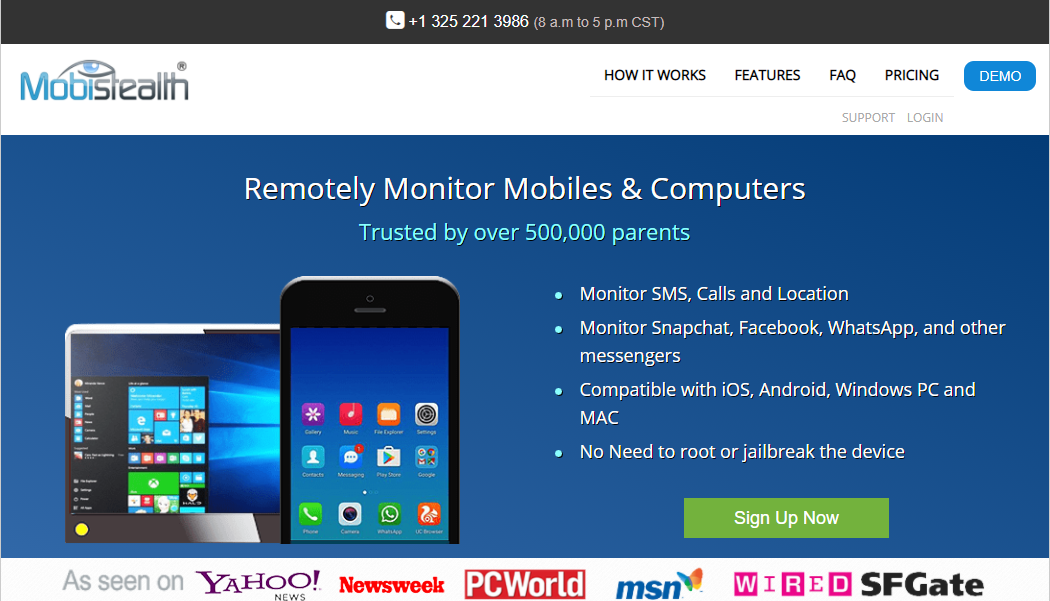 We have listed MobileStealth among the top 10 spy app for iPhone in 2021 as it offers the best features. MobiStealth provides features ranging from basic to advanced. Some of the features of MobiStealth include emails, viewing text messages, keylogging, web browsing, surround recording, Messengers, call recording, track location, application list, pictures, monitor chat, etc.
Compatibility
iOS Version 9.0 and higher, includes iPhone 6/ 6Plus/ 7/ 7 Plus/ X and more.
Price per month
MobileStealth Premium  Price $26.66,  MobileStealth Premium Plus Price $40
Pros
Features of MobileStealth is offered at a reasonable price
Cons
MobileStealth does not support contact and website blocking.

It does not have the keyword alert feature, so the keylogging feature is also less useful.
Rating
 7.8
7.iSpyoo- Spy App
iSpyoo helps to track your employees, monitor, and protect your child. It is a proper spy app, so it is completely hidden for its spying functionality. Some features of iSpyoo are photos, videos, internet browsing history, record calls, view call logs, IM chats, read text messages, IM chats, location tracking, view contacts, SMS, and emails. Its free trial version is also available, and you can monitor more than one device at a time with iSpyoo, but the only problem is you have to or jailbreak.
Compatibility
iOS Version 7- 9.1 
Price per month
iSpyoo  Basic Price $19.99, iSpyoo Premium Price $23.99, iSpyoo Gold Price $25.99
Pros
iSpyoo offers many features

iSpyoo also offers a free trial of  48 hour
Cons
Jailbreak is required for

iPhone spying

with iSpyoo

Not compatible with various versions of iOS

The customer service offered by iSpyoo is relatively poor.
Rating
 7.5
8.AppMia- Spy app
Appmia is worthy of being on the list of the ten best mobile spy apps for iOS as you get free updates and can monitor two devices with one license. You can monitor basic things such as location, SMS, calendar, address book, etc., with AppMia essential subscription. AppMia features vary on each device. So I recommend you to check its official website.
Compatibility
Up to iOS Version 9.0.X 
Price per year
Appmia Price of Premium Version is $194.99, Appmia Price of Lifetime Version is $699.99 (for two devices)
Pros
Appmia offers free updates and upgrades

Can monitor two devices at a time

Works in stealth mode

Supports a variety of platforms
Cons
Does not provide blocking feature

It is not priced worthy
Rating
 6.7
9.Highster Mobile- Spy App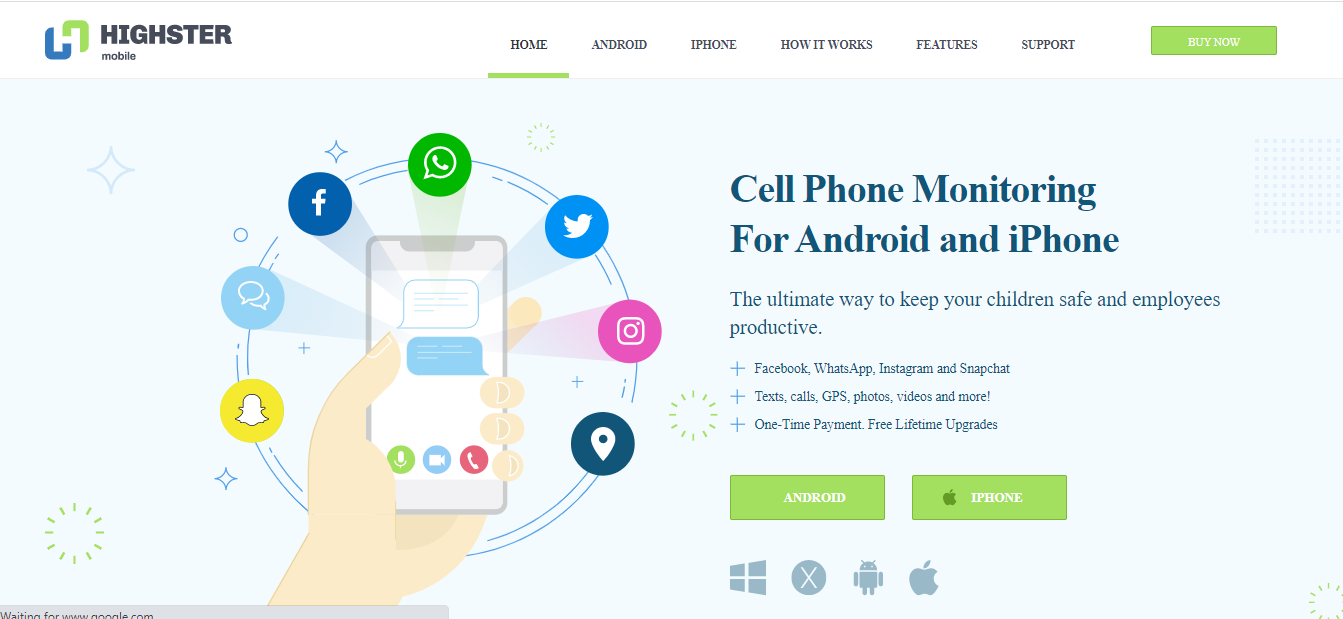 Highster Mobile offers all basic spying features like media files, text messages, monitoring call logs, emails, iMessages, GPS tracking, address book, and IMs. This app is quite effective for parental control. It's one of the fantastic features that other monitoring apps rarely offer is surrounding monitoring. With Highster Mobile, you can make videos of the surroundings.
Compatibility
iOS Version 3.0 and higher
Price
Highster Mobile's one-time fee is $69.99. They offer no provision for a monthly or yearly subscription
Pros
Stealth camera to monitor the surrounding

Comparatively affordable

Free updates and upgrades

Jailbreak is not required for

iPhone spying
Cons
It does not offer many features

It does not offer blocking and alerts
Rating
6.5
10.StealthGenie – Spy App
StealthGenie is another good monitoring application for iOS. Some fantastic features of StealthGenie are, track SMS, track GPS location, call logs, instant messenger chats, emails. This app is quite effective for parental control.
Compatibility
iOS Version 3.0 and higher
Price per month
You have to pay between $8 and $16, depending on your subscription to StealthGenie.
Pros
Recommended to monitor children

Less costly
Cons
Customs and technical support are inadequate.

Jailbreak is required for iPhone spying

Do not meet standards.

Not stealth as its name says, the phone slows down and reduces battery 

Asking for a refund is a headache
Rating
6
Read More: How to detect spyware on an iPhone?