How to Fake your Location on the iPhone without Jailbreaking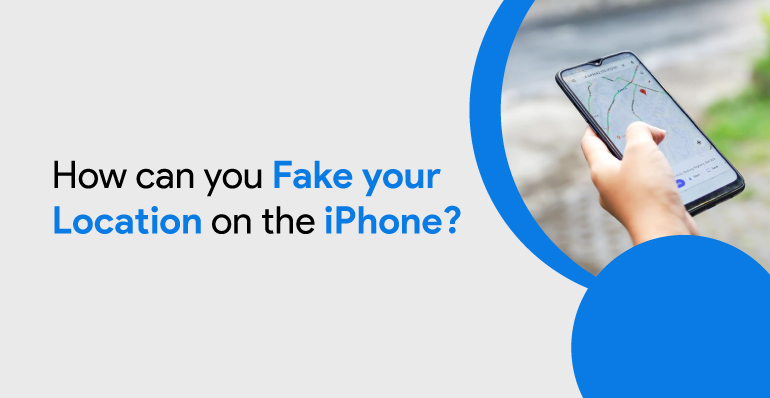 How to Fake your Location on the iPhone without Jailbreaking
It is very much possible to fake your location on the iPhone. However, iPhone restrictions do not allow users to install third-party apps that easily. Thus, you can not fake your location as easily as you can on an Android. So read this blog if you want to learn how to fake your location on the iPhone.
Reasons to Fake your Location
There are lots of reasons why you might want to set up a fake GPS location. But there can be other reasons as well. Maybe you are thinking about moving somewhere and starting a new life. So you might want to change your location to that place and find people in dating apps of that location. But for most of us, it's for fun. It is a perfect idea to get yourself ahead in the dating game.
Likewise, in location-based games like Pokemon GO and Harry Potter GO, your game experience depends on your location. So you might want to spoof your location while playing the LBS games so that you can get a new experience each time you play the game. Like in Pokemon GO, instead of walking several miles to catch different Pokemon types, you change your location and make it feel like you are already there.
You can also set up a mock GPS location to check into various famous places, restaurants, or landmarks and trick your friends into thinking that you have been to the place. 
You can also use fake GPS for security purposes. For example, if you think someone is spying or tracking your GPS location, you can use GPS to fake your location so that the person who is spying can not know your real location.
Are there risks in Faking your Location?
First of all, let me assure you that faking your location is not illegal, and there are no legal ramifications for that. Therefore, you can fake your location as much as you like. However, there are some risk factors involved in faking your location. These include:
Sometimes setting up a fake GPS on an iPhone can

mess up your phone's settings

.

There are

harmful websites blocked for your safety

based on your geological location. Once you fake your current location, these websites or apps are accessible to your iPhone, bringing various risks to you.

If you jailbreak your mobile to fake your GPS location, it leads to loss of warranty, loss of device protection, the possibility of not having access to updates, incompatibility with some apps, and many other faulty errors.

Some fake GPS apps can lead to

malfunctioning your original GPS

even after you delete your fake GPS app.
Applications to Fake your Location on iPhone
There are several applications out there that you can use to fake your location on your iPhone. You can use location simulators that can be downloaded on your computer and connected to your iPhone. You can also use a VPN app on your iPhone to create a fake location on your device.
Here I have enlisted some popular and easy-to-use location simulators and VPN applications for faking your location on your iPhone.
Dr.Fone – Virtual Location (iOS)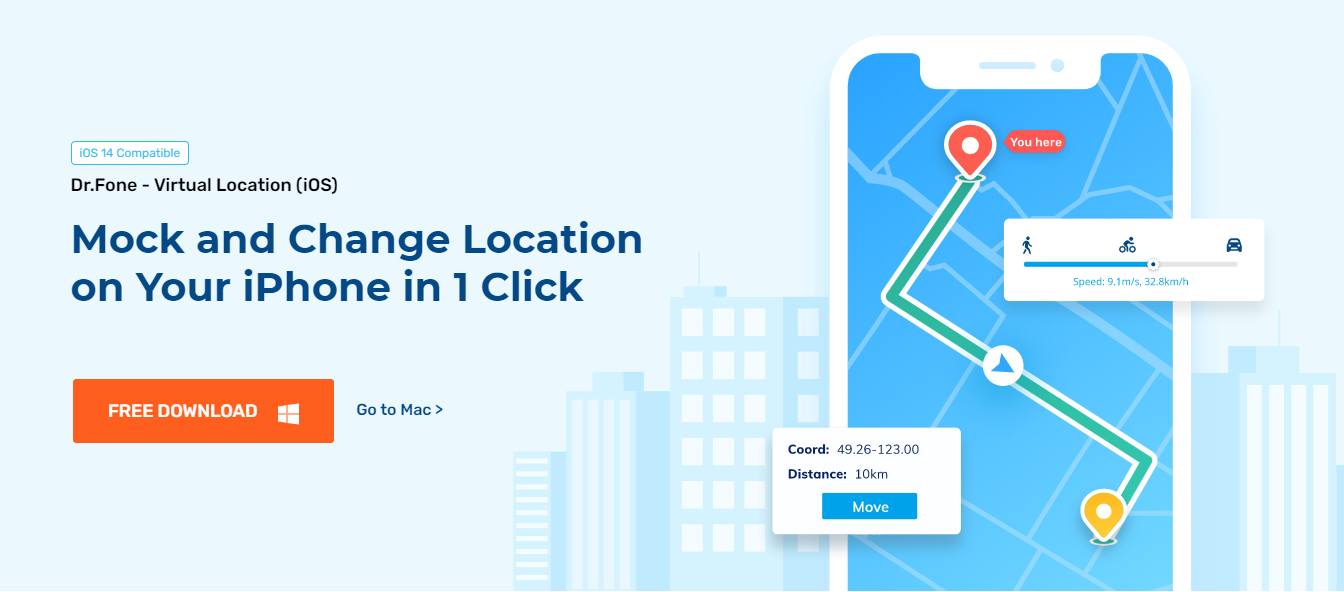 Using Dr.Fone, you can mock and change location on your iPhone device with a single click. It is supported for all LBS apps. You don't even need to jailbreak your iPhone. 
This location changer offers three different modes. They are 
Teleport your location.

Create a movement between two spots.

Create movement along a specified route.
You can move freely by using a joystick to create GPS Movement. With a single click, you can move the GPS spot automatically. You can also tweak in 360-degree directions. So you can move forward and reverse using arrows.
Features
Spoof iPhone Location:

You can play location-based games at home. 

You can access music, videos, movies, services, and others on location-based apps.

Use dating apps and match more friends.  

Prevent yourself from being tracked by faking your location on the map.

Share your virtual location on various social media.
Customize Route and create GPS Movement:

Draw paths and simulate GPS movement.

Its supports you to set the number of round trips.

You can change your location and movement as many times as you want.

No need to jailbreak your iPhone
Set the type of Speed on Mock GPS Location:

Define a route by selecting two or multiple spots. Then, move along by simulating the cycling speed, walking speed, or driving speed.

You can make the movement natural by setting different pause times.
Steps to change GPS Location
Launch the application in your Windows or MAC.

Connect your iPhone to the computer.
Now choose a mode to change the GPS location.
iTools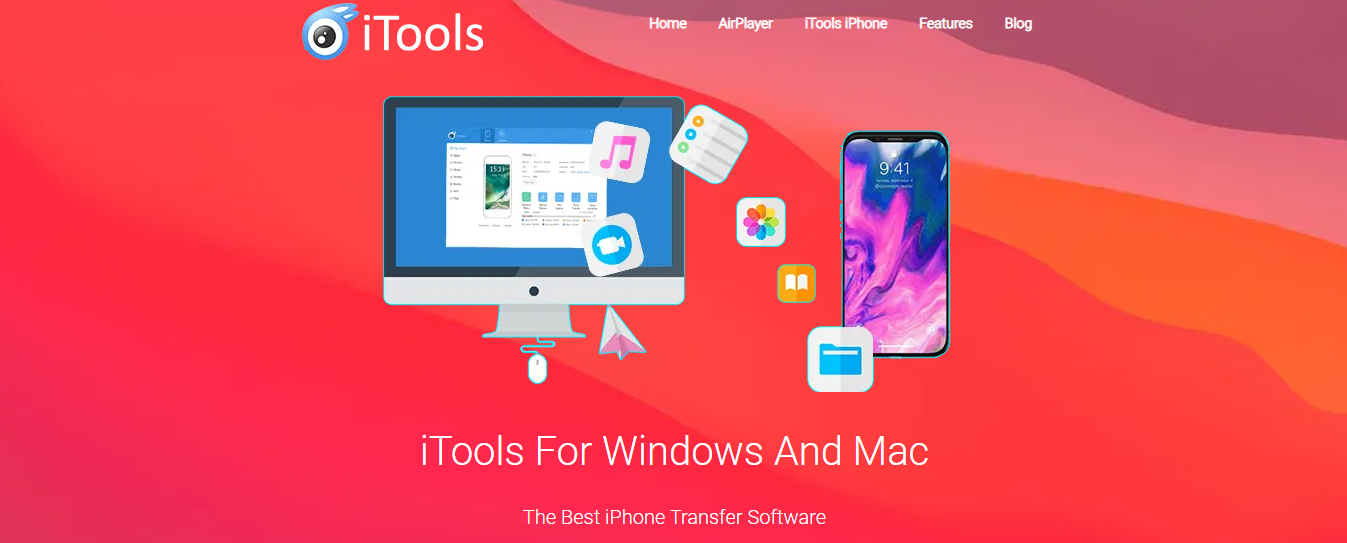 iTools is an all-in-one solution for your iOS devices. It is fully compatible with the latest version of iPhone and iOS 12. It is fully supported by Windows 10, Windows 8, Windows 7, Vista, XP, and you can perfectly fake your GPS location on iPhone or iPad. You can start a free trial for 24 hours. If you want to get back to your real location, restart the iPhone.
Features
Fully compatible with the latest version of iPhone/iPad and IOS 12.

Supports Windows 10, Windows 8, Windows 7, Vista, XP.

Perfectly fake GPS location on iPhone/iPad.

Transfer music, videos, pictures between iOS and MAC or PC.

Restore or back up data on your iPhone.
Steps to change GPS Location:
Download and Install iTools on your Windows or PC. 

Connect your iPhone to the computer via a USB cable.

From the Toolbox

, tap the

Virtual Location

option.

In the text box at the top of the map, type in the desired location you want to set and press Enter.

When the pointer hits on the map, select

Move here.

 Your iPhone location will be set to that location.
Tenorshare iAnyGo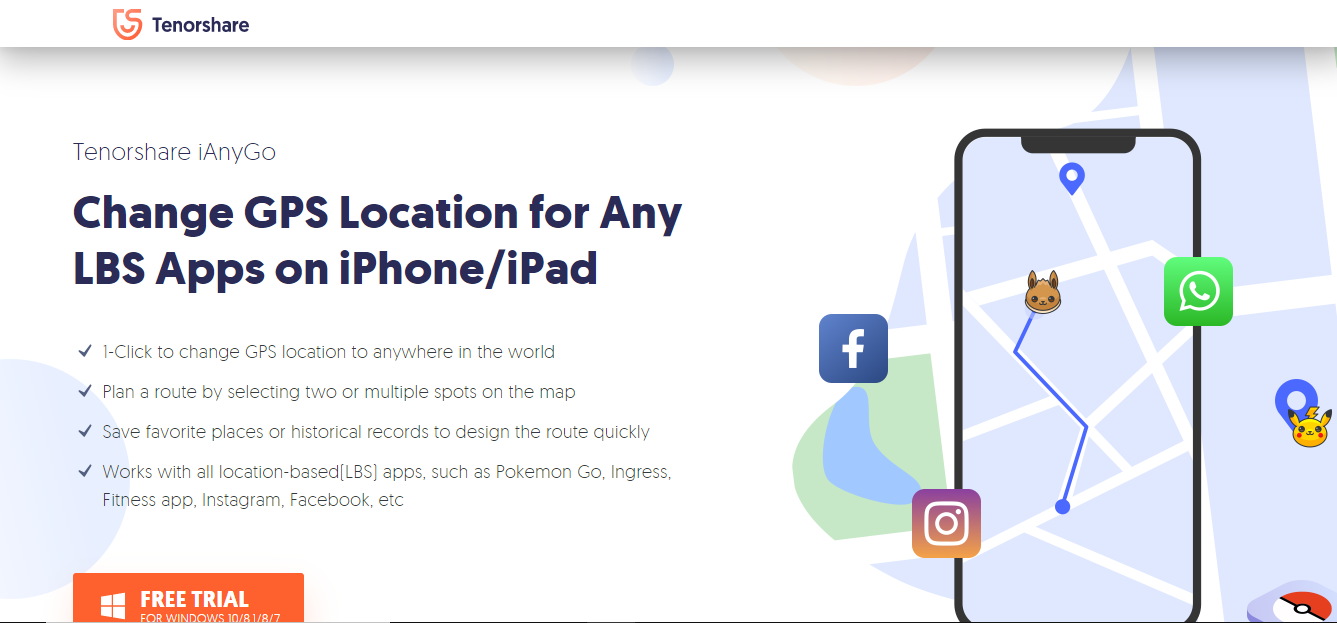 Tenorshare can change your iPhone's location and stimulate GPS movement. It works with all LBS apps. With Tenorshare, you are one click away set a GPS location to anywhere in the world. It does not require you to jailbreak your iPhone.
You can share your virtual location on social media like Instagram, WhatsApp, and Facebook. You can stop someone from tracking your location by changing it to a virtual one. There is no limitation geographically.
Features
It allows you to set a fake location on your iPhone or iPad.

You can select two or multiple spots on your phone and plan a route.

You can save historical records and places and design a quick route.

Tenorshare works with all LBS apps, like Instagram, Facebook, Pokemon Go, Fitness app, Ingress, etc.

You can plan a route and auto-move with customized speed.

You can also stimulate the walking speed, cycling speed, or driving speed and pause at any moment.
Steps to change GPS Location:
Download Tenorshare and Launch the app on your computer.

Connect your iPhone to the computer.
Set a location and confirm to change your location.
NordVPN: VPN Fast & Secure‬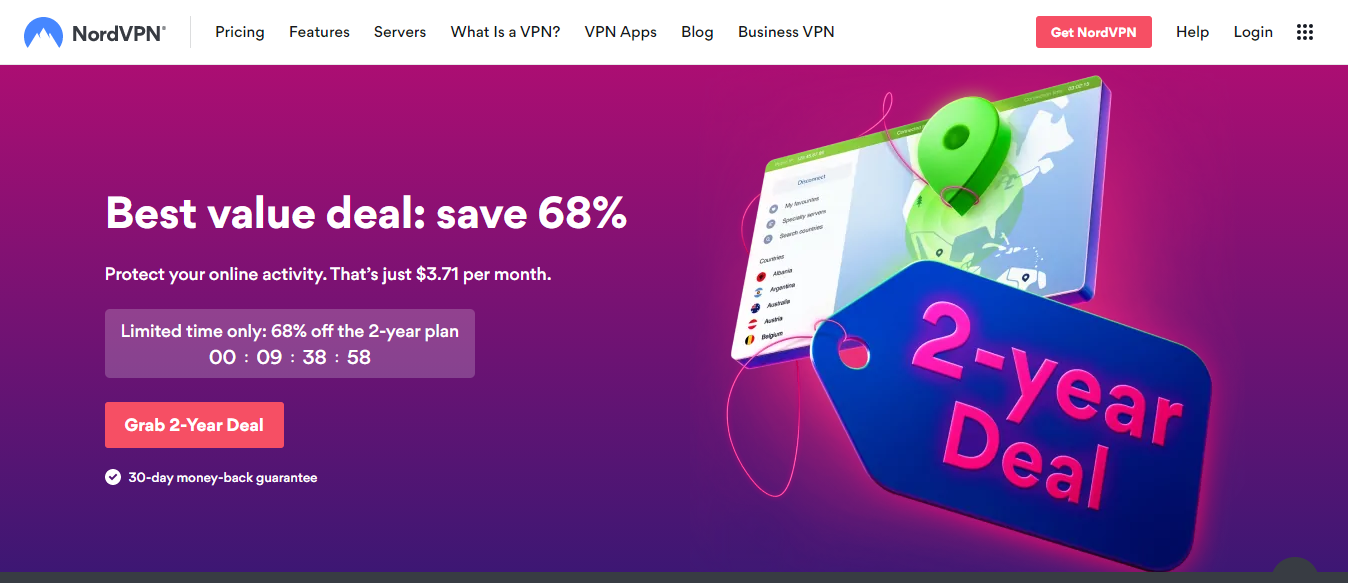 You can also install a VPN on your iPhone to fake your location, and one of the most popular VPN apps is NordVPN. NordVPN is a VPN app for iPad and iPhone.
It protects your online activities from malicious actors, advertisers, and intrusive internet service providers by encrypting the network traffic. With NordVPN, you are one tap away from hiding your IP address, encrypting your traffic, and enjoying the internet without any limits.
It has turbo speed and is ideal for privacy. Provides powerful online security and is easy to install. It hides your online activities from hackers and snoopers so that you can say safe in public WiFi.
Features
It has strong encryption that provides top-notch security.

You can access unlimited data.

The VPN protocols are NordLynx based on WireGuard, IKEv2/IPsec.

More than five thousand servers worldwide for turbo speeds.

It has fifty-nine server locations in the world.

By creating a single account, you can protect six devices.

It provides a double VPN for utmost privacy.

It provides an auto-connect VPN for trouble-free online protection.

24/7 customer support service.
Steps to change GPS Location
Download and Install the NordVPN app on your iPhone.

Launch the app and tap the

On

button at the bottom of your screen.

Your fake location will turn on. You can also select your desired location.
How to fake location on iPhone by jailbreaking?
The next trick to fake your location on your iPhone by jailbreaking the device is discussed in this article. After jailbreaking, iPhone allows you to do a lot of changes in its native settings. However, it can be slightly challenging as it is dependent on the ios version of your phone. With the "The Anywhere!" application, you can fake location on iPhone, and it also works well on ios 15. Follow the given instructions.
Launch it from the home screen after downloading and installing the "The anywhere!" application on your device.

Choose the address that you desire to spoof.

Once you tap on that address, a red pin will seem on the address.

On the subsequent screen, you will witness the blue tab, tap on it. And then choose the app on which you desire to spoof the location on your iPhone.

 And then, when you open the selected application, a new location can be seen.
How to fake a location on Android without rooting?
There are a ton of applications you find on the play store to fake GPS. But the application named "Fake GPS Free" will help you bogus the location without rooting your Android device. It is very easy to fake your location through this app. Follow the given instruction to fake location on Android device.
Install the application at first. And then launch the app.

 The application will prompt you twice; the first time to grant it access to your location and the second time to agree to its advertising terms. Accept initial setup prompts. 

On the message about the mock location at the bottom, click "Enable".

Upon opening that screen, choose Developer Settings, and select Mock Location App> FakeGPS Free.
Tips: if you didn't see this screen, turn the developer mode on and back to this step. Some versions require you to check the box next to Allow mock locations on the Developer options screen.
  Rear back to the app by using the back button and look for the location that you want to spoof on the phone. 

Enable the Fake GPS setting by clicking the play icon on the bottom left side of the map. You can check if the location has been spoofed by visiting any other location app
Read More: Best Fake GPS Location Apps for Android
Conclusion
In a nutshell, if you want to fake your location without jailbreaking your iPhone, you can use location simulators like Dr.Fone or Tenorshare. You can also use iTools which is an iPhone management application, to create a virtual location. You can even install a VPN app on your iPhone like mobile NordVPN to create a fake location.
Read More: How to hack Wifi passwords on iPhone without jailbreak