How Reliable are Spy Apps?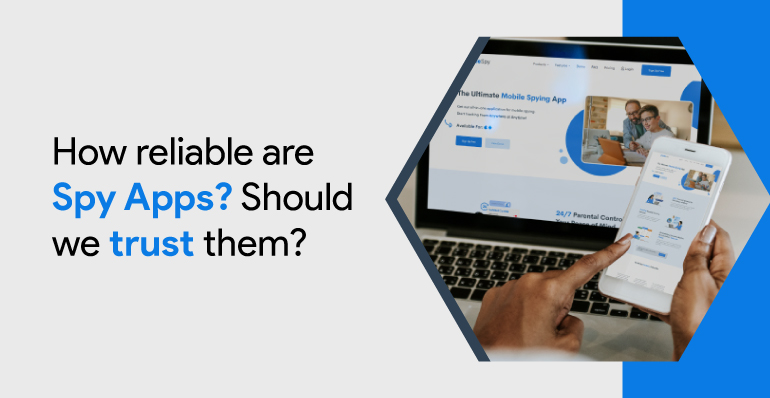 How Reliable are Spy Apps?
Spy Applications can help you track someone's location, call logs, browser history, social media, text messages, etc. So if you are looking for an app to do such activities, you can rely on them. Spy apps are reliable and provide you the correct data of the target phone.
Are you constantly worrying about what your kids are accessing on the internet? Are you suspicious if your spouse is cheating on you? Or are you concerned that your employee might be leaking your company's information?
If you are concerned about the above questions, you might be thinking about using a spy application. You must be in a dilemma because there are many spy apps out there to choose from. So which one is the best? And also, do these spy apps even work, or are they just a waste of money? More than that, are these apps even legal? How reliable are these spy apps?
I know you must have a lot of questions about its reliability and legality. So hold on because I am going to answer all your queries about these spy apps.
What is a Spy Application?
These are the apps that are used to track someone else's mobile device without them knowing. Spy Applications track someone's location, call history, and text messages. They can also keep track of online activities, social media usage, and other information without their knowledge.
Spying with apps can range from snooping into someone's social media actions to text messages, phone calls, and other sensitive personal data. The main purpose of the spying app is to secretly track and receive information about the target's activities on their phone.
The positive side of spying technology is unexplored. We can monitor or spy on someone for various reasons, like tracking your employees' phone data to know if they are leaking the company's valuable information. Likewise, to find if your spouse is cheating on you by spying on their text messages.
More than that, these spying apps can help parents to protect their children from online abuse. Parents can control what websites their kids can view online, track social media platforms to protect them from bullying. They can also track their mobile device's location to know the kid's whereabouts.
Are Spy Apps Legal?
Just know that directly spying on someone is illegal. There can be consequences and ramifications of such actions. But if you are talking about using a spy app to spy on someone, then its legality depends upon the type of spying app you are using and the country or the state you are currently residing in.
So the most important thing to remember is, to read the privacy policy before you purchase or install these spying apps.
Do Spy Apps Work?
So to answer that question, yes, spy apps do work. Using spy apps, you can track your children, spouse, and even your employees. As these spy apps are reliable and provide accurate tracking data, you can view their social media and internet access, contact records, chat messages, and many of their stuff.
So if it works, then is the app safe? Let's get this straight that not all spying apps work, and not all of them are safe as well. Speaking about its safety and reliability, you have to be wise enough to distinguish between the app's functioning capability and robustness. So, perform comprehensive research before implementing a spying system in your house or working place.
Attributes that make spying apps reliable
There are a lot of spying apps available in the market. You must be thinking about which one to pick that applies to your environment. You will be spending your time, effort, and money on these apps. So, the last thing you want is to be scammed by these apps.
I have enlisted the qualities and attributes that make spy apps reliable and trustworthy to solve your query. Before purchasing your app, make sure they have the below-mentioned qualities.
Tracking Location
One of the most important attributes a spying app should have is tracking the target phone's GPS location. Knowing their kid's location is a top priority for parents because they need to learn about their children's whereabouts and know they are safe.
Thus a spy app should have the ability to track the current position of the target phone and respond with full details and where they are and were with full timing details.
Monitor Phone Call Logs
Suppose you want to know if your employee is sharing your company's record without authority. Likewise, if you want to know, your spouse is cheating on you. Then you might want to know who they are talking to. Also, also what they are talking about.
Therefore, a spy app should be able to record the call history and also the call. So, that you can know who the target is talking to and what they are talking about.
Web Application
The person who is using the spy application should download the application on their desktop or mobile device. The app should be web-based so that no extra storage is required to install the app on your device. All you need is your login data and the website link. So you can log in to your account and access the dashboard to start tracking.
No bypassing of the phone
While installing the app on the target phone, no jailbreaking or rooting should be required. The phone's bypassing leads to loss of warranty, device protection, the possibility of not having access to updates, incompatibility with some apps, and many other faulty errors.
Legal Restrictions
The biggest issue of spy apps is legal restrictions. Read the privacy policy and license agreement very carefully and ensure that the app is legal in your area. It's also important to review your local laws involving privacy and abstain from acting illegally.
Especially in the case of invasion of privacy, mobile tracking must be done with the mobile owner's permission unless it is parents monitoring their child's mobile, as they're their trustee until they reach their legal age.
Should operate in Stealth mode
A spy app should be stealth in nature. All of the actions that a spy app performs like tracking location, taking screenshots or pictures, checking messages, and phone call logs should be done in stealth mode. The is no use of the app if the targeted person knows about its actions. The person should have no awareness of the spy app.
Access Social Media Platforms
People contact each other with phone calls, text messages, or social media messages. So a spy map should be able to access these platforms and keep periodic records of this information. This functionality is essential for spy applications to work.
A spy app should also be able to recover deleted text messages. And also provide alerts when any new messages arrive.
Access Camera
The spy application should access the target phone's camera and take pictures, screenshots, and videos. These are the vital data that give you information about the person you are spying on.
Customer support
Spy applications can be hard to use and navigate at the beginning. So buy an application that has customer support so that it can help you navigate your way through. You should also confirm whether the customer support provided by the spy application that you want to purchase is good or not.
Many times, if an application does not provide customer support, then it is a fraud. They don't want to interact and assist their customers in case of a problem using the app. Generally, the app with good customer care support is authentic.
Compatibility
One of the most crucial factors that will decide if your spy application will function is its compatibility with the target device. Most cell phone monitoring applications are built specifically for a particular operating system. Before purchasing a spying application, make sure that the app is compatible with the target device.
For instance, the mSpy mobile tracker app is available for Android as well as iOS platforms. Also, it offers a no-jailbreak and no-installation solution for Android and iPhone. So, when you purchase the spy application, make sure you get the subscription compatible with the phone you want to track.
Capturing Keystrokes
A spy app should be able to capture keystrokes. This mechanism allows you to spy on the written text messages typed on the phone across all platforms. All you have to do is type in specific keywords. So that when the user types in those particular keywords in their phone, you get alerted.
This functionality is identical to the live screen recording. It also alerts you when certain unique keywords are typed on the device. This functionality helps you save a considerable amount of time as you will be made aware automatically if the targeted user uses the particular specified keywords you have mentioned.
Internet Connection
Make sure that the target user has a stable internet connection. The internet connection cannot be available 24/7. The device can be offline anytime. So, if the user is offline, then the spy app should record all the activities and send them once the user is online again.
List of Some Spying apps
uMobix

Hoverwatch

XNSPY

Spyera

FlexiSPY

eyeZy

MiniSpy

MobileSpy.io
Let's go through the details of some spying apps.
FlexiSPY
Popular spying app, FlexiSPY can be used to hack camera hacking, keyloggers, simple call, and message tracking.  This spying app allows you to spy on mobile phones, PC, laptops. It is not so difficult process to install the FlexiSpy app. But to access its premium features, you need to jailbreak the iPhone.
uMobix
The feature that makes the uMobix unique is that it completely gets hidden after the installation on an Android cell phone. But, in order to install this app, you need to download it from its website because it is not available on AppStore or Play Store. This spying app is used to spy on children, partners, and employers.
MobileSpy.io
The king of all spying apps, MobileSpy is available on both android and ios. It is not required you to jailbreak or root the device. MobileSpy is specially dedicated as a parental control app but is also used by business companies to monitor their employee's activities, and couples to track their partners. 
All these spying apps are used to remotely track the GPS location, social media monitoring, calls, and messages of the target person. 
Read more: Best Mobile Spy Software
Data Security
One of the major concerns while using a spy app is data security. The spy app should not use your data or your target data for its purpose. So make sure that your spy app doesn't save your data on its servers.
Conclusion
In a nutshell, yes, spy apps are reliable. But not all of them are reliable. So you have to be careful while you are purchasing the application. Make sure to read the privacy agreement and policy.
Likewise, to know if your spy app is reliable or not, check if the spy has the attributes mentioned above. Like a spy app should be able to record phone calls, track locations and record text messages. It should be able to track activities on social media. To make sure the spy app works, it should be compatible with your device and many more.
MobileSpy is one of the most reliable and trusted spying applications.