How Does Email Marketing Work?

How Does Email Marketing Work?
Worried about how does email marketing work and how it can be fruitful for you? Read the blog to know everything about email marketing's working mechanism.
Email is the most commonly used and oldest method of digital communication. Though there are different types of social media networks, email marketing will always be our first choice for digital marketing. If email marketing is done with proper strategy and efficiently, it can help your business increase sales, traffic and maximize profit. Email is one of the most effective ways to communicate with your customer.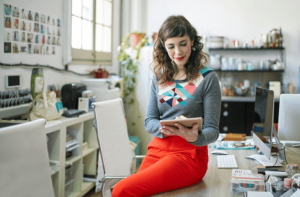 According to the Statistical research Department, the number of email users has reached around 4 billion in the year 2020, and it is increasing every year. In addition, email marketing can generate an average return on investment for each dollar spent. And if you want to build a successful email marketing campaign for your business but don't know about email marketing, this blog will help you understand how email marketing work.
What is Email Marketing?
Email marketing is a digital marketing strategy used to promote your business product and services, ideas among many people and customers through email. The email messages are generally used to increase sales or commercial purposes, but some also contain informational topics for customers. With email messages, you can make your customers aware of new products and offers as well. And if it is done effectively, emails marketing can turn potential customers into loyal customers.
How Does Email Marketing Work?
The majority of people still use email as a form of digital marketing strategy. To promote your business among your consumers through email marketing, you will need three essentials elements: An email list, Emails Service Provider(ESPs), Clearly Defined goals. Email marketing does not mean sending emails to random people you want. For that, you need to know your potential customer and prepare an email list. Set a marketing strategy and find a good Email Service Provider.
An Email Service Provider(ESP) is an email marketing software used to send email campaigns to many email subscribers. With the help of ESP, you can send an email to a large number of people, which regular email services like Gmail, outlook, yahoo cannot. These regular email services are developed for personal use only. If you send a mass email from Gmail and Yahoo, it will be identified as spam, and your account may be disabled.
So, Email Service Providers are developed with all the necessary features to ensure email delivers to the customers' inboxes. And if you want to start your email marketing campaign, then see how to start email marketing and know how email marketing work in real.
Choose Right Email Marketing Tool
As mentioned earlier, if you use your personal account for the email marketing campaign, it won't be easy to keep track of the results, so the first thing is to choose the right marketing tool. Using several methods, a good email marketing tool will help you create an email list and add users to the list. It offers you different options to divide your customers based on specific criteria and send emails to them.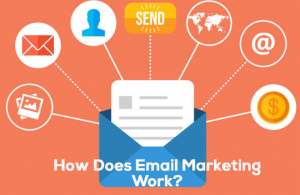 With these marketing tools, you will get a report on how many people opened and interacted with your email. It also helps to redirect customers to different pages or products by providing a link. There are many ESPs available in the market, but it is hard to choose the best one for your business. However, several marketing tools may try to lure you with a low price in the beginning for a small number of subscribers and then increase the price once your list increases. Here are some of the popular email marketing tools:
Sendinblue

Mailchimp

Constant Contact

Convertkit

Mailjet

Mailerlite

HubSpot
Build Your Email List
To run a successful email campaign, you need to have a set of the active email lists of your potential customers and opt-in subscribers. An email list is a database of email addresses of people that are interested in receiving marketing messages from your business. You can create your own email list with the help of ESPs since you can't send emails to anybody you want.  
The best way to build an email list is using a lead magnet. For instance, if you want users to subscribe to your content, offer them to download it in exchange for their email or give them special offers and discounts. And if you want an effective email marketing campaign, segment the existing email list. Dividing your subscribers based on your information about them will help you develop more personalized marketing. And make sure you won't send unrelated promotional ads and only send them occasionally.
Define Clear Goal and Marketing Strategy of Your Email Campaign
Nothing can be accomplished without a defined goal and a well-thought-out strategy. Your objectives might be narrow or wide, as long as they are relevant to your business and target audience. It will be easier to generate email content if you have a clear goal in mind. Some examples are promoting your new product and offering discounts to your existing customers, getting more traffic on your website, updating some important company news to subscribers. 
The objectives of each email campaign will differ from one another. It's unreasonable to expect every email to generate income. Sometimes all you want to do is re-engage with the consumer and explain your unique selling propositions with the goal of a future purchase.
Monitor and Improve Campaign Performance
Email marketing monitoring and analysis can show you how to enhance your marketing strategy and campaigns. But analyzing each of them might be quite difficult. Luckily, most ESPs provide all the metrics in their analytic dashboard to analyze emails.
Open rate:

It shows the number of people that opened your emails. 

Click-through rate:

Out of total recipients, only a few of them might click on the link provided in an email. With the help of click-through rates, you can evaluate the ratio between them.

Unsubscribe rate:

It shows the ratio of the number of people who unsubscribed. If the rate is high, you need to improve your email campaigns and review your email list and segmentation. 

Bounce rate

 shows the number of emails failed to deliver out of the total number of emails sent. When an email is sent to consumers, it might fail to deliver due to many reasons. The recipient's inbox might be full, or provided email addresses might be invalid. So, these metrics will help you focus on the area that needs to be improved.
Regularly Clean Your Email List
It is an essential strategy in email marketing campaigns. Only having a large number of email subscribers is not a big accomplishment. Out of a total number of subscribers, a large percentage of people might have an invalid email address or will be inactive. And it is normal to have inactive email subscribers in a list. Even though active subscribers might not open all your emails which will mark your emails as spam, it will gradually decrease the overall performance. 
So filtering out inactive users is the most important step in email marketing. Rather than having a big number of inactive users, it is better to have a small number of active users. And having a long list of emails will also increase your monthly subscriptions.
Why is Email Marketing Important?
Email is one the oldest form of digital communication, yet it is still popular and more reliable. The majority of business professionals believe that email marketing increases sales opportunities and sales retention. It increases the chance to interact with active consumers. Email marketing is still important and always will be because of the following reasons: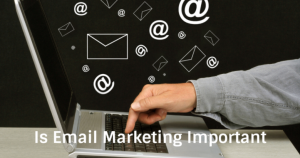 Accessibility: As email is easily accessible, people of all age groups use it. It increases the number of consumers. Email is easy to use and reliable so, it is the best form of marketing.
Affordability: Email marketing is affordable as compared to other digital marketing strategies. Most Email Marketing Providers also offer free plans and budget-friendly packages.
Brand awareness: One of the best things about email marketing is it lets you interact with consumers directly. You can create newsletters, content, offers for your subscribers. This type of marketing strategy will attract consumers. Once they know your products, it will help your brand to stay top of mind.
Related Content: Why is social media marketing important?
Conclusion
Email marketing is essential for all businesses and has been the most used digital marketing strategy by business professionals. It is a gradual process and all about expectations, so it is up to you to implement it in the right way. Email marketing will not help you increase traffic, but it will help you increase brand awareness and sales. With the help of the right Email Service Provider (ESPs), you can monitor and analyze your campaign performance. As of now, you know how email marketing work in real practice; you can now use it for your business.