7 Best Kid-Friendly Web Browsers of 2022  

7 Best Kid-Friendly Web Browsers of 2022  
The internet provides everything you and your children need, from educational materials to business ideas to unwanted, inappropriate violent, and pornographic content. As children use the internet to learn new things, they will be browsing various information, and they might come across age-inappropriate content. The best way to prevent such interaction is to use browsers specially designed for kids. So, you can use kid-friendly web browsers that are safe for kids to use.
What are Kid-Friendly Browsers?
Kid-friendly browsers are like a separate internet for kids. They are similar to Google Chrome or Firefox, but it is specially designed for kids to protect themselves from the dark side of the internet. These browsers' web filters block all the harmful content before your kids see it. All of the content available in these browsers is pre-screened and approved as suitable for children.  
Children always want to know about new things, and they may search for whatever they like. Millions of websites are not appropriate for kids to see, and accidentally, they may click on those sites. Certain typos and typing mistakes can lead them to click on explicit adult content sites. 
7 Kid-Friendly Web Browsers That are Safe for Kids
Browsers like Google Chrome, Edge, and Firefox do not have any default kid-friendly settings. And if they use these browsers, you might need to monitor all their activities and make sure that they do not see things they should not see. So, to ensure the safety of your kids while browsing on the internet, you can use kid-friendly browsers that are safe for kids. Here I have mentioned some of the favorite browsers for kids.
Kiddle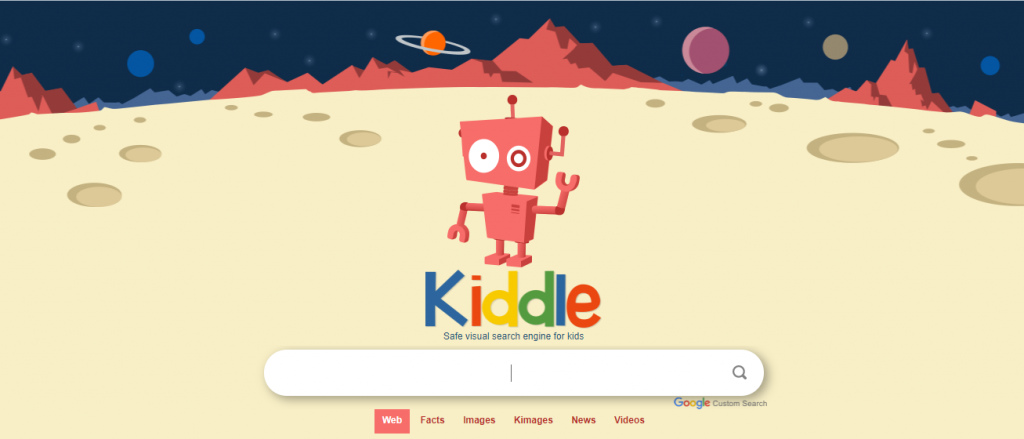 Kiddle is one of the most used kid-friendly web browsers. It is a safe search engine for kids developed by Google in 2014 and has features similar to Google. It has a colorful and cartoonish display which makes it interesting and fun for kids to use. Like Google, it also has web and image searches, video, news searches. 
Kiddle searches are limited to age-appropriate content. They use big thumbnails and large Arial fonts, making it easier for kids to see and read. Furthermore, it has kpedia and images that are like Wikipedia but for kids. 
Kiddle offers site blocking and keyword blocking to make the platform transparent and safe for the kids. Here all the results are checked by Kiddle editors before displaying it to kids. And when your kid searches for that particular word, it returns an error message.
Features:
Search results are displayed in bigger thumbnails and larger fonts.

Filters out all inappropriate content and displays kids-oriented content.

Provide safe search results by blocking profanity and other questionable words.
Safe Search Kids

Safe Search Kids uses Google Custom Search and Safe Search to block all the unwanted and explicit adult content so that kids won't see any content they shouldn't. It filters all the content and prioritizes age-appropriate content for kids. 
Safe Search Kids has a simple user interface and offers more than a browser. There are a lot of things on this browser from which your kid can learn. 
Safe search kids provide a lot of informative articles for kids of all ages. They can read articles on education-related blogs, cyberbullying, social media, and its dangers. It aims at helping children develop safe and healthy internet habits.
Features:
Filter out age-inappropriate content and display kid-friendly search results.

Provides informational articles for kids of all ages.

Block some questionable words and return an error message when a particular is searched.
KidRex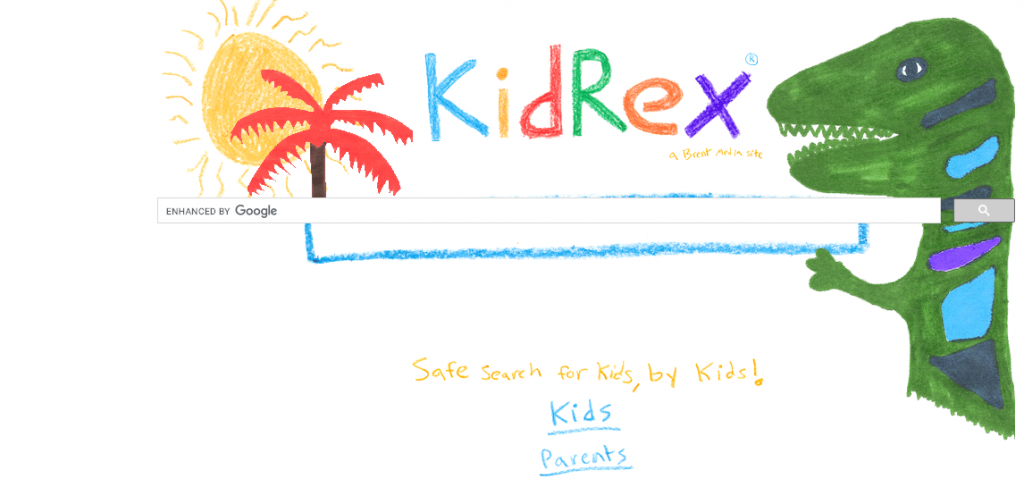 KidRex is another safe web browser for kids powered by Google Safe Search and Custom search. It is easy to use and works similar to Google search. KidRex has its database to maintain the record of inappropriate sites and keywords to reduce the possibility of returning inappropriate search results. KidRex's safe search feature checks for sites that contain age-inappropriate content and removes it from search results.
KidRex has a little different design; it looks like a kid drawing rather than a safe search engine. However, like Kiddle, it does not have any images and videos options, but it still offers the information your kids need. Furthermore, your child can also see drawings submitted by others in a kids section. Your child can also submit their drawings.
Features:
Easy to use and kid-friendly interface.

Maintains a database to record all inappropriate sites and keywords.

Allows kids to submit and see their drawings. 
KidSurf

KidSurf is a great option if you want to keep your child safe while surfing the internet. This app can be customized for up to four kids and set a list of sites for each of them. With KidSurf, parents can choose up to 50 appropriate sites from a list for their children. They can also add other sites manually. 
In addition, it also has features like a limited e-mail application, internet usage timer. Screen timing will help your kids to limit their internet usage. All pop-ups and advertisements are blocked in this browser.
Features:
Limit your kid's internet usage and screen timing.

Automatically block all pop-up advertisements.

You can block and allow inappropriate sites manually.
Sandbox Web Browser
Sandbox Web Browser is developed for iOS devices. With a Sandbox Web Browser, you can create a list of websites called whitelists to restrict their search within that list. Kids can only browse sites specified on the whitelist. 
It offers a variety of settings where you can customize the user interface and enable or disable features. Furthermore, you can add bookmarks for specified sites and set a password on the browser to prevent kids from changing settings.  
Features:
It is easy to install and customized user-friendly interface.

Compatible with all iOS devices.

Restrict search to a specified list of websites.
Kidoz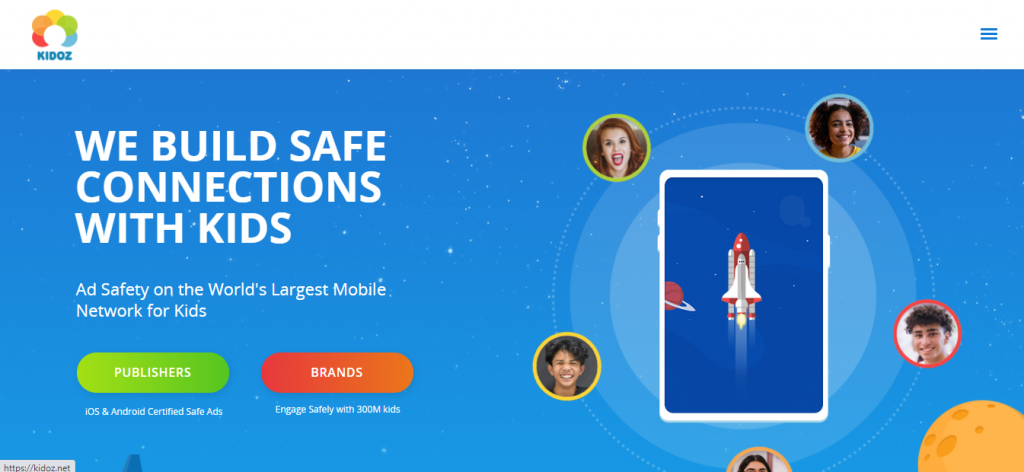 One of the advantages of using Kidoz is that you can install it on a PC and mobile phones and tablets. This app is specially designed for younger kids aged ranging from 3-7. Its team manages all websites and chooses appropriate content for their age. 
Kidoz includes various features such as an ad-blocker, kid-friendly camera, in-app purchase, and many more. For instance, if your child plays games and tries to purchase things on games, then its in-app purchase restrictor will block those access. 
Furthermore, this app has many kids' websites, gaming sites, and other educational materials. So, it is the best choice if your child is highly engaged and seeking entertainment. 
Features:
Provides all necessary educational materials and gaming sites for kids.

Blocks all inappropriate content including pop-up advertisements.

Its in-app purchase blocks access when kids try to purchase while playing games.
KidZui

KidZui is the first web browser that is developed for kids. It is easy to use and has a simple interface making it easier for kids to search. KidZui maintains a huge database of appropriate sites, games, images, and filters content based on age group. To make the material more appropriate, parents may also specify their child's gender and age range.
With KidZui, parents can easily track their children's browsing history and see what they are doing. KidZui also offers some features such as finding friends, tagging favorite images and videos, and websites. 
Features:
Provides kid-friendly images, websites, Youtube videos.

Maintains a database with all the appropriate sites and contents.

Access their browsing history and real-time activities.
Why Use Kid-Friendly Browsers?
Blocks and filters unwanted and inappropriate adult contents
Kid-friendly browsers are smart tools for children to keep away from unwanted content. Using browsers that filter out all the unwanted content will give you peace of mind. If your kids see such content at a young age, they will get addicted and increase their curiosity about it. 
Not only that, out of curiosity, they will even search for the dark and deep web. They might engage in illegal activities like dealing with drugs through the dark web.
Monitor their web activities
Some of the web browsers also provide you with an in-built tool to watch your kid's browser activity. You can also see their browser history and keywords they search for. If your kids browse for some inappropriate words, they will get an error page. Though web browsers will not display all the results they searched for, you can still see what they are searching for on the internet. 
Search limited to child-appropriate pages
All the search results are handpicked and edited by the browser before displaying to kids. These browsers have a database that maintains the record of child-appropriate sites, images, and videos. Hence, you can rely on these kid-friendly web browsers completely.
Conclusion 
The internet might be a great place to learn new things and enhance creativity.  But you cannot ignore the risk that comes along, and it can be dangerous for kids. So it is better to prevent bad things before they happen. With these kid-friendly web browsers, you can block and filter out unnecessary sites and images.