Best Screen Recorder Tools for PC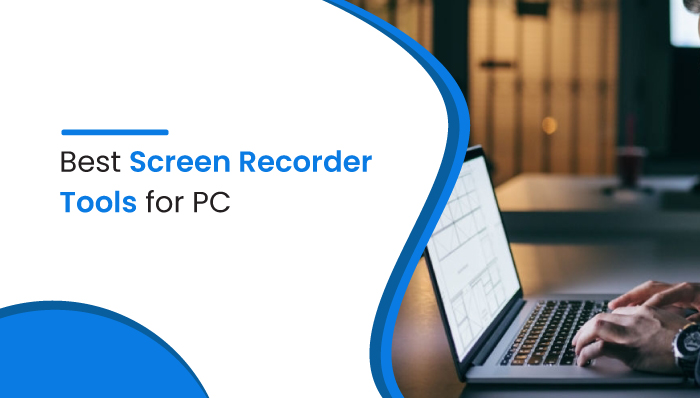 Best Screen Recorder Tools for PC
Tech enthusiasts always think about new software and gadgets. If you are a tech enthusiast and use PC on day to day life then you might have somewhere thought about the best screen recorder tools for PC?
Screencasting, screen capture, and screen recorder commonly describe the same tool used to record computer screens. Despite differences in price and feature set, most screen capture tools offer many of the same functions, including:
Video frame that can be adjusted

Editing options such as cut-and-paste

No time limit for recording.
You can use several tools to record the screen, including a screen recorder, screen recording software, and screen capture software – they're all the same thing for recording screencasts, possibly with video editing features. Let's see which are the best free and paid screen recorder tools for PC and which one suits your needs!
Screen Recording Software
Your computer or mobile screen can be recorded (in whole or part) with screen recording software. To help people learn how to do things, people can record everything from taps to cursor movements. As part of the tool's package, audio narration and annotation may also be available. Each recording tool works differently, however. In some cases, screen recording tools cannot export footage to popular video platforms such as YouTube or save footage in multiple formats.
While some products can do all of these, they may be lacking in a few features. An HD screen recorder is not included with every screen recording application. Therefore, you must study the capabilities of the software before installing it on your device. In addition, you should evaluate how you will use it. A high-definition recording might not be essential. A YouTube export option wouldn't be necessary if you've recently purchased video hosting. 
Best Screen Recorder Tools for PC in 2022
The following is a list of some of the best screen recorder tools available on the market.
OBS Studio

Apowersoft Unlimited

Screencast-O-Matic

AceThinker

ScreenFlow

Screencastify

Bandicam

.
OBS Studio
The Open Broadcaster Software (OBS) allows you to record and stream video in high definition, with no limit on the length of the video. There is an option for recording the entire screen and selecting the part you want to capture. A customized hotkey allows for easy recording control, and an audio mixer allows for smooth sound recording.
Unlike the default screen recorders on major operating systems, OBS offers live-streaming capabilities along with intuitive screen-casting capabilities. Your footage can be streamed live on YouTube Gaming and Twitch, saved as projects, and converted to FLV for playback. As a result, OBS will be one of the best free screen recording applications in 2021.
Features of OBS Studio
Contains a great audio mixer
Captures and mixes the video/audio in real-time
Contains multiple themes
User can choose from a range of video source filters
Contains a strong configuration option
Benefits of OBS Studio
The program is free of cost, yet it provides all of the required features to the end users.
By using this application, user can easily start streaming to multiple platforms.
The application is quite easy to use.
It also provides a high performance which hence makes the rival applications go down.
Drawbacks of OBS Studio
Multiple sources cannot function at the same time.
At times, the program might confuse the end user whether it is functioning properly or not.
Apowersoft Unlimited
Apowersoft Unlimited software application lets you record your screen on mobile platforms and desktop platforms. The desktop recorder works with Android devices and iPhones, allowing you to record audio from your PC simultaneously, mobile device, microphone, and webcam. 
Besides allowing users to record the full screen, custom areas, and more, this desktop screen recorder also annotates the recording in real-time. Adding callouts, lines, text, and more is possible without pausing the video. You can cast your favorite videos or photos from your phone to your computer using the intuitive apps that are mobile-specific. All types of screen activity can be recorded using the desktop screen recorder directly from Mac or Windows. 
Features of Apowersoft Unlimited
It's a completely free web-based tool, so you don't need to download any software so as to capture something.
It also includes a multiple webcam streaming feature.
Along with the videos, you can also use many different colors for annotations.
It focuses on speed, so delivers the result as fast as it can to the end users.
Benefits of Apowersoft Unlimited
It is a completely free tool.
It consists of many features that are easy to use, and can be used to edit images as well.
You can also include webcam for this application.
While sharing the content to YouTube, it is quite simple.
Drawbacks of Apowersoft Unlimited
It is difficult to capture on the second monitor at the same time.
You might not be able to record gaming at times.
Screencast-O-Matic
This is a webcam and screen recording software that supports webcasting and video editing. Although the application doesn't support recording in HD, it offers options to record in 800×600, 640×480, and other standard definitions, making it useful for recording and uploading short videos. Along with zooming and drawing, users can also add overlays to video files. 
In addition, YouTube allows you to share recordings without downloading any desktop software. Screencast-O-Matic also offers the option of editing computer audio, as well as synchronizing recordings with video footage. It should be noted that most of the app's editing features are only available in its paid version. On the other hand, you can upload content to YouTube using the free version. 
Features of Screencast-O-Matic
The application runs smoothly on any platform, so you need to worry about it.
User can add a Facecam, crop or trim the video and adjust the speed after recording it.
After creating a video, you can directly share it to your YouTube handle.
The interface is quite easy to use, so you need not to have any specific knowledge before choosing this application.
Benefits of Screencast-O-Matic
It helps individuals to record their videos in an efficient manner.
Apart from other tools, this application allows viewers to add comments, notes for creators, and many more such features.
It only requires a browser and active internet connection to work effectively.
Drawbacks of Screencast-O-Matic
You might get into some troublesome situation if Java is not installed in your device.
You cannot edit the video in the application itself unless you choose to buy a PRO version.
AceThinker
AceThinker is an easy-to-setup and easy-to-use laptop screen recorder. Using it, you can record an entire desktop or a specific area of it, make edits in real-time for an attention-grabbing recording, and record audio simultaneously from your computer and mic. Your recordings can be converted and saved in various video formats, like MP4, MOV, and API. AceThinker also allows you to upload recordings directly to Dropbox, Google Drive, or YouTube.
This app has all of these features. However, a PRO version is also available so you can access additional features. The PRO version allows you to create scheduled screen recordings. This screen capture tool is great for recording an ongoing stream at work if you don't have internet access at home and plan to do it at work in the afternoon. Set up a schedule, then let it do the work automatically. 
Features of AceThinker
It consists of a easy-to-use interface.
It also ahs a built-in video player and screen recorder.
User can easily convert and edit videos to HD, and download them effectively.
A wide range of customization is available.
Benefits of AceThinker
It's easy for end user to edit, convert and download the videos.
It consists of a lots of tools and features which can be used while editing the videos.
User can work on all of the popular video formats.
It also consists of a batch downlaod option.
Drawbacks of AceThinker
So as to get all of the options available, user needs to have a PRO version.
ScreenFlow
When it comes to Mac screen recorders, ScreenFlow has audio capabilities you'll love. Among its many features, the software lets you record footage using the retina resolution of your Mac, group video components, and add background music. Additionally, the software provides a set of "Styles" and "Templates" tools. Styles allow you to save the visual/audio settings for elements such as drop shadows or color filters when recording.
In contrast, templates facilitate grouping and configuring annotations in advance, such as text placeholders and outro segments. Subscribing to ScreenFlow's Super Pak version (a more expensive plan) also gives subscribers access to over 500,000 unique image and audio clips to be used throughout all of their videos. Thus, ScreenFlow is unlikely to disappoint if you're trying to get the most out of your screen recordings.
Features of ScreenFlow
iOS recording
Management of the recordings
High quality recording along with video editing tools and motion and animation graphics.
Partial or full screen capture option.
Benefits of ScreenFlow
User-friendly interface
Reliable and impressive recordings
Solid and powerful editing capabilities.
Drawbacks of ScreenFlow
It only works on the MacOS.
Some specific keys should be used to stop recording, else you will have the forcefully close the entire application.
Screencastify
A similar screen capturing application is Screencastify, which is accessible through Google Chrome. The options Screencastify offers will suit both experienced and novice video creators. As well as capturing your webcam and microphone, it can also capture your whole screen or a specific tab. Annotation tools are also provided to help viewers remain focused on important information. 
Highlighting via click, a drawing tool, and focus using the mouse are all available. Screencastify automatically saves the screen recording to your Google Drive after you record it. With Screencastify, you have the option of sending your recording to YouTube, as well as downloading it as an animated GIF, an MP3, or an MP4.
Features of
Screencastify
Make an unlimited numbers of recordings.
Trim the videos effectively and export them in the preferred format.
No watermarks at all.
Benefits of
Screencastify
Great number of features
Great for students to submit screencast assignements.
Drawbacks of
Screencastify
Only limited to the web browsers.
Editing capabilities are not as good as other applications.
Bandicam
A screen recorder tools for PC, Bandicam, can be used for video, game, and gameplay. The software simplifies video recording and does not affect the quality of the video. In Bandicam, videos can be captured in 4K ultra-high-definition at 120 frames per second. Another notable feature is Bandicam's device recording functionality. A separate capture card allows you to record videos from IPTV, HDTV, APPLE TV, smartphones, PlayStation, and Xbox. 
In addition to taking screenshots, Bandicam allows users to capture JPEG, PNG, and BMP pictures. Bandicam's basic functionality allows you to record any screen element, including Excel spreadsheets, web browsers, PowerPoint presentations, and much more. A watermark appears on the videos in the free version, so you must upgrade if you want to take full advantage of the app.
Features of Bandicam
Easily draw on your videos in real-time.
Schedule the recording at a specific time.
Use your own voice on the video and add a mouse click effect as well.
Add a Webcam video of yours.
Benefits of Bandicam
With Bandicam, you can even record your games without having to worry about anything else.
Sound devices can also be chosen as primary or secondary from Others tab.
Hotkeys can be used to make the process even more faster and much better.
Drawbacks of Bandicam
In gaming mode, you cannot switch back and record your computer screen.
It is not a better option for HD gaming videos.
Conclusion
The best screen recorder tools for PC does not have to be expensive. It can serve a variety of purposes. A free screen recorder may meet your needs according to your operating system and specific needs. Additionally, you can sign up for a paid option if you need more power or professional editing tools. I hope you'll find one of these programs useful, whether you want to create a YouTube tutorial or share an achievement in gaming with friends.