Top 8 Best PDF Apps of 2022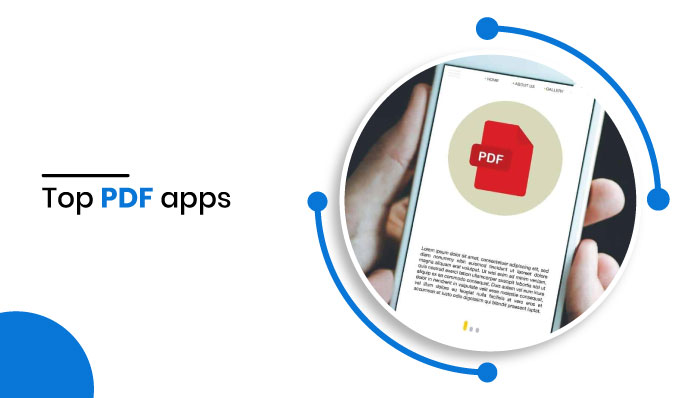 Top 8 Best PDF Apps of 2022
The PDF "Portable Document Format" is the most commonly used file format today. Most business sectors, organizations, and the educational sector prefer PDF format because it is more portable and secure than any other format. So read this blog to find out the top PDF apps.
Adobe Reader created PDF in the early 1990s to give users a better reading experience. It is easily accessible on devices such as laptops, desktops, tablets, and mobile. PDF files are primarily meant for reading only, not editing. However, it cannot be easy to edit PDF files. So numerous PDF apps provide editing features, making it easier to work with PDF files.
Why Do People Use PDF Format?
Pdf files are portable and reliable. PDF files are easily accessible, and they can be read on almost all devices and anywhere, enhancing the user experience. One of the main reasons to use PDFs is that it preserves document formatting. Here, I have mentioned why most people prefer PDF to other formats.
Security:

PDF provides a security feature where you can restrict viewing by setting passwords for your documents so that only authorized persons can see them. PDFs are read-only files, so it isn't easy to edit documents without any PDF editor programs.

Searchability:

Users can easily find the desired content on PDF files with the table of content that links to all appropriate content in a file. With the help of PDF applications, you can easily access multiple files at a time.

Consistent:

People use PDF because it displays content in the same layout across all the devices. You can easily access PDF files on any device, making them relatively user-friendly. 

File size reduction:

Users can compress files into a small file size that is easy to share while maintaining complete control over picture quality. You can merge different files as well.
There are numerous PDF apps available on the market. Here I have explained a few of them:
Best 8 PDF Apps
Adobe Acrobat Reader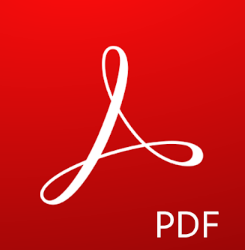 Adobe Acrobat Reader is the most used software to view and edit PDF files. It offers many features like marking pdf files, fill and sign functions that allow you to fill out forms, add jpeg files of your signature, etc. It is easy to use and works on all computers, Mac, Android, and iOS. Furthermore, it helps to manage and create PDF documents.
If you use Adobe Reader, you can also collaborate with other users through a document-sharing tool. Furthermore, you can merge and compress PDF files so that they will be easy to operate. This program does not require much space on your device.  
Price:
Pricing model: Free, Subscription

Free version: Available

Free trial: Not available

Pro version $14.99 per month up to $179.88 per year
If you use the pro version, Adobe offers cloud storage to store your files and folders.  You can also edit documents, find text within documents, and export pdf files to MS Office documents. However, you need to use the pro version to edit files, and it is a bit pricey, but it is worth a try.
PDF Element
PDF Element is a handy program if you work with PDF documents. This program provides various tools for viewing, editing, and manipulating PDF files. It has a simple User Interface making it easier for users to work with PDF files.
PDF Element also offers annotation tools to help users erase text, add images, merge files, protect documents, and many more functions. It supports OCR technology (Optical Character Recognition), where you can convert a document into the following file formats: Microsoft Word, Excel, PowerPoint, HTML, and other text documents.
Price:
Pricing model: Free, Subscription

Free Trial: Available

Starting from: $79.99/year
If you are looking for a helpful PDF editor, then you can try this software. The paid version provides you with a wide range of tools suitable for professional work and ordinary users. You can also add your digital signatures to documents.
Foxit Reader

Foxit Reader not only allows users to work with PDF but also makes or adds notes on them. It is easy to use and much more efficient than Adobe products and other software. Many users have said, "Foxit is fast and responsive while opening multiple PDF documents."
One of the main advantages of using Foxit Reader is that you can navigate documents quickly and efficiently. You can find it just by clicking on the desired content in the Table of Contents. Unlike other software, the Foxit Reader is lighter in size, making it easier to run smoothly on systems with lower configurations.
Price:
Pricing model: Subscription per feature

Free Trial: Not Available

Free version: Not available

Starting from: $8 per feature/month
If you use Foxit Reader, you can easily convert word, excel, and PowerPoint files into pdf files. However, it does not support OCR capability, so you cannot use it if pdf files contain 3D or Flash animations and CAD drawings.
Soda PDF Merge

One thing that makes the Soda PDF Merger different from others is merging and splitting PDF files. Soda PDF Merge is a great software that allows you to combine PDF files in a second. It also provides features similar to Adobe Reader. You can read, edit, create digital signatures on the documents. 
Soda PDF Merge provides a user-friendly interface to work with PDF files. You do not need to be tech-savvy to use this software; it is easy to use. It supports the OCR tool which allows a user to have better management of their documents. You can write reviews or comments on the documents, which helps you to get feedback on documents. It can be a great alternative to Adobe Reader.
Price:
Pricing model: Subscription per feature

Free Trial: Available

Free version: Available

Starting from: $84.00 per feature/year
However, you will need to use a subscription version to use advanced tools to work with PDF. While working with Soda PDF Merge, you should know that it does not work with Avast antivirus because Avast recognizes the adware program as malware.
PDF Reader Premium

PDF Reader Premium offers a wide range of features such as creating, editing, form filling, bookmarking, and converting user's documents. It is easy to use, and you do not have to be an expert to use this software. You can create password-protected PDF files.
PDF Reader Premium has a continuous reading function that reads documents aloud to users and loops audio from documents. While using this function, users are allowed to choose from several different voices. Its In-app scanner includes valuable features like intelligent boundary recognition and contrast adjustment, which help users quickly scan their documents.
Price:
Pricing model: Flat rate

Free Trial: Available

Free version: Not Available

Starting from: $19.99 as a one-time
To use all the advanced features, you need to buy a PDF Reader Pro version. PDF Reader also requires a plugin to print documents. It has a fair pricing model compared to other software to enjoy all features at a fair price.
Kdan PDF Reader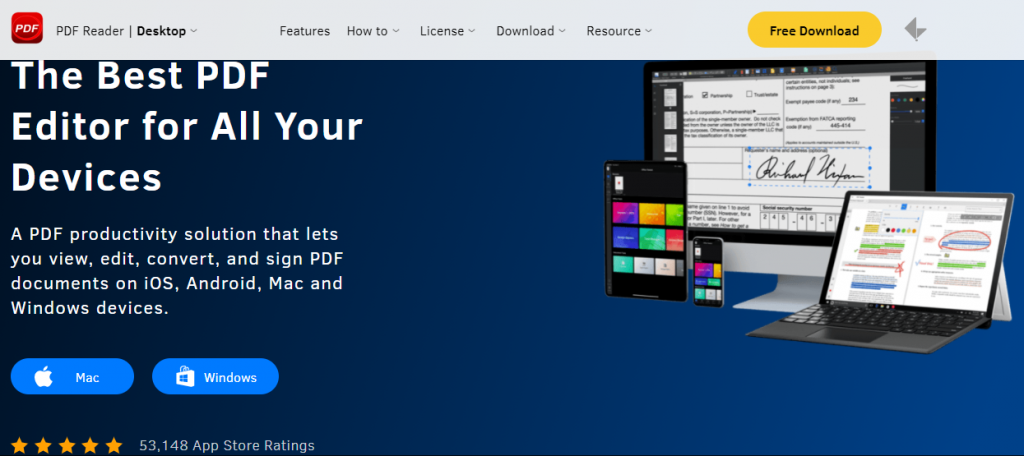 Kdan PDF Reader is a cross-platform program that provides various document functions for your daily and professional life. It covers all the essential features like view, merges, sign, and edit documents with ease that you require for your PDF document. It supports an OCR converter, so you can easily extract text content from images.
Kdan PDF Reader also provides Cloud storage for your files and folders. You can quickly backup files and send them to friends and colleagues via email. It works on all platforms; Mac, PC, Android, and iOS. It is one of the leading PDF editors that are available in the market.
Price:
Pricing model: per feature

Free Trial: Available

Free version: Available

Starting from: $9.99 per feature/month
Kdan PDF Readers' Synchronization feature is very convenient if users work on different devices. They can switch between devices. All their documents can be easily accessible through multiple devices.
Xodo PDF Reader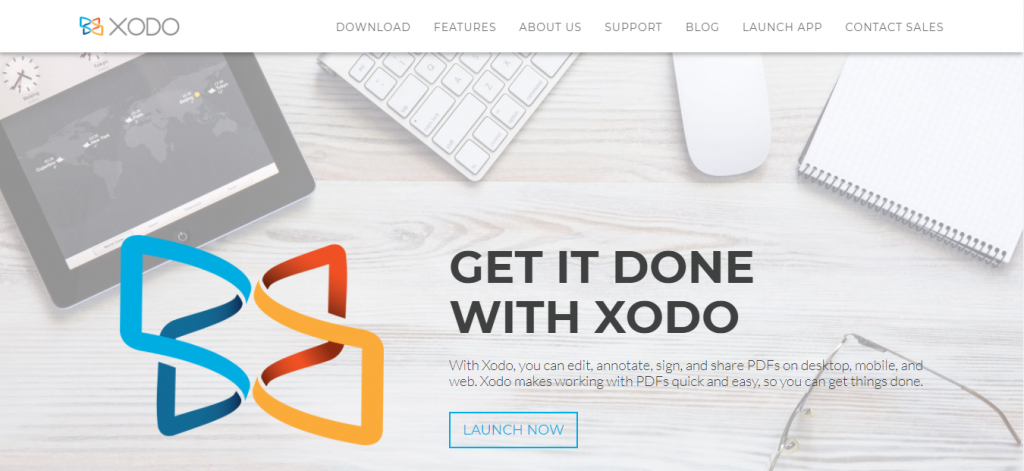 Xodo PDF Reader is specially designed for professional and business use. It is also available in the web version to easily manipulate files by editing, annotating, merging, and team collaboration. It has a built-in file manager that makes it more convenient for users to search files. Users can easily access files through grid views.
With Xodo Reader, you can edit your PDF files and automatically sync them with Dropbox and Google Drive. If you use Dropbox, data use is minimized by uploading only the changes you made, not the whole document.
Price:
Pricing model: Free

Free Trial: Not Available

Free version: Available
Javelin PDF Reader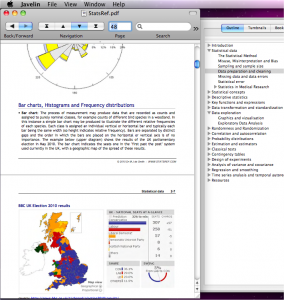 Javelin PDF Reader has a simple user interface and provides all the essential functions required for reading pdf documents. With this software, users can open DRM (Digital Rights Protected) protected files without any issues. DRM-protected files are the type of files that require decryption keys to open. It also provides markup and annotation tools.
Javelin is a lightweight program compared to Other PDF readers. It works great on all platforms; PC, Mac, Android, and iOS. It is specially designed to work with encrypted files (DRM-protected).
Price:
Pricing model: Free

Free version: Available

Free trial version: Not Available
Conclusion
PDF is the most used file format in all sectors. We all know that PDFs are read-only files, so sometimes, it can be challenging to edit and add text and images in files. So I hope the apps mentioned above will make it easier for you to work with PDF files. These PDF apps are handy when you need to add digital signatures, add images and make notes in files.
Read More: Best Screen Recorder Tools for PC