Is Fortnite Safe For Your Kids? How can you set parental controls on Fortnite?

Is Fortnite Safe For Your Kids? How can you set parental controls on Fortnite?
Read this blog to learn What Fortnite is? Is Fortnite Safe For Your Kids? How can you set parental controls on Fortnite?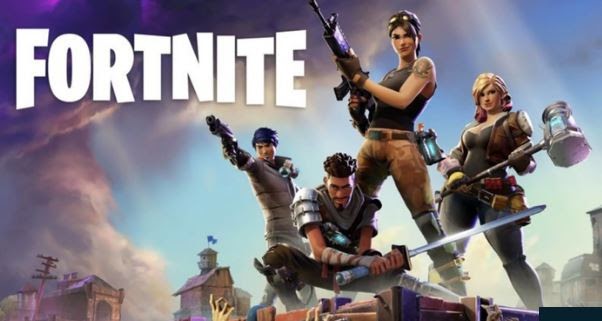 Fortnite is a free online game that is most popular among younger generations. Developed by Epic Games in 2017, it is steadily growing its popularity. It has more than 350 million players as of May 2020.
While playing a game, your kid might interact with their friends as well as strangers. And you never know what type of people your kid will meet online. So, is it safe for kids to be on Fortnite? What exactly is Fortnite? This blog will help you learn about the working of Fortnite and the ways to set parental controls on it.
What is Fortnite?
Fortnite is a popular multiplayer game where users can compete with 100 people or participate in a match together. It offers four different gaming modes for users: Save the world (Solo Mode), Fortnite Battle Royale, Party Royale, and Creative.
Battle Royale is a most played mode where a player teams up with friends or other players and competes to be the last one standing by killing other team players.
Save the world: In this mode, you team up with friends and other players to fight against the group of monsters to save the world from destruction. To play Solo Mode, users need to purchase it. 
Creative: It is included in Battle Royale; besides, battling Creative mode will allow you to make your island. It provides you a tool to design games, create your rules and invite your friends. 
Party Royale: Party Royale is also included within Battle Royale. Instead of battling, it is an experimental and evolving space that focuses on entertainment and fun. Players can even enjoy live concerts and movies. 
Is Fortnite Safe for Your Kids?
Fortnite is all about action games, shooting, and violence so, Fornite is not recommended for kids under 13. Aside from violence, online interaction with strangers is a greater concern for parents, as it includes an online chat feature where your children can communicate with their friends and other players.
Because of its open chat feature, your kids might encounter offensive language and mature content from strangers. Here I have mentioned some potential risks for kids.
Mature Content and Offensive Language
There are many people on Fortnite, most of them are youngsters, but some adults also enjoy the game. There is a lot of chance that online predators might use this app to interact with younger kids.
According to ChronicleLive UK, a man was charged for using Fortnite to groom a young girl for a sexual relationship. While playing games, fellow players might use inappropriate language, which your kids can learn. While chatting with a group of adults, there is a high possibility that your child will come across mature and inappropriate content. 
Fortnite Scams
Scammers are everywhere, and you might not know who your kid is talking to on Fortnite. Kids are naive; they don't know what is good or bad. Scammers will use this app to lure your kids into their trap.
Your kids might receive scam messages like getting free rewards, free in-game currency, and so on from scammers. They will manipulate your kids to enter credit card details or download malicious software or explicit content with these messages. Scammers may also hack your child's device.
Fortnite Addiction
With Fortnite's increasing popularity, its addiction is increasing among teens and children. And this game has many elements that make it exciting to play, such as new characters, landscapes, new weapons, and challenges. 
Many parents have complained about their children's mood swings and lack of interest in their studies. Let's say while playing the game, your kids have to compete with 100s of other players, and there is a meager chance that they might win; this may lower their self-esteem. 
Cyberbullying
Cyberbullying is the major problem that kids face while interacting with someone online. In-game abuse is common in gaming; fellow players might deliberately target your kids to harass them.
As Fornite offers unmoderated chats, other players may use abusive language or make fun of your kid for not playing the game properly. Your children may be victims of cyberbullying, which can result in depression and anxiety.
Make in-app purchase
Though players can download and play Fortnite for free, Fortnite: Save the world costs $39.99. Kids always wanted to try new things in-game; new customs, characters, and equipment might be. They might purchase customs and so on without your consent.
If your kids play on your device, then you must be careful to avoid any purchases that your kid might click unintentionally. 
How to Set Parental Controls on Fortnite?
We all know that online games are not safe for children. Fortnite does not guarantee your kid's safety; you are solely responsible for their safety while playing online. So it is your responsibility to make them aware of internet dangers and keep them safe online.
Fortnite has a built-in parental control that helps you to control what your kids can see and with whom they chat within the game. Using parental control on their device helps you block inappropriate content and turn off chats through privacy settings. You can set up Parental Controls On Fortnite by following the steps mentioned below:
Step 1: Open the Fortnite game on your child's device.
Step 2: Click on the three-line icon at the upper-right corner of the screen.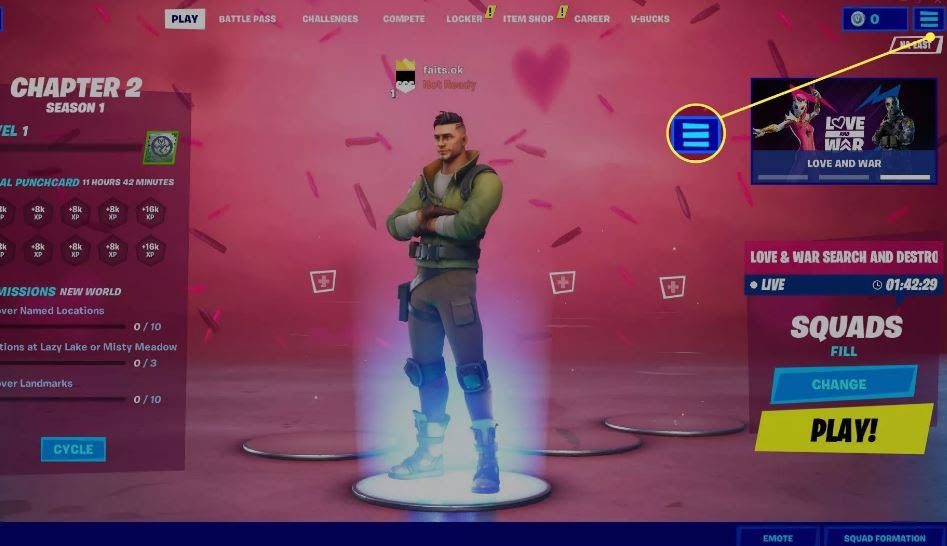 Step 3: Select Parental Controls and click on Set Up Parental Controls and click next.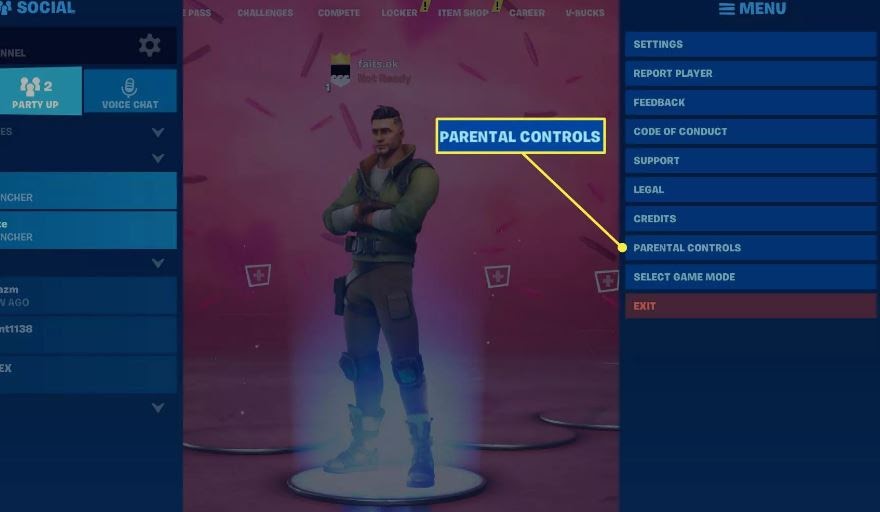 Step 4: You will need to confirm your email address; if your child uses their email address, you can change it with your email. If no email is linked, then you will be guided to a web browser.

Step 5: Set a six-digit PIN. If you need to change Parental Controls settings in the future, then you will need this PIN.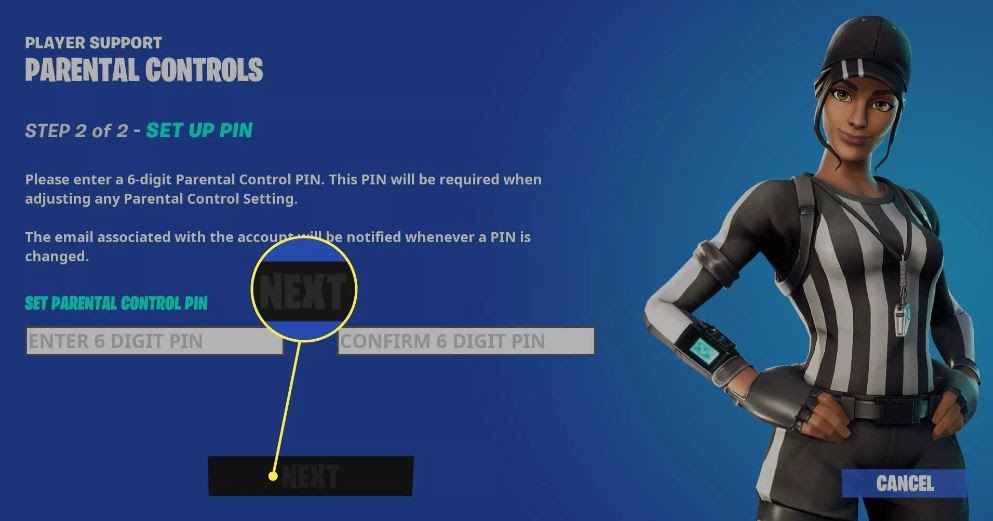 Step 6: Now, Fortnite offers you a range of Parental Control Options. You can turn on all options to safeguard your kids on this platform.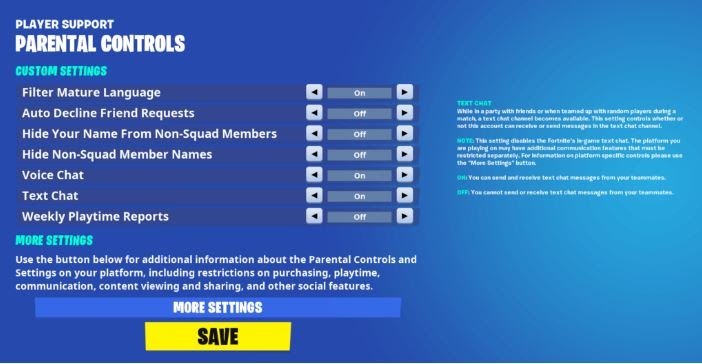 Note: To learn more about playtime restrictions for your different, click on the "More Settings" button.
Setting Overview:
Filter Mature Language
In Fortnite Royale Battle, players can chat via text messages with their friends and people in a squad on the game's home page. "It is also available in Co-op Save the world mode, where your kids will be able to text chat with both friends and strangers. To censor the mature language in text chat, toggle the switch to enable "Filter Mature Language." 
Hide Your Name from Non-squad Members 
While playing a match, the account names of players will be displayed on the screen. This setting will help you hide your kid's name from other players and replace it with "Player" in messages for everyone who is not on your squad.
Hide Non-squad Members Name
This setting works like the previous one, but it blocks your child from seeing other player's names who are not in their squad. Your kids might see an inappropriate name or try to contact strangers outside of the game. To enable this setting, toggle switch next to "Hide other players name."
Turn off Chat Options.
Fortnite provides both chat options, text and voice chat. When your child plays in Party Royale, they will team up with their friends and other strangers both chat options are available.
Chatting with friends while playing can be fun for your kids, but it also allows them to talk to strangers. They can encounter creeps and predators. So, this setting prevents your kids from communicating with strangers.  
Playtime Reports
Playtime reports will help you to manage the screen time for your kids by setting time limits. This setting will help you to see how much time your kid is spending on Fortnite. Turn on this setting to generate a playtime report of your kids. You can set it weekly, daily, or turn it off if you do not want to receive the Fortnite playtime report.
Conclusion
Fortnite is an online game where players team up in a squad and fight against each other to win. It also allows users to chat with their friends and other strangers. Talking with strangers online is not considered a good thing for kids. They might pick inappropriate behavior from strangers or learn offensive languages.
Fortnite is very addicting and frustrating for kids. Sometimes it encourages kids to spend money on stupid things like new costumes, characters, and equipment. It is your responsibility to protect them against any predators that they meet in the game. 
Read More: A Parents Guide on Gaming Safety and Parental Controls