Best Robocall Blocking App in 2022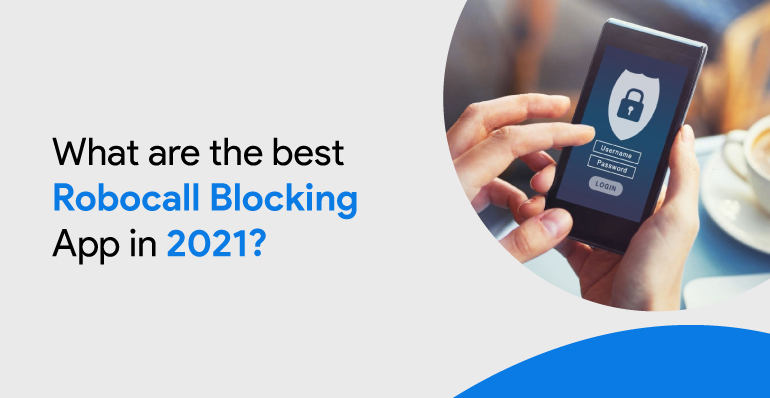 Best Robocall Blocking App in 2022
Robocall blocking Apps help you get rid of those constant and tiring spam calls that you get bombarded by telemarketers, unknown callers, and robocalls. These spam calls are happening because the Internet has made it incredibly easy and cheap to place thousands of calls in an instant.
What is a Robocall?
A robocall is a type of phone call that uses an automatized autodialer to convey a pre-recorded message. The message looks as if from a robot. Robocalls are often related to telemarketing and political phone campaigns. Robocalls can be scam calls. But not all robocalls are scams. It can also be used for emergency or public service.
If you are searching for a method to get rid of these calls and relieve yourself from the stress of getting your privacy violated, you have come exactly to the right place. Because the right service or app on your mobile can make it safer to talk to other people again, I will also give you information about some robocall blocker app that can take revenge against these robocalls and unknown numbers.
What happens when someone does Robocall?
Robocalls can range from simple business calls that try to convince you to buy their product to various scam calls that steal your bank and credit card information. So you have to be very careful of robocalls. When someone Robocalls you, the following things can happen:
Robocalls can be about legal information like reminder notifications, political messages, debt collection messages, health care messages, etc.
It can be about local business. However, they can only contact you if you have provided written consent.
The most dangerous robocalls can be scam calls. These spam calls can be imposter scams, travel scams, charity scams, loan scams, or free trial scams. They try to get your credit card information and launder money from you.
How can someone Robocall you?
Because of the internet, it's easy and cheap for scammers and telemarketers to get your information and call you.
Suppose the robocalls are informational or legal, providing information about political events, charities, health care information, etc. Such robocalls are legal robocalls and can come anytime.
If the robocalls are business robocalls, then they can call you without your consent. So if you get a business robocall from telemarketers, you must have already given them your information.
Illegal robocalls are related to scams and identity thefts. Scammers have countless ways to find your personal information and scam call you. They try to act like someone you know and try to get more detailed information about you.
How to find the Best Robocall Blocking App?
No robocall blocker apps completely blocks spam calls. These apps will help you to reduce the number of spam calls. However to choose the best spam call blocking app, have a look at its ratings, reviews,  and customer service. along with that, pricing also matters because it is related to quality. 
6 Best Robocall Blocking Apps
Below is the list of the best Robocall Blocking Apps. Before downloading, make sure to read the privacy policy first.
YouMail- Robocall blocking apps
YouMail is one of the fastest among other robocall blocking apps. It replaces your mobile's existing voicemail feature and identifies when spammers leave messages by using its software.

This software also helps YouMail identify the spammers through a quick crowdsource and block those callers from other phones.YouMail has about ten million registered users.
YouMail does not block the numbers belonging to legitimate callers for its users. YouMail also has an updated feature that will automatically block spoof calls conceived to look like they are coming from known callers.
One of the best features of YouMail is that, plays the known spammers the beep-beep-beep-beep sound of a deadline. This feature tricks them into taking you off their lists. YouMail also transcribes your messages, makes them attainable online, and offers many amusing outgoing message options.
Features
Its features include:
YouMail not only stops phishing and fraud calls but manages call controls and stops robocalls from bothering anyone.
It finds an illegal call and then notifies carriers, authorities, and enterprises. Then they can locate and take down the callers. They have also helped to shut down COVID-19 scams.
YouMail provides smarter and free voice-to-text visual voicemail and a voicemail application. It can filter spam voicemail messages.
YouMail includes personalized voicemail greetings.
Special features like it allow callers to join conference calls free of cost
YouMail virtual phone numbers can be used to separate business calls from personal calls.
The smart virtual receptionist feature impresses your callers. It makes it seem like you own a large business.
YouMail's reputation management and reputation monitoring services help to protect enterprises and carriers.
The Robocall index is used by industry and the government to solve the robocalling problem.
Availability
| | | |
| --- | --- | --- |
| Device | Availability | Rating(out of 5) |
| Android | Available | 4.4 |
| iPhone | Available | 4.7 |
Nomorobo
Nomorobo is the simplest app, one of the first robocall blockers on the market with a popular home line service. It is very secure and reliable as it doesn't sell your data. It also protects your voicemail and calling apps.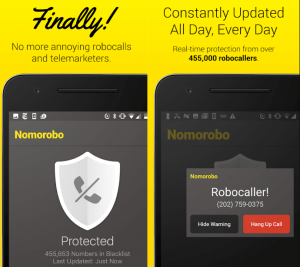 Nomorobo is smart about blocking spoofed calls conceived to look like they are coming from known callers. After installation. You can now differentiate between fake and legal robocalls and manage call controls. The main disadvantage of this app is its lagging speed.
Features
Some of its features include:
This app is easy to install. A one-time setup can activate Nomorobo on your current mobile device.
It blocks spoofed calls conceived and spam caller to look like they are coming from known callers.
As they say, this app has stopped over more than two billion robocalls.
It is very flexible. You can easily gain control of your device by turning it off.
It can differentiate legal robocalls like prescription reminders, and school closings are allowed.
Availability
| | | |
| --- | --- | --- |
| Device | Availability | Rating(out of 5) |
| Android | Available | 2.1 |
| iPhone | Available | 4.5 |
RoboKiller
RoboKiller is also the fastest app out there. It has a special feature called "Answer-bot." It has audio fingerprinting technology that fingerprints voice-mail messages. Then it keeps human telemarketers and robots on the line by keeping them busy listening to nonsense.
Answer-bot has a range of impersonators. It also has an extended coughing session for someone doing vocal exercises. More than that, RoboKiller sends you a recording of the interaction, which often is hilarious. It removes robocalls forever, and RoboKiller only uses Answer-bot when it's a spam call.
Features
Its features include:
RoboKiller itself answers and records a spam call.
It analyses and then fingerprints each unique voice. It identifies all the numbers having the same fingerprint. Then it has spam blockers that blocks those numbers and protects the user from those spam calls.
RoboKiller sends you a recording of the interaction between the spammer and Answer-bot.
RoboKiller protects against spoofing and stops spammers that are faking local numbers.
It also protects against SMS Spam so that you don't have to receive unwanted text messages.
It provides a list of allowed and blocked callers and gives you back control of your phone.
Availability
| | | |
| --- | --- | --- |
| Device | Availability | Rating(out of 5) |
| Android | Available | 4.1 |
| iPhone | Available | 4.5 |
Truecaller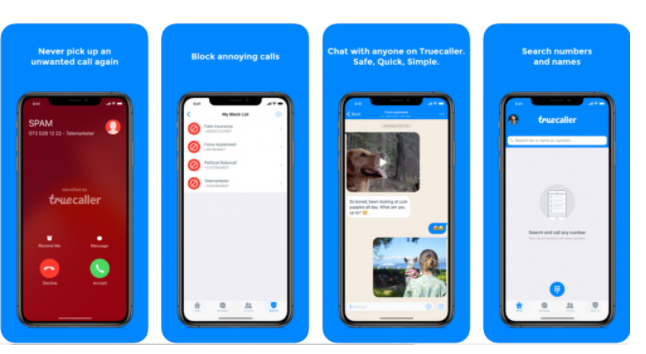 Truecaller is the best option if you don't want to give up protecting your voice mail. After you install it, it replaces your mobile's main call app. Then it crowdsources spam numbers from more than 300 million users worldwide.
It automatically blocks top spammers. However, the major problem with this app is that it stuffs in many functions that are not related to robocalling.
Features
Truecaller has the following features:
Spam Blocking feature blocks numbers and auto-block telemarketers and robocalls. It also reports numbers in real-time, so everyone is protected against unwanted calls.
The caller ID feature shows the true identity of unknown phone numbers, companies, or spam calling before picking up.
Truecaller also manages all your communication, like chat, SMS, and calls.
The Organized and Spam-free Inbox feature keeps your inbox clean. It also automatically categorizes important, personal, and spam SMS.
The intelligent Dialer feature always calls the right person.
Smart integrations bring all your calls and messages in a single place.
The also has a Dark Theme feature.
It also records phone calls.
Hence, with all these features, Truecaller makes it to the list of best robocall blocking apps.
Availability
| | | |
| --- | --- | --- |
| Device | Availability | Rating(out of 5) |
| Android | Available | 4.5 |
| iPhone | Available | 4.5 |
Hiya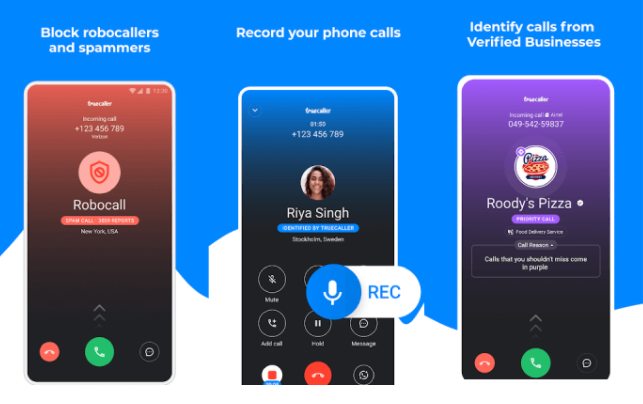 Hiya is a reliable app for protection against spoof calls and fraud numbers, with an integrated caller ID. It blocks fraudsters, spammers and allows businesses to connect with their customers.
It has features like call blocker, fraud detection, phone spam protection, phone number lookup, reverse search, and managing contacts. For instance, you can always know who's on the other end of the call as Hiya provides you with the true caller ID.
Features
Some of its features are:
The Spam call blocker feature automatically blocks spam calls.
The phone number lookup feature shows the true identity of unknown numbers, companies, or spam calling before picking up.
Spam alerts and fraud detection feature automatically warns you about incoming spam phone calls from fraud numbers.
You can also report and make aware of the spoof calls to the Hiya community.
The Virus protection & phone security feature detects fraud numbers, so can you know when a scammer is calling.
Furthermore, the Manage contacts feature adds names and addresses from Hiya to your contacts app.
Availability
| | | |
| --- | --- | --- |
| Device | Availability | Rating(out of 5) |
| Android | Available | 4.3 |
| iPhone | Available | 4.6 |
TrapCall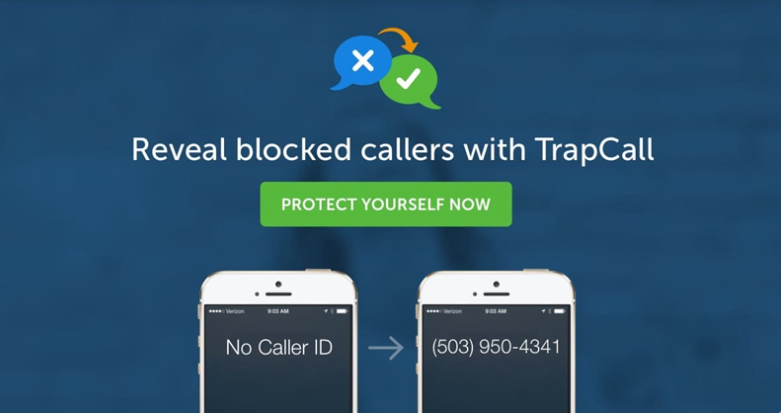 TrapCall helps you take back your privacy by showing you who is hiding behind unknown no caller ID and Restricted numbers. It also ends unwanted spam calls from telemarketers and robocalls.
Moreover, it is a technological boost against the cat and mouse game between the callers and called.
Features
Its features include:
Always know who is calling.
Unmasks No Caller ID numbers.
Stops phone harassment.
Blocks spam calls.
It has unmasked more than sixty-six million calls.
Availability
| | | |
| --- | --- | --- |
| Device | Availability | Rating(out of 5) |
| Android | Available | 2.6 |
| iPhone | Available | 4.3 |
Read More: 10 best text spy apps
Conclusion
In conclusion, Robocalling can be very tiring and spams. Therefore you need a Roboblocker app to get a read of these robocalls. So, these are the above-mentioned roboblocker apps, and decide which best suits you. Also, tell us in the comment have you ever used any Roboblocker apps?