Private Instagram Viewer App Without Human Verification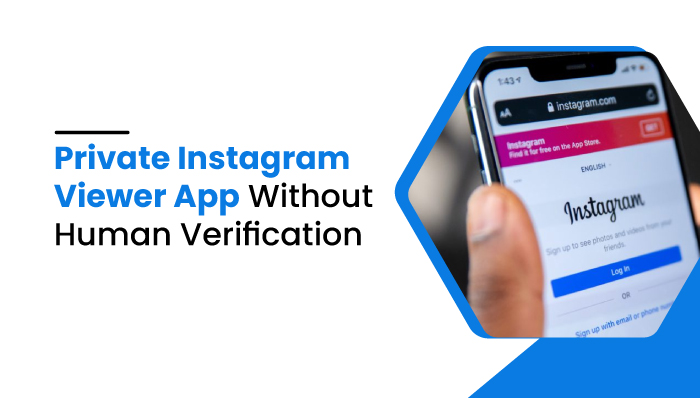 Private Instagram Viewer App Without Human Verification
Many Instagram users make their accounts private for different reasons. Mostly due to their privacy concern, individual Instagram users also make their account private so they do not have to receive annoying DMs, or maybe because they do not want others to see what is going on in their account. Whatever the reason may be, it is best to respect others' privacy. 
However, there are certain scenarios where you can view someone's private Instagram account. The scenarios can be summed up to mostly three cases: parents concerned about their child's Instagram account activities, spouse/partners concerned about their other half's Instagram, and employers concerned about their employee's Instagram activities. 
In a situation where you have no other choice but to view someone's private Instagram without verifying you are a human or without any surveys, it may become difficult to do so. So, in this article, we will discuss how one can view someone's private Instagram profile without human verification. 
How To View Private Instagram Without Human Verification?
The most efficient and reliable way one can view a private Instagram of someone else is by using mobile spying software.  With the use of the mobile spying software, you will get a complete overview of what your target is doing on his/her Instagram account even if they have made it private. 
Of the many spying apps available, MobileSpy is the best when it comes to private Instagram viewing. 
MobileSpy – Best Private Instagram Viewer App Without Human Verification
MobileSpy is a spying app that, when installed on a device, records and monitors all the activities an individual does on his device. The app needs physical access to be installed, however, once it is installed, it is capable of remote monitoring. 
MobileSpy will help you in viewing the private Instagram account of someone else. You just need to download and install it on the target's smartphone. Then the app will work in stealth mode and helps you monitor all his/her social media activities including their private Instagram 
Why is MobileSpy the best app to view private Instagram accounts?
Well, there are probably tens of free and paid mobile spying apps. So, why is MobilSpy the best private Instagram viewer app without human verification? That is because MobileSpy offers a very reliable spying service with the least cost. 
Most free apps are not reliable and most paid apps cost a lot. MobileSpy site in the middle with very lost cost but profoundly reliable service. Moreover, the MobileSpy app has an Instagram Spy feature specifically tailored for spying on Instagram accounts.  This Instagram Spy feature of MobileSpy does not need any human verification but helps you view private Instagram accounts in complete stealth mode. 

Here are some more features of Instagram Spy of MobileSpy. 
Does not require any surveys or verifications to monitor the private Instagram account. 
No need for any jailbreaks or root for monitoring private Instagram accounts on iPhone and Android. 
Monitors and tracks sent and received direct messages received on the private Instagram account including their timestamp. 
Helps track all the videos, photos, GIFs, and other multimedia files of the private Instagram accounts. 
Monitors the followers as well as the individuals that the target is following through their Instagram accounts. 
Monitors all the notifications that the individual receives on his/her Instagram. 
Furthermore, apart from Instagram Spy, the MobileSpy app also has features for monitoring many other social media like Facebook, WhatsApp, TikTok, Snapchat, and more. Additionally, the app also helps keep track of all the calls, SMS messages, Keyloggers, and other necessary activities going on in the target smartphone. 
Some Other Private Instagram Viewer Apps 
Various other online services offer the option of looking up private Instagram accounts on a target smartphone. Apps like GlassGram, Instalooker, mSpy, CocoSpy, uMobix, etc., provide the viewing feature private of Instagram accounts.
These apps can be free or paid. However, the free apps have limited features and are not reliable. But the paid apps are very costly. So, you need to make sure that you are not wasting your time and money getting services that you do not need when viewing private Instagram accounts. 
Alternative Ways To View Private Instagram Accounts Without Human Verification
If you do not want any third-party apps when viewing private Instagram accounts, here are some ways you may be able to accomplish that. 
Send A Follow Request To The Account Owner Directly
This is the simplest and the most direct method of viewing the private Instagram account of an individual. You can send a follow request or a message asking for the account owner to accept you as their follower. This way, you can easily see their private Instagram profile. 
However, it is also an unreliable method. Chances are that the account owner will not accept your request or respond to your message. You have to keep patience, but also be ready to face failure with this method. 
You can try to make a fake Instagram ID and become a follower. But that method is even more unreliable. As it is a fake ID, the owner cannot verify your information through other channels. So, why would anyone accept a follow request of someone completely unknown much else someone who wants to keep their account private? 
Use Google Search To View Private Instagram Account Actions
Chances are that the individual whose private Instagram account you want to view might have shared some of their images on other social media before making their account private. 
If it is indeed so, you can simply search for that person's name on Google. You may find some of their photos and videos on Google from before he made his account private. But this is also an unreliable method with slim chances of success compared to spying apps. 
Also Read: How To Hack Someone's Instagram
Conclusion
Viewing someone's private Instagram account without their consent is illegal and unethical. However, in certain circumstances, you may be forced to do that. So, you need a reliable method to view the private Instagram account of your target. We hope that this article has shown you the different apps and methods you can use to view a private Instagram account without human verification. 
For any queries or suggestions, please contact us through the comment section and we shall respond to you as well as we can.
FAQs
How to view Instagram private account photos without human verification?
MobileSpy: This app lets you view someone's private Instagram without human verification or surveys. You don't need to log in to Instagram. Just go to MobileSpy's website and access private accounts. 
What is the benefit of a private account on Instagram?
You can control over who can follow you and who can see your content. It gives you your own private space on Instagram and lets your content see only by the people following you. New followers need your approval to follow you. 
What do people see on a private Instagram account?
Only followers can see your posts, stories, highlights, likes, and comments if your account is private. Non-followers can only see something if the user approves the Follow request. 
Is it safe to use a private Instagram viewer?
Yes, it is safe to use a private Instagram viewer. Sometimes it can be risky, but it is secure as it does not involve unauthorized access to the posts and see approved content.