Instagram New Parental Control — Here's What to Know

Instagram New Parental Control — Here's What to Know
In this digital world, the internet can be a dangerous place for kids and teens. Children use different social media for various purposes. But sometimes, they may not be safe online and face many problems like cyberbullying and harassment on social media sites.
Parents don't want their kids to suffer from these problems. So it is necessary to use parental control features on children's phones to protect children from cyberbullying and other unusual activities.
Different social media applications provide parental control features that allow parents to monitor their children's activities and help limit their child's screen time. Recently, Instagram also launched its new set of parental controls to help parents limit their children's Instagram usage. 
So, what are the features of new parental controls on Instagram, and what made META roll them out? In this article, we'll see the in-depth details of the new parental controls on Instagram.
Why did Instagram launch its new parental controls?
Instagram head Adam Mosseri talks about the issue of how apps are impacting teenagers' mental health. He committed on December 7, 2021, to develop new supervision tools so parents and guardians can be involved in their teens' experiences.
So for user safety, Instagram has launched new parental supervision tools. Instagram provides several features that help you monitor and manage your teens' activities on the platform, including what other users may see and how they connect with other users.
Parents and guardians can support their teens' online experience using Family Centre's tools and resources. In addition to monitoring daily Instagram activity, parents can set time limits for their teens, and reports submitted by teens can also be notified to their parents immediately.
Some Instagram parental control features that are launched recently are listed below:
Instagram New Parental Features
Nudge Tool
The new feature currently being tested on Instagram is a "nudge" feature. This feature alerts teenagers to try searching for something different if they keep looking for the same topic. You can discover more amazing things on Instagram and use the platform more effectively.
One study indicated that 58.2% of participants felt that "nudges" improved their use of social media. This feature display alerts with suggestions for different post types. 
It's a great way for teens to expand their interest and determine whether they want to stick with the same topics or look for something else to watch. 
Time Limits
On Instagram, parents can keep an eye on their children's activities and track how much time they spend on the platform. And help them effectively manage the screen time and time limits they are under. 
Your children will be informed through this feature of the daily time limits you have set for Instagram, the amount of time still available to close the app, and when the daily time restriction has been reached.
Take a Break
Instagram's Take a Break feature is a time-management tool that encourages users to think carefully about their Instagram usage. A notification will appear on their screen if a user has been on Instagram for too long without taking a break.
You can decide whether to turn off the Take a Break feature entirely or whether to receive a notification from taking a break after 10, 20, or 30 minutes
It is a particularly helpful tool now that Instagram's Daily Limit feature only provides alerts as low as 30 minutes in duration (as of February 2022).
Steps to Turn on and Off the Take a Break feature:
Open

Instagram

Go to

your profile

Go to the

three dots

in the top right corner

Click on

Your activity

Click on

Time spent

You can see the

take-a-break

feature and turn it off or choose the duration to turn on the feature.
Your Activity feature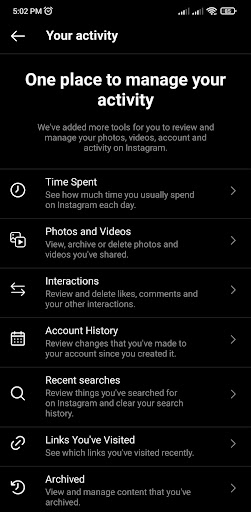 Another new feature of Instagram is Your Activity, allowing users to see and manage their Instagram activity. It is one place where you can manage all your activities like Time spent, recent searches, Interactions, Account history, archive photos, and users can also download their Instagram information.
Users can delete several items and actions in the new feature at once. Content such as posts, stories, reels, comments, likes, story sticker reactions, and more are included.
Users can also organize and filter their contents and interactions by time and look for old comments, likes, and stories, replies, reviews in this new feature.
Educational Hub
The educational hub for parents will also have extra resources like tutorial videos, articles and suggestions from experts to assist them in talking with their teens about how they utilize social media and figure out what they are doing. 
Family centre includes these new features of Instagram. Additionally, Instagram now offers video tutorials that parents may view to learn how to utilize the new supervision features available on the platform.
Supervision Tool
Supervision tools on instagram are available in the US. Later on it will be available globally according to the Meta blog Post. Parents can supervise teens' accounts by sending invitations to their teens to monitor who they follow and what kind of followers they have.
Notification to parents
Parents will be notified when their child reports a bad account or content that violates community guidelines, and teens can also write messages to initiate positive conversations. It includes the data about who and why they have especially reported.
Stop tagging and mentioning
According to a post on a website that Adam Missouri authored, it was reported that Instagram had disabled the feature that allows users to tag and mention teenagers who do not follow them.
Restrict Sensitive Contents
In July 2021, Instagram launched a feature for controlling sensitive content that shows up on Explore. This feature allows users to decide what content they want and how sensitive they wish to see in the Explore section.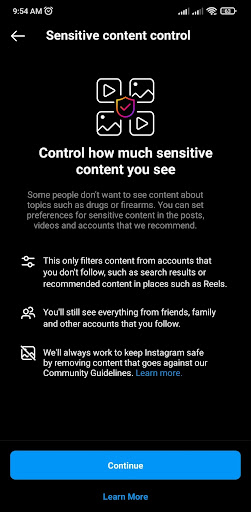 Steps to view Sensitive Content Control:
Open Instagram

Go to your profile

Click on the three lines in top right corner

Click on Settings

Goto Account

Click to Sensitive Content control

Here you can choose how much sensitive content you want to see. There are three options: More, Standard, and less.
Conclusion 
As a parent, you are responsible for keeping your child safe online and must know what is best for your child. 
Instagram is more focused on keeping teens safe on this platform, and they are also focused on safety for all age groups. For this, Instagram announces various features every year, and parents need to enable this parental control feature to keep their teens safe online.