How To Call Anyone From Unknown Number For Free

How To Call Anyone From Unknown Number For Free
Are you worried about a random call from an unknown number? But on the other hand, it was your friend who was pranking you? When you get a phone call from an unknown number, it signifies that someone not on your contact is attempting to contact you. So, we are here with the solutions of how to call anyone from unknown number for free or how to block calls from unknown numbers?
You may be wondering why you are getting frequent phone calls from unknown numbers online? You don't have to be bothered because there are several tricks on how to call anyone from an unknown number free? The Unknown numbers caller could be a prankster, an online scammer, or a telemarketer. 
There are multiple approaches to making phone calls from an unknown number using third-party applications or other tactics. Read this blog for additional information in detail.
Read more: How to find your lost phone?
Ways to block or hide your number when making calls
1. Use *67 to hide your phone number
This tactic works for mobile phones and landlines and based on a single phone call, you can't defeat *67 at masking your number. Go through your smartphone keypad and type  * – 6 – 7, followed by the numbers you're continuing to call. 
This process secretes your number, but it shows as "Blocked" or "Private" while reading on the caller ID. You must enter *67 each time if you prefer your number to be blocked.
2. Block your number by default on iOS and Android
If you use iOS or Android devices, you can block your number by implementing just a simple setting. Your number will look private for every call you make.
How to block your number on iOS?
Inside setting, press on Phone option.

Then press on the Caller ID option.

Then, use the toggle icon to show or mask your phone number.
Note: Verizon Wireless does not permit these features.
How to block your number on Android?
Go through the Phone application and press on the Menu option.

Then click on the setting option and go for Call Settings.

Press on Additional settings and tab on

Caller ID.

Then select "Hide Number." After that, your contact number will be out of sight.
Choose "Show number" or "Network default" to turn off this function on Android.
You can also use *82 to unblock your number whenever your call is unexpectedly blocked. Some users and providers will completely detect private numbers and remove them. However, by utilizing this code, you can get over this restriction.  
3. Ask your carrier to block your number
Every platform has different strategies for blocking your numbers, and it's painful to choke by means of a single call basis. A Wireless carrier can help you secure your number in such a case.
You can connect with your Carrier by making a call at 611. During recording, you must tell that you want to talk to "technical support" or "customer support." Few of the carrier lines will dispatch you to the bill-pay section immediately.
You can now utilize *82 if you run into call cancellation after setting up a private number with your carrier. This strategy unblocks your number on a single-call basis for the short term.
4. Skip dialing from your own number and use a burner app
If you don't prefer to jumble with your phone's or carrier's settings, a burner application would be what you want. These apps call through internet data, basically giving your phone a secondary phone number to use.
There are dozens of Burner apps available on the app store. However, some of the best and most effective Burner apps that work for iOS and Android platforms are:
Burner: It is a well-known app on Android and iOS for many reasons. You can use this application to direct your call to a secondary number, which means you don't need to stress hiding it. The app provides a 7-day free trial scheme and eventually costs 5 $ per month.
Hushed: It doesn't offer a free scheme but is cheaper than other applications.
For only 2$ per week, you could get 60 texts and 20 call minutes. There is another subscription plan at 5 $ per month. But the Hushed application basic plan allows users to talk with each other for free. 
Google Voice: It allows you to choose a new phone number and make free voice, text, and audio calls. Thus you must need an active Google Account to get started.
There is no charge needed to use Google Voice, unlike other applications. It makes use of your current phone calls and data, although the number displayed is your Google voice number. 
5. Take control of your landline, too
Whether using a cellphone or a landline, various codes help you to take control of your privacy and provide the greatest security level. Here are some of the most widely used " star codes" that you can use utilizing a touch-tone keyboard. 
*57 – Trace Call: 
Tracks the number of most recent incoming calls. When the call warrants legal action, this feature proves helpful.
*60 – Call Block:
Calls from a particular phone number are blocked and give callers a message telling them that you are not receiving calls. 
*67 – Caller ID Blocking:
Masking of your contact number.
*69 – Call Return:
Redial the previous caller's number.
*70 – Call waiting:
Put your phone to hold so that you can dial an alternative phone number.
*72 – Call Forward:
Route your call to other contact numbers.
*77 – Anonymous Call Rejection:
Block calls from unknown callers or private callers.
*80 – Deactivate Call Blocking Feature(*60)
*82 – Deactivate Caller ID Block Feature(*67)
*87 – Deactivate Unnamed Call Rejection Feature(*77)
Read more: How to Detect Spyware on an iPhone?
How to call someone without showing your number in India
One of the most effective methods to call anyone from an unknown number free is utilizing the IndyCall application. This application permits you to call anyone using an unknown number free. You don't need to pay to use the IndyCall application to make phone calls, and you do not need to buy any subscription plan for using an app.
Using this application, you can make phone calls inside India and make calls abroad. This app is premised on the idea of voice over internet protocol(VoIP). It means that to call anyone your device must have easy access to the internet, which we all have in today's generation. Let's dive into how IndyCall works:
Step 1: You need to download the IndyCall application from the Google play store on your smartphone. Allow for all the permission it notifies you so that it works properly.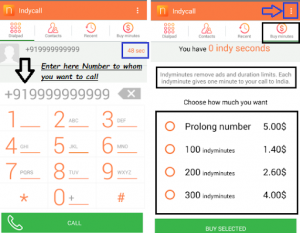 Step 2: Then there will appear a dial keypad on the homepage screen. You have to enter the number and your country code, and you can also choose a number from the "contacts" option on the top.
For

India

, it will show you a time limit of 48 seconds. This means the duration of a call at a time you can make. It will disconnect after 48 seconds, and you can make a call again.

You can also

Buy minutes

from the option on the top next to

the Recent

option. By buying calls, you can make long calls. 
Step 3: After you entered the number and the country code, click on the green button.
Step 4: Finally, in this way, you will successfully call anyone from an unknown number free.
Final words
In this way, you can prank someone by making a free call from an unknown number. But you must be careful while calling anyone frequently because it might violate someone's private life and lead them to trouble. It would be best if you only used it for fun with your close friends or families.
Read more: How to Protect your Cell phone against Spy Software?