How to Block Porn on iOS and Android Devices?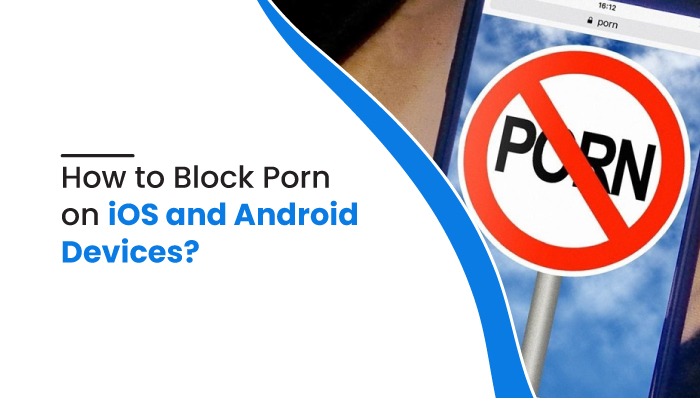 How to Block Porn on iOS and Android Devices?
Are you a parent trying to block adult content on your device or your kid's device? Well, you can do that very easily. Apple and Android have implemented different ways to control the user's viewing content. This is a good feature for someone who is way too addicted to porn and wants to quit watching those, or someone who wants to avoid all kinds of adult content after all. There are millions of adult websites available, and you or your kid might come across many of them while surfing the Internet. Here are the ways to block porn on iOS and Android devices and keep your kids safe after all.
With the popularity of the Internet, access to porn has never been much easier. Within a few clicks and searches, you can get hold of the vilest or inappropriate content out there on the Internet. When you continuously access porn on your device, you can get addicted to it and just like any other addiction, porn addiction is very dangerous. It can affect your physical and mental health. Porn addiction makes you isolated and can even destroy your relationships.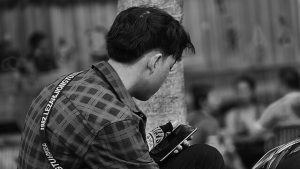 Hence, the best solution is to block porn on your devices. In this blog, I am going to mention the ways to block porn on iOS and Android devices.
Why should you block porn?
You should block porn on your kids' iOS and Android devices because:
A survey by AVG Technologies finds that parents worry their child will be exposed to inappropriate adult content while surfing the web. 

Researchers found that parents across Britain are feeling increasing pressure to discuss important sex and relationship issues with their children as a result of increased internet usage and school closures over the past year. As a result, they are under pressure to accomplish this at a younger age than what is currently taught in schools.

67% of parents believe that the Internet has led to more frequent conversations about sex between their children. 89% of parents are concerned about their children's unintentional exposure to adult content.

Almost three-quarters of children (72%) who described having bad experiences while in lockdown reported being exposed to inappropriate and offensive material.
However, porn addiction is not limited to kids as adults can also fall into the traps of porn and get addicted to it. Porn addiction in adults can destroy their relationships and even their work lives. 
Different studies have found out that people addicted to porn can't concentrate on their important tasks like work or relationships. 
As a result, they begin to feel sad, lonely, and their sexual satisfaction with their partners decreases. Porn becomes the only medium that gives them an escape from the real world.
How to block porn on iOS?
Where should I keep an eye out for adult content?
First, the App Store itself is curated properly as Apple checks every application that goes live to make sure it meets the standards provided so far. Furthermore, it also displays each application and the age rating, which lets you know whether or not the application is appropriate for your kid. The age groups are divided into 4+, 9+, 12+ and 17+. Your perception can differ from Apple's perception, but with the age rating, you can at least provide your kids with applications that are not inappropriate for their age.
On the other hand, the books, music, movies, and television available in the Apple Store are not safer than other applications. It is an open market where you can find all commercially available content. You can find everything on this platform, including some R-rated movies or songs with mature content that are inappropriate for your kids.
Also, it would help if you kept an eye on web browsers and YouTube as Apple devices have access to the Internet. Your kid might be searching for something inappropriate for their age. Watch out!
How can I deal with the adult content?
iPhone content controls
You can set a secure password for iTunes, which your kids will not know. Hence, it can prevent them from installing any paid application or purchasing any movies or music without you letting them do so. Also, know that you have 15 minutes to purchase once you enter your password. So, it's better not to give your device to your kid before 15 minutes. This can be taken as a basic step for protecting your kids against inappropriate content available on the Internet. But, make sure to set a strong password that your kid cannot crack at all.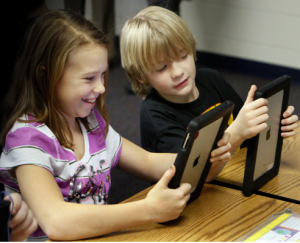 You can change the Apple ID password by following these steps:
Go to appleid.apple.com 

Choose the Manage Your Apple ID option and sign in

Click on the Password and Security option

After that, click on the Change Password link.
If your kid is constantly using the iPhone or iPad, you can lock the device using the iOS parental controls. 
Go to Settings

Then click on General

Under General, you can find Restrictions

Select the Enable Restrictions option.
Once the restrictions are turned on, you'll be asked to enter a 4-digit passcode. Make sure to use a strong passcode so that your kid won't be able to change it afterward and do what they aren't supposed to do.
Blocking non-Apple applications
If you want to keep your kids more secure, it would be best to remove all the non-Apple applications from the device. You can block the applications such as Facebook, Twitter, Chrome, Instagram, etc., as these apps might consist of inappropriate content. If the device is used by the kid only, it would be best not to install any of such applications at all. You can also let your child use kid-friendly browsers if you want to moderate their access to the Internet. These browsers can let them go to the web but limit them when they search any inappropriate sites or links.
Guided Access
If the device is not completely used by your kid only, you may have applications that might not be appropriate for your kids in that device. In this case, you can still let them use the device by keeping them away from those they aren't allowed to use. Guided Access can temporarily lock the device into a single application mode. It will also automatically disable areas of the screen and hardware buttons so that kids won't get into those applications even if they try. To enable this feature, follow the steps given below:
Go to the Settings

Then choose the General option

Under General, you can find Accessibility. Choose that

Now, turn on the Guided Access option.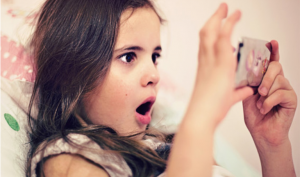 After enabling the option, you can open the app you want to run and then click on the home button three times to start the session immediately. You can then click on any part of the screen you don't want to have access to your kids. It will hence disable those sections while you're in the Guided Access. If you want to exit the application, you can click the home button thrice and enter your passcode after doing so. Again, make sure to keep a strong passcode that your kid cannot crack by any chance. This way, you can easily block porn on iOS devices.
How to block porn on Android? 100% Working Methods
Top 5 ways to block porn on an Android device
Enable Safe Search 
Enabling Safe Search will allow you to filter out all of the explicit content from the Chrome browser. Such explicit content includes pornography, gore, and violence. It is one of the easiest ways to prevent anyone from unintentionally stumbling upon the porn site.
The SafeSearch setting offered by Google is not 100% accurate. However, it can help you filter out explicit content in Google search result pages across images, videos, and sites. Safe Search doesn't filter content in any other browser than the Chrome browser.
Steps to Enable Safe Search on your Mobile Browser
First, open the Android device where you want to block porn.

Open the Chrome browser, and go to

SafeSearch settings

.

Turn on the "

Explicit results filter

" to block explicit content.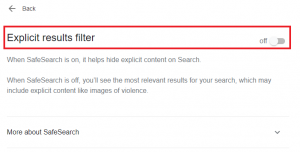 Note: You can easily turn off the Safe Search settings by turning off the toggle button. Therefore, this option isn't the most suitable one to stop someone from accessing porn. 
Using Google Family Link
Google Family Link is one of the best parental control apps for monitoring your child's activities. If you want to block porn on your kids' or teens' devices, Family Link can be the best option out there. Note that you can use Family Link only for kids below 13 or less. 
If you want to use Family Link to monitor other people's devices, you have to create their Google account and set their age under 13.

With Google Family Link, you will be able to guide people into appropriate content by:
Viewing device activity,

Managing installed apps, and 

Picking out the right apps.
Steps to install Google Family Link 
Download and install

Google Family Link

from the Android Play Store.

Open the app on your device.

Then choose the Google account of the device you want to block porn on and pair it with your device.

Read and follow the procedures as mentioned and monitor the device.
CleanBrowsing: DNS Filtering
Using CleanBrowsing, you can control what can and cannot be accessed on your network based on DNS servers. You will be able to block porn, explicit or obscene content on your specific network.
ClearBrowsing offers DNS filtering and content filtering. By using it, you can proactively decide what access your internet should have and should not have.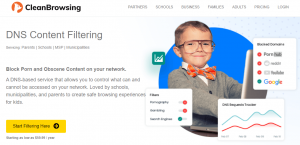 You will be able to:
Block and filter out pornographic, explicit, and obscene material,

Monitor activity and implement schedules to control access times,

Make sure that users on the network are protected from malicious content.
Steps to Configure CleanBrowsing on an Android device
Step 1: The first step is to choose a deployment type:
There are two options available: 
To install it on the router or, 

Install it on the device.
If you want to block porn on an Android device, you can directly deploy it on the device.
Step 2: The next step is to set the DNS values: 
Select the filter type to determine the DNS values. For the Family filter, those values will be:
185.228.168.168

185.228.168.168
You have to add these DNS values. To do that:
Go to the Settings.

Click on DNS options.

Finally, insert the values.
Depending on the type of device you are deploying CleanBrowing, be sure to understand the guides.
Step 3: The final step is to verify the configuration:
You can run the standard test at dnsleaktest.com to verify. In the output, you should see CleanBrowsing. If that doesn't work, try visiting badexample.com. If you cannot access the porn or explicit site, then CleanBrowsing is working.
Using a Firewall
You can use Firewall apps available on Google Playstore to manually block porn sites from Android devices. One of the most popular firewall apps is NoRoot Firewall.
You can create filter rules based on IP addresses, hostnames, or domain names with NoRoot Firewall. It can allow or deny specific connections to an app.

Steps to block porn sites using NoRoot Firewall
First, download and install a Firewall app from Playstore.

Open the app and select Global Filters in the top right corner to access the global filters.

Choose New Pre-filter to create a new pre-filter.

To block the porn website(website filtering) on both Wi-Fi and data connections, click on both icons.

Enter the address of porn sites to block them.

Once you have selected * on the Port tab, click OK.

By clicking on the Home tab, you can start the application.
Porn Blocker Apps
Porn Blocker apps block inappropriate content from the Internet. These apps can prevent users from accessing any indecent, explicit, or inappropriate websites. 
Most of these apps mentioned below automatically filter out the content and make sure that only appropriate content is accessible. If you find certain websites inappropriate, you can turn on these filters and block them manually.
Some of the best Porn Blocker apps are:
Adult Block

FamiSafe

BlockerX

Safe Surfer

Norton Family Parental Control
Features of the Porn Blocker App
With these Porn Blocker apps, you can remotely access the features mentioned below:
Automatically filters out inappropriate, explicit, or pornographic content.

Manually block the websites or apps that you find inappropriate.

Access the browser history to find out what websites the user visits.

Access the user's screen time to control the time limit on the devices.

Filter out content on the basis of age.

Check app activity and know if the user installed or uninstalled an app.
Final Words
Though Internet access has made our lives easier, it has also brought about many other problems that we can't just look over. Easy accessibility to porn is one of the major problems of the Internet which has led to porn addiction among many people. So the best solution to protect someone from porn addiction is porn blocking on their iOS and Android devices. 
If you go for a bit of work beforehand, you don't need to worry about your kid getting into some inappropriate content online. Now, you have proper knowledge about how to block porn on iOS and Android devices, make sure to configure these ways and hand your kid the phone after setting these up.