FoneMonitor app review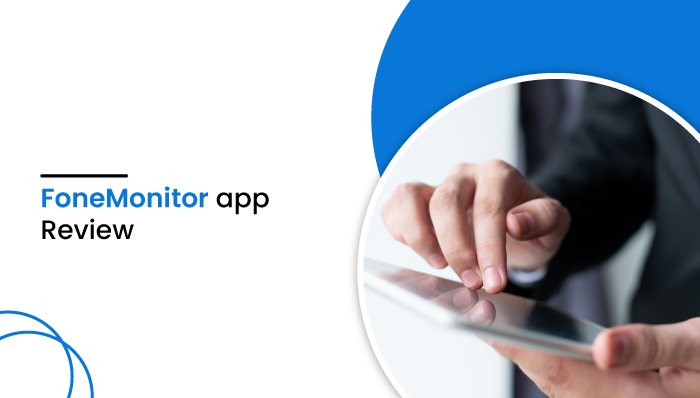 FoneMonitor app review
Want to know about the FoneMonitor app? Check out the FoneMonitor app review!!
As there's too much content on the internet, particularly on apps and social – networking sites, double-checking the content of what you're browsing is critical. However, by checking, we do not suggest that the software is being used illegally. Rather we are keeping track of users' activity using Android or iOS phone monitoring technology or spy apps.
FoneMonitor has been one of the finest monitoring spy apps, including both iOS and Android smartphones; simply a useful tool for spying on a targeted phone. It is cross-platform compatible and can monitor messages on both Android or iOS. It keeps track of your phone, Text, location, phone records, and browsing history, as well as different social networking sites, including Facebook, Instagram, Twitter, Whatsapp, and others.
As a result, it functions as a valuable phone monitor app and a protective parental control tool. It prevents children from the risks of pornography, gaming addiction, cyberbullying, and so on. FoneMonitor app is also used at the workplace to monitor a targeted device of an employee, allowing both the company and the staff to keep track of their actions in real-time.
You may also read a few alternative FoneMonitor app review, but this one is genuine and impartial. We'll go over the entire review of the FoneMonitor app in this article.
How does the FoneMonitor app work? 
FoneMonitor app provides access to a targeted device and allows you to monitor app activities. Hence, you can track calls, send keyword alerts, check contacts, monitor text messages, track GPS location, monitor call logs, block social media sites, and other online activities. The information collected will be provided immediately to your phone or PC. With parental control and phone spying tools, you may also limit actions on your beloved one's devices. Furthermore, you may also set a limit on specific transactions your employees may desire to carry out.
What are the interesting features of the FoneMonitor app?
The FoneMonitor spying app includes a lot of exciting tracking, scheduling, and monitoring features described below:
Track calls, messages and check contacts
FoneMonitor excels in tracking call history, including the date, time, length, and whether the call was outgoing or incoming of the targeted phone. It also allows you to monitor text message and call logs. All of the contacts' phone numbers, as well as all of the messages you've received and sent, will display in your FoneMonitor account. 
If the GPS of the targeted phone is turned on, FoneMonitor can track its last location. You can create a geo-fence around a certain place if you prefer your child to stay within the circle. When you choose 'send an email alert', the app will notify you every time the targeted device enters or quits that circle.
One of the most significant features that this service gives us is to monitor social media app activities. FoneMonitor can spy on more than 13 different apps on the target phone, including WhatsApp, Facebook, Messenger, Snapchat, Instagram, and others.
You can only keep track of 5 of the apps at once. However, if you set the 'Feature Status' for any app to 'OFF,' you will utilize other applications. This software captures a screenshot of the app being used, allowing parents to see what the kids are up to and their incoming and outgoing texts; on the FoneMonitor account.
Block and monitor app activities
FoneMonitor enables you to view the installed app on the target phone. You can view the applications in the 'Applications' area and select  'Off' to block them on that phone. Blocking applications like Instagram, Facebook, WhatsApp, and gaming apps may help your child be more productive.
You'll also be able to see all of the gallery items on the target device, including the photographs and videos. The photos and videos can be saved on your device too.
FoneMonitor also includes keylogging, which means it keeps track of and manages all of the online activities on the target device. It can track online conversations, chat history, incoming and outgoing emails, visited websites, and other actions. 
Monitor internet browsing history
The FoneMonitor spy tool lets you see your child's internet history, ensuring that they are protected from harmful websites or online assault. FoneMonitor also shows the amount of time spent on the website by the target device. 
FoneMonitor allows you to set limits on how much time your children spend on their devices. You may define a start and end time for all device functions to be locked using this feature. Any social media apps or others that your child tries to access will be restricted. You can also set the timer for the whole week or certain days.
Step by Step guide to install the FoneMonitor app on your device
The FoneMonitor app has a simple installation method. For installing the app on your device, follow the instructions outlined below:
Go to the FoneMonitor official website and register by creating a new account.

Complete the registration by providing all the information required; such as email, password, child's age, model of the device, iCloud credentials of the target device ( for iOS only), and others.

Download the FoneMonitor app on your device from the official website.

For Android, make sure to enable the "Security and Unknown sources" button from the settings menu on the target device. For iOs, log in with the iCloud credentials.

After you've finished installing the app, select the 'start monitoring' button to begin.

The installed FoneMonitor app will now allow you to access all its features, including dashboard, chat history, call monitoring, track internet history, and many more on the target device.
Pricing of the FoneMonitor app
FoneMonitor app comes with a free demo version and a premium version. 
The free demo version allows you to see only the overall feature of FoneMonitor as a demo with a preset account that you cannot change.
Premium version comes with three different plans :
For Android: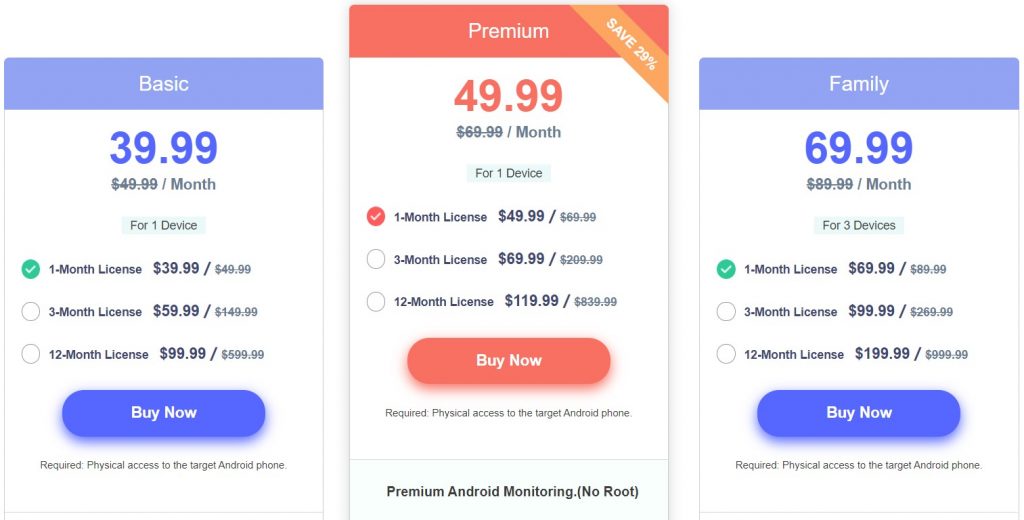 Basic:

Supports one device with $39.99 per 1- month, $59.99 per 3 – months, and $99.99 annually.

Premium:

Supports one device with $49.99 per 1- month, $69.99 per 3 – months, and $119.99 annually.

Family

: Supports three devices with $69.99 per 1- month, $99.99 per 3 – months, and $199.99 annually.
For iOS: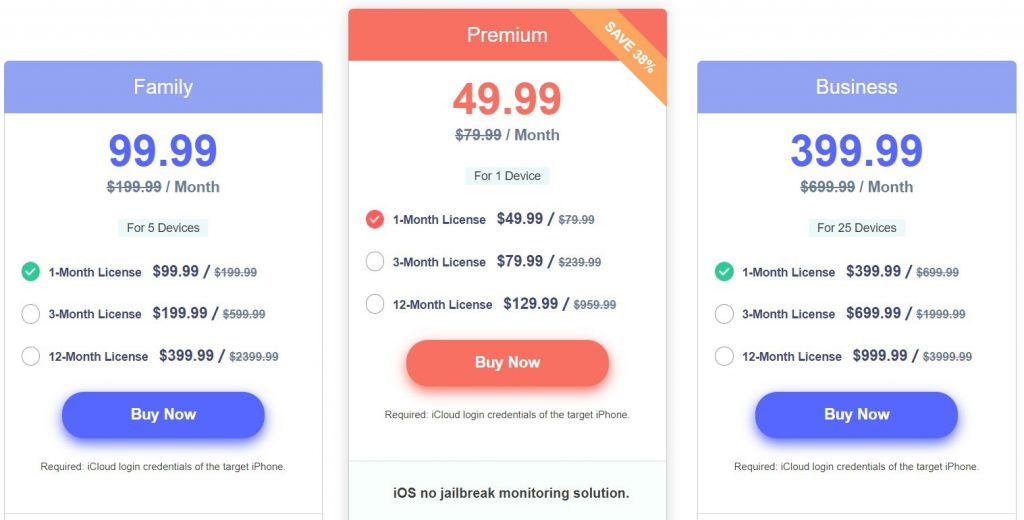 Family:

Supports five devices with $99.99 per 1- month, $199.99 per 3 – months, and $399.99 annually.

Premium:

Supports one device with $49.99 per 1- month, $79.99 per 3 – months, and $129.99 annually.

Business

: Supports 25 devices with $399.99 per 1- month, $699.99 per 3 – months, and $999.99 annually.
FoneMonitor app pros and cons
Pros
Very attractive user interface.

Support for iOS and Android

Rooting and jailbreaking are not required.
Cons
Subscription can be costly.

Many features are missing from the basic Android plan.
Conclusion
FoneMonitor might be the ideal choice if you're looking for a feature-rich parental control and spy application. This app comes with advanced features like keyword alerts, blocking applications, geo-fences, and more.
FoneMonitor will satisfy most of your spying and monitoring needs to keep track of your children's, workers', or spouse's mobile phone behavior. You may go through this review of FoneMonitor app and start monitoring your family's devices or tracking the progress of your staff anytime you need it.