OurPact Review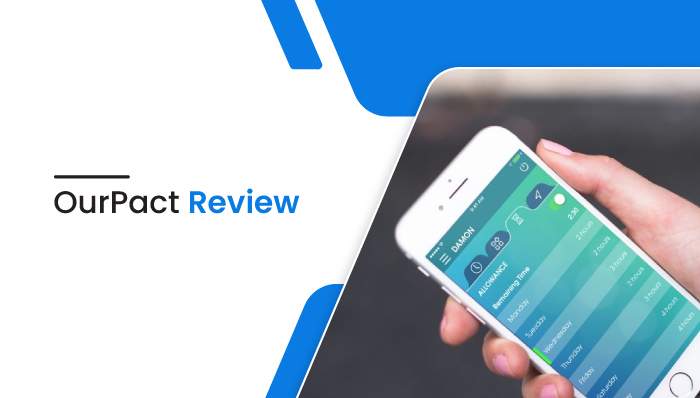 OurPact Review
Are you looking for a genuine OurPact review? Well, in this blog, we will present an honest review of OurPact. This review will go through the key features, the comfort of its use, and the pricing of the parental control app.
Parenting in the digital age may be difficult. There will always be a mental battle if your children spend too much on-screen time, utilize real-world applications, or view inappropriate web content.
It is where parental control apps like OurPact come in, which allow parents to set restrictions on their excessive internet usage and is a smart way to restrict kids from accessing inappropriate content. 
But is the app trustworthy? Let's dive in more in the OurPact parental control software review.
What is the OurPact app?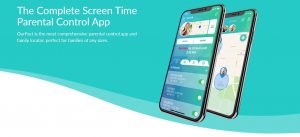 Ourpact is a conventional parental control tool with various features used for kids monitoring, which is compatible with both android and iOS devices. Parents have a wide range of monitoring and control tools, from text blocking to web filtering and screen time monitoring. 
OurPact allows parents to restrict applications on social networking and gaming sites. Parents may feel less worried knowing they can track their child's geolocation and see their web activity. It makes the application more of a family locator and screen time management tool that iOS and Android users can use.
Features available in OurPact app
OurPact parent-friendly application comes with various features, including text monitoring, web filtering, family locator, app blocking, and many more. 
Here is a quick review of the OurPact parental control app's features available that you may find useful.
Internet and App Blocking
OurPact allows you to block and specify the block time for individual apps and websites. It can be useful when you wish to provide them access to the blocked apps or sites again.
With the internet and application blocking feature, you can regulate your children's access to various social media sites like Facebook, Instagram, Snapchat, and other popular applications. You could easily create an automated block schedule depending on your child's regular activities.
You can use OurPact for text monitoring as well as restricting any message transmission on your children's device. You may also set timers and block schedules in chat apps like Whatsapp, Viber, and other device features.
Ourpact additionally enables parents to disable iMessage on iOS devices. You can disable iMessage or other chat apps using the OurPact parental controls app restriction feature.
Screen Time Scheduling and Allowance
OurPact enables you to limit screen time each day based on the schedules you set up. With the automated block schedule, you can restrict screen time for kids during lunch or dinner, showers, family time, sleep time, and other hours of the day.
OurPact also allows setting healthy device usage time for children where parents can disable the restriction for a specific time.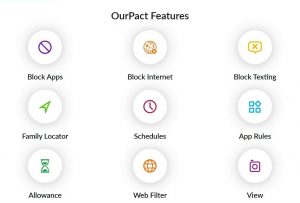 The Ourpact parenting app GPS tracking is quite an attractive feature. It lets you instantly check your children's present location and set geofences around certain areas to keep them secure and connected.
With the app GPS feature, you can specify a particular location and get notifications every time the child's device enters or leaves that place. 
Instead of providing a 'Secure Browser' that may be easily deleted or avoided, OurPact's Web Filter blocks inappropriate content on all browsers available on the child's device.
You can turn "On" the Web Filter on the parents' dashboard, and explicit contents are automatically filtered across any browsers available on both the ios and android devices.
With the OurPact view feature, you can filter screenshots based on keywords under View Sections such as Sexual Content, Profanity, Violence, and Substance Abuse. To track terms that are significant to you, you can customize categories too.
For continuous monitoring

, you can use "

Periodic Views

" to acquire unlimited automated screenshots.

For specific supervision

, you can use "

View-On-Demand

" to generate quick screenshots of your child's device.

To keep track of ongoing use

, you can use "

View Gallery

" to store screenshots in your secret gallery for two weeks.
Pros and cons of OurPact parental app
Here's Ourpact pros and cons quick review:
Pros
Attractive design and user interface.

Effective app blocker.

Screenshots provided on demand.

Both iOS and Android devices are supported.
Cons
Limited features compared to other parental apps.

Limited web filtering.

No app hiding mode

in the kid's device.
Plans and Pricing of OurPact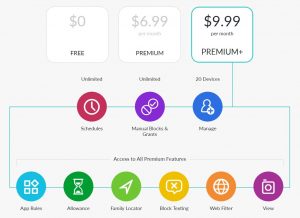 OurPact comes with three different plans and prices. Here is a quick review of the pricing of OurPact.
Free version: 

Supports one device, five app blocks, and unlimited grants with a one-time screen schedule.

Premium version:

Supports 20 devices, unlimited app blocks, and grants with an unlimited screen schedule at $6.99 per month.

Premium plus version:

Supports all premium features with the "

view

" as an additional feature at $9.99 per month.
OurPact parental control app installation : step – by – step guide
Here is a handy guide on how to install the OurPact parental control app on your device:
First, you have to download the

OurPact app for the parents' device

and

the OurPact Jr. app for the child's device

accordingly from the apple app store, google play store, or

OurPact official website

.

Create an account from the official Ourpact website or the installed app on the parent's device.

Choose your preferred subscription.

Connect your child's available device(s) to your account.

Monitor and manage your child's device(s) from your parental device.
Conclusion
Overall, OurPact is an ideal choice for parents searching for a simple solution to safeguard their children and restrict their children's screen time. From text messaging and app blocking to internet filtering and tracking features, it provides parents with the valuable tools they need to protect their children from online threats.
Other parental control or spy apps include features like hiding mode, while OurPact doesn't include these. OurPact could be an ideal choice if you're searching for something easy to use or focus primarily on screen time. However, if you prefer more advanced parental tools, you could perhaps look into other options.