How to Stream Movies and Games with Friends on Discord?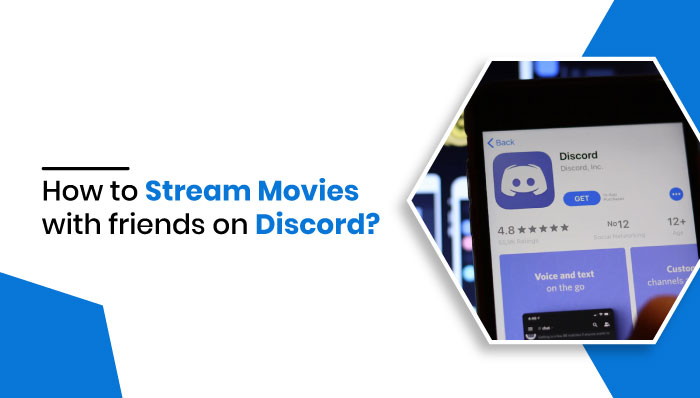 How to Stream Movies and Games with Friends on Discord?
Discord is one of the best apps where you can play games and watch movies & TV shows online with friends? You can stream movies and games with friends and families on discord. 
It is specially developed for gamers to share games and communicate with other players in real-time.
But does Discord easily support the streaming of movies? And if it does, how to stream movies on Discord? We shall answer all these questions in this article so that you can watch movies together on Discord as per your wish.
What is Discord?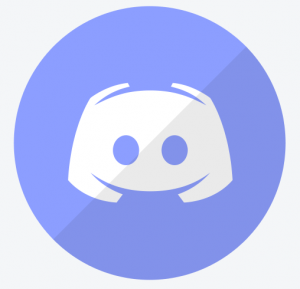 Discord is a popular messaging platform that functions in the same way that Skype or Teamspeak does. It lets users, primarily gamers, connect and interact with their friends and other players using text messages, voice calls, or video calls. You can stream movies and games with friends and families on discord. 
It also includes features like "Go Live" and share screen, allowing users to share non-gaming-related content such as streaming movies and TV shows in your chat room. To use these features, you must first understand how Discord works. 
How does Discord work?
To understand the working of Discord, first, you need to have a clear idea of the word 'server.' Servers are like a group chat where users can discuss a particular topic or game.  Discord also allows users to create a server to invite other players and friends to play together. 
Servers can be made public as well as private. If you choose to make your server public, then everyone can join it. And in a private server, only people with a link can join. When you invite your friends to the private server, they will get a link to join it. You can also join multiple servers at a time.
Furthermore, you can divide existing servers into voice channels and text channels to discuss specific topics. Server owners can also set their own rules for what content is not allowed and set limits on how many people can join their server.
Is Discord Safe?
Discord is a great platform to interact with other players and friends while playing games. You can stream movies and games with friends and families on discord. However, younger children are more likely to encounter scammers and predators on the platform since anyone on Discord can lie about their age, start chatting with kids, and move the conversation into unmoderated direct messages.
The best way to use Discord safely is to only accept a friend request from known people and not join servers that aren't verified or run by your friends. Discord also has "Safe Direct Messaging," which automatically deletes messages containing inappropriate content. It also has privacy and safety settings that allow users to control who can add or send messages.
Even though it is rare, there have been a few cases where scammers and online predators have targeted kids through Discord Public servers. So, we do not recommend that children under the age of 13 use Discord. If you ever notice creepy behavior on Discord, you can report it, and you should know how to recognize scammers and online creeps.
How to Stream Movies with Friends on Discord.
Most people think that Discord is just for gamers and gaming content. You do not have to play games to use this app. You can use this app to interact with friends, create groups to chat with others, and watch movies online.
Discord also added a "Go live" feature that allows users to stream their game to their chat room. It is simple to use and valuable for sharing non-gaming things, such as movies and tv shows.
But Discord does not automatically detect anything other than game streaming. For that, you will need to go to settings and switch to the connections category. Here is how you can do it; go through the details given below.
Step 1: Download the Discord app on your Computer
Though Discord is available in the web version, you won't live stream or use Netflix. So, you need to download the Discord app on your Computer. You can click here "Discord app" to download it for your Computer.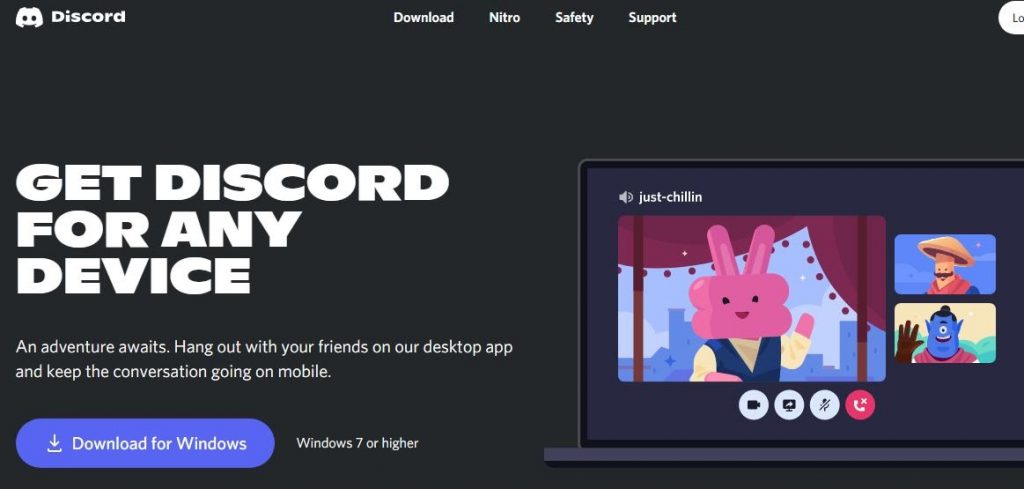 Step 2: Add Browser as a Game Activity
Discord does not recognize any apps other than games. So, if you want to add your browser to Discord, follow the instructions below:
Open the Discord app, and click on the setting icon in the bottom left corner.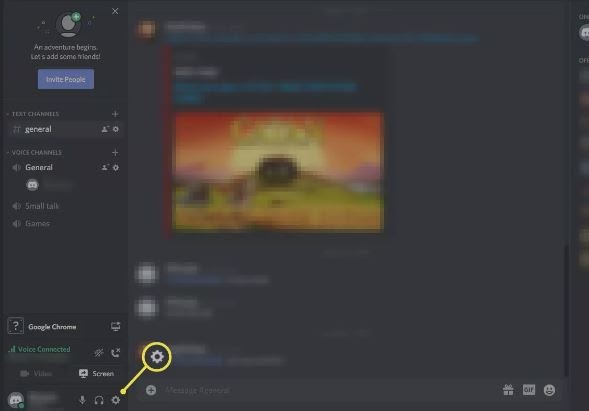 Now click on

Game Activity

under

Game Settings

.

Click on

Add it

.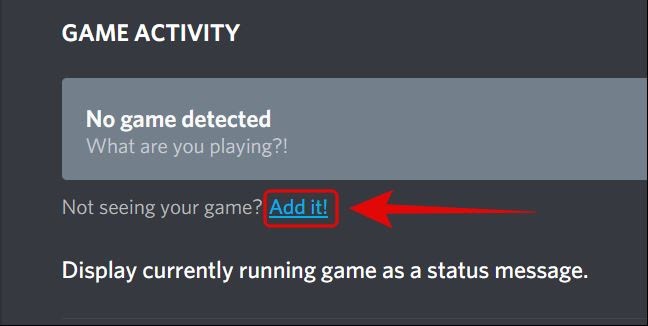 The Drop-down menu will appear with a list of apps. You can select browsers that you want to add for streaming videos.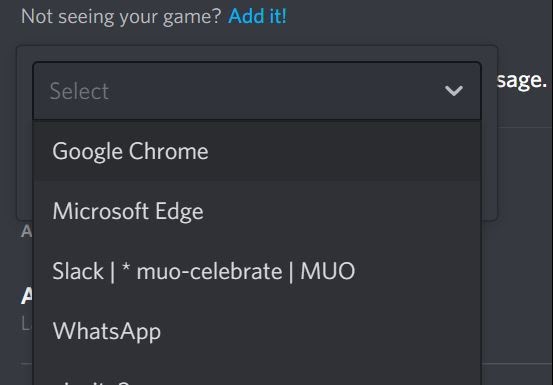 After selecting a browser, click on

Add game

. 
Now, Discord will recognize your browser as a Game Activity. Based on the options you chose, it may be a browser or an app, and Discord will add them as a game and display "Now playing."  You can also add other browsers and apps in Discord but remember that you can only add relevant browsers running in the background. 
Step 3: Disable Hardware acceleration.
You will need to disable hardware acceleration after adding your browser to Discord. Otherwise, the Discord app will display a black screen to users.
Google Chrome
Open your Chrome browser. 

Click on the

three-dot icon

in the upper-right corner of your screen.

Select settings and scroll down to access the

Advanced

setting.

Now go to the System and toggle switch to disable "

Use hardware acceleration when available

" and restart your browser.
Mozilla Firefox
If you choose to use Mozilla, then open your browser and click on the three-line icon on the browser.
Click on

Options

and 

Scroll down to the

performance

section.

Now, uncheck the checkbox for "

Use recommended performance settings

," and you will see another checkbox for "

Use hardware acceleration when available

." Uncheck that box too. 
Step 4: Stream Netflix and share screen
After making the necessary changes in your browser, open the Netflix app. 
Log in

using your username and password on Netflix. 

Now, go to the

Discord chat room

(server) you created with your friends to stream movies. 

Click on the

Screen share icon

to start video streaming.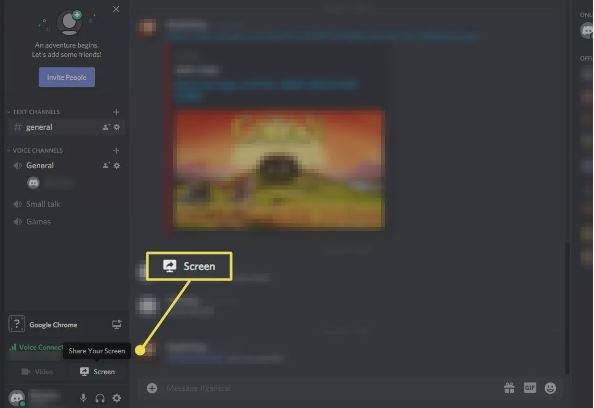 Now choose a browser or app that you want to stream to your chat room.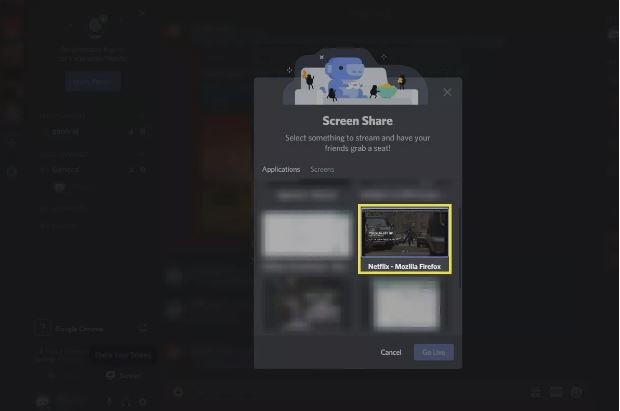 Discord automatically sets the video streaming to 720p resolution along with a 30-frames-per-second frame rate. If you want to use high resolution and frame rate for your stream, join Discord Nitro, a paid membership on Discord.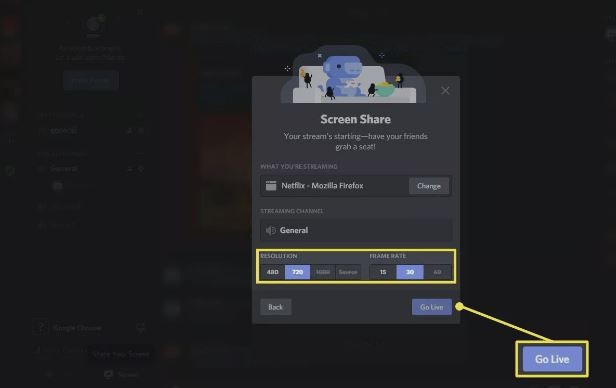 How to stream Netflix on Discord?
With more than 200 million subscribers, Netflix has become a popular streaming service for millions of Internet users. From classic movies and shows to Netflix's originals, there's a little something for everyone on this platform.
So if you love watching movies and TV series or shows with your friends rather than by yours, streaming Netflix content on Discord is a great way to get everyone involved.
So, here's how you can stream Netflix on Discord:
Step 1: You can use your standard web browser to run your Netflix. However, if you are using a Chrome browser,  you will need to disable Hardware Acceleration on Chrome. To do that:
On the menu bar, click on the triple-dot icon located and the top right corner.
Then select "Settings."
Search "Hardware Acceleration" by using the search bar at the top of the Settings page.
Now turn off the toggle on the "Hardware Acceleration" option.
Then finally restart your browser so that your changes can take effect.
Step 2: Now head to your Netflix on your browser. Make sure you are logged in and click on the content you want to steam with your friends.
Step 3: The next step is to open Discord. Navigate to the server of your choice.
Step 4: Now Join a Voice Channel. Then click on the "Share Your Screen."
Step 5: Form the different options that appear, and select the Netflix windows. Make sure that your Frame rate and Resolution settings are as high as your account allows for.
Now you can start streaming shows on Netflix with your friends. You will also have the option to go live.
Fix the Black Screen Problem during Discord Streaming
The black screen problem is a giant problem faced by many Discord users while streaming a movie on Discord. Sometimes you need to answer this problem before even looking for the answer to the question of how to watch movies together with friends on Discord. 
So, here are the steps you need to follow to fix the black screen problem when streaming on Discord. 
Go to

Discord Settings

. 

Scroll down the left sidebar and click on

Voice & Video.

 

Under the

VIDEO CODEC

section, there is an option called

OpenH264 Video Codec provided by Cisco Systems Inc.

You need to

turn off

this option. 

Now, scroll down until you see the

SCREEN SHARE

section. 

Under the SCREEN SHARE section, you need to

turn on

the

Use our latest technology to capture your screen option.
Conclusion
Discord is a platform that allows users to talk online, developed basically for gamers to communicate while playing games. It is most popular among gamers. It allows you to chat through voice and text chat and allows you to share a computer screen. You can stream movies along with games online with friends and families on discord.  Its additional features like the stage channel, "Go Live," and more made it more popular among regular people. 
Discord also allows users to share non-gaming content like streaming movies and TV shows with their community server. To stream movies with friends, you need to add your browser and other streaming apps as a Game Activity. I hope the ways mentioned above helped you learn about streaming content from your browser on Discord. 
Read More: What Are The Hacks for Popular Games?
FAQ
Can I stream movies on Discord mobile? 
Yes, you can stream movies on Discord mobile. Discord has a mobile sharing feature through which you can screen share your mobile device after joining a voice channel. 
How to stream Netflix movies on Discord mobile? 
Do note that Netflix streaming does not work on Discord mobile due to DRM (Digital Rights Management) limitations. But you can open Netflix on your mobile device (Android/iOS) and choose a movie to stream. Then, you go to Discord and join a voice channel and screen share your mobile screen through the share screen icon on the bottom of your mobile screen