How To Hack Into Someone's Snapchat?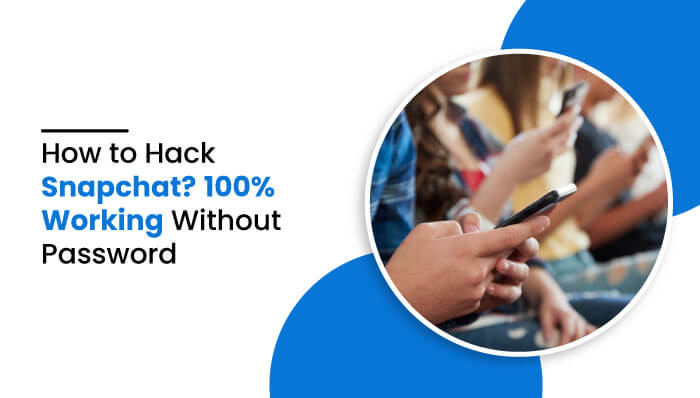 How To Hack Into Someone's Snapchat?
Hacking Snapchat does sound like a difficult and illegal job but with knowledge of some apps and Snapchat hack tools, you can easily hack someone's Snapchat. With more than 306 million daily global active users, Snapchat is one of the most popular social media platforms. Snapchat is predominantly used by teens and young adults to text, share images & snaps, and create stories.
Snapchat is a very secure app, and one can't breach through its security features that easily. So, you must be thinking that a normal person like you and me can't hack into someone's Snapchat account. 
If you think that way, I am here to tell you that it is possible. Yes, you can hack into someone's Snapchat account, and you don't even need their account's password. So read this blog to know how you can do that.
Parents need to figure out the activities of their kids on Snapchat. Predators use Snapchat by creating a facade to lure kids and make them do things kids shouldn't be doing. Kids may swap inappropriate content and fall prey to abuse and harassment on Snapchat. So, parents need to assure that their kids are using Snapchat responsibly.
Ways to Hack into someone's Snapchat without a password Using Spy Apps
It is extremely difficult to spy on someone's Snapchat activities due to the nature of the app. However, with the help of spying apps, you can easily access your target's Snapchat account in complete stealth mode.
So, one of the most popular methods for the Snapchat hack is by using spying apps. These apps should, at first, be downloaded on your computer and then installed on your target phone. The top list of Spying Apps to hack Snapchat accounts is MobileSpy.io.
How to hack Snapchat account using MobileSpy.io
MobileSpy.io is one of the best spying apps whose Snapchat spy feature allows you to easily hack the Snapchat account of your target device remotely. MobileSpy works in a 100% stealth mode.
Running in stealth mode creates a log of Snapchat activities secretly without making the target aware. Most of the spying apps require jailbreaking or rooting the device to work.
But, the Snapchat hack tool, MobileSpy.io, can hack your Android/iOS devices without jailbreaking or rooting. The Snapchat Spy feature of MobileSpy.io is compatible with both iOS devices and Android.
MobileSpy's Snapchat spy feature tracks text messages, multimedia files (sent or received images & video), friend lists, and more. You can also track the target user's disappearing messages sent and received. That's why it is the best Snapchat hack tool available
Features of MobileSpy.io
Some of the features of MobileSpy.io are:
Spy on Snapchat conversations:

Keep track of every

Snapchat text message sent or received

, which includes private and group chats on the targeted device.

Track and view media documents and files: Track the multimedia files sent and received

by the target user, including photos, snaps, videos, documents, and audio.

Track and access contacts: Track details like friend list, profile pictures, names, phone numbers, and other information mentioned by the target user on their Snapchat account.

Monitor and track all the mentioned data remotely and without getting caught or detected.

Block the Snapchat app

on the targeted device without physical access.
Steps to hack into someone's Snapchat using MobileSpy.io
To hack Snapchat using the Snapchat Hack tool, MobileSpy.io, follow the steps down below:
Step 1: To track your target's Snapchat activities, create an account with MobileSpy.io. To begin, you only need a valid email address.
Step 2: Download the MobileSpy app and install it on the target device. The MobileSpy installation process will only take a couple of minutes.
Step 3: Log into your MobileSpy.io account. Your credentials are sent to you in your email. 
Step 4: In the left-hand selection panel, you'll see the Social App- click on the Snapchat option on the home screen.
Step 5: Finally, you will now be able to view and track all Snapchat messages, images, and videos on your MoblieSpy account.
Why do you need to hack Snapchat?
There are many reasons one might need to hack Snapchat. Most parents use spying apps to hack Snapchat to track their kids' devices and monitor their activity. 
It helps parents know who their kids are talking to and what type of photos, videos, or snaps they share. In this way, you can know if anyone is grooming, harassing, or bullying your kids online and take necessary action.
Snapchat is a popular app for sexting. So when you hack Snapchat, parents can prevent their underage kids from sexting. Some spying apps like MobileSpy can even block the Snapchat app so that the kids won't access it.
Likewise, apart from parents monitoring their kids, you can hack Snapchat to catch your cheating boyfriend, girlfriend, or spouse. You can check their Snapchat messages, photos and videos and other sensitive information and even know their live location so that you can easily find out if they are lying to you.
Hack Snapchat using Keylogger Tool
A keylogger is a spying app that monitors every keystroke a user types on their device's keyboard. A keylogger app can be installed on the target device just in a few seconds, and once installed, you can access the target's password. So, you can use it as a Snapchat hack tool.
How to install a keylogger tool remotely on Android?
To install Keylogger for Android, you either need access to a target's phone for installation or trick the target into installing the Keylogger by themselves. Here is how that can be done:
Open the official website of the app you have chosen and log in to your account.

Create an installation link for your chosen remote Keylogger.

Please send the link to a target person through email or chat and ensure that the target clicks on it.

Once the target clicks on the link, a remote keylogger will begin to install on the target's phone.

And lastly, after completing the installation, you will receive a notification on your dashboard, and you are ready to hack the device.
How to install a keylogger tool remotely on iPhone?
Spy apps working with iOS offer an easy way for direct remote installation. This tracking app does not require you to jailbreak the iPhone or iPad. Just follow these simple steps:
Get access to the target's Apple ID and Password.

Activate iCloud backup on the target's iPhone.

Register your account on the website of the app you've chosen.
How to use Keylogger to Hack Snapchat Password
Once you install the Keylogger on a target's phone:
It starts operating in stealth mode in the background.
Then, it captures every keystroke of the target on that phone.
When the user opens the Snapchat app and types their "username" and the "password" to log in, the Keylogger stealthily records these keystrokes.
It stores them in the logs. So, when you open up these logs, you can view the captured "username" and "password." The tool will also tell you that these credentials were being typed on the Snapchat login page.
Thus, you can access the target's Snapchat ID and password and hack their account using a Keylogger. A keylogger can also keep the log of messages sent. So you can also view the messages being sent by the target.
How to hack Snapchat account through email?
If you have the email address login credentials of the person whose Snapchat password you want to know, you can hack their account via email.
You may wonder how? Right? 
Let's break your curiosity. When you choose an option to 'Reset Password," then you will receive a link on the email address of the target person to reset their Snapchat password. 
For your ease, let's discuss the step-by-step procedure to hack the password of Snapchat through email.
Step 1: Open the Snapchat application from your phone.
Step 2: Click on the "Login" option.
Step 3: Click on the "Forget Your Password" option.
Step 4: Choose the Reset via Email option.
Step 5: There, you have to enter the target person's email address linked with the Snapchat account.
Step 6: Open the Email Id of the target person and look for the new mail from Snapchat. Probably the subject of that mail is "Reset Password."
Step 7: After opening that email, go through the reset link.
Step 8: You have to re-enter the password to confirm after setting the new password. 
After you set the new password, you can now remotely access their Snapchat anytime you want.
How to hack Snapchat via SMS?
Don't know the target person's email credentials? Don't be upset. You can hack their account through SMS.
Hacking Snapchat through SMS is an easy process that is similar to the process of hacking through an email address. But to hack through SMS, you need the target person's phone.
However, it doesn't mean you need access to the target person's phone whenever you want to go through their account. Once you use this method and hack their password, you can get into their account until they change their password.
Steps on how to hack into someone's Snapchat via SMS
Step 1: Open the Snapchat application from your phone.
Step 2: Click on the "Login" option.
Step 3: Click on the "Forget Your Password" option.
Step 4: Choose the Reset via Phone option.
Step 5: There, you have to type the target person's phone number that is associated with his Snapchat account.
Step 6: Afterward, select the option "Send via SMS."
Step 7:The target phone will get a verification code which you have to enter. And then click on the "Continue" button.
Step 8: Enter the latest password, and in the next tab, re-enter to confirm it. After that, click on the Submit button.
Not so hard, right?
Conclusion
Though hacking Snapchat sounds like a hard job, you can do it easily with the help of spying apps like MobileSpy.io
These apps are easy to install and are 100% working. You don't even need a password to hack through the target's Snapchat account. Spying apps work in stealth mode so that the target user won't even know they are being monitored. 
Honestly speaking, there are multiple methods you can use to hack the Snapchat account. Besides the above methods ways, you can also hire hackers and use phishing methods for that.
 But to use phishing methods, you need to have some coding knowledge, and to hire hackers, you have to pay.
That's why using the Spy application can be the best choice. 
So have you had experience using any of those mentioned apps? Do let us know down on the comments below. 
FAQ
Is it illegal to hack Snapchat?
It is not illegal to hack Snapchat, but it is highly discouraged. In fact, hacking someone's Snapchat account without their permission or knowledge can be considered a cybercrime and may result in criminal charges against the perpetrator. Therefore, it is important that people understand that hacking into another person's account is a crime and should be avoided at all costs.
Do police investigate Snapchat accounts?
Yes, police can investigate Snapchat accounts. In Addition, law enforcement agencies may use various techniques to access and analyze the content stored on someone's account, including subpoenas and search warrants.
How do Snapchat hacking apps work
Snapchat hacking apps work by exploiting vulnerabilities in the Snapchat app and its servers. These apps can be used to access a user's account, allowing hackers to view messages, photos, videos, and other content shared on the platform. You can also use third party snapchat hacking tools or spy apps to gain access to other accounts. 
Can you record s Snapchat call?
Yes, you can record a Snapchat using a screen recorder. However, the people will be notified that you have screen recorded a call or conversation.