How Can Someone See Your Secret Messages on Facebook?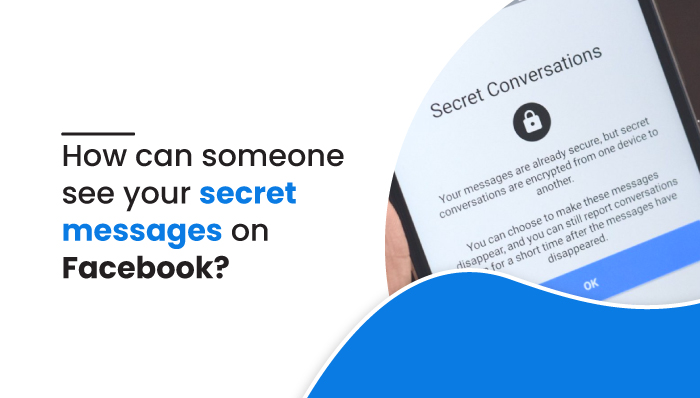 How Can Someone See Your Secret Messages on Facebook?
"How can someone see your secret messages on Facebook? " "Are there any spying applications?" This type of question arises in your head when either you want to have an eye on others or when you think someone is spying on you.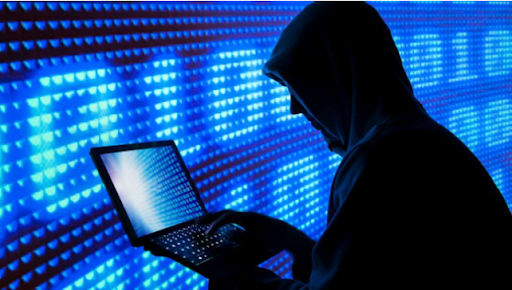 Privacy is not negotiable since it is necessary for everyone to fiercely protect their privacy. Everyone has a private life, and no one wants someone to violate their privacy. There are many things you definitely don't want to reveal on Facebook. Despite having many privacy features on Facebook, someone can still hack your account. And it is not something you want. Right?
We understand that it is necessary to make your account and secret messages more secure. That's why to be more protective from threats; you should know how someone can see your secret messages on Facebook.
Before going through the main topic, let's discuss some other important topics.
What is a Secret Message?
It is a fact that Facebook is one of the world's biggest social networking applications. Different exciting features of Facebook grab the attention of many people. Among many features, a Secret message is also one of the hidden reasons behind Facebook's popularity.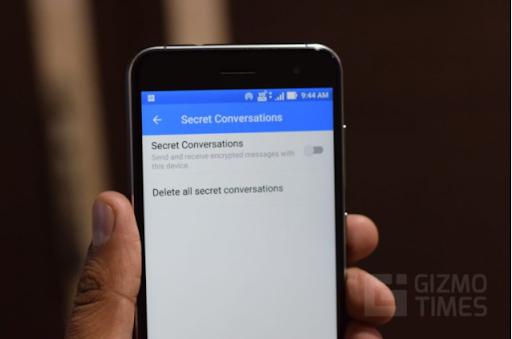 Secret messages on Facebook Messenger permit you to have a private conversation with anyone you want. The interesting fact is that the conversation you have using secret messages will not be seen on your regular chatbox. While having the secret conversation, you cannot copy, save and forward the text message. Whenever a recipient snaps a screenshot of a message, Facebook will notify the sender. However, if someone has an intention to leak your message, they can do that by clicking the pictures of messages from another phone. The message sent from a secret message will vanish after some time. That's the reason behind calling it a self-destructive message. Isn't it a good thing?
How to Turn on a secret conversation on messenger?
The Facebook secret conversation doesn't work by default so you have to turn it on from settings.
To initiate a secret conversation, follow the given procedure:
Steps:
1. Open the Messenger application.
2. Now, there is your profile picture on the upper left of the Messenger home screen. Click it.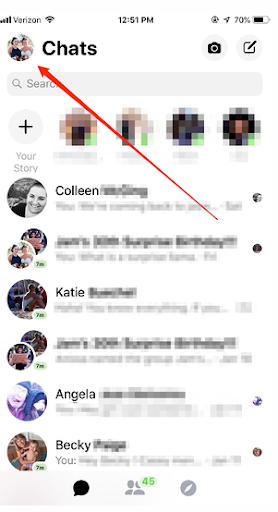 3. Scroll down and click on "Secret Conversations."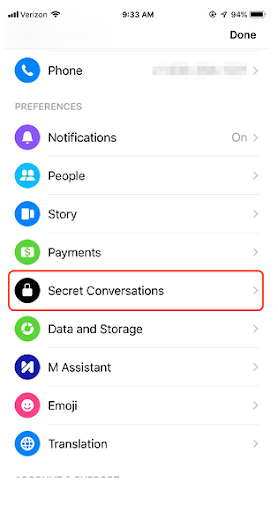 4. Now turn on the secret conversation.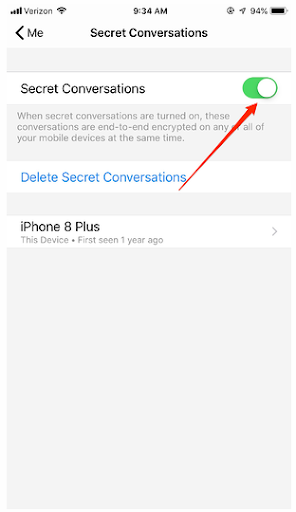 How to start a secret conversation on Facebook?
Return back to the home screen of Facebook messenger. And then follow the given procedure to start an end-to-end encryption conversation.
1. On the upper right side, you find the square and pencil icon. Click that.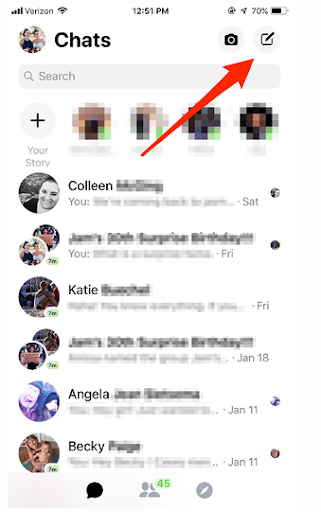 2. After that, there is an option named "secret" or a sign of "half lock" on the upper right part of the next screen. Click that.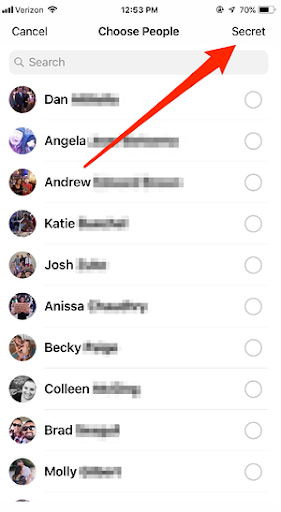 3. Simply enter the person's name into the search bar with whom you want to communicate secretly.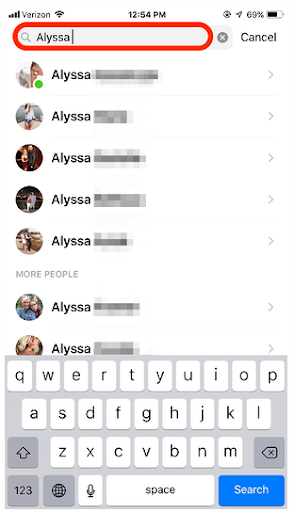 4. Now set the time when you want your send message to expire. There is a clock icon on the side where you type your message. Tap on it.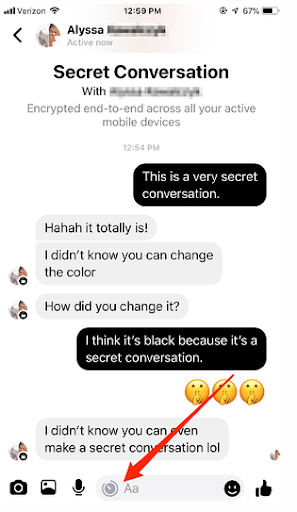 5. Now you can set the preferable time. After that time, your message will disappear.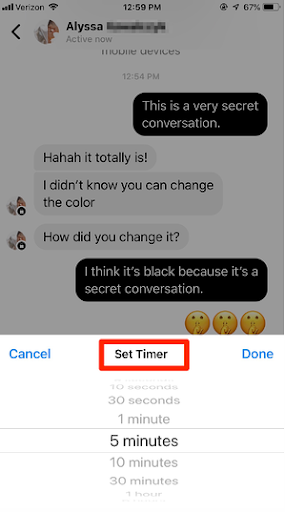 Now, you can have a secret conversation freely. Also, you don't need to worry about how it notifies you when your phone is locked because it only gives you an alert without specifying from whom messages come.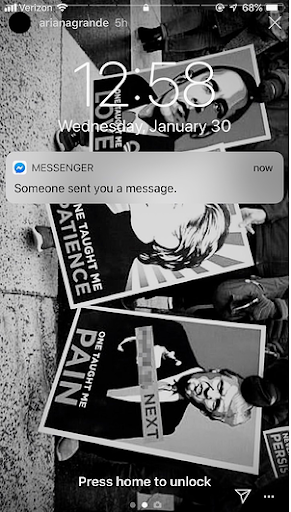 Watching someone's secret message is a difficult task, but it is not impossible with the help of spying applications. People can use spying applications to see your secret chats on Facebook. Many people use mobilespy applications to monitor what their partner or child's do on phones. MobileSpy enables you to keep track of location, browsing history, multimedia monitor, call text monitoring.
How MobileSpy can be used to see Secret messages on Facebook?
MobileSpy has the feature to spy on Facebook messenger's messages without letting them know. Not only text messages, but also you can save audio messages.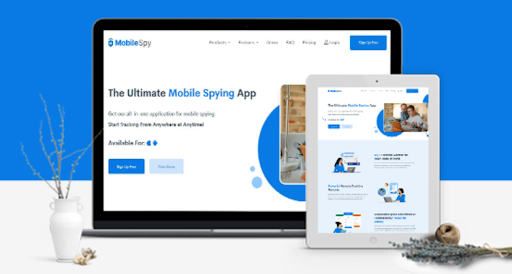 To see the text messages using the MobileSpy application, you have to go through the below steps:
Sign Up:

To sign up for MobileSpy.io, enter the valid email id. And then download the app.

Install:

After downloading the MobileSpy application, install it on that person's device on whom you want to spy.

Start Spying:

Login into your account and then search for option App-Facebook. Finally, start tracking.
Advantage of MobileSpy
Not just only on Facebook messenger applications, but you can also remotely monitor other social media applications, locations, phones gallery, SMS, and so on.

 With the help of the MobileSpy app, you can even read hidden and deleted messages from WhatsApp, Viber, Snapchat, and many more.

Works best on both Android and iOS.

You can also watch the video that the target device sends or receives.

Besides text messages and video, you can monitor all the Facebook activities of the target device.
How can someone see your secret message using your login credentials?
When your partner or parents think someone randomly sends you provocative and dangerous stuff, they want to read out your secret messages.
Your parents or partner can easily access your phone, which helps them read your messages.
Steps to see your secret messages using your login credentials:
Open your Facebook Messenger application with your login details.

And then click on

Chats.

On the upper right side, there is an edit icon. Select it.

After that, you find the "Secret" option or" lock icon." Select that.

Now search for the name of the person whose conversation they want to review.
How to see deleted secret conversations on someone's messenger?
You can also check the secret conversations by restoring the deleted messages. Before jumping into the process, make sure that the target person has previously archived the chats or moved them to the Spam folder. Here's how you can do so in an efficient manner:
In the very beginning, you need to have access to the targeted person's device to read and open Facebook Messenger.

Check out the Recent conversations.

Using the search tool, you can search for archived conversations.

Click on the three-dot icon and select Hidden chats.

Now, choose the desired conversation and return it to your inbox.
If you couldn't see the desired results in the archived section, consider checking out the Spam folder:
Log in to the target account.

Head towards the Message requests section.

Click on the spam or filtered section.

Reply to the conversation if needed, and restore them to the inbox.
Is it legal to view secret conversations on Facebook Messenger?
Before you wish to monitor another person's social media activities, you need to understand the facts and policies and work accordingly. If you're willing to monitor your underaged kid, you can do so without any problem, even if they don't know about being monitored. But, if you're checking out an adult person's activity, you need to make sure to have their consent before doing so. Else, you can be fined for violating their privacy.
The Bottom Line
The internet is not a safe place at all. The freedom that secret messages give can lead you to trouble also. Younger children can send or receive inappropriate content, and employees can send private data to other 3rd party members thinking that no one can see their message.
Now coming to this end, you know what secret messages are and how you can start secret messages. More importantly, how someone can use MobileSpy to see your text messages. You can choose one among various options on finding how someone can see your text messages. However, MobileSpy is the most trusted application to spy. 
If you like to detect someone's secret message, we recommend using the MobileSpy application. This advanced multifunctional spying application will help you keep your loved ones safe.