Top 9 Best Hidden Chat App for Private Texting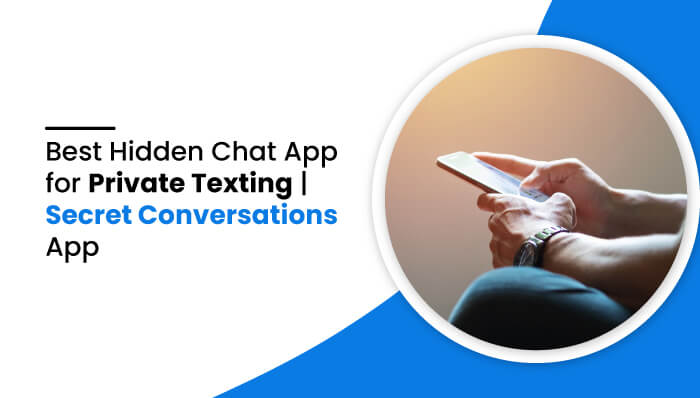 Top 9 Best Hidden Chat App for Private Texting
Are you tired of people snooping over your texts, data, or chat breach and privacy over your text messages? Your chats or text conversations can contain valuable information. If people with wrong intentions get a hold of these data, it can be used against you and make your life miserable. So, it's about time you learn about the hidden chat apps.
Hidden Chat Apps
Hidden Chat Apps are the apps that let you privately send and receive chat messages between two individuals. They can also be called secret chat apps. These chat apps can be used by employees for secure internal discussion, as secret chat apps for lovers, and more. The major reason hidden chat apps are used nowadays is due to privacy concerns.
For instance, many apps can extract data from your text messages and use it against your authority to create advertisements or sell the data to third-party companies. Therefore, privacy, end-to-end encryption, and security are very important for chat apps. By utilizing chat APIs designed for Android or ios, developers can create hidden chat apps that offer secure and private messaging, ensuring confidentiality and protecting user data from potential misuse or extraction by third-party entities.
So in this blog, I will be talking about my choice of the top 9 Best hidden chat apps in no particular order, that you can use to keep your calls, texts, and media files protected.
Why People Use Secret Texting App
People use secret texting apps for a variety of reasons. For some, it's about maintaining privacy and security in their conversations with friends or family members. Others may be using the app to protect themselves from potential cyberstalking or other malicious activities online.
Furthermore, these apps can provide an extra layer of protection when communicating sensitive information such as passwords, private text message, video chat and banking details that should not be shared over regular messaging platforms like SMS or email. Ultimately, Hidden texting apps offer users the peace-of-mind knowing that their conversations are secure and private no matter who is on the receiving end of them.
Top 9 Best Hidden Chat App for Private Texting
Here are the top 9 chat apps with hidden chat features on Android and iOS.
Viber – Safe Chats And Calls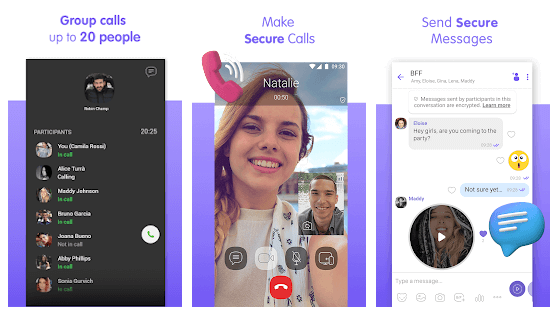 Viber is a free video calling and chatting app to talk to your friends and family. You can even make a group video call with up to 20 participants and can group chat with up to 250 members. 
In private and group chats, which are encrypted by default, messages you send are transmitted in the form of encrypted codes that only the recipient's device can decode. 
Your encryption key exists only on your device. Therefore, even Viber cannot read your messages. Hence, the calls and text messages on Viber are 100% private and secure.
For hidden chat, the Viber app has the feature of self-destructing messages. To activate self-destructing messages, you have to set a timer for each message in 1-on-1 chats. 
You can select how long the recipient has to read your message and can set the self-destructing message timer for 10 seconds, a minute, an hour, or a full day. You can also hide private chats by setting up a passcode.
Features of Viber
You can send texts, photos, videos, or files. Record voice or video messages and send them instantly.
Use endless stickers and GIFs to communicate and express your feelings.
You can join communities and be a part of public groups like brands or influencers.
You can even edit or delete sent or seen text messages.
Telegram – Secure and Private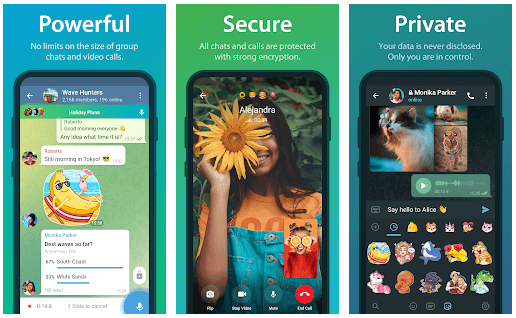 With more than 500 million active users, Telegram is one of the world's top 10 most downloaded apps. Telegram is an instant messaging app that is simple to use, fast, secure, and can be synced across all your devices.
There are no restrictions on what type of media and files you can send. Telegram will securely store your entire chat history in its cloud, and it will not take up any disk space on your device.
Telegram will also never release any of your information to a third party. The information you provide will never be used for advertising purposes. At any time, you can delete any message you've ever sent or received for both sides, without leaving a trace. 
Telegram offers Secret Chats for users interested in maximum privacy. There is an option to have Secret Chat messages self-destruct from both sender and receiver devices. Using this option, you can send all content, texts, photos, videos, and even documents in disappearing mode. 
Secret Chats utilize end-to-end encryption to ensure that only the intended recipient can view a message. In fact, all Telegram content, including chats (private or group) and media, is encrypted using AES 256-bit symmetric encryption, RSA 2048-bit encryption, and Diffie-Hellman cryptography.
Features of Telegram
Telegram messages are private and highly encrypted, as well as have the ability to self-destruct. They are therefore safe from hacker attacks.

You can access your chats on multiple devices with Telegram.

There is no limit to how much media or chat you can upload to Telegram.

You can fully customize your Telegram messenger.
Calculator Pro+ – Private Message & Call Screening

Calculator Pro+ is a secret messaging app to hide your private conversations. It is a hidden chat app that creates a facade of a calculator app at the front. However, Calculator Pro+ saves your SMS, MMS, and Call Logs of secret contacts behind the calculator app. 
By adding a particular number as a Private Contact, Calculator Pro+ will keep your messages and calls confidential. As soon as any new message is received from that contact, it is immediately displayed inside the application. 
Thus you can easily use Calculator Pro+ and keep the conversations private. All of your SMS and calls are 100% confidential.
Features of Calculator Pro+
The front page of the app is a calculator where you will have to enter the password to open the application.
The data stored gets automatically backed up.
You can hide the app icon in a way that it cannot be accessed by other people.
Audio, image, or location sharing
Block or filter spam calls
Whatsapp Messenger
Whatsapp, part of the Meta company, is also a free messaging, audio, and video call app. It is simple, reliable, and private with more than 2 billion users across 180 countries. You can make secure calls with up to 8 other people for free. 
Whatsapp has a powerful encryption protocol that provides end-to-end encryption to ensure privacy and security. No user names or logins are required, just your phone number. WhatsApp lets you connect to your contacts and you can instantly start messaging them.
Features of Whatsapp Messenger
Easy to send and receive text messages privately or in a group chat.
Up to 256 people can participate in a group chat at once.
You can sync your Whatsapp account to desktop or web and keep the conversation going.
You can send documents, slideshows, PDFs, spreadsheets, and more.
Silence Private Messenger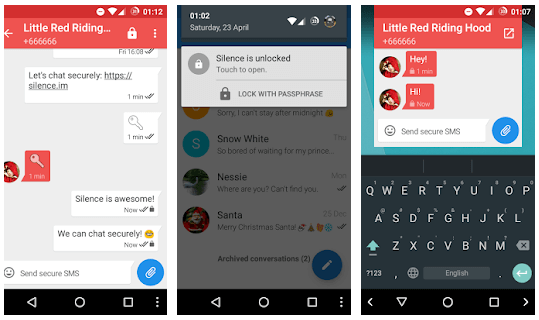 Silence is a reliable messaging app that communicates using encrypted SMS or text messages. In Silence, you don't need servers or an internet connection. With Silence, you can protect your privacy when communicating with friends via SMS or MMS.
Your messages are encrypted end-to-end with Silence using the Axolotl encryption protocol, which has been painstakingly developed. As all messages are encrypted locally, your messages are protected if your phone is lost or stolen.
Features of Silent Private Messenger
Messages within Silence are encrypted locally and messages between Silence users are encrypted over the air.

Anyone can audit Silence's code to verify its security since it is Free and Open Source.

Silence uses encrypted SMS messages to communicate. The application does not require a network connection or servers.
CoverMe – Second Phone Number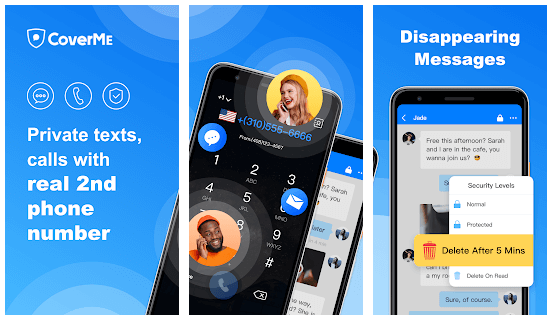 CoverMe is a private text messaging and secure calling service that you can use to hide secret text messages, personal contacts, and private call logs from people trying to pry on your phone. On CoverMe Private Messenger, everything is encrypted end-to-end.
CoverMe improves your private messaging experience with disappearing messages,  anonymous SMS, encrypted messages, etc. It provides a second phone number with different area codes for any situation to have your secrecy and privacy.
You can use the second phone number to send unlimited secret messages and anonymous texts while keeping your personal information private. No one can track your private messages and are off the record. You can change the second number at any time.
With the help of a disappearing messaging feature, the CoverMe private messenger gives you full control over your messaging. Whenever the receiver reads your message, you will get a notification immediately. Messages will automatically disappear once the receiver reads them. 
You won't have to worry about someone storing or spreading your private text messages. When someone is trying to pry your messages, you can lock the phone simply with a shake. You can even hide CoverMe with a decoy app or lock it with a password so that no one will know you are using it.
Features of CoverMe
Feature of disappearing messages,  anonymous SMS and encrypted messages.
Whenever the receiver reads your message, you will get a notification immediately. Messages will automatically disappear once the receiver reads them.
When someone is trying to pry your messages, you can lock the phone simply with a shake.
Wire – Secure Messenger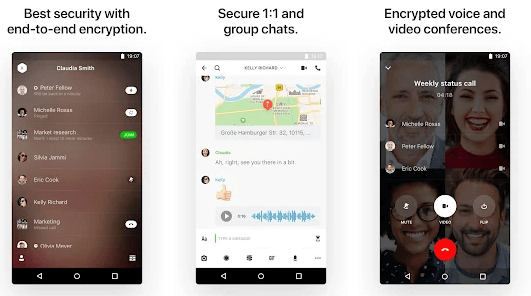 The wire is one of the most secure messengers and collaboration apps. It boosts your team's productivity while maintaining the privacy of your data. 
The Wire app is most popular in the working or business sector. Communication and information sharing of messages, documents, conference calls, and private conversations is easy and secure with Wire.
The flexibility of Wire enables your team to collaborate regardless of location or operating system. Additionally, Wire is available on-demand as a crisis management tool. The application offers a free version for external business partners and friends.
Features of Wire
Users of Wire can send and receive messages with strong privacy and security thanks to end-to-end encryption (E2EE).
All Wire features can be used on the web, mobile, and PC and are available on Wire's Cloud and your own cloud server.
The Wire platform is 100% open source, its code is available on GitHub, CCPA, GDPR, ISO, and SOX-compliant.
Wickr Me – Private Messenger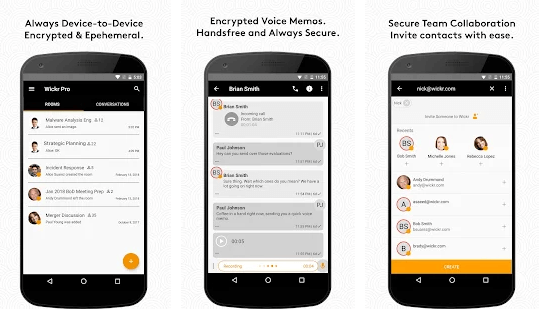 the Wickr Me hidden chat app has made privacy simpler and easier. It's easy to share files, images, and videos with your friends instantly using Wickr Me. Now you have the option to call them in a fully encrypted voice call or leave a voice memo. 
It is a new feature that has trusted end-to-end encryption and perfect forward and backward secrecy for sharing files. You can control who can access your content and for how long it remains available. You can chat with up to 10 people in private groups.
Also, with advanced vetted end-to-end encryption, every message is encrypted with a new key for privacy and security. Wickr does not access your messages or contact list or store them on its servers.
Features of Wickr Me
Trusted end-to-end encryption and perfect forward and backward secrecy for sharing files.
Every message is encrypted with a new key for privacy and security.
It doesn't store any of your data on its servers.
Threema – Secure and Private Messenger

Threema is a secure messaging app that keeps your data safe from hackers, scammers, corporations, and governments. With Threema, you can communicate anonymously.
Threema is open source. It allows users to make end-to-end encrypted voice and video calls and offers all of the features you would expect from an instant messaging app. Additionally, you can use Threema Web from your desktop.
From the ground up, the application stores as little data as possible. It stores members of groups and contact lists only locally on your device and never on its servers. 
Once messages have been delivered, they are immediately deleted. Moreover, the local files on your mobile device are encrypted. Therefore, these measures effectively keep anyone from collecting and misusing your personal data, including metadata.
Features of Threema
The app is open-source and all communication is encrypted.
When users set up the app, they generate a Threema ID at random.
Threema is not ad-funded and does not gather user data.
Benefits of Hidden Chat Apps
Hidden chat apps offer a wide range of benefits to users. It keeps conversations secure and private by encrypting messages. Some of the benefits of hidden chat apps are:
Hidden chat apps provide users anonymity and privacy as the messages are encrypted and can only be accessed by those who have the app installed on their devices. 

They allow for private conversations that anyone else cannot see, even if someone can access your phone or computer.

Hidden chat apps help avoid distractions from other messaging platforms, such as WhatsApp, Messenger, or other texting apps, which often contain ads and notifications that disrupt your focus while working or studying.

Secret texting apps usually come with additional features like end-to-end encryption, which ensures no one except you can read your messages, thus providing an extra layer of security when communicating sensitive information online. 

Some hidden apps that look like games and also come with a stealth mode that can help to keep them undetected.

Various hidden chat apps also offer self-destruction options where all data is automatically deleted after a certain period, allowing for secure sharing without worrying about it being stored forever on some server somewhere in the world.
How to find a Hidden Chat App?
Most of the hidden chat apps have the ability to hide or encode text messages, hide the app from the view of other people, or create a facade of another app. So, if you want to find hidden chat apps on other people's devices then it can be a difficult task.
But worry not, as spying apps like MobileSpy can do the job for you. With MobileSpy, you can read encrypted, disappearing, hidden, or even deleted text messages from apps like Viber, Whatsapp, Snapchat, Facebook Messenger, and more.
You can also check out all the apps that the user installs or uninstall on their device. So even if the user hides the apps from plain sight, MobileSpy shows you the app right on your dashboard. Thus, MobileSpy can be the perfect app to find hidden chat apps.
Conclusion
So, if you are worried about your data and privacy, use the above-mentioned apps. These apps provide end-to-end encryption, store minimum to no data on their servers, and even allow secret chat sections that you can lock via passcode.
Have you ever used any of the hidden chat apps mentioned above? How was the experience? Do let us know in the comments below.