5 Security Tips To Protect Your Website From Hackers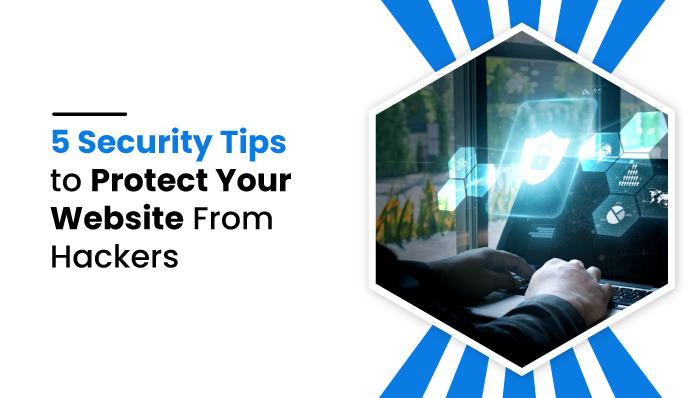 5 Security Tips To Protect Your Website From Hackers
As the world rapidly digitalizes, the number of cybercrimes is on the rise. Hackers are always on the prowl for websites with weak security, making it necessary for website owners to make their sites as safe and secure as possible.
This can be difficult, especially if you're unfamiliar with the ins and outs of online security. But don't worry, there are many simple, practical tips you can use to protect your website from hackers. 
In this article, we'll be discussing 5 security tips that can minimize your risk of being hacked. Here's all you need to know.
What is website security?
Website security is the process of protecting your website from harmful threats like hackers and malware. When your website's security is weak, it can leave your website and its users vulnerable to many threats, including identity theft, data breaches, identity fraud, and more. 
The consequences of poor website security can be devastating for business owners. From financial losses to stolen data, it's not something you should take lightly: still, around 30,000 websites are hacked every day, and 95% are down to human error.
Online safety measures should be a top priority for your business. Your customers and website visitors are putting their trust in you, so all aspects of your online presence — from your marketing emails to your user logins — need to be protected. The last thing you want is to lose the trust of your customers, so ensure that your website is robust from every angle and you'll minimize the chances of hackers finding their way in.
Why is website security important?
Website security is essential for protecting your website and customers from harmful threats like hackers and malware. Security breaches are a significant source of customer complaints and something like this can be pretty difficult to recover from — not to mention the potential financial and reputational damage that can be caused. 
Website security is important because:
You must protect customers' personal information as much as possible

Data breaches could cause significant financial loss

Cyber attacks can be difficult to recover from

A security breach will negatively affect your organization's reputation

Once you've been breached, you may be retargeted in the future
For the most part, once you have your essential security measures in place it's just a case of keeping everything updated and maintained. It's an important step that is definitely worth your time and effort.
How do you know if your website has been hacked?
It's a common misconception that hacking only happens to big businesses; however, smaller companies are often a lot easier to hack since their security measures are typically less robust.
Signs that your website has been hacked include:
Your website is taken offline by your host

You experience a sudden drop in traffic or revenue

Google flags the problem with warning messages

Malicious activity is reported by your customers

An influx of pop-ups and ads appear on your website
It's a scary moment when your website is hacked. Not only might you lose sensitive data or experience downtime, but the intrusive nature of a cyber attack is unsettling too. Of course, cyber-attacks are never 100% preventable, but implementing essential security measures will minimize your chances of this kind of situation occurring.
5 top website security Tips
Typically, hackers will crawl websites to identify underlying vulnerabilities and weaknesses before launching their attack. What do they look for? You'd be surprised at some of the ways hackers infiltrate a site. Everything from outdated plugins to poor firewalls can be a gateway into your site.
Luckily, there are just as many ways to protect your website. Here are 5 top tips for keeping your website secure.
1. Use a secure web host 
A secure web host is crucial for protecting your website from hackers, as it will look after the physical and digital security of the site's servers. It's important to consider the security features when choosing a hosting provider, whether your site is large or small. A reliable cloud-based hosting platform such as Cloudways includes dedicated firewalls, applies regular patches to remove vulnerabilities, and enables you to install SSL certificates in one single click. You can think of your website host as a protective bubble around your website.
2. Use strong passwords 
Another effective way to protect your website from hackers is by using strong passwords. A strong password is one with a combination of letters, numbers, and symbols — using a password generator tool is great for this. When selecting a password, you must make sure it's long enough and difficult enough to break — avoid using birthdays or common words that would be simple to guess. You should also avoid reusing the same password across multiple websites, which would leave you vulnerable to hackers since they'll potentially have access to multiple accounts by breaking into one. 
3. Use a secure connection 
If your website uses a secure, encrypted connection, it's harder for hackers to break into it, and it also provides a signal of trust to website visitors. A secure connection can be verified by a digital certificate that's recognized by trusted third parties. By verifying its digital certificates, you can verify if your website uses a secure connection. A secure URL should begin with "https" rather than "http." The "s" stands for secure, which indicates that the site is using a Secure Sockets Layer (SSL) Certificate.
4. Update your plugins and software regularly 
Website hacking commonly occurs due to website owners not keeping up with software updates. Remember, updates are there for a reason. Pieces of code within plugins and themes can make them vulnerable to hackers, but updates are often made which remove these vulnerabilities. When you receive an update notification, be sure to install it at the earliest opportunity. Responsible developers will release regular fixes, and websites with the plugin installed will see that an updated version of the plugin is soon available. 
5. Be careful where you download website themes from
You want your website to be modern and well-designed, of course. But don't let a jazzy theme from an untrusted website put your site in danger. Like any other file, a theme can also be corrupted or infused with malicious elements. If you download a WordPress theme, for example, and start to experience problems such as slow loading times or lockout, you could be dealing with a WordPress theme hack. Themes downloaded from untrusted sources can have malicious links that allow attackers to exploit the vulnerability of the theme and hack your website. Instead, use themes available from WordPress directly.
Websites are excellent for sharing information and connecting with potential customers. However, an unsecured website is vulnerable to all manner of cyber attacks, which could result in financial loss, reputational damage, and a lack of trust in your brand.  Follow these 5 security tips and keep your website protected against cyber criminals.