How To Record Video Remotely Using Phone Camera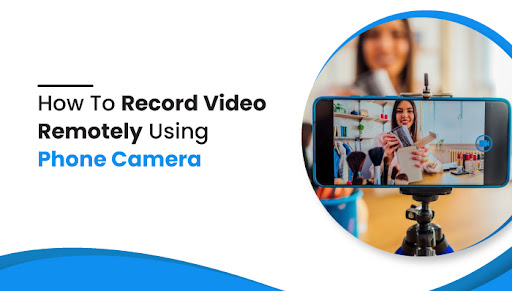 How To Record Video Remotely Using Phone Camera
Most people don't know that they can record video remotely using only a phone camera. This is a great way to get high-quality footage without having to be in the same place as the action. 
There are several occasions where seeing what a phone camera sees might be really useful: it's useful when you've misplaced your phone when you need to know who your children are spending out with, or perhaps if your significant other has been acting suspiciously and you need to investigate.
You may need a remote control for your phone to open the camera in many cases. It may be when your iPhone or Android phone is mounted on a tripod and you need a perfectly steady image or video. 
Another reason for remotely seeing an iPhone or Android camera is to take a group shot. Whatever the cause, the desire to access the camera remotely is always present.
In this article, we'll teach you how to record video remotely using phone camera.
What is Remote Video Recording?
Remote video recording is a process of recording video footage from a remote location. It means capturing any kind of video without actually holding your hands: with help of other apps or gadgets. 
In remote video recording, you can control the camera device from another device. Your smartphone can be controlled via wearable devices, voice assistants, PCs and laptops, and third-party applications. 
Remote Video Recording can help when you want to stream using different device cameras, spy on other devices, and take pictures accordingly. It can be super easy to set up and use once you have a clear idea of how to use it. 
Remember that, this can only be useful for your good works. DO NOT use it to do any criminal activities or blackmail. Get the proper consent from others before remotely recording video from their device.
Read About: How to install spy apps without a target phone?
How to Record Video Remotely using a Phone Camera?
There are many ways to remote video recording using a phone camera. The main ways to record video remotely are by hacking and using third-party applications. Let's talk about them in brief:
Many people are seeking a means to remotely hack into another person's phone camera. This is due to the fact that most phones include both back and front-facing cameras, allowing you to efficiently spy on your target and their surroundings.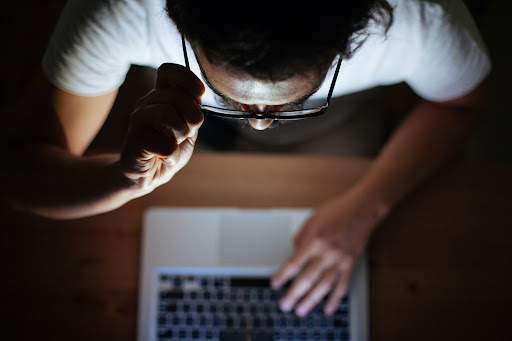 Using the correct hacking program, hackers may simply acquire access to your phone's camera. These programs allow you to capture images, record video, remove files, adjust camera settings, activate the microphone and perform other things.
You may remotely hack someone's phone camera by downloading a number of spy applications. Without the user's awareness, these applications can get remote access to their device. They can also shoot photographs, movies, and record sounds. They enable you to remotely manage a target's phone camera, enabling you to see the world through their eyes.
Using third-party applications
There are various third-party applications to use for remote video recording. Here are some of the trustworthy apps that you can use:
MobileSpy
MobileSpy is one of the finest and most recognized Spying programs. This application offers a wide range of capabilities to its customers and is simple to use.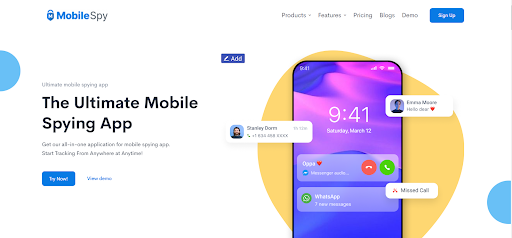 Apart from spying, this application has capabilities such as Social Media Tracking, Phone Activity Tracking, Live Location Tracking, Multi-media Monitoring, Target Device Hacking, and so on. MobileSpy is an easy-to-use tool that allows users to spy on and monitor phones and gadgets. 
The MobileSpy App allows you to monitor someone's camera actions. You must install the MobileSpy App on the target's phone and provide specific permissions before you may hack someone's phone camera. 
MobileSpy App works in the background, and you can even hide the application icon so the target has no idea they are being hacked or spied on.
AirMirror
AirMirror is an Android software developed by AirDroid that allows you to remotely control your Android phone. The AirMirror app is available for download from the Google Play Store. The following are the key features of the AirMirror app: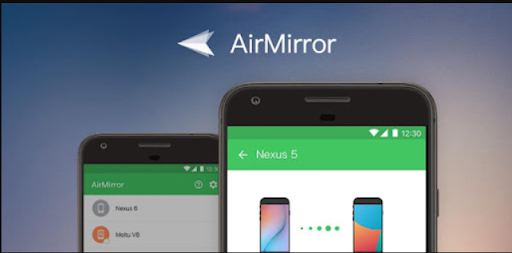 Control

your Android phone or tablet

from a distance

.

Control

your camera on one phone

remotely from another

.

Real-time screen mirroring
Calling, chatting and texting
OpenReel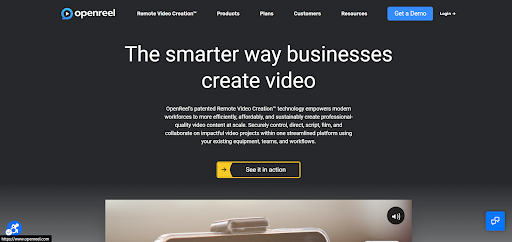 OpenReel's unique Remote Video Creation technology enables modern workforces to generate professional-quality video content at scale more efficiently, inexpensively, and sustainably. Control, direct, script, film, and collaborate on meaningful video productions utilizing your existing equipment, people, and workflows inside a single simplified platform.
AlfredCamera
AlfredCamera is available in Google Play and Apple App Store because it has amazing user reviews, is easy to use, and works well. This service is available for free, however, there are certain limitations, such as commercials and recording time limits. A monthly or annual membership will allow you to access everything this service has to offer.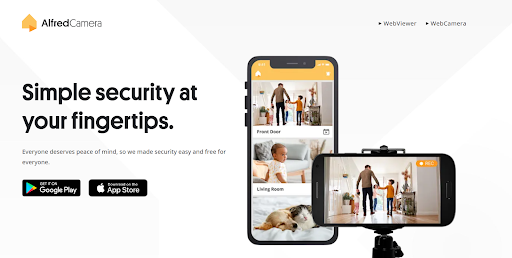 Steps to Record Video Remotely using MobileSpy
You must install the MobileSpy App on the target's phone and provide specific permissions before you can start recording from someone's phone camera remotely. MobileSpy App operates in the background, and you can hide the icon so the target has no idea they are being recorded or spied on.
Step 1: Install and launch the MobileSpy app on the phone you want to record video remotely.
Step 2: Open the MobileSpy website on your computer and go to the dashboard.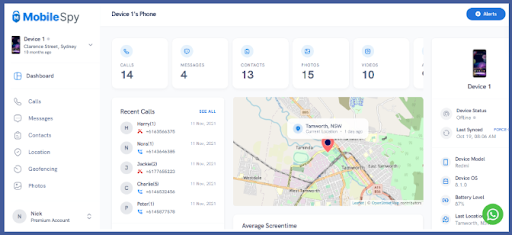 Step 3: Scroll down the menu on the left side of the screen and click on Remote Monitoring.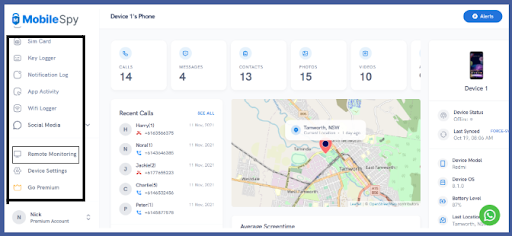 Step 4: Go to the Record Video menu.
Step 5: Select the Camera option and Time duration from the dropdown menu to record the video.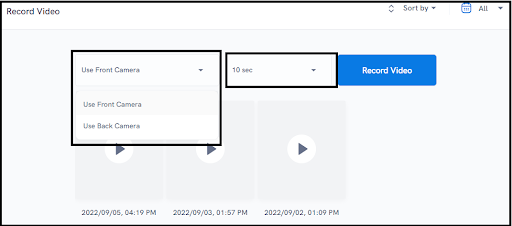 Step 6: After you set everything, click on Record Video. You can now start recording the session and stop accordingly.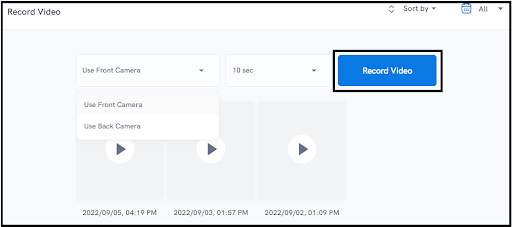 Step 7: Once the video is recorded it will be saved in your account. You can download, check or delete the video.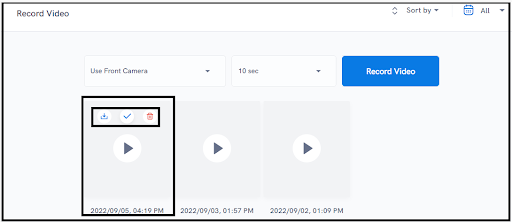 How to get High-Quality Remote Video Recording?
There are a few things you need to know to get better video quality while recording from your mobile. Here are some remote video recording tips:
The video recording quality depends on how good the camera is. If the mobile device camera is good, you can get better video quality.
Another element to improve video footage is to maintain proper rights. Consequently, if you record videos on your mobile device in a better location with proper lighting, you will be able to maintain the quality of your videos. You can also use a ring light if you wish to.
While recording videos, along with great quality videos, you need to maintain the audio quality also. It is required to have a good set of microphones for better audio quality.
There are plenty of tools that you can use for remote video production. You can use any of the third-party editing software to edit raw footage from your video files. Some of the tools are available in free versions and some need to be paid. You can edit both audio and video to improve the video quality.
Learn About: How To Hack Into Someone's Phone Camera?
Conclusion
We've shown you how to record on the camera remotely from your iPhone or Android device in a few simple steps. Remote video recording from one's own or another's phone camera can be used for streaming, spying on family members, especially kids, or making one's own video.
As a result, you may hack or utilize third-party applications on your or someone else's phone camera in a variety of methods and strategies. Once you have access to the phone's camera, you can easily record video or take photos remotely.
FAQs
Is it Possible to Monitor Someone Using Their Phone Camera?
Yes, you can remotely monitor someone's cell phone camera. There are spy apps available, such as MobileSpy, that allow you to remotely monitor from a mobile phone's camera.
There are a few alternatives depending on the sort of phone you're attempting to access. Another method to monitor someone's phone is by hacking into it or using some wearable gadgets like smartwatches, and AirPods which can help you to control the camera without physical access to the phone.
How to remotely control your iPhone camera to take pictures or videos?
You can use the MobileSpy application to remotely control your iPhone camera. You can also use the Apple Watch, Voice Control,  Siri, wired EarPods, and, Bluetooth remote shutters to remotely control your iPhone camera.
Can someone control your phone's camera?
Unfortunately, the answer is YES. Someone can add third parties apps or hack your phone and easily have access to your camera.
Your camera can be hacked especially if you connect to public wifi, which is significantly less dependable and secure than utilizing your own home wifi network.
How can I remotely connect my mobile camera from my PC?
To view your mobile camera remotely from your PC, simply follow these steps:
Sign in to your MobileSpy account

after downloading and installing the MobileSpy app on your phone.

Access your MobileSpy dashboard from the web browser on your computer by

logging into

your MobileSpy account.
Select the Remote Monitoring option from your dashboard to record video remotely using a phone camera. Then you can use your smartphone camera to shoot films and take images remotely.