Monitoring Software for Spouse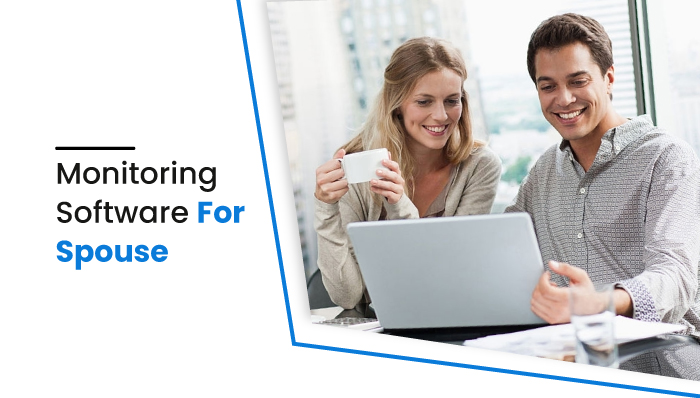 Monitoring Software for Spouse
You notice something is wrong with your spouse. They have changed. You notice there is a change in their behavior around you and your family. They are not acting like their usual self. They are keeping secrets from you. Spouse and cheating it is a common thing in today's world. When you start accusing your partner, things begin to go downhill from there.
The growth in the Internet, technology, numerous porn sites, and dating websites makes it easy for your spouse to walk a different way and keep a safe distance when it comes to you and your family. Use monitoring software for your spouse and spy on them.
Signs Your Spouse is Cheating on You
These are some signs a cheating spouse shows:
Your spouse spends most of the time on their phone and keeps the phone down as soon as you try to get a view of the screen.
Their phone and social networks are kept secure using the password, and you don't know it.
Their browsing history is clean.
There is a sudden change in their habits and attitude.
They lie about various things with a straight face.
They get angry and annoyed by you when you ask them about their whereabouts.
Your spouse comes home late.
The fight often prevails in your healthy relationship.
There is a change in your sex life.
They seem to be lazy and bored, especially around the house and with you.
According to the research, it was found out that about 70% of women and 50% of men admitted to having trust issues with their partners. In marriage, about 25% of married people were unaware of their spouse's external affair.
Which Monitoring Software to use to Spy on your Spouse?
Suppose you are seeking ways on how to bust your cheating spouse. Suppose you are wondering if an application can act as a spy app for a cheating spouse. Then you have come to the right place. There are such tools for both android and IOS phones available in the market. Since it is the world of technology, using technology at its highest can save your precious relationship.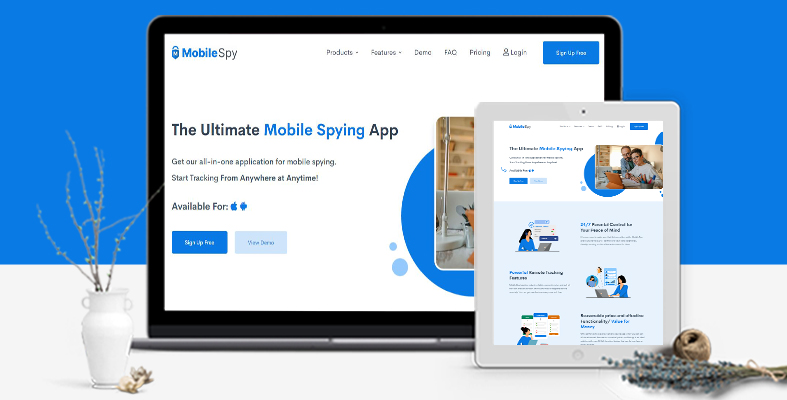 MobileSpy is our monitoring software to help track your spouse's activities online and give you peace of mind that your spouse is faithful to you. MobileSpy can be used on all devices, from Android phones to IOS phones and different computer types. Many people may argue about monitoring your partner would bring trust issues in the relationship. Still, it is to ensure that your relationship is healthy and both partners are happy together.
MobileSpy can be used between those couples who have a mutual agreement on using the application so that you can support and re-build your relationship with your spouse and makes it stronger. Hence, MobileSpy allows the couples to have positive control over each other without being oppressive and brings about trust and faith in the relationship.
Pros and Features of using MobileSpy Monitoring Software on Spouse
Every software defines features and functionalities that can attract people to the market. Those features are what define effective software. If you want to start spying on your partner's phone and computer-make the best use of MobileSpy, you need to know in what way this solution can help you:
Monitoring your spouse computer
MobileSpy allows you to monitor and generate log files of your spouse's PC activities online and offline. You do not want your partner to look at your activities from over your shoulder continuously. It can irritate anybody. Hence, the natural use of spy software replaces the trouble of peeking over your partner's shoulder and acts as a spy to get track of your partner's activities online. It allows you to records e-mails, online conversations, passwords, and keystrokes. This ensures that your partner remains faithful and brings about trust in your relationship.
Real-time screen snapshots
This feature allows you to get a live feed of your spouse's computer and acts as a surveillance camera taking snapshots of the screen to see the live display of the computer and the intervals. This ensures that your partner is not going off hills in the relationship by going through unnecessary activities online and offline.
Browse Web History 
To ensure what type of content your partner is consuming day by day on the Internet, MobileSpy allows you to keep tabs on your partner's web history and surfing habits by finding out which websites they visit frequently and getting details of the timestamps, frequency, and bookmarks.
Track Websites and Applications
This feature allows you to view and keep track of what type of applications or websites your partner is currently in use. Thus this helps to keep track of your partner's online activities. track the amount of time the employees spend on their work and research accordingly
GPS Location Tracking
What makes MobileSpy different from other applications and technology is that MobileSpy lets you track the smartphones of your phone in real-time and the location tracking using GPS so that you are informed about their whereabouts and what kind of places they have been hanging out.
Social media Tracking
This feature allows the user to be notified about when their partner is using any social media platform. By generating detailed files of the messages in the What's App, Facebook, Viber, Instagram, and Hangouts and the files they had shared in the platform, MobileSpy helps track your partners' behavior in the social media.
SMS/MMS Tracking
If you suspect your parent about having an unknown affair, then MobileSpy allows you to clear and confirm your suspicion by reading all the incoming and outgoing text and multimedia messages. MobileSpy also recovers all the deleted messages.
Content filtering and blocking
If you are worried about the inappropriate content to be viewed by your partner on the Internet, MobileSpy restricts you from accessing your partner to malicious content online, pornography, violent sites like drug abuse, and alcohol consumption with the help of porn blocker and filtering contents that can affect directly or indirectly. Limiting social media and Internet usage for a certain period allows you to bond with your partners more.
Call Logs
MobileSpy keeps the records of detailed logs of calls such as date and time, duration of the call made, their number, and name so that you will be aware of the kind of person your spouse is talking to. Besides, this feature also allows you to see the new contacts added to your partner's contact list.
Why use MobileSpy as a Monitoring Software for your Spouse?
A healthy relationship starts with mutual trust and honesty between two partners. Sometimes it becomes difficult to maintain the bond between them. There are many reasons why a partner cheats their partner. They might be doing it voluntarily or too innocent to know that they are heading the wrong way. Relationships are precious to humans, and they want to try their best to save their relationship.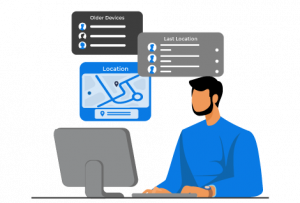 Thus we have come up with the best way to save the relationship by keeping a close eye on each other activities just like you are standing next to them. Using spy apps for cheating purposes will help to monitor each other businesses on their phone and the computer.
There are different kinds of reasons to bring the use of spouse monitoring software in your relationships. One of them is increasing the trust and honesty between the partners. Trust and faith come at first, in any relationship. More is the trust between the partners, stable is the relationships. Monitoring your partners will remove any suspicion against your partners. It can also help make the bond between the partners strong.
Similarly, one can never be sure about the partners they choose to live their life with. People have different mindsets. They might have various reasons, good and bad, for why they are in a relationship with you. Every relationship starts with a stranger- a stranger who can have bad intentions to hurt you in different ways possible. There remain great fear and insecurities in such kinds of relationships. But with the best use of MobileSpy, you can bust your partner's intentions and rest assured from the bad intentions of your partner.
Are you having trouble with the whereabouts of your partner and the kind of people with who they are close? Use MobileSpy Spouse Monitoring Software.
As said before, not every people have good intentions in their mind. People are jealous of you, your partner, and your relationships. The third-party might create misunderstanding between you and your partner by trapping your partner into the maze of the unknown.
Enemies with the mask of a familiar friend might lead you the wrong way so that they can wreck your life. Thus by using MobileSpy, you can track your partner's location with the help of a GPS tracker and SMS tracking. Social media tracking gives you information about the people who choose to be close with.
Everyone has heard the quote, "Honesty is the best policy." Being honest with your partner is not as easy as you think. And not every lie are bad- sometimes the white lies are used to protect your partner or make your relationship better or make a good decision. And being nagged by your other half every time you make a decision brings internal conflict between you.
This is where the software MobileSpy comes into use. You can keep track of your other half just by a simple click on your phone or the computer without irritating them. This can provide for better analysis of the aspects to maintain a good relationship so that both partners get a piece of mind.
Read More: How to catch a cheating spouse using a modern solution
Some other spying applications
ClevGuard 
ClevGuard allows you to stalk your spouse's activity without letting your partner know. You can set the geofence and get the live alert whenever the target individual is near the location.
Features
You can take the screenshots remotely.

Provide real-time data synchronization either by Wi-Fi or by 3G/4G network.

Supports multiple languages.

Record the phone calls.
Cons:
This application helps you to monitor only one device at a time, and the remote control feature is not available on iOS.
SpyFone
It is a smartphone monitoring application that sanctions you to monitor your spouse's call record and GPS location. It can also be used to monitor what your employee or family member are doing and prevent your kiddies from getting exposed to inappropriate content. 
Features
Real-time location tracking of your spouse.

Can monitor all the incoming and outgoing messages from messaging applications such as messenger. Viber and so on.

Check all downloaded pictures, videos, and files.
Cons
It does not have a good customer review. 
mSpy
 No one can bear the cheating. If your spouse goes outside without informing you obvious, it will bring a tornado on you, thinking where they are.
But with the support of mSpy, you can monitor the GPS location of your spouse. And that helps you to know with whom she is meeting, where she is going. Also, you can look at all the incoming and outgoing messages on your spouse's phone.
Features
Though the installation process is arduous, you can spy on your spouse's phone without getting discovered.

Every 5 minutes, it offers the activity update of the target phone. 

Remote Control Function.
Cons
Difficult to install.

Can't access full advanced features without rooting or jailbreaking the device.
uMobix
uMobix is another spying application that allows the spouse to monitor target phones activities. You can see the text messages, incoming and outgoing calls records. Not only on the default message box, but you can also have an eye on social media applications. 
Features  
Permit users to capture screenshots on the target device.

Track real-time GPS location, along with the visited place's history.

Can track browser history.

Access the photo gallery of the target device.
Cons 
One subscription is limited to one device.

Only a few features on the basic plan. 
My Final Thoughts
And lastly, the main reason for the separation in a relationship is cheating behavior. Your partner may claim to love you but will be having an affair outside your house. They may keep you in the dark, and you will be having no idea about your partners' intentions. So by tracking and monitoring online and physical behavior, you will keep you safe from these kinds of cheaters.
You can learn from this article that using MobileSpy can create a safe and healthy relationship between two partners. The software for monitoring spouse MobileSpy can also be called insurance to your honesty and faith in a relationship. Having certain doubts and suspicion about your spouse is normal- it may not be right all the time. But being sure about it and clearing all the suspicion will bring peace of mind to your relationship. And in case of those doubts being true, MobileSpy can save you from a toxic relationship. Hence MobileSpy is one of the best recommendations available in the market as a spouse monitoring software.