7 Useful iPhone Productivity Tips for Students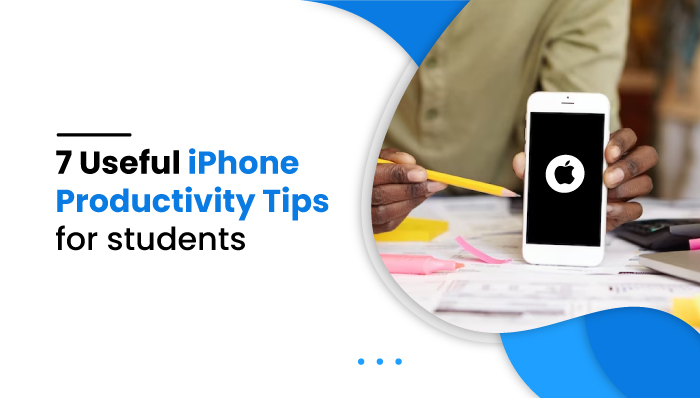 7 Useful iPhone Productivity Tips for Students
The iPhone is considered a great revolution in the internet and digital world. It has a user-friendly interface and high-quality display. Its app ecosystem is unparalleled compared to apps for other smartphones. Beyond this, the phone contains multiple processors that deliver greater performance than most phones. It has well-blending hardware and software making it a highly effective and efficient phone. 
Students can boost their productivity in different ways using iPhones. So what are the iPhone productivity tips for students that can help them in their education? You may set up a focus mode or keep your screen time under control. Choose ways to share your screenshots fast or use text replacement. Boosting its productivity helps you do more with your phone. You achieve greater efficiency and boost user experience.  
Use Spotlight for Searching
It can take more time to search for contacts, messages, and calendars on your iPhone. There is a lot that you can do with Spotlight Search on your gadget. You can:
Find applications

Search for documents

Find emails fast

Access messages

Calendars

Photos and many more
It is easy to use Spotlight search on your device. The icon is located at the top of your screen. From the top, swipe right to access the icon. You can also swipe down from the middle if you cannot find the icon. Once it is open, just type the item you want to quickly search. It saves you a lot of search time and you can do more with the extra time. 
There are many methods for making your smartphone more productive. However, you cannot enjoy using it if its storage is full. It makes your gadget slow and the experience is straining your mind. When boosting your gadget's productivity, the first step should be to clear your storage to create space in your iPhone. This creates space for apps to open fast and for the RAM to perform to the maximum. It increases the speed of the internet connection and slows fast draining on the battery. 
Keep an eye on screen time
Too much screen time adds strain to your eyes and might cause headaches. It could lead to fatigue and a dimming of your vision. Apart from the health problems. Too much screen time lowers your productivity. Your brain begins to release hormones that increase irritability. The level of cortisol increases and could lead to depression and your ability to focus. There are different types of screen time and each affects your brain in different ways. You could be spending more time on activities such as.
Watching videos or TV

Playing games or browsing

Connecting with people on social media

Creating content, selling, or searching for opportunities to

start a business

online. 
Balance your screen time but also spend more time on things that matter most. Take breaks to give your brain and eyes time to relax. If you notice you are straining, take a break to avoid affecting your eyes. 
Use text replacement
When you have so much to type on your iPhone, you might end up taking too much time. You could be a student conducting research, a salesperson serving customers, or a project manager. Text replacement helps you type more text fast with greater accuracy. 
The feature allows you to add shortcuts for typing text fast. For instance, you might use BTW to replace "by the way." You could also replace text with a symbol or a sign on your phone. You simply need to go to Settings and tap General – Keyboard, and then Text Replacement. 
Share screenshots fast
Screenshots provide a great way to share information with your colleagues, friends, or teams. The process of taking and sharing screenshots can be lengthy and tedious. You can save more time by quickly taking and sharing your screenshots. Identify the document or image that you want to share. 
Once you take the screenshot, tap and hold the display preview. Once you release it, it immediately opens the share icon. Choose the way you want to share it such as email, social media, MMS, or WhatsApp. When connected online, it is crucial to protect your privacy by using passwords, screen locks, and antivirus apps. 
Set up a focus mode
Too many notifications can be a nuisance to you when you are working on an important task. It increases the temptation to pause working on your tasks to check the message. Social media is one of the platforms that can distract your work and lower your productivity. 
If notifications bother you too much, turn on the Focus feature on your iPhone. The feature allows you to customize which notifications you want to limit. You may choose to allow none or allow specific task-related notifications. On your phone, tap Settings – Focus – plus button – Focus mode, and then add the notifications you want to add. 
Set time limits for your most used apps
There are hundreds of apps that you can use on your iPhone. Your device contains apps for business professionals, apps for students, entertainment, and many more. The apps that you use most might not be related to the type of work that you do daily. 
For instance, you might be spending more time on games, music, or chatting apps. Your iPhone allows you to create limits for the time you spend on each app. On Settings, open Screen Time and then App Limits. Choose the apps that you want to limit and program the limits. 
Create a notification summary
Notifications can be disruptive if you allow them to flow in at any time. Your solution is to set your iPhone to receive notifications at specific times of the day. In your phone Settings, tap Notifications and create schedules for customized alerts. When the time for checking your notifications arrives, you just need to open the summary to view all your notifications per schedule in one place. 
Conclusion
Your iPhone contains powerful features and resilient hardware. Its user-friendly apps allow you to do a lot of tasks with your phone. You can boost the productivity of your device in a variety of ways. You can do more when you limit things such as notifications, screen time, and search time. It increases efficiency and effectiveness on your device.