How to Check Someone's Call History Online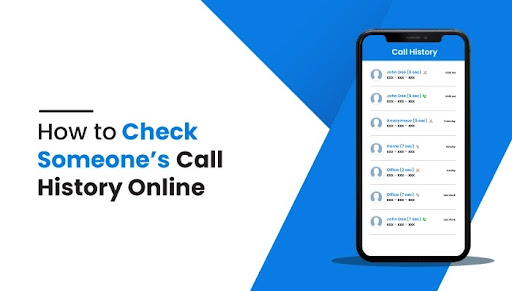 How to Check Someone's Call History Online
Are you suspicious of your kid's or spouse's phone calls? Are you curious about who're they talking to and making contacts with?  Do you want to check their call history online without them knowing? If yes, this article will help you with tips and strategies.
It is important to check your kids' or spouses' call history if they're making calls to unknown people. You should be concerned about the well-being or safety of kids or your partner.  Checking their call history could provide insight into their activities and who they communicate with.  
Checking your partner's call history can help you determine whether there are any red flags or discrepancies in your relationship.
Remember that checking someone's call history without their knowledge or consent could impact their personal privacy. It's important to handle these situations with care and to communicate openly and honestly with each other.
Why You Might Need to See Someone's Call History?
There are several reasons you might need to see someone's call history. Receiving threatening calls and being targeted by a telemarketer are some of the reasons to check someone's history.
People who are experiencing trust issues in their relationships may want to check their partner's call history for red flags or discrepancies. 
Some companies want to check their employee's activities and their calls. Also, parents who are suspicious of their children talking to random strangers can check their call history. 
Other various reasons to check someone's call history are:
Someone keeps calling and hanging up
If someone keeps calling and hanging up, you can be suspicious about their phone calls. It is annoying and frustrating if someone keeps doing this. It could be a sign of harassment and stalking. 
You should take further steps to stop the calls and maintain your safety. To be sure who is contacting, it is important to check their call history. And determine whether the calls are coming from a legitimate source or not.
A telemarketer keeps scamming them.
If your family member or friend keeps receiving calls from a telemarketer trying to scam them, you should check their phone call history. 
You can search call history, block the number, or report the telemarketer to authorities. It can help stop the scammer from committing fraud and scams in the future.
They're receiving threatening phone calls.
In case of receiving threatening calls, it is important to take these calls seriously and seek help. Call history can help to identify the caller and provides evidence to authorities if the situation worsens. 
Your kids might be the victim of child abusers. Checking the call history will help you to identify a pedophile and take legal action.
It is important to remember not to receive calls from unknown numbers. You should not engage in threatening, abusive calls and inform your family and friends about these calls.
Using a phone carrier's website or app
Carrier services store the call history of all the users. You can check the call history of past months or even a year since it stores longer than mobile phones. 
Depending on the carrier and its features, you can check someone's call history through the carrier's website or app. Here are some steps on how you can see call history using an app or website:
Check i

f the phone carrier offers a website or app

that helps you to view and manage your account, and check your call history.

You need to

create an account if you don't have an account

. This requires personal information such as Name, phone number, address, or other information.

Once logged in, you can access call history by simply navigating to the

call history section

. There will be a section called "

My usage

" or "

call history

''.

You can see all the

call history and the numbers

, including the duration of the call. The missed received and dialed calls will also be shown with the date and time.

After this,

you can identify the number, determine the frequency of calls, and block and restrict the number.
If the carrier does not have a website or app to check the history and details of calls, you can contact the carrier directly. You have to ask to access your phone call history. It can involve calling and conversing with customer service and requests through chat, calls, or online. 
Additionally, carriers' websites or apps may limit what you can see and access. For example, You can be able to see a limited number of call histories according to date. You may also need certain permissions or account privileges to access the account information.
Using a third-party tracking app
A third-party app can help you track the entire call history of someone you want to track. Not only call history, but a third-party tracking app also allows you to track social media apps, screen recorders, multimedia, and SMS calls and remotely monitor targeted devices.
If you want to check call history on a targeted device, you can easily do it using third-party apps like MobileSpy. Try the demo for free.
You can use licensed software for tracking so that you'll face fewer complications in the future. You can remotely track who they're talking to, track and record calls, and many more.
Steps to check call history using third-party apps:
To install a third-party app,

choose the best spying apps

and visit their website. 

Pick a subscription

according to your needs.

You'll receive an

email where you can find installation guides

.

Install the application on the targeted device

.

After this, you can track incoming and receiving calls, call time, duration, and history.

Now, on your device,

go to the app's website

.

Log in using your

required credentials

.

Go to the

app's dashboard,

monitor, and track the calls on the targeted device.
Pros of using a third-party tracking app
Making use of a third-party call-tracking tool from a third party could provide the following advantages:
Enhanced visibility

: Call tracking applications can offer extensive call logs that include details about each call's time, place, and caller ID. Analyzing trends and spotting possibilities for improvement can help you better understand their inbound and outbound call traffic.

Increased efficiency

: Third-party call monitoring features can assist businesses by tracking their employee's call history, caller id, and call durations. You can track, access calls, and monitor unfaithful employees by tracking and recording their calls. Also, you can track your children's or spouse's call history remotely. 

Customization

: Numerous call monitoring applications have various customization options, including setting personalized greetings and designing unique routing policies. This can assist firms in customizing their call-handling procedures to suit their unique requirements.

Enhanced tracking and monitoring:

Many third-party call-tracking apps include tools for analyzing call data, such as dashboards and reports that help you to understand how calls are handled.
Cons of using a third-party tracking app
As there are various advantages to using, there are some drawbacks of using third-party spy apps:
Violation of privacy

: Using a third-party tracking app without permission can cause problems since you're violating their privacy. You should respect one's privacy before tracking their call history.

Call tracking is a sign of distrust

: your relationship can get salty and bring issues since spying is a sign of distrust. It can lead to dissatisfaction, hurt their morale, and put danger in your relationship.

Spying without consent is illegal

: you can get sued for spying and tracking their calls. It is illegal to track their calls and call history without their consent, and you may face the consequences of doing so.

Needs internet every time

: You can not track calls without a connection to the internet using a monitoring app. If you want to track someone's call and there is no internet, there's nothing much you can do.
Read more: The rise of spying apps and their impact on personal privacy.
Other options for checking call history
You can also check call history without using a third-party app or carrier's website. Here are some other options for checking call history.
Phone forensic service
Phone forensics is defined as the process of collecting evidence or data from a mobile device under forensically sound conditions. 
It involves hiring a professional that can extract phone data. It can help to extract a wide range of data, including call logs, history, messages, and app data. You can check call history also using this method. 
Limitations:
Phone forensic service needs physical access to the phone.

You cannot access the data if the phone is encrypted or damaged.

Accidental formatting of data.

Lack of equipment and tools.

Expensive to afford.
Requesting call logs from a phone carrier
Another option is to request call logs from a phone carrier. It is another easiest way than phone forensics. 
You can contact the phone carrier service and state some valid reasons to check someone's call history. Like court orders, you must meet certain legal requirements to access the data and information. 
Limitations:
You can only access limited data depending on the date and time.

You will need to provide valid reasons and legal requirements or court orders.

You won't be able to track calls in real time.
Conclusion
It's not bad to check the call history if you have doubts in some situations. It helps protect your friends, family, and employee from various threats. 
You can follow the above methods to check the call history and track their calls. You can get various potential threats from calls, so you should be careful.
You should only check someone's call history with the user's consent and without violating privacy. You can face various legal actions if you check someone's call history without permission. It is important to consider these factors carefully before tracking their call logs history.
We hope this article helps you to check someone's call history online. Consider the challenges and limitations before checking the call history.