How To Block Websites On Android?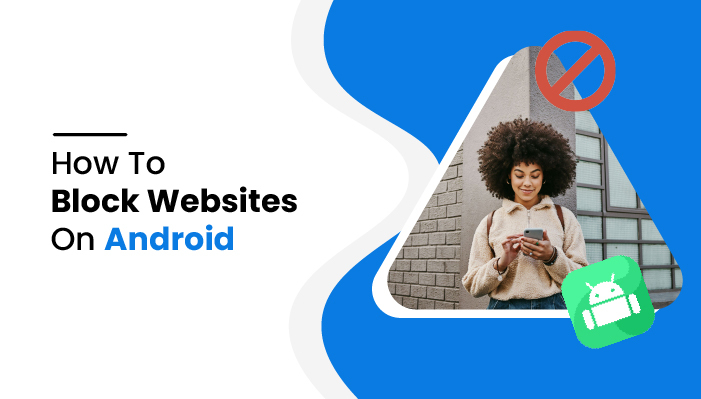 How To Block Websites On Android?
Websites may often display content that is not appropriate for all audiences. If your children use an Android device or if you want to restrict your teen's access to certain websites, you may decide to block certain websites on your device. Once you understand how it works, blocking a website on an Android device is simple.
There are many valid reasons to block access to specific websites on your personal computers, Android phones, and other tablet phones. Some websites steal personal data, while others spread malware and provide unnecessary information. Because of this, it is important to block websites that can damage your devices.
In this blog, we will explore the most effective ways to block websites on Android devices.
Why is blocking websites on Android Important?
Blocking websites on Android is important for several reasons:
It can help you keep safe from malware and other online threats.

It can help you improve your privacy by preventing tracking and other unwanted behavior.

It can help you stay focused on your work or studies by avoiding distractions.
There are several methods to block websites on Android, and some of the following methods are more effective than others.
Also Read: Best Social Media Spy Apps For Android
Top 4 Methods to Block  websites on Android
Here are the top four methods you can use to block websites on your Android smartphone.
Method 1: Block websites on Android using the App
Block websites using a Web blocker app
As you are aware, there is no built-in feature in Android browsers that allows you to block particular websites. Therefore, you must download a website blocker app from the Play Store. The Google Play app store features several website blocker applications, and any of these can be used to block websites.
Using
Block-Site
 to block a website on an android
The top-rated software in the Google Play store, Block Site, is made to block harmful apps and websites. It includes many features, including blocking any URL the user chooses, Adult content, Time management, and Scheduled blocking.
1. Open the app after downloading it to your device.
2. Give it accessibility permission.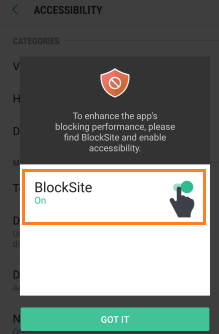 3. Now, you can add any website to the block list. You must enter the URL of the website you wish to block. Add as many as the sites you want to block and save it.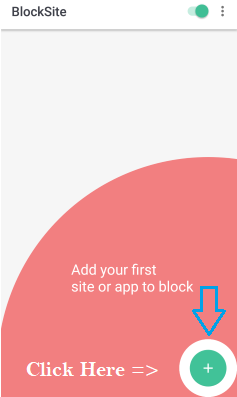 4. Open any browser, and if you try to open those websites, you cannot be able to access the sites. By default, the websites will be blocked until you remove them from the block list.
5. To block any apps from running during certain hours, tap the Clock icon. To block, you can select a start and finish time.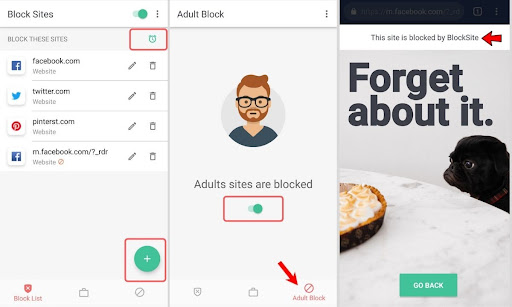 Block websites on Android using Trend Micro
Another option to block a website on Android is the Trend Micro Mobile Security App. It is the best Mobile Security and malware protection for your mobile, and it scans URLs, blocks harmful sites, and keeps you safe while browsing the internet.
Features of mobile Security
Notifies you while connecting to an unsecured wifi network.

It helps you find your missing phone.

Warns you of apps that could expose your personal information.

It scans and removes malware to restore your smartphone's normal setting.

Find malware apps before installing them on your Android Device.
The following are the steps to block websites using Mobile Security on an Android device:
Install the app on your device. 

Open

Parental Controls.

Tap

Website Filter

and tap Switch to turn it

On.

Choose age range for parental controls.

Tap the

checkbox

to block those websites you wanted.

Tap

Add

.

Enter the name and URLs of the unwanted website.

Save it to add the website to the blocked list.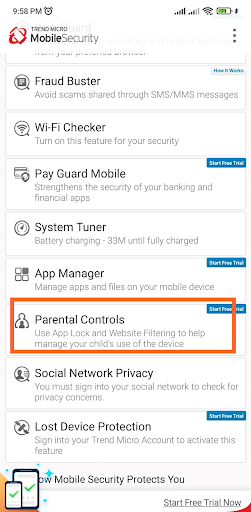 Method 2: Block Websites on Android Using
OpenDNS
Open DNS is a domain name system (DNS) service that allows you to block specific websites from being seen on your Android phone. When you set up Open DNS, you can decide which websites you want to block and which ones you want to allow. Open DNS also has a few extra features, such as protection from malware and the ability to block adult content. 
On certain Android phones, this can bhttps://www.opendns.com/e performed without downloading any third-party applications by navigating to Settings > Wi-Fi > Advanced options > Change DNS settings. However, this kind of technology is an exception to and against the rule. Therefore, before continuing, you will need to go to our device's app store and download the Wi-Fi Settings app. After it is finished, go to the DNS1 and DNS2 slots, enter the following values into them and then click the Apply button:
DNS 1: 208.67.222.222

DNS 2: 208.67.220.220
But there is one bad thing about using OpenDNS. It is only useful when you are inside, such as at the workplace or home; it is not useful when traveling. It only works with Wi-Fi networks; it doesn't work with mobile data. However, it would be great to give your kid your tablet or phone when you're at home.
Method 3: Block the website on Android without the app
Block websites on Android using Firefox
If you're using Firefox Browser on your Android device, you can block websites using the browser's built-in features. Here' how:
Open

Firefox

on your device

Goto three dots on the bottom-right corner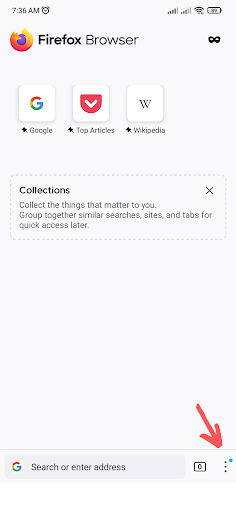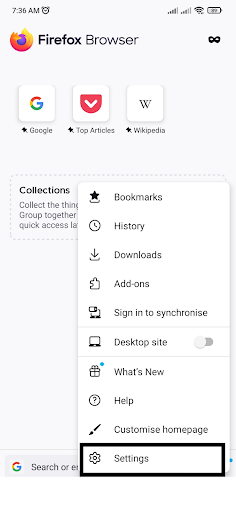 Select

Advanced option

Click

Add-Ons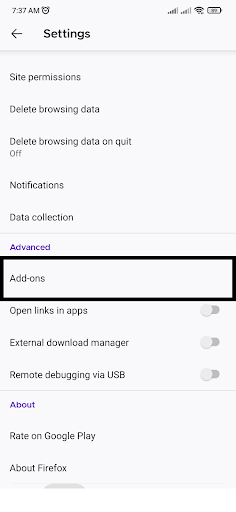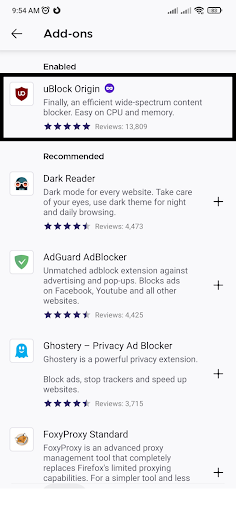 Go to

Settings

 

Go to

My filters

Enter the

URLs

you want to block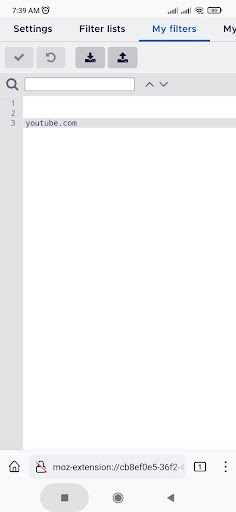 Block websites on Android using Chrome 
If you're using Chrome Browser on your Android device, you can block websites using the browser's built-in features. Here' how:
Open Chrome and tap the menu icon in the top right corner.

Tap settings and then scroll down to the Advanced option.

Tap Site Settings 

Change the Permissions by taping a setting, you can block media, pop-ups or others.
The internal settings of Google chrome don't allow users to block websites on Android directly, but only block contents (like video and sound) and make its webpages incomplete, to make users quit the website for the reason of a bad experience.
If you use Chrome Browser on your Android device, the browser has built-in features that let you block websites. This is how it works:
Tap the menu symbol in the top corner of Chrome.

Tap

Settings

, then scroll down until you reach the Advanced option.

Tap

Site Settings

Tap

Settings

to block media, pop-ups, etc.
Google Chrome's internal settings don't allow users to block websites on Android completely, but only restrict contents (including video and sound) and make its webpages incomplete, to make users leave the website for a horrific experience.
Read more: How To Hack Your Android Device
Block websites on Android using
Microsoft
Edge 
Microsoft Edge, originally known as Internet Explorer, is highly popular for parents because it enables them to create child accounts and restrict which websites their children may visit. Once a child account has been completed, your children will be blocked from accessing annoying or dangerous websites on their Android phones.
Create a child account for your children or others on Microsoft Edge. (You can complete this stage on a PC or Mac with a large display)
Sign in online to your

Microsoft account

.

Select Family > Add a family member > Child, and enter the person's email address.

Select the "Send invitation" button, then accept the invitation in the user's Outlook account.
Block website on Samsung Internet on Android
Users who want to utilize Samsung's integrated web browser should upgrade to version 7.2 or higher, as this version includes a mode that recognizes fake websites.
If this doesn't work, you can start the steps below to block websites on Samsung Internet.
Start the Google Chrome browser and log in.

Start the Samsung Internet application, go to Menu > Adblocker, and select one from the list of available installations.

Simply download the blocker on your Samsung Internet to block Android websites.
Method 4: Block websites on Android using a Firewall
The other way is to block websites on Android devices with the help of firewall apps. Most firewall apps support rooting your devices, but you have the option to use them without root.
One of the best apps is NoRoot Firewall. It has a simple user interface, and it is easy to use. It helps to protect your data from being sent to the internet. This app also allows you to create filters based on IP address, domain name, and hostname. 
Here are the steps to follow for using a firewall on an android device:
1. Install NoRoot Firewall and launch it.
2. Open the app and go to Global Filters at the bottom.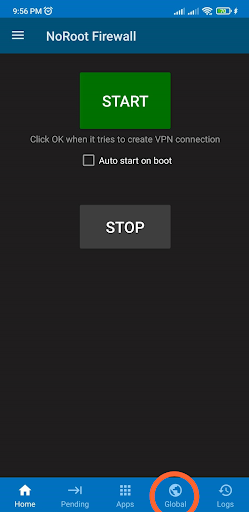 3. If you want to block the site on both Wi-Fi and data, make sure both icons are checked.
4. Tap on New pre-filter.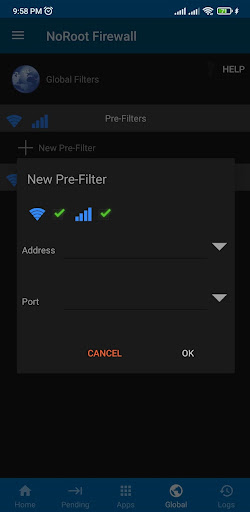 5. Enter the URL of the site you want to block.
6. Select * on the Port tab and press OK.
7. Now go back to the Home tab.
8. Click Start.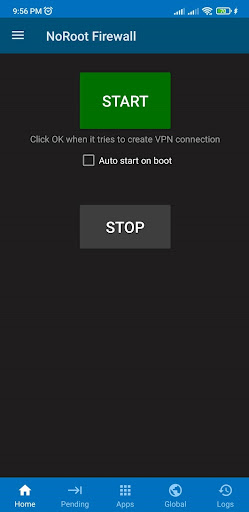 Conclusion
In conclusion, You may block access to a specific website on your Android device for several reasons. You might want to stop wasting time on sites like Facebook and Twitter. Or you might want to block a site that's not good for kids.
On an Android device, it is simple to block access to websites for almost any reason, and you can download a third-party app that blocks and unblock all sorts of websites. Whatever method you choose, make sure to stay safe online.