The Importance of SEO for Mobile App Development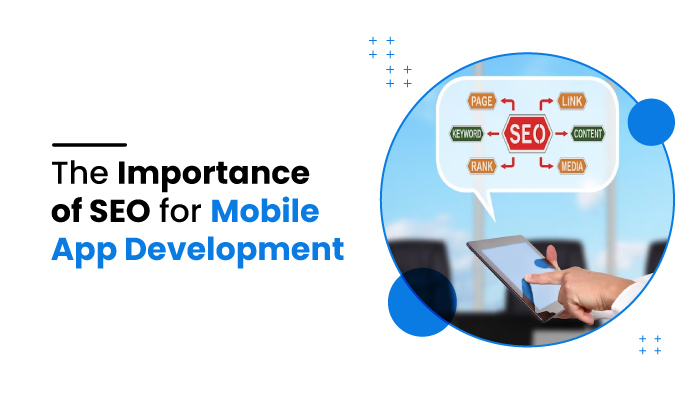 The Importance of SEO for Mobile App Development
If you're creating an app, your thoughts are likely somewhere between UI/UX, development, competitors, investors, and budgets. Yet, there is one other less obvious thing you should fit into your priorities — search engine optimization. Many creators neglect its importance, believing that SEO for mobile apps has nothing to do with their project's success. 
Yet, you must stand out from almost 2.7 million apps on Google Store and over 4.8 million applications on App Store. Here is where SEO for apps comes into play. Even valid backlinks alone can increase install volume and boost your app's rankings. But if you also add other best SEO practices, your mobile app optimization will bring your application to a whole new level. Where should you start?
ASO vs. SEO: What's the Difference?
Before we dive deeper into the best SEO practices for mobile app optimization, let's talk about ASO. Not that many people are aware of its existence. Yet, any app developer has to learn about App Store Optimization (ASO) as it directly impacts the number of downloads. Even though ASO and SEO for apps often pop up interchangeably, these are two different concepts. You should distinguish and work on both to improve your app's visibility.
ASO focuses on enhancing visibility in the app stores. If you master your optimization, you can get to the Top Apps this week or App of the Day sections. To get featured, you should use keywords in the app's name and description, choose the right category, and more. SEO for mobile apps, in comparison, focuses on app rankings beyond the app stores. Say you already have an app developed. Your next step is reaching the right users who need it. For this, you need both on-page and off-page SEO in sync to give your product the best chance of being discovered by a wider audience. Some say that SEO is the foundation of ASO. But again, the best results come from tapping into the combination of both.
Importance
of
SEO for Apps
There are many benefits that come when you implement SEO in your mobile app development strategy, such as:
#1 A Wider Pool of Users
SEO for apps is all about visibility. This is especially true if your app falls under a competitive category like games, education, and business. SEO is necessary for raising awareness about your application. With the right strategy, you can get people to talk about your product, make it trending on social media, and have it appear on top of search results. This will help bring your app to a broader audience, widening your pool of potential users and increasing your revenue. 
#2 Cut Down On Costs and Time
Promotion costs money. Compared to paid advertising, SEO is significantly more cost-effective. And unlike the alternatives, it gets less expensive over time while bringing even more visibility. This can create more revenue through the years as your user base grows. 
If you're new to the SEO world, your best solution would be to hire a professional team to get you great results. Yet, if it isn't within your budget, you can do it yourself by accumulating practical knowledge from various courses. You can start by using sources like Ahrefs, Semrush, and MOZ. Besides, you can check another free guide from theinvestorspodcast.com to understand the investment specifics of SEO. 
#3 Build a Credible Brand and Increase Trust
One irony of paid advertisements is that people are increasingly skeptical of shiny ads. Most users trust the opinions of other humans. SEO for mobile development can help you build a recognizable brand. It enables you to create authoritative social proof that boosts your search rankings and credibility.  Many people who download your app will do so after a Google search and after looking at reviews.  
#4 Outrank Your Competitors
With millions of apps already released, you aren't the first nor the last to launch the same type of application. You will always have many competitors fighting for the same users as you. SEO for mobile apps requires specific tools. Many of them can also help you make a detailed data-driven competitive analysis. 
Since many potential users will find you through searches, your site needs high domain authority (DA). It takes strategic SEO planning to get you there. SEO tools like Google Search Console (GSC), Semrush, or Ahrefs can help a lot. They give you a detailed look into what you should do to outrank your competitors in search results.
The Developers' Guide to
SEO for Mobile Apps
You should adopt many SEO facets to improve your app visibility. Some common practical steps you can take now include: 
#1 Keyword Research
As a developer, you need to get into the minds of your potential app users. This will help you understand how and where to position yourself so they find you easily. For example, your audience may discover your app through a generic search. Someone might look for a basic term, like a "fitness app," on Google. The result page displays sites and several applications in that category. However, other users will look for a specific brand name. Knowing what your audience is searching for can help you position yourself correctly and increase your rankings.
#2 Design a Well-Optimized Landing Page
A landing page is mainly the first page your potential user sees when they click on your link in search results, SM, or anywhere else. They say first impressions matter. All your effort to improve your search rankings can be useless if you ignore your landing page. How do you say if you have a good one? First, check your bounce rate. If it's too high, then users likely find it irrelevant or hard to grasp. After, see how many page visitors actually click on your CTA. If the number is too low, reconsider your call to action anchor.
Your landing page should let people know what your app is about, highlight its key features, and show reviews from other users. Include a large distinct CTA button to take them directly to download the app. You should also add keywords to titles, headings, and meta descriptions. Remember to include high-quality images. Besides, use both on-page and off-page SEO techniques to improve your search rankings. 
#3 Optimize Your
Content
for SEO
Indexing is the process that lets search engine crawlers understand how to categorize the content they find on web pages. It directly impacts your rankings on search engine results pages (SERPs). This process also applies to the content in your mobile apps.
Make your app SEO-friendly. Use keywords that your potential audience can be searching for. Since Google can scan your in-app content, your mobile application can appear in the corresponding search results.
#4 High-Quality Backlinks
High-quality backlinks from sites with high domain authority can be the cherry on your SEO for apps strategy. Collaborate with reputable sites and blogs to link to your landing page. This will help spread the word about your app, resulting in increased traffic to your website and more downloads for you. 
Bonus Tip
It is also crucial to pay attention to the user experience when doing mobile app optimization. It can be complicated, but it has many benefits. To improve the usability of your application, work on creating a smooth onboarding process. Pay attention to your user interface and optimize your app speed. These simple tips can improve your UI/UX leading to better reviews and more loyal users.
Conclusion
SEO for mobile apps helps you put your application on the right stage. By applying the tips from this blog, you can ensure that your product ranks high on search engine results and within the app stores. This is your roadmap to increased downloads, user retention, and higher revenue.