How to Protect Your Personal Information when Gambling Online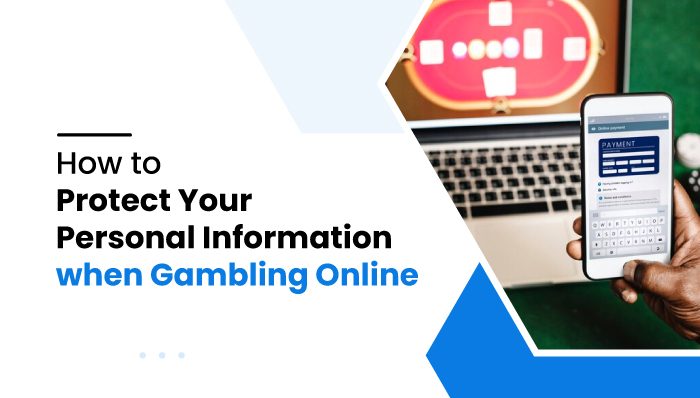 How to Protect Your Personal Information when Gambling Online
Every time you do something online, you lose a bit of privacy. This is especially true if you reveal personal information cyber attackers could use against you. More specifically, you need to protect your personal information when gambling online as they can access your cards and bank details.
The amount of privacy you lose depends on what exactly you want to do online. If you're planning to play casino games, these are some of the biggest security threats to keep in mind:
Casino bonus scams
Account hackings
Malware attacks
Money-related scams
How do you protect yourself against these security threats? How do you protect your personal information when gambling online. Follow our tips below:
#1: Use an Antivirus to Fight Malware
Most online security threats get you through malware. Fraudsters might send you emails with malicious software. If you open these files, attackers infiltrate your devices with ransomware, adware, or worms.
An antivirus acts as your first line of defense against minor and major online security threats. It monitors your web traffic to help you fight computer viruses in real time.
Windows Defender is arguably the best antivirus for PC users. On the other hand, Apple's inbuilt antimalware programs offer better protection compared to third-party antiviruses. That being said, you can always enhance your computer's security with a premium antimalware program.
#2: Choose a Secure Gambling Site
If you gamble online, choosing a secure casino is more important than selecting a strong password for your account. The explanation is that not every betting site can be trusted.
You could use the strongest passwords possible. But if you don't play at secure iGaming platforms, you could lose your data, money, or both. Shop around to find top-rated sites with top-notch security systems.
Secure online gambling platforms use a series of measures to keep you safe. They secure their websites using SSL encryption. SSL obfuscates data to make it useless to hackers.
Secondly, safe casinos comply with license regulators. They comply with data privacy regulators. And they use antimalware programs to protect their sites from attackers.
 #3: Use a Safe Payment Company
Payment methods handle both your money and personal information. That means security needs to be one of the most important factors you check in a casino banking option.
Select a trustworthy payment company with tried and tested security measures. PayPal is an excellent example. It protects you with SSL encryption, strong passwords, OneTouch technology, and its chargeback policies.
Both Visa and MasterCard are also secure payment companies. They're excellent casino deposit options because of their universal availability. However, they charge higher fees than e-wallets. Additionally, they take a bit longer to process money.
Nowadays, casinos offer a plethora of ways to deposit and withdraw money from casinos. Most of these companies can secure your data and money. But that doesn't mean they're created equal.
Look at the payment limits. If you're a high roller, select Bitcoin or wire transfers. These options allow you to transact with up to $100,000 from online casinos. Most e-wallets and cards have a payment limit of $10,000.
#4: Secure All Your Accounts
The average adult has more than 10 online accounts. Picture this in mind. You have your casino account, email address, payment method, and social media accounts.
If you use weak passwords, cyber attackers could breach any of these accounts. This is especially true if you use easy-to-guess passwords like your pet's name or your date of birth.
Secure all your accounts with unique passwords. Use a password generator to discover strong passcodes. Security experts recommend that you use different passwords for every online account.
Additionally, have a unique email address you use for gambling-related accounts only. This isn't just wise for security reasons. It also helps you avoid choking your primary email account with countless casino promotions.
#5: Avoid Public WiFi
Public WiFi might be free. But it isn't always secure. Hackers can intercept your data while trying to gamble online. You might think you're safe sending money to a casino. But a hacker could steal your login details and later empty your account balance.
If they don't steal your money, they could corrupt your laptop or iPhone with malware. Some of them attack you with ransomware and later force you to pay a ransom to get your data back.
To avoid all these security issues, use your phone's data plan while away from your home or office. If you must use public WiFi, turn on your VPN. A Virtual Private Network can hide your IP address and encrypt your data to keep it safe from snoopy cyber criminals.
#6: Keep Your Software and Apps Updated
Many software companies do an excellent job of keeping their apps updated. They no longer ask you to update computer programs manually. Most of them update these apps automatically to keep you safe from security threats.
If you have apps that require you to update them manually, do so regularly. Outdated apps develop vulnerabilities hackers can use to introduce malware to your computer.
Updating apps and software programs allows you to experience better security technology. This makes you a harder target for cyber attackers, which translates to lower chances of being a cyber-security victim.
#7: Don't Overshare
Far too many people become victims of crime because of oversharing data online. Let's say you're on social media doing a live video. There's no reason you should reveal your exact location. Someone could use this information to rob you.
In the casino space, oversharing can lead to the loss of your personal information or money. If you must reveal sensitive data, hand over this information to a trustworthy casino or payment method.
#8: Watch Out for Common Threats
Many cyber criminals use simple tricks to steal people's data and money. For example, they can send you an email claiming they represent a popular online casino. But once you open the contents of the email, they infiltrate your PC with malware.
Another popular casino trick claims to offer you a generous bonus. But if you have to send money first. If you comply, they steal your money. Look out for any messages from unknown people.
If the messages offer to give you free casino money or bonuses, don't respond. In fact, avoid opening email addresses from suspicious people.