11 Best Multipurpose Online Tools and Apps For Photographer Kids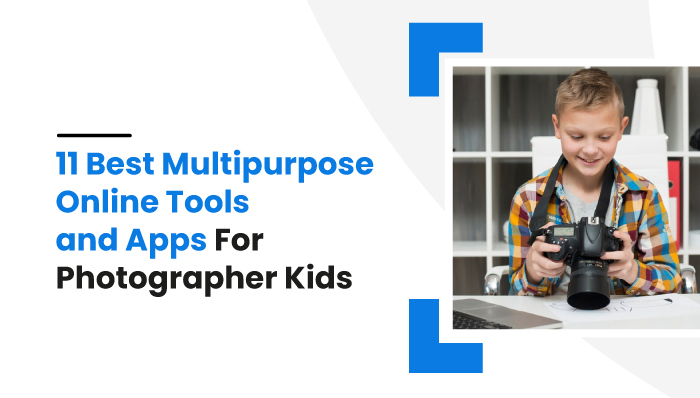 11 Best Multipurpose Online Tools and Apps For Photographer Kids
The photographer's life is full of unexpected discoveries, patience, and improvement. It's more than just taking pictures on professional equipment or a simple smartphone camera. On the contrary, you should also be proficient in picture editing, geography, cultural aspects, and art theory. This might seem to be complex for aspiring and even professional photographers since one person can't grasp it all. Luckily, plenty of multipurpose mobile photography applications and online tools come in handy. Find some of the best ones in this article!
Helpful tips on choosing the best apps and tools for photographers
You can find different photography tools and apps on the web. Nonetheless, it's important to understand how each specific solution can simplify your workflow. Here are some points you should consider when choosing the best apps and tools for photography.
Define the specific purpose you need the tool for. Each solution is designed to resolve different issues. For example, you may need the tool to post-process your ready-made photographs or improve the quality of shots. The desired purpose depends on your goals and requirements. Moreover, when choosing an app, pay special attention to features like professional color adjustment and AI-based automation.
Define whether you can afford paid apps and tools. Beginners are more likely to choose costless options. Moreover, free apps provide enough functionality for basic operations. But if you're eager to get more features and organize your photography work like a pro, buy a subscription. Decide whether you can opt for paid tools or use free ones only.
Check reviews before opting for a specific solution. Choosing a tool by just reading its description on the official website doesn't simplify your final choice. Often, companies provide you with the same information as their competitors, so it's hard to differentiate the products correctly. To simplify your choice, check other user reviews, their thoughts on usability, and overall impressions.
Explore different options and choose the best one. The final choice is always up to you. Thus, try different tools, explore their features, and decide on useful options. After gaining experience using each specific tool, there won't be a problem in choosing the right one for you.
Optimize the number of apps and tools you will use. The photography solutions market is extremely extensive. On the other hand, using numerous tools is frustrating and time-consuming, decreasing your work productivity. It's better to choose a few solutions that will completely fulfill your requirements.
What apps and tools do photographers use?
Solutions for image post-processing and manipulating separate picture elements are must-haves for creators. Using them, you can significantly improve your pictures and make them even more impressive. However, there are a lot of other solutions you can choose for different purposes. For example, professional photographers frequently use applications to find the proper locations or track weather conditions. Check them all out!
Photo Upscalers
Upscaling applications and tools allow you to improve low-quality photos easily. They frequently run on AI-based technology, meaning you don't require professional skills to make quality improvement manipulations. Visuals are processed and enhanced automatically.
Depositphotos Image Upscaler (online tool)
Depositphotos Image Upscaler is an easy-to-use online tool to increase the resolution of your images. Thanks to smart algorithms, all operations are automated. You need only to upload your file, wait until it's processed, and download the improved image to your device. Depositphotos Image Upscaler allows users to double the resolution of any image. For example, if you have a 1000×1000 pixels file, it will automatically be upscaled to 2000×2000 pixels. The improvement method is based on adding new contextual pixels, sharpening objects, and reducing noise. The tool works with JPEG and JPG files weighing up to 15 MB. Also, at Depositphotos you can find free images for commercial use.
Enhance Fox (mobile app)
Enhance Fox is a professional photo improvement app that offers broad functionality, including an image upscaling feature. Using it, you can also enhance videos, convert their FPS, make impressive anime portraits, colorize black-and-white pictures, and animate motionless faces. You can upload your files from the smartphone gallery or take a shot directly from the app. Nonetheless, Enhance Fox delivers the best results if your photo contains human faces. To enlarge images for free, you have to watch an ad. Advertisements can be removed after buying the PRO version. It also speeds up the editing process.
Image Background Removers
Background removal solutions are irreplaceable when you need to remove unnecessary details in your pictures, prepare images for collage integration, or change the background to a new one.
Depositphotos Background Remover (Online Tool)
Depositphotos Background Remover is an AI-powered online tool that allows you to quickly get rid of unnecessary backdrops in your scenes. It doesn't require your direct involvement; neural networks accurately determine foregrounds and separate them from backgrounds in seconds. The tool works well with different images, processing visuals with people, animals, objects, and graphics. You can remove backgrounds from JPEG, JPG, WebP, and PNG files, with a maximum weight of 30 MB.
PhotoRoom (Mobile App)
This mobile application is suitable for removing backgrounds from your images and making impressive collages. You can also get templates for different purposes. For example, to design greeting cards and social media publications with background less pictures in a couple of clicks. PhotoRoom is a good choice for eCommerce businesses. In the app, you can create striking product cards on solid color backgrounds or design sale banners.
Photoshoot Planners
Using photoshoot planners, you can organize your work and schedule to be prepared for different weather conditions, find impressive locations, and catch beautiful natural phenomena.
Google Maps (Available as an Online tool and Mobile app)
Google Maps is a popular web mapping app that can be used for photography purposes. It was developed for easy navigation in city areas and different countries. However, the Street View feature delivers amazing possibilities for photographers. When turning this option on, you can explore different destinations by previewing. This allows photographers to opt for shooting locations in advance and plan their routes.
Locationscout (Mobile App)
Locationscout is a mobile app and creative community where other photographers share spots to take impressive shots. You can also explore pictures made in each specific area and develop your own storyline in advance. If your next destination is already known, type in a specific request. But when you don't mind what location to choose, just browse featured spots. After clicking on each provided image, you will get detailed information about the location: crowd factor, best timing, sunrise & sunset, accurate coordinates, and photography tips. In the PRO version, it is possible to track landmarks near you.
PhotoPills (Mobile App)
PhotoPills is a paid mobile application that provides many useful photography-related features. For example, you can write down important notes, experiment with camera settings, plan your photoshoot depending on weather conditions, track moon phases, and so on. Thanks to the augmented reality feature, you can also see how your pictures will look after capturing them in different conditions. It also provides clear instructions for camera settings and points of view for each specific situation.
Camera enhancers
Camera enhancers bring more possibilities to capture beautiful shots. For example, you can dynamically change camera settings or apply visual effects directly from the app.
Footej Camera 2 (Mobile App)
Footej Camera 2 is an excellent mobile app for taking better photos at the moment. Unlike built-in camera applications for Android or iOS, it provides more comprehensive options for shooting. For example, you can adjust ISO, aperture, and shutter speed more precisely and improve the overall quality of your images. It's possible to make GIFs and capture images while recording a video. You can also try the stabilization feature if your smartphone supports it.
Camera for Android by Litter Penguin (Mobile App)
This downloadable camera provides you with a better photo-shooting experience through extended options. For example, you can choose color filters and explore how they affect your image directly when pointing your camera at an object. Or, you can manually set up the settings and even overlay the golden ratios for better composition.
Picture post-processing
These post-processing solutions allow you to improve images by adjusting colors and refining the overall composition.
Polarr (Online Tool)
Polarr is a professional photo editor available directly from your browser. Using this tool, you can significantly improve your ready-made images. For example, you can retouch faces on your photos or adjust color levels. Despite offering an extended functionality, the tool is simple to use even for aspiring creators. To achieve smoother results, it is also possible to regulate the size of brushes. However, some options are available only in the paid version.
VSCO (Mobile App)
VSCO is one of the most popular photo editing apps among professional photographers, social media managers, and other users. It adds great usability and flexibility to your creative workflow. For example, you can make manual adjustments in your shots or try featured filters for each specific image. It's possible to change exposure, contrast, sharpness, and saturation levels. However, the majority of advanced parameters are available only after purchasing a paid subscription.
Conclusion
Working in the photography industry is more challenging than it seems. You should consider many factors like location, weather conditions, and camera settings. Moreover, even professional photos require improvements, changes, and editing. Thus, each photographer finds ways of speeding up their creative processes. Using specialized mobile apps and online tools is one of the easiest methods to organize your work and achieve impressive results. Try the solutions described in this article!