How to Find the Best Helpful Tech for a Student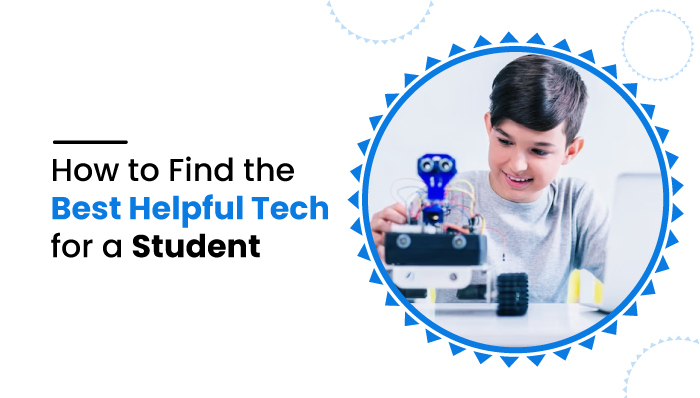 How to Find the Best Helpful Tech for a Student
According to recent data, 87% (nine in ten) of college students use a laptop or Chromebook computer to handle their schoolwork. In addition, 64% of young people use a smartphone for this purpose, and 40% rely on a tablet.
No matter what kind of device they choose, modern students rely on technology a lot in their education. They use it to conduct research and complete their assignments digitally. Also, they can leverage it to use "writepaper" services or receive online tutoring to support their studies and get high grades with ease. And there are plenty of other applications that various devices have for students.
Due to the gradual digitalization of education and a wide range of tech applications, it's crystal clear that every student must find the right gadgets for themselves. But how can they do it?
How to Decide Which Gadgets Are Right for You
While there is no question about whether you need technology in your college life, there is still a question about what kind of gadgets you need. To answer this question, you need to understand your purpose and primary needs.
Today, there is a huge variety of devices that students can purchase. In order not to get lost among a wealth of options, you have to first decide what you will be using it for. Traditionally, students will rely on their gadgets to:
Do research;
Browse the web;
Complete academic assignments and write papers;
Apart from the primary uses, you might need to use it for other major-related things. For example, art students will also need to complete art projects. IT majors will need to handle coding projects, and so on. Define the tasks you will need to complete to get on the right track with your choice of gadgets.
The next question to answer is where you are going to use it. As a student, you probably want to get a gadget that can be used not only at home but anywhere else too. Often, you will need to take it with you to classes, libraries, or other study locations. Thus, in most cases, you will reject desktop computers or big, bulky devices.
Do Your Research
After you define the primary requirements, you will likely need to do some research to see what options are there.
Modern students have a wealth of options for primary study devices:
Laptop: A lightweight and portable computer that can handle a variety of tasks and be easily carried around with you. It's often just as powerful as a desktop and, thus, is great for completing your assignments and projects, surfing the web, and doing other school-related things.
Netbook: Similar to a laptop, a netbook is also a computer. However, it's even smaller in size, lighter, and much more energy efficient. It's best suited for online communication, basic Internet browsing, and other simple tasks.
Chromebook. This is a fairly new type of computer. It was designed specifically to help users get their daily tasks done faster and easier. These devices typically have Google products built-in, feature cloud storage, and are excellent for online tasks.
Tablets. This gadget is perfect for maximum portability. Tablets can be powerful enough to handle all the aforementioned tasks on the go. They also enable you to store and access all your books from a single device. With the help of additional accessories, they can also be used for typing essays. And, with a pen or stylus, a tablet can be used for handwritten note-taking and digital art purposes.
In most cases, students will choose a laptop as their primary gadget. However, we always recommend making this decision solely based on your needs and preferences.
To do this, conduct additional research to learn about the possibilities and challenges of every device. Here are the best resources for your research:
Related blogs. Resources like Engadget, The Gadgeteer, Gizmodo, and similar are meant for tech geeks who want to stay updated on new releases and find the best devices for themselves. Reading such blogs should help you identify your options and pick the right technology with ease.
Online tech stores. When you already know what you are looking for, online stores will help you discover the options further. Sites like BestBuy, Target, Newegg, and others will let you see what models are available out there, read every device's tech specs, and compare the options.
Tech review and comparison sites. Finally, one more way to discover the right devices for you is to follow websites that review and compare different gadgets. For example, you can look at Cnet, TomsHardware, Theverge, and similar resources to find the most objective and up-to-date reviews and comparisons of available gadgets and choose the best ones for yourself.
Extra Tips for Buying the Best Tech for College
Now that you know how to define your needs and where to look for additional information on available technology, below are a few handy tips for making the right choice.
Consider requesting online assignment help to have more time for researching, choosing, and buying new tech;
Define your budget before you start shopping;
Don't hesitate to consult with a specialist to get professional advice;
Look for special deals and student discounts to save money;
Consider buying used but more expensive and durable gadgets;
Get an extended warranty;
Consider buying additional tech that can come in handy in college, such as a smartwatch, wireless headphones, etc.
The Bottom Line
These days, there is no way for students to get through college without using some technology. Thus, whether you like it or not, you will have to invest in some gadgets when enrolling. And we have to admit that researching and picking the best devices can be somewhat stressful.
Luckily, now you have a guide with actionable steps and advice that should help. Use the knowledge from this article to find the best technology to support your studies and make your life in college simple!